Walking on the Wild Side of Snowmass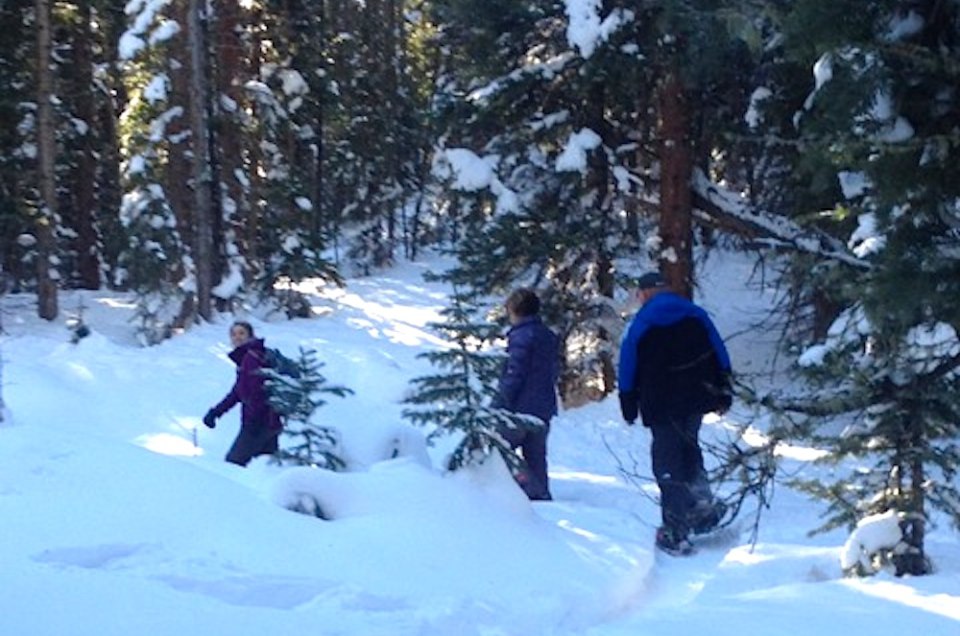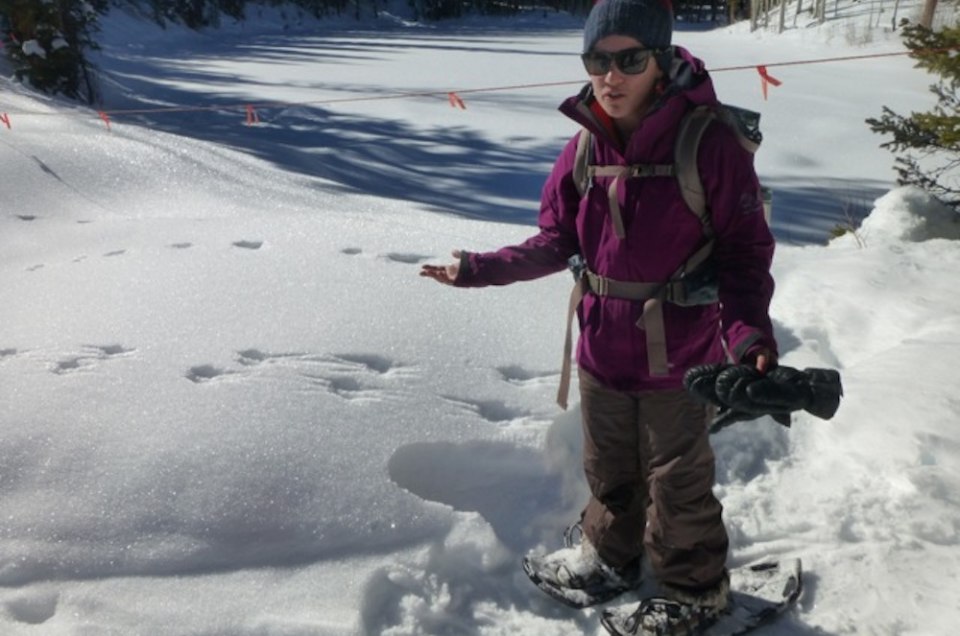 You can learn a lot when you take the time to slow down. We all know that, but on a ski holiday, slowing down can be hard.
Still, in early January, I clicked out of my skis and traded my ski boots for snow boots to participate in a two-hour snowshoe hike with the Aspen Center for Environmental Studies, or ACES.
No Experience Necessary
"How many of you have snowshoed before?" Our ACES guide, Tawny, was gently trying to gauge our trail skills.
In addition to me, a native Coloradan who has never understood why one would tramp on snow, when it can be skied, there were Tanya and Tony, a couple visiting from Mississippi.
As Tawny buckled our boots into the traps, she assured us that snowshoeing doesn't take much skill.
"We're just going for a walk."
Taking a Closer Look
And walk we did, away from the bustle of the busy Elk Camp Gondola area.
Within minutes, we were skirting along a small frozen pond, lined on one side by tall, rough conifers and on the other by white, airy aspen trees.
"Does anyone know why there are no aspen trees on that side of the pond?" Tawny asked.
We didn't, but Tawny did. Aspen trees love sunlight, so they are happier on southern exposures. They also need more water than conifers and are less resilient.
Lesson number one, and we'd barely been out five minutes.
Over the next two hours, we wound in and out of the forest, and grew immeasurably more informed and observant.
We spotted bear marks clawed into tree bark. We learned how to evaluate footprints in the snow, judging their depth (a sign of relative weight) and shape.
We learned that snowshoe hare and weasels grow white coats in winter, not just to blend into the snow, but to regulate their body heat. And we learned about trees in distress from native pine beetles and a changing environment that allows the beetles to reproduce twice, instead of once, each year.
Hiking along, we also noticed the quiet. A ski resort is a noisy place. From lift line music to the whir and clank of chairlifts and gondolas and the excited whooping of humans lost in the joy of the moment, it's chaotic and stimulating.
The forest was the opposite, a realm of muted light and sound. As Tawny skillfully drew our attention to the small details in the snow, it was as if the human-built environment had completely disappeared.
More About ACES
The Aspen Center for Environmental Studies leads snowshoe tours at Snowmass two times each day during winter. The tours start at the top of the Elk Camp Gondola. Lift passes are required, as are snowshoe tickets. Purchase them at the base area ticket window. Snowshoes, basic instruction and cookies and hot chocolate are provided.
Children ages 7 and up are welcome and guides are adept at tailoring the experience to fit the interests and experience of the group.
ACES also offers daily skiing nature tours at Snowmass. These tours leave at 11:00 a.m. and 1:00 p.m. from the Wapiti Wildlife Center at the top of the Elk Camp Chairlift.
Even if you don't take a tour, a quick stop in the Center if worth it. It's a cozy haven at 11,325 feet, with warm restrooms, drinking water and interesting wildlife displays.
Enjoy!
Sponsored by Snowmass
Other Voices you might like