In Porto, Pair Wine and Food with Jewish Culture
Porto at night, photo courtesy of Porto Convention and Visitors Bureau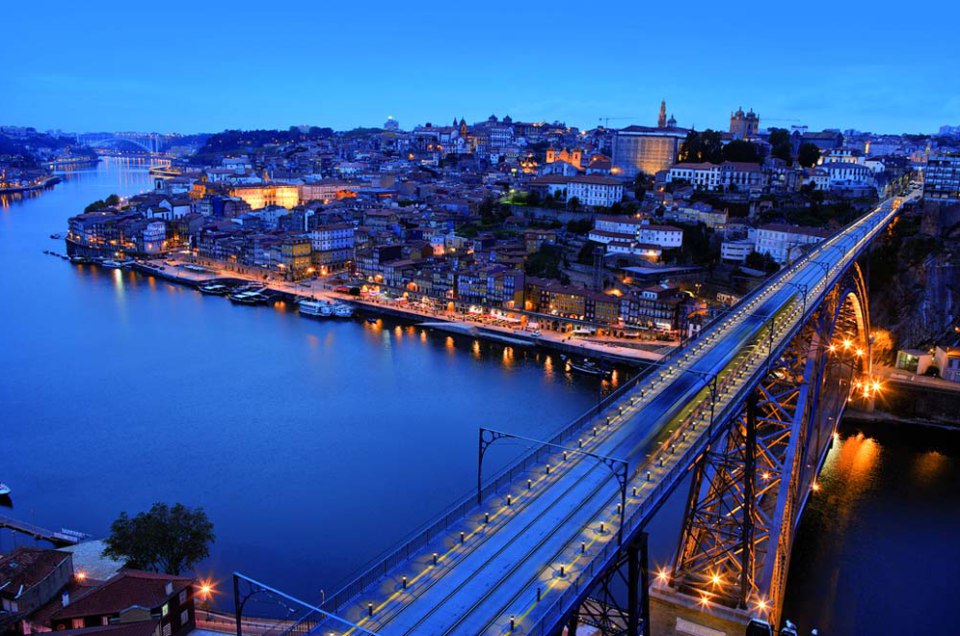 Porto at night, photo courtesy of Porto Convention and Visitors Bureau
Famous as the home of Port wine and the birthplace of the kingdom of Portugal in the 12th century, the city that lent its name to both offers glimpses of an illustrious Jewish past, as well as the biggest synagogue on the Iberian peninsula.
Since the 18th century, Port wine has been produced across the bridge from Porto, in its sister city of Vila Nova da Gaia, by companies with names like Taylor Fladgate, Sandeman, Churchill's and Dow's – almost all British. While the fortified wines, made in flavors like ruby, tawny, white and late bottled vintage, are aged in cellars here, the vineyards are in the steep Douro Valley, east of Porto.
The only Port maker still owned by the original family, Taylor Fladgate, founded in 1692, is also the only one that owns a hotel in Porto (others offer lodgings amid their vineyards in the valley). It's also the only one Port producer that makes Kosher wine.
No better panorama of Porto's historic center – its orange terra cotta roofs, azulejo-covered facades of its Ribeira riverside district, and a bridge spanning the Douro River designed by a Gustav Eiffel disciple, the Dom Luis Bridge – can be found than the one from Taylor's luxury hotel in Gaia, The Yeatman.
Postcard-like views are everywhere at The Yeatman: from huge terraces of guest rooms, named for Portuguese wineries whose wine is in the rooms, the bar/lounge, restaurant – Porto's only one with a Michelin star, the outdoor decanter-shaped pool, even the spa, which offers vino therapy treatments. Winemaker diners with Portuguese wineries are held weekly.
A must-see in downtown Porto is a bookstore called one of the world's most beautiful, Livraria Lello. Behind the Neo-Gothic white steepled facade lies an intricately-carved wood interior, stained-glass ceiling, and red-carpeted staircase that resembles a movie set.
Years before J.K. Rowling became the best-selling book series author of all time, she lived in Porto, teaching English at night, writing in its cafes by day. She married and had a daughter in Porto, and when she left for Scotland, three Harry Potter chapters were in her suitcase. It's rumored the 1906 bookshop – which looks like it would be at home in Britain – inspired the library in Harry Potter.
Book-lovers will also enjoy Book Restaurant nearby, where I sipped a "science fiction" white wine. In the exquisitely stylish Hotel Infanta Sagres in Porto's trendy Baixa district, Book
whimsically groups wines into literary categories – like sci-fi (unusual), romance (elegant and intense), and adventure, and divides its menu into chapters. Books in Portuguese line shelves, and courses are even served atop books.
In Porto, the traditional and the ultra-modern are side by side. If you take the 2 1/2 hour train ride north from Lisbon to Porto, you'll arrive at Sao Bento train station, which is adorned by over 20,000 blue and white azulejos – the Portuguese craft of and-painted ceramic tiles – depicting Portuguese history and slices of life, from women in traditional costume and musicians performing to battle scenes.
In contrast, Porto's angular, asymmetrical Casa da Musica was designed by Rem Koolhas, the Dutch architect. Behind musicians on stage, a glass panel reveals trees, sky and natural light. The concert hall offers everything from classical music, rock (Lou Reed was its first performer after its opening) to fado, Portugal's melancholy, nostalgic music, and also offers some nifty interactive features. You can hear sounds from different parts of Porto by standing in certain spots on a floor, and make an Indonesian gamelan plays by moving your hand in front of sound sensors.
Porto's magnificent Synagogue Kadoorie Mekor Haim, where blue-yellow-and-white azulejo tiles cover walls and Talmud verses adorn balconies, was Porto's first in over 400 years when it opened in 1938. Dara Jeffries, a New York-born, Porto-raised, Oxford-educated lawyer and board member of the congregation, noted a rabbi comes to conduct services on major holy days, but that the tiny community of 40-50 Jews is often not big enough to form a minyan for Shabbat.
"Mekor Haim is larger than the synagogue in Madrid, which has over 5,000 Jews," said David Rabinowich, whose Brooklyn, N.Y.-based Ahavath Torah Tours offers Jewish heritage tours of Europe, Morocco and South Africa.
Porto's modern Jewish community was formed in the 1920's with the help of Captain Artur Barros Basto, a Portuguese crypto-Jew and World War I veteran who began a movement to help Portuguese like him – whose ancestors became forced converts to Christianity after Portugal's 1496 order of expulsion, called Marranos or New Christians – re-connect with their Jewish roots. The synagogue was funded in part by London's Portuguese Marrano Committee.
Called the "Portuguese Dreyfus," Barros Basto also helped found a yeshiva and Jewish newspaper in Porto, but was dismissed from the Army on trumped-up charges and stripped of his pension for his efforts.
Centuries ago, Jews owned shops and warehouses in the Ribeira district and in Rua da Alfandega, near the Church of Sao Francisco and its in the heart of the UNESCO World Heritage-designated historic center. The Jewish quarter of Monchique was once located in the Miragaia neighborhood north of Alfandega, next to the Convento de Monchique, and the Rua do Monte dos Judeus (street of Jews' Hill) – where one of the most important Hebrew inscriptions in Portugal was found – still stands. Foz, an affluent neighborhood known for its promenade along the Atlantic Ocean and turn-of-the-century mansions, is west of Ribeira.
Porto's earliest known Jewish quarter was in what is now Rua de Santa Ana, inside the city wall, near the Cathedral. A local specialty, alheira, is of Jewish origin: a sausage Jews stuffed with chicken and flour, instead of pork and fat, to avoid detection by the Inquistion.
Porto is a convenient gateway to discover the Jewish heritage route in central Portugal.
Jews helped Portugal discover the world in the 15th and 16th centuries, both by financing fleets.
for Prince Henry the Navigator and through their scientific achievements. In the city of Coimbra, many Jewish treasures are in the library of Portugal's oldest and prestigious university, founded in 1290, located in the former Royal Palace.
The 1496 almanac of Abraham Zacuto, whose tables formed the principal basis for Portuguese navigation, and were used for Vasco da Gama's discovery of India – winning him the title "Mathematician to the King" – is in the University of Coimbra. A late 15th-century Bible in Hebrew, believed to have belonged to Isaac Abravanel, a wealthy merchant and member of one of Portugal's major Jewish families – who loaned a huge sum of money to Portugal's King Afonso V in 1478 – is also here.
So is a 16th-century book about Asian plants important in medicinal use by Avraham de Horta, a Portuguese New Christian who became doctor to Portugal's captain-general in India, and settled in Goa. So, too, are Inquisition court books that list the condemned and their "crimes." A 1564 list of banned books is tucked inside lovely marbled paper.
In the small town of Belmonte, population 3,000, in the Serra da Estrela mountains near the Spanish border, the most important community of crypto-Jews was discovered in the 1920's. An Orthodox synagogue, Bet Eliyahu, opened here in 1996 for an active community of about 100 or so Jews. It's just down the hill from the 13th castle of the Cabral family, who once owned Belmonte, whose descendant, Pedro Cabral, was the explorer who discovered Brazil.
Tiny Belmonte has an impressive Jewish Museum that showcases centuries-old artifacts from the region and describes the Inquisition in Portugal, and a Museum of Discoveries, whose focus is the discovery of Brazil, and the culture of Portugal's huge former colony, from music to caipirinhas.
The Pousada Convento de Belmonte, a half-mile from town, is a 48-room hotel converted from a 13th-century stone monastery with views of the Serra da Estrela. Kosher menus are available on request, and Kosher wines, made by the Terras de Belmonte co-operative nearby, are served.
Other Voices you might like