Getting a 'Flavour' for Fijian Cooking, Hands On
Vudi Vakasoso dish. Photo by Michele Hermann.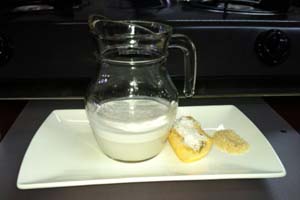 Vudi Vakasoso dish. Photo by Michele Hermann.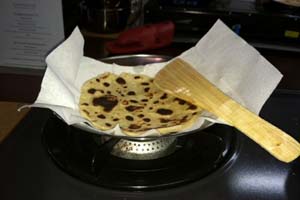 Roti cooking. Photo by Michele Hermann.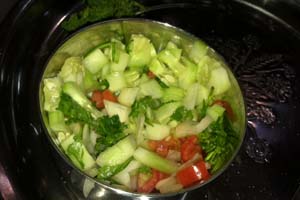 Vegetable Chutney. Photo by Michele Hermann.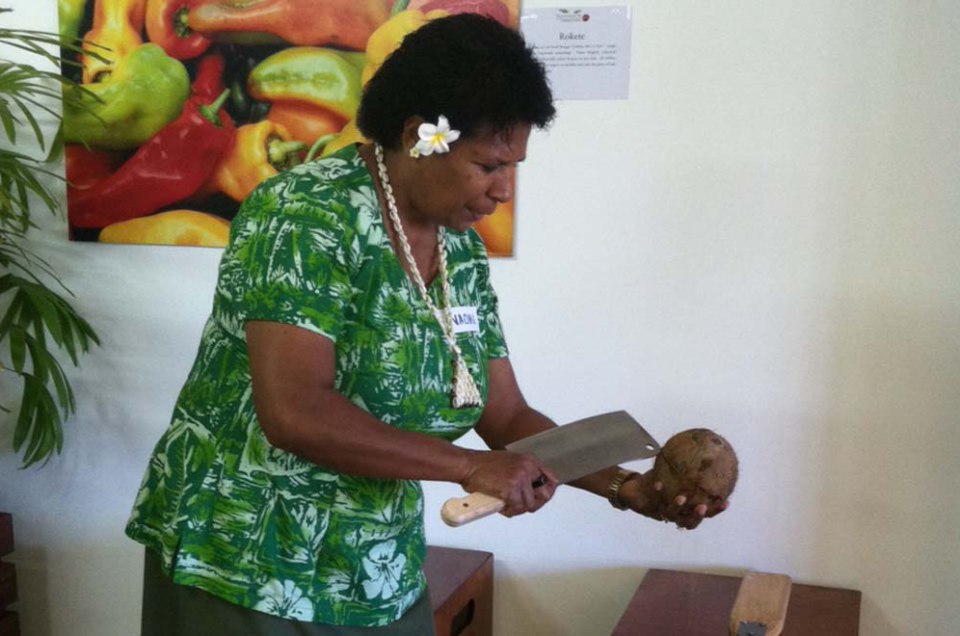 Instructor showing how to crack a coconut. Photo by Michele Hermann.
It's healthy to envision Fijian cuisine as a blend of tropical flavors like coconut and papaya. Yet, native fruits aside, cooking methods in this South Pacific region also mix in other native ingredients with influences from India, Melanesia and other nationalities that have occupied the islands overtime.
For getting the 101 on traditional island cooking, I headed to the Flavours of Fiji Cooking School on Denarau Island, northwest of the main island of Viti Levu.
Opened in May 2013, the school holds half-day long classes for visitors to learn how common household dishes are prepared in what the instructors call the "Fijian way."
Based at an industrial park, Flavours of Fiji accommodates about 10 to 12 students per class in a modern day facility. The "classroom" is a central table with fully equipped stations, with lower shelves stocked with mixing bowls, spoons, and other utensils. Also under the table, instructors place the day's essentials for preparing about eight courses. My class menu ranged from Fijian fish and vegetable dishes and dessert, to Indian curries and a flatbread.
In welcoming my class, the school's director Malisa Raffe and her instructors greeted us with a refreshing drink. Each of us had chilled Bu (coconut) Juice. And the "glasses" were coconut shells. While sipping on beverages, we listened to the first lesson of our class, starting off with food, of course.
As a nod to the "farm to table" process, our instructors emphasize how our dishes incorporate foods that are in season and how local farming is greatly promoted. What is grown can even be used in other ways. Bamboo shoots can become cookware by being inserted with root vegetables and placed in a fire. Banana leaves also can be wrapped with meat, chicken or fish for grilling and or serve as placemats.
On a nearby table, a display of various fruits and vegetables were lined up with placards listing their names and some factual information about them. Here is a short version of this grocery list:
– Bhindi (okra)
– Rokete (hot peppers)
– Kumquat (citrus fruit)
– Moca (spinach)
– Tavioka (potato)
– Dovu (sugar cane)
– Vudi (plantain/banana)
– Painapu (pineapple)
Coconut, "Niu" in Fijian, was described as "the tree of life" by one of our teachers because this fruit has many different purposes. Everything from its meat to oil is used. We got to see how to its flesh and water are extracted. To crack open a coconut, we're told that the first step is to look for its "three lines." This center area is where the coconut would be hit with the back of a knife to split it in two. Once divided, we're shown how the flesh of a coconut is taken out through scrapping each half against a sharp, wooden tool. Then we saw and took a shot at doing a rhythmic method in which we moved the inside of each shell up and down to remove the meat.
Now, it's on to cooking. We headed to our respective stations and started off by preparing the first set of six courses, three Fijian and three Indian. Beginning with Fijian foods, we prepared "Kokoda," a raw fish salad with a white fish called walu that we marinade in a mixture of lime juice, onion, tomato and garlic. Next we sautéed Rourou, which are leaves from the Taro plant, for maybe five minutes to soften it. This popular vegetable resembles and tastes like cooked spinach. Our third recipe was sweet: "Vudi Vakasoso," plantains in a coconut cream sauce.
For our Indian dishes, two different curries were on the day's menu. With okra as the main ingredient, Bhindi Curry gave off an incredible aroma while being cooked in oil with cumin seeds, mustard seeds, curry powder, onion and garlic. Murghi and Aalu Curry, a chicken and potato based curry, also had similar spices and elements. To accompany our curries, we whipped up vegetable chutney by dicing a cucumber, tomato, onion, and coriander — with the option of including a chili pepper — and adding in a drizzle of lemon juice. We ended the class with making Roti, an Indian flatbread. We pinched and rolled our two dough balls into flat circles and then brushed with oil to cook each side as you would with a pancake. One of mine got a bit singed, because of me, but it still was fine to eat.
Instructors are good about giving you attention while you work, which is reassuring for novice cooks (like me). They also keep the course light by sharing insights about Fijian home cooking. Once our finished dishes cooled down, we ate what we made alongside plates of cut-up taro, pineapple and papaya and a tropical fruit drink. Our class ended the day with a little graduation ceremony. Our teachers presented us with "diplomas" giving all of us the title of "Local Master Cook." We also got recipes to bring home.
Flavours of Fiji Cooking School holds different classes such as menus on sweets and Fijian feasts and one specifically designed for children. I gave a Vinaka (the Fijian word for thanks) to my teachers for a tasty experience that is worth enrolling in!
Michele participated in a class at Flavours of Fiji Cooking School with the support of Tourism Fiji and Fiji Airways.
Other Voices you might like