Looking for Bottlenose Dolphins near Shell Island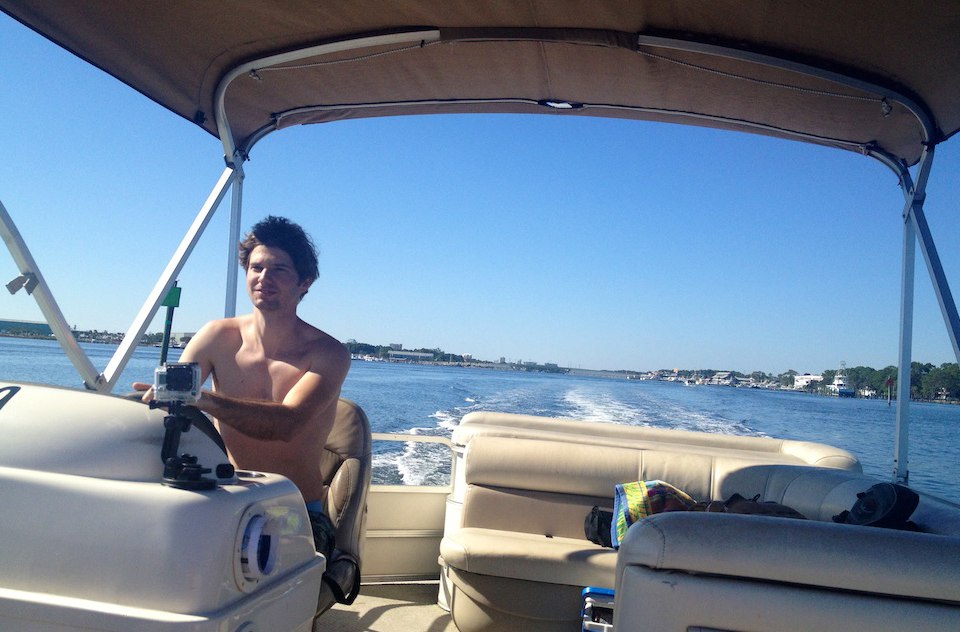 Rent a Pontoon Boat to Shell Island by Jade Broadus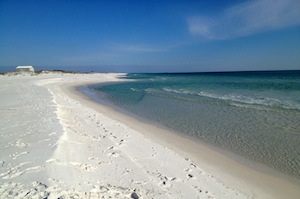 Shell Island Gulf of Mexico by Jade Broadus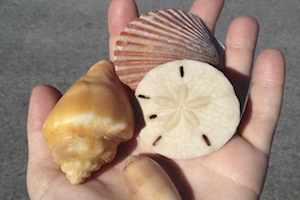 Shells on Shell Island by Jade Broadus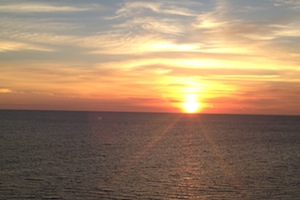 Panama City Beach Sunset by Jade Broadus
St. Andrews Bay in Panama City Beach is home to the world's largest population of bottlenose dolphins, with a very high opportunity for visitors to see some in the wild. On a recent trip to Shell Island, a small barrier island just off the coast of St. Andrews Park, a group of friends rented a pontoon boat with a quest to see dolphins in the wild.
The pontoon ride from the rental office to Shell Island was a short 20-minute trip, if we were moving pretty fast. Since we wanted to increase our chances of seeing bottlenose dolphins in the wild, we decided to take our time and drive at a moderate speed. It wasn't long after we were out of the bay that we saw our first one. Swimming alongside our boat and occasionally jumping out of the water, the dolphin looked young or at least smaller than I anticipated from movies and TV. Cheering and then getting quiet again, as if not to scare the dolphin, we all quietly watched as the dolphin played around the boat.
We slowed down to see if the dolphin would swim closer to the boat, but instead he just kept swimming along his original path. Totally pumped up, we were so excited when we saw a dolphin within minutes of our boat ride. We hoped that meant we would see a lot more as our self-guided tour continued.
We cranked the boat back up and slowly started making our way to Shell Island.
After a short boat ride from the main land to the calm, shallow waters off of Shell Island, we docked our pontoon boat and walked to shore. Still on a dolphin high, we pulled out our cooler, beach chairs, and sunscreen and set out to explore the island.
Shell Island is about 7 miles long and at times only 200 yards across. We were told some of the best snorkeling was further down the island with sandy bottoms and very clear visibility. We brought our snorkel gear, hoping again to see a dolphin in the wild and this time, swim with one.
While we didn't see any dolphins, I could hear them. The sounds reminded me of chattering birdcalls and they went back and forth, as if they were in a heated debate. While listening to them, we saw starfish, puffer fish, some tropical bright colored fish and tons of shells. Even though we didn't swim with dolphins, it was still a great snorkeling trip.
Back on the boat, it was time to start heading back towards the rental shop. We packed our stuff and pushed our pontoon boat off the shallow sand bar. On our way back through St. Andrews Bay we saw several huge groups of dolphins. Again we clapped and cheered, happy our dolphin luck was back with us. Stopping our boat, we just let it float around as the dolphins swam and jumped and chased each other. I don't know what they were thinking, but it was the most amazing experience. It was the type of experience you want at Sea World- although in the wild.
Our search for dolphins proved to be fruitful as we saw more than I could have ever imagined. While we did snorkel off Shell Island, I could think of dozens of ways to spend a day there, making it a necessity to return and visit properly. If you're in Panama City Beach, make sure to add Shell Island to your itinerary.
Other Voices you might like