Cruising the Arctic with the Inuit
Writer Amy Watkins posing with an iceberg behind her, photo by Geraint James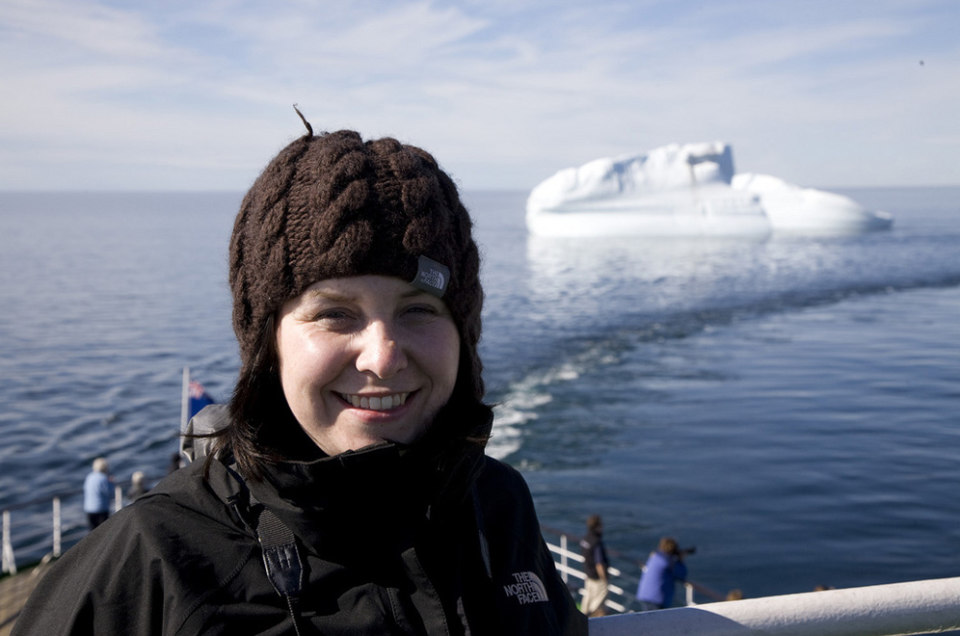 Writer Amy Watkins posing with an iceberg behind her, photo by Geraint James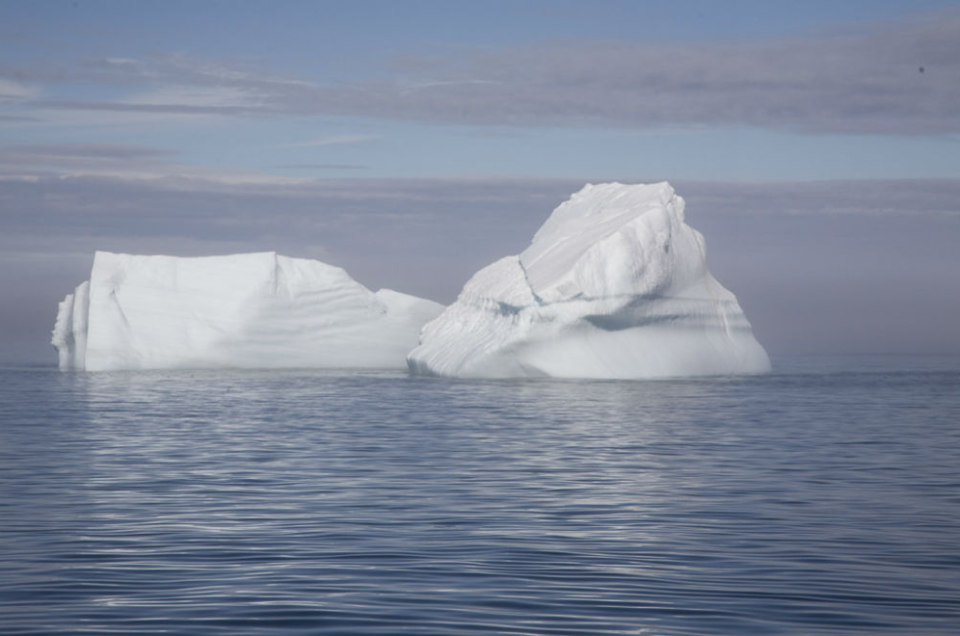 Huge iceberg in the distance, photo by Geraint James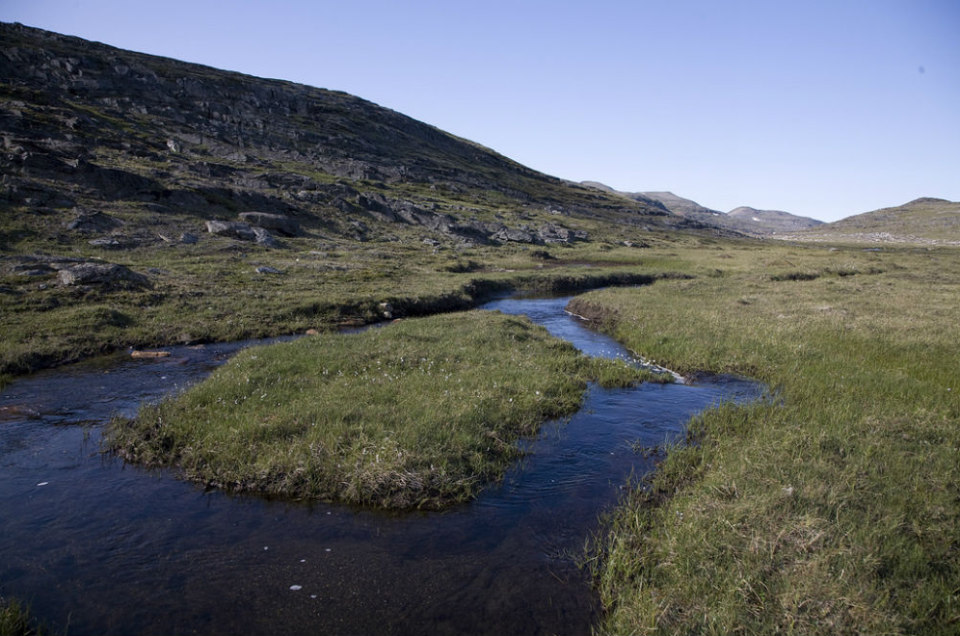 The arctic landscape, photo by Geraint James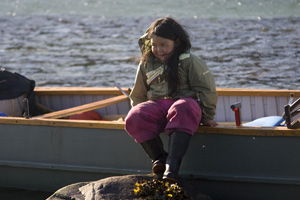 Young Inuit girl, photo by Geraint James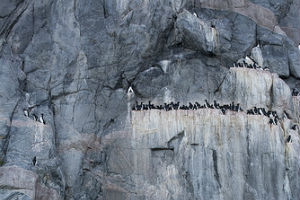 Penguins, photo by Geraint James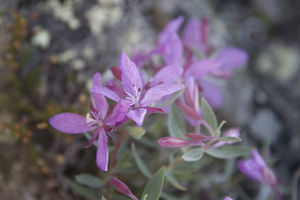 Arctic flora, photo by Geraint James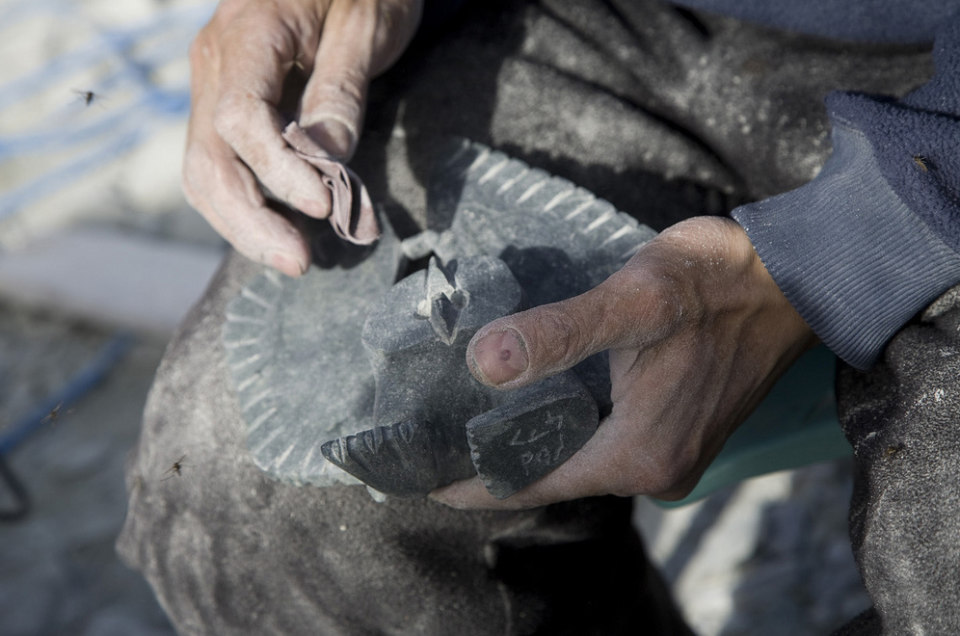 Traditional inuit carving, photo by Geraint James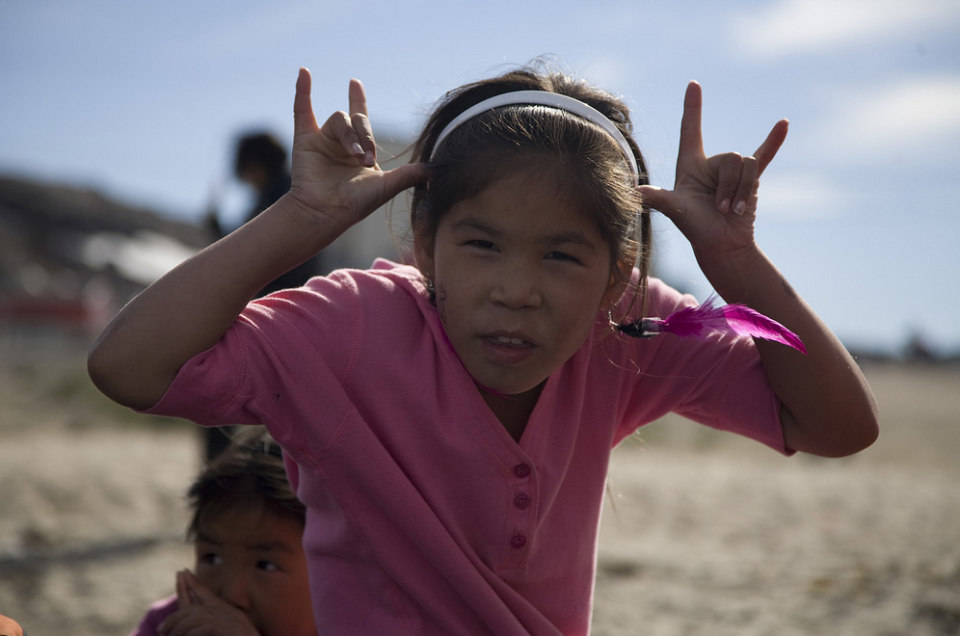 Inuit child making fun of the visitors, photo by Geraint James
We'd spotted a seal. Well, we'd seen half of one, which was now a red smear and a flipper lying across a bright white iceberg. Apparently this was a good omen though, as it meant a polar bear could be nearby. Wildlife truly is wild up in the Canadian Arctic and we were learning some harsh lessons about the food chain as we sailed on an expedition cruise from northern Quebec around Hudson Bay and Baffin Island.
We didn't have to wait long to see the killer white bear – he soon emerged out of the fog on a massive iceberg, his snout bloodied and half-buried in the remainder of the seal.
There were no jeeps or early-morning drives on this safari; we were looking for the Arctic's Big Five of polar bears, caribou, muskoxen, walrus and murres. Over an 11-day expedition we found them all; hiding in deep fjord ravines, lying on barnacle-encrusted rocks and high up on the sheer cliffs.
It wasn't just the four-legged and finned locals that we'd come here to meet; I was travelling with Cruise North, so I had the chance to meeting local Inuit people as well.
Part-owned by the native Inuit-owned Makivik Corporation, which was formed to handle compensation money from the Canadian government over a land dispute, the cruise line uses local guides – many of them teenagers – along with wildlife experts onboard.
Our adventure began below the tree line in Kuujjuaq, the largest community of the Nunavik region of Quebec. Howls from huskies and bleak grey landscapes were our first taste of the lower Arctic – we didn't have a fixed itinerary as our journey would depend on weather conditions and where the wildlife was hiding.
We were sailing through the regions of Nunavik, a region the size of France in northern Québec that was formed in 1975, as part of Canada's first modern land rights treaty. Compensation from this treaty is handled by the Mavivik Corporation, which now majority-owns tourism businesses in the region, including Cruise North and two airlines.
We also sailed through Nunavut (meaning 'Our Land'), which is an Inuit-run region that covers a fifth of Canada, including Baffin Island, and is the country's newest self-governed territory. Following 20 years of negotiations, it was formed in 1999 from parts of the North West Territories and is home to nearly 30,000 people – around 83% of which are Inuit.
We'd been lucky to spot a polar bear early on in the cruise and we were to have two more sightings– one from afar and one very close encounter with a sleepy bear. Nannuck Harbour is named after the Inuktitut (Init language) for polar bear, so we had high hopes as we hiked up a gravelly fjord hill to sit in wait. Across the other side of the deep valley we watched a white fleck skid across a patch of snow and disappear over a ridge.
Towards the end of our adventure, as we explored the Lower Savage Islands in a small zodiac boat, we spotted what looked like a white rug on the lichen-covered rocks. It was a polar bear; a huge, sleepy one. It was 9C though, far too hot for him, so he just kept a wary eye on us as we floated towards his makeshift bed.
Big, bold mammals became a theme on the cruise – at the appropriately named Walrus Island, in the northern corner of Hudson Bay; we smelt, and then saw, a colony of plump walruses sunbathing on a rocky outcrop. Some of the wildlife was on the smaller side. Thick billed murres are nicknamed the flying penguins of the north because their chubby little bodies resemble their Antarctic counterparts.
Our guide Shoshanah gained her PHD studying these birds and loved them so much that she one tattooed on her arm – it was easy to see why she adored them as they flopped off the clifface and made a clumsy dive into the sea. At Akpatok Island (place of the murres) we had an early start to see the biggest colony in the world tucked amongst the sheer cliffs of the island – down below a yellowed polar bear lay in wait, looking out for baby birds that hadn't learned to fly properly.
Many of our land-based excursions were hunts for wildlife – our guides flanked us with guns, on the look-out for bears, as we stalked out long-haired shaggy muskoxen at Diana Island and watched for mighty caribou at Douglas Harbour amongst the glacier-carved fjords.
As stunning as the wildlife was, the real highlight of the trip was meeting the local people who live in remote communities in Canada's north.
We visited the home communities of several of the young trainee guides onboard. Kangiqsujuaq was home to two of the youngsters and they showed us around the colourful low-slung buildings and introduced us to the school kids – quad bikes and skidoos have replaced traditional dog sleds, but traditional hunting methods are still taught and are an important part of survival up there. Our guides showed us their caribou gloves and modern jackets – both old and new are used together.
At Ivujivik we were met on the beach by inquisitive local kids on bikes who were curious to see the only cruise ship that visits them. Racks of Arctic char were drying in the weak sunshine, surrounded by pockets of bright yellow Arctic poppies sprouting up between the bare rocks.
Native art lovers may be familiar with the name Cape Dorset – this small community on remote Baffin Island is famous for its Inuit art, especially soapstone carvings. We stopped at the art co-op, which was created in the 50s to promote native art, and artists make colourful screen prints and carefully carve owls out of rough soapstone. Cape Dorset has long been a settlement and there was also evidence of an older pre-Inuit culture called the Thule people. Remains of a 1000-year-old stone dwelling overlooked a picturesque lake and an inukshuk – a pile of rocks that resembles a man and marked out hunting grounds.
As we sailed through Frobisher Bay, towards our final destination of Iqaluit – the capital of Nunavut, we were chaperoned by a paddling bear that had been resting on one of the blocks of sea ice. Away from the dog eat dog world of city life, we felt privileged to explore the polar bear eats seal world of the Arctic.
Other Voices you might like