Completing my Summer Bucket List in PCB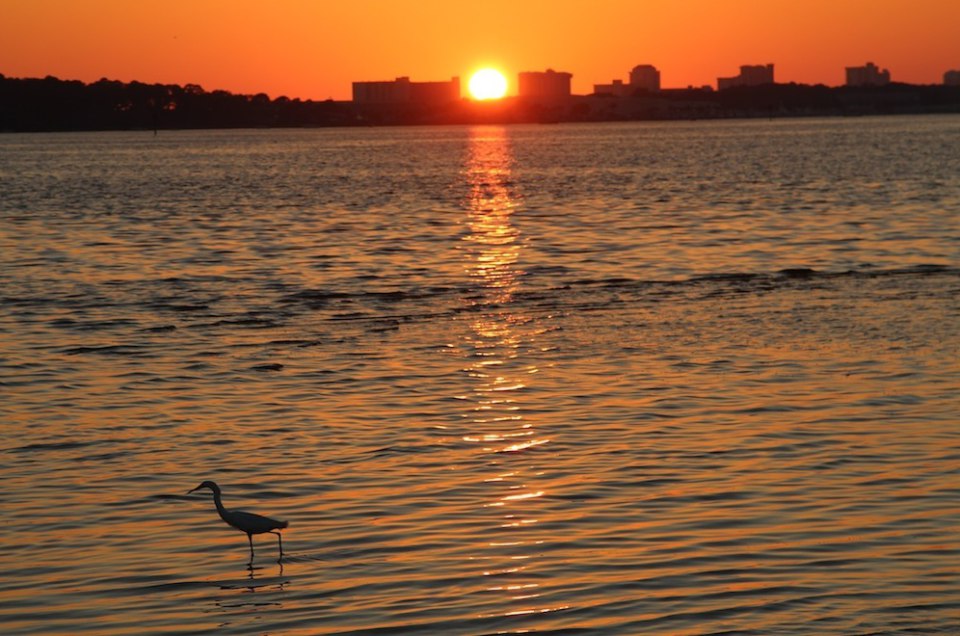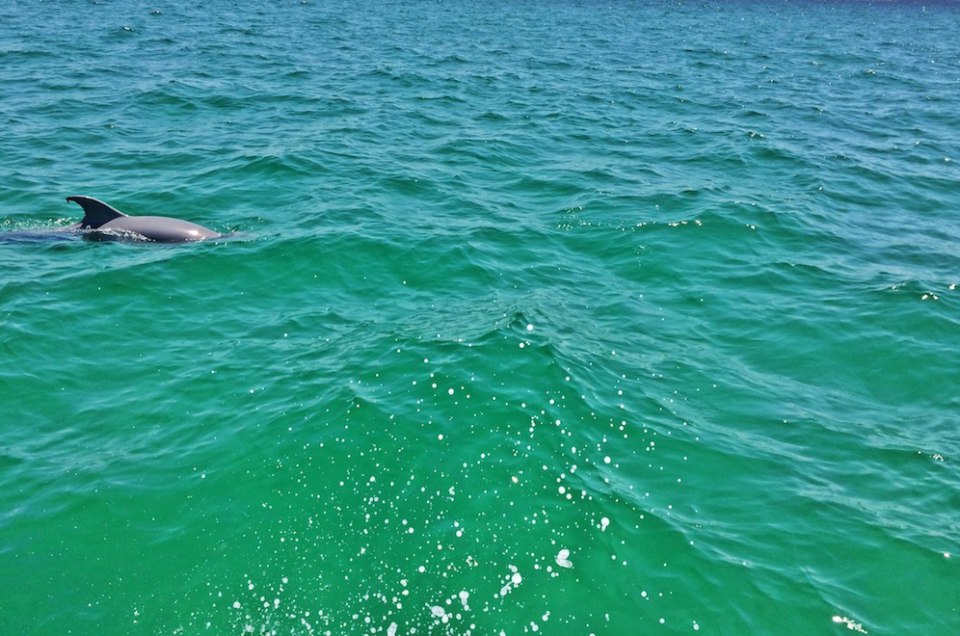 Dolphins seen off our Diver's Den Boat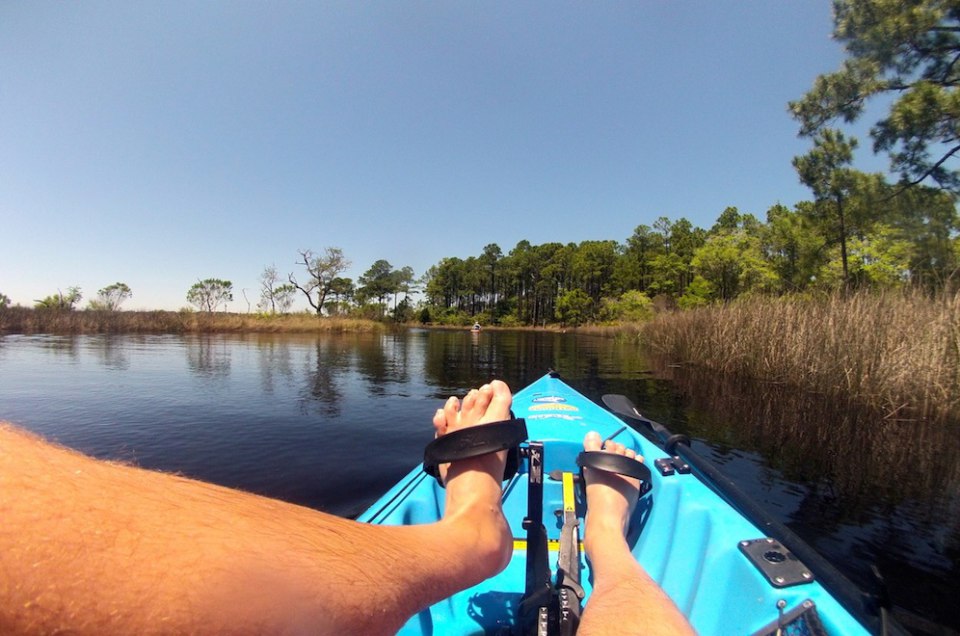 Kayak fishing in Burnt Mill Creek
Mention Panama City Beach and many people immediately think "spring break." Being in Florida, it represents one of the few regions somewhat comfortable for those seeking sand and sunshine come late winter and early spring. It's that kind of image I had in mind when I arrived recently for a week-long visit.
My mission: To get away from the Emerald Coast's iconic beaches and substitute a week of sunbathing for a week of activities exploring Panama City Beach. But while I was getting off the beach, I was never far from the water as I took on Panama City Beach's bucket list challenge.
1. Stand-up paddleboarding. You know the saying, "It's like riding a bike"? Well whoever says that about stand-up paddleboarding isn't a 6-foot-3 tall drink of water who spent most of their time falling in the water upon first attempting to paddleboard. But that was last year. Being the kayaker and persistent adventurer (or stubborn adventurer) I am, I was resolved to conquer paddleboarding (sometimes referred to as "YOLO boarding" in this part of Florida).
I met Suzy from SUPconscious at St. Andrews State Park, an ideal launching point for paddleboarders because of the cove sheltered by a jetty that provides calm water. Suzy walked me through a safety demonstration and brief paddling instructions before we hit the water. While west coast beaches are often lined with paddleboarders, we were the only ones on the water. The first hour found me in the water most of the time, but after Suzy let me test out some of her other, more forgiving boards, I was paddling around the cove as yachts, a barge and even a pod of dolphins cruised just beyond me. I left feeling like I could much more easily do stand-up paddleboarding over surfing.
2. Snorkeling/diving. There's a reason they call the Panama City Beach area the Emerald Coast. It features clear, emerald water you won't come by along the coastline of most of America. It's home to marine life including sea turtles, Goliath Grouper, dolphins, octopus and redfish. But a few miles offshore are also wreck dives, including the 185-foot Black Bart, the 441-foot World War II Liberty Ship and the 465-foot Empire Mica.
Learning to dive is high on my bucket list, but until I get my certification I decided to join a dive group in PCB to get my feet wet snorkeling and learn more about the dive culture in PCB. I went out with Diver's Den, which was doing a two-tank dive to the Black Bart and a bridge span. When their divemaster, Carlos, told me he was a former diver for the military, I couldn't help but think this was the one person I would trust to teach me to dive when I finally get my certificate. While my morning snorkeling found me swimming alongside several species of fish, the highlight was the dolphins we saw on the way back to shore, some of which followed the boat for a couple hundred yards, playing in the wake.
3. Kayak-fishing. I grew up both kayaking and fishing, so why had I not experienced kayak-fishing? Well in part, because it seemed like an awful lot of work when I grew up going deep-sea fishing. But that was before I knew that pedal-powered kayaks existed. Yes, that's right, kayaks that you pedal, giving new meaning to the term "paddleboat."
My day kayaking the inshore of Panama City Beach with Bay County Outdoors took me places a deep-sea fishing boat couldn't, while also making me feel like I had gotten a workout in. We paddled narrow and shallow marshy waterways to get to deeper coves that Bay County Outdoors had previously scouted. Seeing a couple pods of dolphins was an added perk. (Do you see a theme here?) The success of this adventure is evident in my Internet browsing history, where after getting home I bookmarked several pedal system kayaks. That, plus we caught several fish checking 'Hook and Cook your dinner' off my PCB Bucket List. Word to the wise: Don't forget your sunscreen in your car like I did.
4. Sunset cruise. I like sunsets. A lot. Call me a romantic, but no matter where I travel, I can't leave without capturing a sunset photo. I hadn't been in Panama City Beach for a full 24 hours before I was hopping on a catamaran with Paradise Adventures for their sunset cruise. Just as I had hoped, there was a bar on board (I recommend the "Privateer Punch"), which momentarily transported me to the Caribbean when that fruity rum cocktail was combined with emerald waters and a colorful sunset. While I extol the virtues of west coast sunsets, since I live there, I've always said that the Gulf Coast has some of the best sunsets, and it didn't disappoint. While the water wasn't choppy while we were out, I do recommend taking motion sickness medication before you board if you tend to have trouble on boats.
Other Voices you might like