The Mysterious Monkeys in Morocco
Monkeys in Morocco photo by Bobby Christian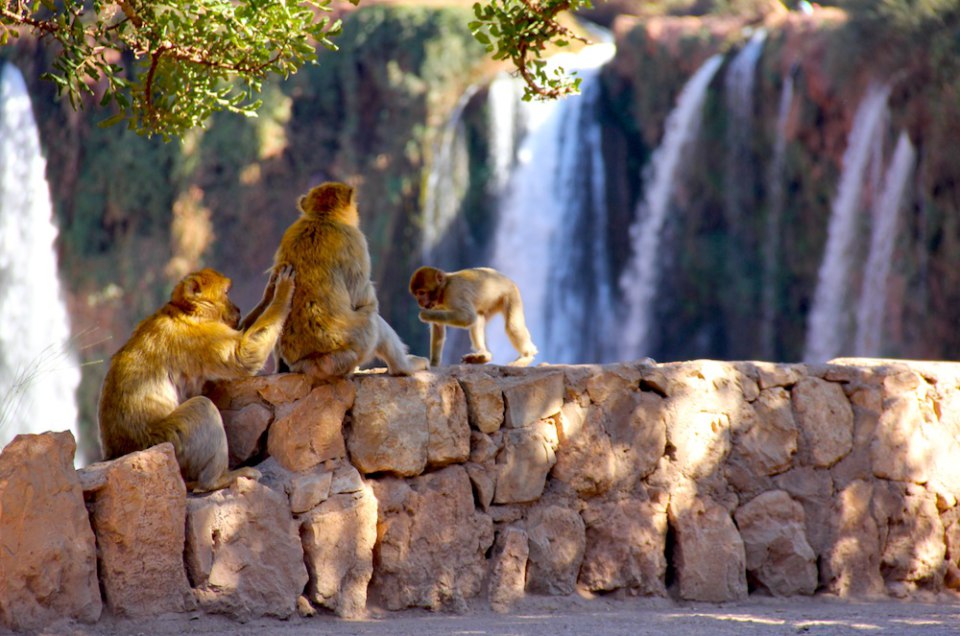 Monkeys in Morocco photo by Bobby Christian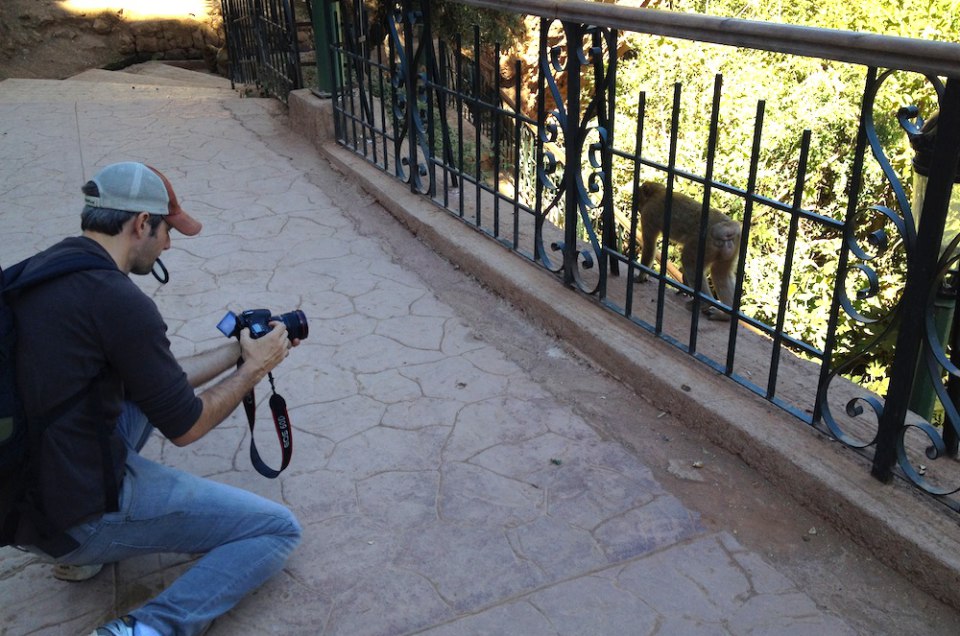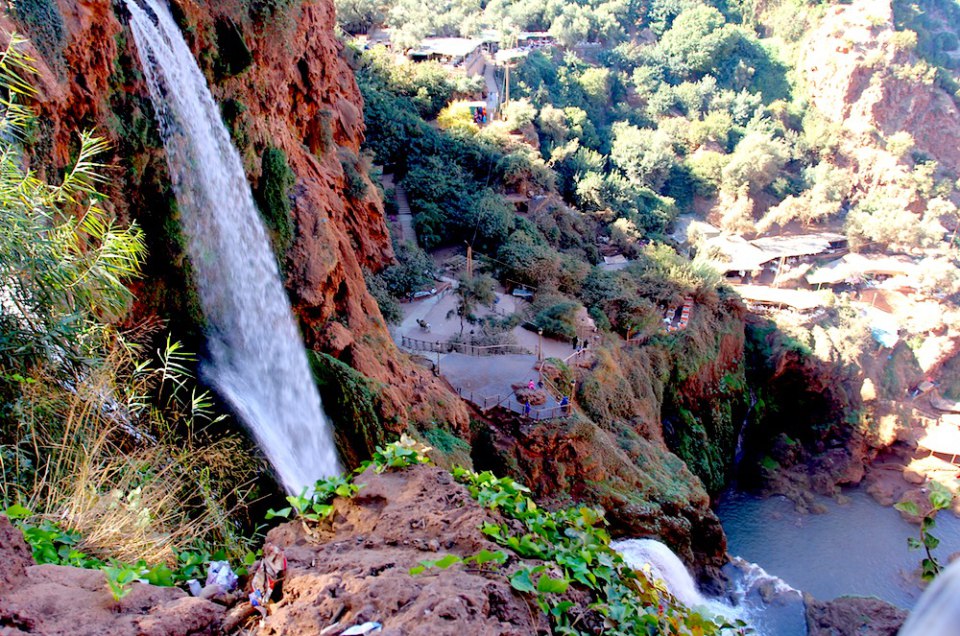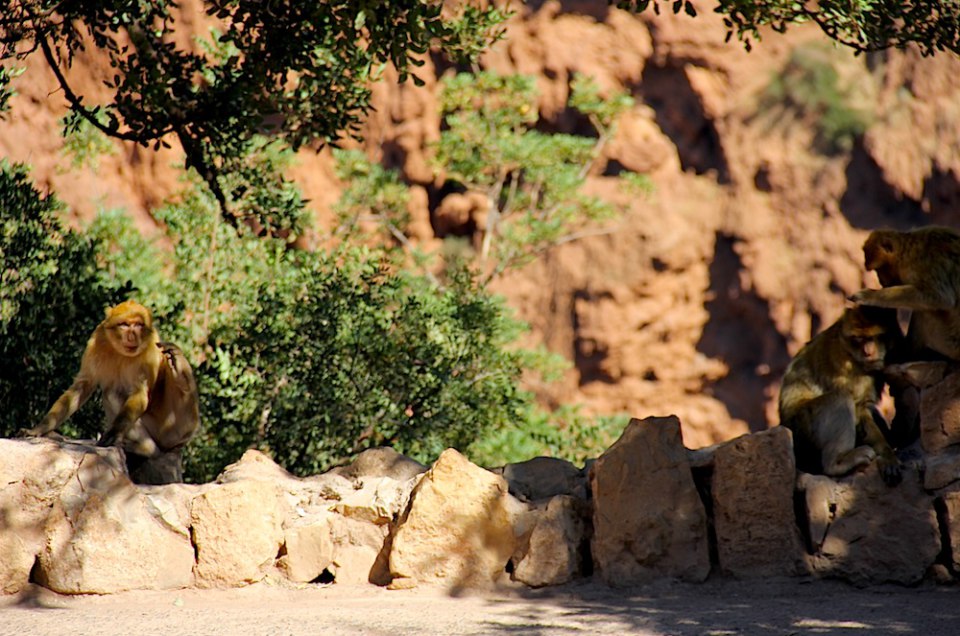 Monkeys in Morocco photo by Bobby Christian
When most people think about Morocco, they think about the Sahara desert, the camel rides on the beach, the souks, the Moroccan blankets and carpets, and tagine. A little known fact, and what was to become my husband's favorite part of our trip, is that there are monkeys in Morocco.
Seconds after a Google search led us to the monkey tidbit, my husband was busy figuring out a way to see the monkeys in the wild. It wasn't long before he stumbled upon a Viator day trip from Marrakech that took you to the Ouzoud Falls, the tallest waterfall in North Africa.
Waterfalls and monkeys- we were in heaven.
Early one morning our guide picked us up in a luxury 4×4 from our riad in the middle of the souk and drove us about two hours to Ouzoud Waterfalls. Our guide was super sweet and tried to tell us everything he would do in Marrakech and everything we wanted to know about Morocco, too. When we mentioned the macaque monkeys, he was quick to say that the monkeys don't come out all the time and that we would have to be very lucky if we saw one.
Slightly bummed that our monkey dreams might not come true, we jumped out of the car and our driver told us he would met us at the bottom of the waterfall.
When I read that we were going to see the 2nd tallest waterfall in Africa and the tallest waterfall in North Africa at 360 feet high, I didn't really know what that would look like. Turns out- amazing. We had just driven through 2 hours of complete desert; seriously it looked like nothing could live there. Even when we got out of the car, I was wondering where exactly the driver had taken us. There didn't seem like there was a waterfall anywhere close by.
It wasn't long, though, that we could hear the water. Walking over to a ledge, we poke our heads down to see a massive waterfall. The area all around it was so green and alive, especially in contrast to the desert landscape.
Our guide was waiting for us at the bottom of the waterfall and in order to get there, you had to walk down layers of staircases (where there were sellers and restaurants all lined up one after another). We decided to take the long route down, with less stalls.
Up ahead I noticed something moving. It was small and quick, but looked exactly like a monkey. I screamed (maybe a little too loud) and said "monkey, monkey, monkey". My husband was on it. We walked down the side of the mountain as fast but as cautiously as we could. We didn't want to scare off the monkeys.
The monkeys seemed quite used to humans and after a quick look at us, when about their business. Which, of course, was adorable, if you like seeing animals in the wild. They played in a small stream, chased each other and looked out for the babies. Yes, there were even baby monkeys. We hit the jackpot of monkeys.
We totally forgot about the waterfall for a good twenty minutes. Sure, it was a beautiful background to our viewing of the monkeys, but beyond that we were totally uninterested. The monkeys had our full attention. And lucky for us, we were the only people around so we got a private show.
While our driver did mention that they didn't come out that often, I'd suggest anyone going to the Ouzoud Falls to head straight towards to bottom of the waterfall when they first arrive. Our guide mentioned that the monkeys are most likely visible when it's not too hot (like mid mornings or afternoons) and usually hide when the most people are there (around lunch time).
There was something so special about seeing a monkey in the wild and not from behind bars at a zoo. They were able to play and swing in the trees and eat little snacks so freely.
After we took about 200 photos and videos, we walked to meet our guide for lunch. He had walked ahead of us to find the perfect spot overlooking the waterfall. It really was so special to have a traditional tagine lunch with that view. I'd consider this our favorite day trip from Marrakech and highly suggest it to anyone looking for an incredible and unique experience.
Sponsored by Morocco Tourism
Other Voices you might like