Anguilla, the Luxurious Celebrity Hangout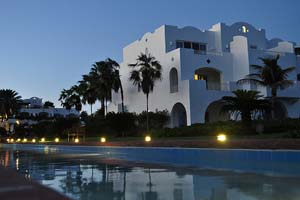 CuisinArt Resort grounds, photo by matt.ohara on Flickr.com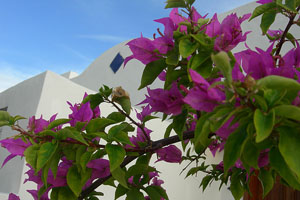 CuisinArt Villas through the flowers, photo by tjcnyc on Flickr.com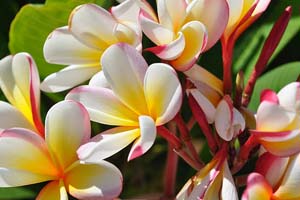 Flowers at CuisinArt Resort, photo by matt.ohara on Flickr.com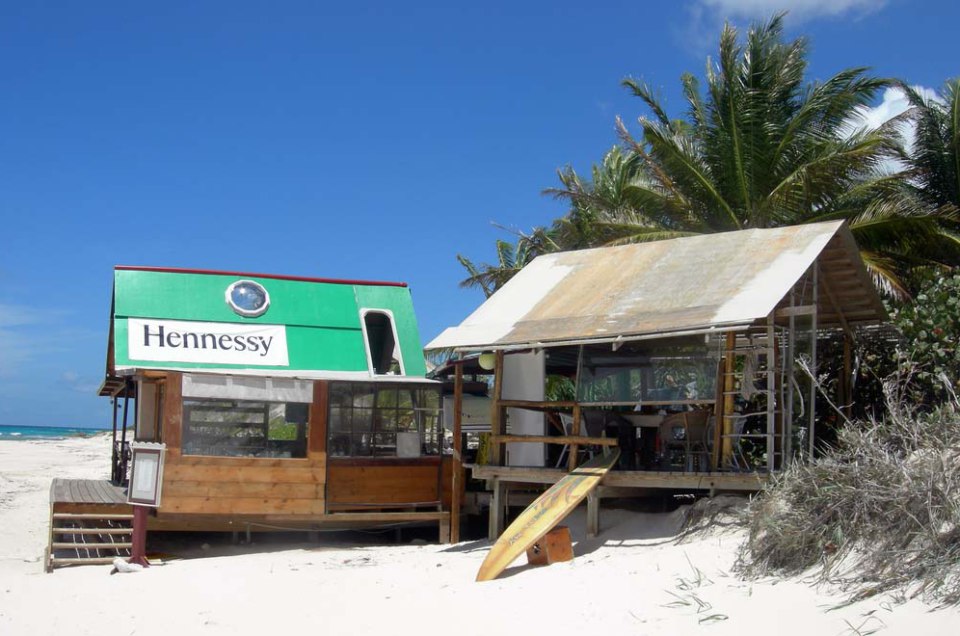 The Dune Preserve, photo by tom_cunniff on Flickr.com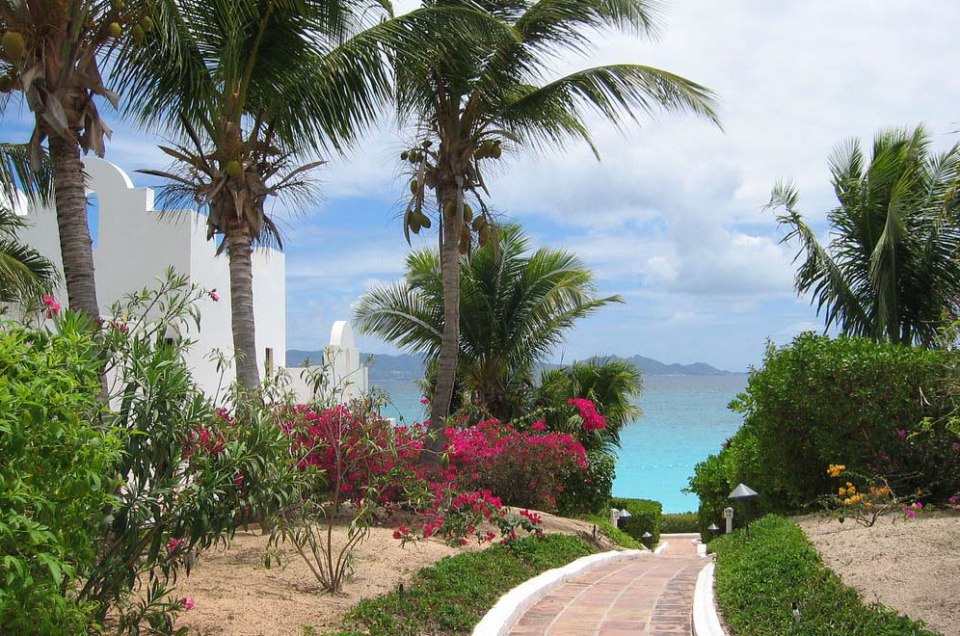 My mind held one image as I reclined in the CuisinArt Venus Spa, my cheeks cooling under a layer of soothing seaweed balm: An hour earlier, the hands gliding across my face had rubbed Denzel Washington's butt.
From Denzel's cheeks to mine. Such are the fantasies inspired by the tiny kingdom of Anguilla, the northernmost of the Leeward Islands, one of the most tranquil slices of paradise in the Caribbean. That's why celebrities love it: you won't find busy shopping avenues here, or cruise ships, a hopping nightlife or fast food. Do not look for golf courses, amusement parks, miniature golf or pancake houses.
What you will find is a seemingly remote island, just a 20-minute ferry ride (but a world away) from its boisterous neighbor, St. Martin.
Part of Anguilla's perceived solitude is its size: the island is just 16 miles long and three across, with an adult population of only 5,000–most working in tourism.
Catering to upscale visitors is, by consensus, the tiny island's only industry. No one can say exactly when islanders decided to go for quality over quantity, but contemporary culture and laws support their choice. No high-rise resorts will ever glare down onto Anguilla's 33 white-sand beaches. Outsiders cannot own property; one must reside on Anguilla for 13 years before being accepted as a "belonger," or citizen.
And, since nearly everything used here must be shipped in, living expenses are exorbitant. (We saw Tylenol, 100 tabs, selling for $22 U.S.)
It's also not the easiest island to reach. There are no direct flights from the U.S.; visitors must either fly to Puerto Rico, then to Anguilla, or fly to St. Martin, then taxi across that island to St. Maarten, where they take the sometimes-rough ferry ride to Anguilla.
Four signature resorts and a handful of sophisticated restaurants set the standard. Malliouhana, the resort where Oprah Winfrey reportedly keeps a suite, came first in 1984–Anguilla's announcement that it was ready to move beyond beach cottages. Perched on a knoll above the beach, Malliouhana maintains a oenophile's dream of a wine cellar, 900 selections in 30,000 bottles.
Cap Juluca's Moorish-style architecture distinguishes that resort, one of Forbes magazine's list of top 10 international resorts several years ago. Set on 179 lush acres, the resort has two crescent-shaped beaches. Every room has a private terrace. Actor Martin Sheen's son honeymooned there.
Even more striking are the geometric facades of Covecastles, the smallest and most modernistic of the exclusive resort group. Rounded balconies, floor-to-ceiling windows and an absence of paved walkways make each four-bedroom villa a sculpture in the sand–"a beachfront Brigadoon," said an Architectural Digest writer.
Perhaps the most interesting of the exclusive resorts is CuisinArt, not so much for its dramatic Mediterranean architecture–though it is stunning–as for its hydroponic farm.
Visitors entering the greenhouse must dip their shoe soles into a chemical "bath" to avoid carrying contaminants into the farm. Lettuce ponds flank the entrance; the hotel uses about 100 heads each day, and two floating "rafts" yield 128 heads of lettuce daily. A bucket system grows vine crops such as tomatoes, cucumbers and eggplants, herbs are cultivated in an A-frame water culture system, and bok choy and strawberries grow in towers of 10 stacked pots, fed with drip irrigation lines. Water for the farm is sea water, converted in a "reverse osmosis unit," says hydroponics expert Howard M. Resh, manager of the farm.
"If this weren't here, we'd have to ship all of our lettuce and vegetables from the U.S.," Resh says. "They'd pick everything green. Here, it ripens on the vine and we pick it when it's ready." Water drained from pots and other receptacles on the farm is recycled for landscaping use.
Americans come late to Anguilla. Its first residents, some 4,000 years ago, were an Arawak-speaking Amerindian people, skilled farmers and pottery makers from South America. The first to colonize in modern history were the British in 1650. By the mid-nineteenth century they were united with St. Kitts-Nevis, an association that lasted until Anguilla Day, May 30, 1967, when Anguillians revolted. Artifacts from Anguilla's history, include Arawak implements, are on display at the private Heritage Collection museum. (Our favorite relics there were an "old wife skin"–the scratchy, discarded skin of an "old wife" fish, once used by islanders to scrub pots and pans–and a lacy, dried sea fan, used to sift flour as late as the 1950s.)
The Savannah Art Gallery, housed in a tiny cottage outside Crocus Bay and specializing in Haitian art, is another worthwhile stop. Owner Frank Costin, a Toronto native, came to Anguilla nearly two decades ago on vacation and never left: "It's not a life for everyone," he says of his found home. "It's a quiet life. Many would find it too quiet."
Not every corner of Anguilla is so quiet, however. At the western corner of Rendezvous Bay sits what appears to be a giant, haphazardly assembled tree house, actually The Dune Preserve–a beach bar created by Banki Banx, Anguilla's most famous reggae musician, who performs on Friday nights and during the full moon. Specialty of the house: "Duneshine," a whiskeyed version of ginger beer.
Shoal Bay is the most popular beach on Sunday afternoons, when SoCa music is live from the beach bars. It's also, with an Atlantic view, one of the island's best spots for watching sunsets.
After nightfall, locals head to the lighted beach at Sandy Ground. The Pumphouse, an old salthouse turned barefoot bar, and Johnno's Beach Stop, built of logs spaced far apart to allow the Caribbean trade winds to breeze through.
One of the best places to eat and spot celebrities is Scilly Cay (pronounced, "silly key"). Getting to the cay is easy–just go to the pier at Island Harbor and wave, and a boat will fetch you for the two-minute ride across the water; after lunch, cay staff will send the bill to your hotel.
While all of the island's five-star resorts serve gourmet fare, several restaurants are worth a visit. Oliver's Seaside Grill features such local delicacies as Anguillian pumpkin soup and poached island lobster with mango ginger sauce. Blanchard's in Mead's Bay serves fine "new American" dishes. For lunch, the curried goat at Smokey's at the Cove is consistently good. And for a genuine, mid-day Anguillian feast, try Sydney's Antique Museum for the fried Jacks (saltfish, eaten with fingers), goat stew, "rice-beans" and enough rum punch to float the ferry back to St. Maarten.
We ran into several celebrities during our stay in Anguilla, including a company of soap opera stars. We just missed seeing Kevin Bacon. Michael J. Fox has visited the island many times.
A tourism official joked that singer Michael Bolton arrived on Anguilla and demanded a limousine, "but this is a tiny place, and we had just one limousine– our hearse. So Mr. Bolton spent the week riding around in the hearse, and everyone on the island kept asking who died. When they learned the truth, they thought he was crazy to need a limousine in a country that only has a few roads!"
But, recalling one writer's words, Anguilla is clearly "the country club of the Caribbean"–and, as in most quality clubs, the members enjoy their privacy. Mick Jagger visits the island several times a year; like many visiting celebrities, he makes the rounds of the beach bars and gourmet French restaurants. He does so because he can, without intrusions. In this tropical paradise, asking for an autograph is unacceptable behavior.
Celebrities come to Anguilla for the same reason you will–for the serenity and rejuvenation that happens almost automatically. Anguilla can be a sanctuary or an adventure, but always it is an intimate, captivating paradise.
Other Voices you might like