How Lindsay Ferrier Manages the {Suburban} Turmoil at Home and on the Road
Photo courtesy Lindsay Ferrier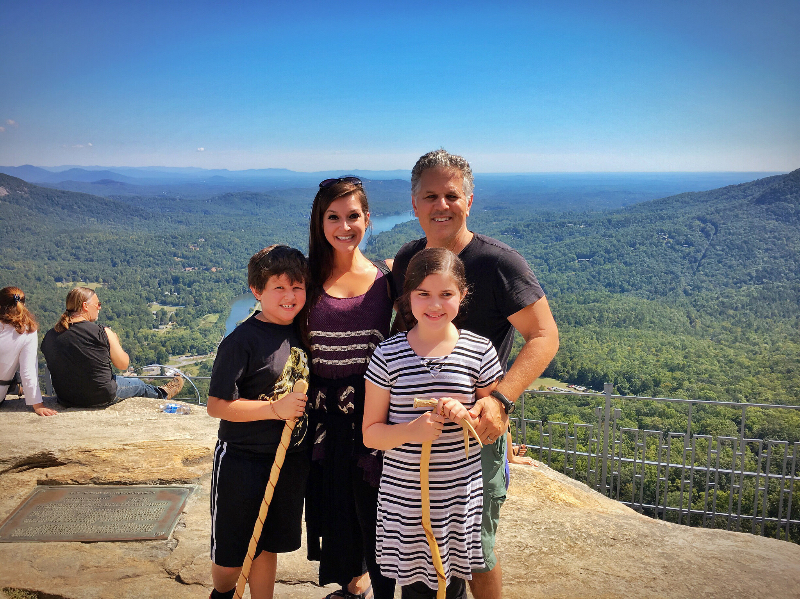 Photo courtesy Lindsay Ferrier
#FBF: Followback Friday is a weekly interview series where we get real with some of our favorite travel influencers. We want to learn what makes them tick, their best tips and tricks, and share stories of (mis)adventures from the road.
12 years ago Lindsay Ferrier was searching Google for an online diary of sorts. She found it at Blogspot and within moments (3 minutes and 30 seconds to be exact), Suburban Turmoil was born. Over the years, Lindsay has transformed her website from diary to family resource on life at — and away — from home. Here at iExplore and Travel Mindset, Suburban Turmoil has become one of our go-to family travel experts. Lindsay frequently shares her family adventures with us and she graciously agreed to this interview while she was flying to the Caribbean for a 10-day cruise with the fam. We picked her brain to learn more about her, what she recommends for families to do in Tennessee, and how she has instilled the love of travel into her kids, too.
No matter where you go, it seems like your kids genuinely enjoy traveling. What are the secret ingredients for a fun family vacation?
My kids are fantastic travelers. They get along well and they're total troopers when it comes to long car rides and airport layovers. That said, they definitely have their meltdown moments. What has helped my husband and me the most is to expect those moments (and accept that they'll probably happen at the most inconvenient, inappropriate times!), stay flexible, and just power through them. If we're at an amusement park and one of the kids is falling apart, we stop what we're doing and find a cool, quiet place for a few minutes of rest. If it happens on a hike, we take a break and have a snack. We don't analyze or discuss or 'talk through' the behavior, we just calmly let it run its course. If left alone, the kid is generally over it and having fun again within 10-15 minutes. Going into a travel situation knowing that meltdowns are likely and planning ahead by stashing a bottle of water, a snack, and even a few small toys (great for restaurant meltdowns!) has helped us make it through many, many travel situations.
How would you describe your travel style? Does it differ a lot when you're traveling with the fam?
I typically do a decent amount of research ahead of time, but I go with the flow once I arrive. If having a family has taught me anything, it's that it's best to be flexible when traveling. We love getting recommendations from locals. That's how we've discovered some awesome places off the beaten path. And we usually don't mind getting lost, because it just gives us an opportunity to see even more while we're traveling.
A lot of times packing can seem especially stressful for families. What are your top packing essentials?
I always pack several extra changes of clothes for the kids — it's amazing how quickly they're able to get dirty! After experiencing several disastrous downpours, we never go anywhere without raincoats or ponchos. We have a bag of small pool toys that we bring with us on nearly every vacation, since most hotels have a pool and the kids love to spend time in it. We bring a small cooler on every road trip. Not only does it save us money on drinks, but it also allows us to buy things like cheese, fruits and vegetables if we happen across a cool roadside market. And I never forget appropriate medication, from ibuprofen to band-aids and antibiotic cream.
Be honest, what's one item you never leave home without?
If there's any possible way to fit it in, I like to bring my own pillow from home. I can sleep pretty much anywhere if I have my pillow with me!
What are your top travel destinations for families – both in the US and abroad?
We've discovered that we nearly always prefer small towns to big cities, so any time we visit a city, we always book a few nights in an interesting smaller town that's within driving distance. For example, we absolutely loved Quebec City in Canada, but we also spent several nights in the small town of Baie St. Paul and that's where we had some of our greatest moments of the entire trip. From there, we went on a whale-watching expedition, ate heavenly local breads and cheeses, rode bicycles around a nearby island, and had fun practicing our atrocious French on the locals, which made them feel comfortable practicing their atrocious English on us! Smaller towns are generally also more kid (and adult!) friendly, as well— The locals are genuinely happy and excited to have visitors.
Here in the states, we were surprised by how much we loved Sioux Falls, South Dakota. It is truly a perfect city for a family vacation. There are so many fun things for families to do together and nearly everything is within a short drive of downtown. My kids actually asked if we could start going to Sioux Falls instead of Walt Disney World every other year! We also love discovering lesser-known vacation spots as a family— like French Lick, Indiana and Lake Lure, North Carolina, where Dirty Dancing was filmed.
You're quick to point out all the gems in and around Tennessee too. What are some of your favorite, tried-and-true adventures families must experience while they're in the Volunteer State?
I think Fall Creek Falls State Park is Tennessee's greatest natural wonder. Stay in a cabin or the park's authentically retro hotel and spend a few days hiking and biking to see some of the most breathtaking waterfalls in the United States. Rugby is an amazing preservedVictorian village miles from civilization on top of the Cumberland Plateau. Its backstory could be made into a Downton Abbey-style PBS miniseries. Chattanooga is a fantastic family destination with lots to do, including the Tennessee Aquarium, a fantastic children's museum, Rock City, and Ruby Falls. And a visit to the vast Cumberland Caverns in McMinnville never disappoints, whether you see a Bluegrass Underground concert or take a tour through the cave's many enormous rooms.
Many families often say travel is too expensive. How do you save money while you're on the road?
We've come to really enjoy traveling in the off-season. Not only is it far more affordable, but beating the crowds makes every experience better. We went to Panama City Beach last October and had a far better beach vacation than we've ever had in the summertime. The weather was absolute perfection and the crowds were minimal. We also travel during the week whenever possible, and we bring along snacks, drinks, and even breakfast foods when it's realistic, which really saves money on the road. Finally, we keep open minds when it comes to our destinations. Less popular vacation spots often cost far less money, but offer just as much fun. This is particularly true when it comes to the beaches.
What advice would you give to families who want to travel more?
Spending money on family travel is totally worth it! We drive older cars and forego things like updating our kitchen counters and cabinets so that we can travel as much as possible. I don't mind, because the experiences we've had together as a family have been truly magical. Don't be disappointed if you can't afford a luxury resort or hot spot. We've had just as much fun on inexpensive vacations at a national park, for example, as we have on luxury vacations.
What are your travel plans for 2017?
We are excited to be starting off the year with a 10-day Caribbean cruise to St. Thomas, St, Kitts, Barbados, and St. Maarten. A week later, my daughter, stepdaughters and I are heading to Walt Disney World and another Caribbean cruise to Castaway Cay for a social media conference. In March, we're visiting Abingdon, Virginia, one of the top 10 small towns in America, and riding the Virginia Creeper Trail with the kids — It's a gorgeous 17-mile bike trail that's almost entirely downhill. We're also planning a trip to Harlan, Kentucky, where most of my ancestors are from. The remote settlement in the Appalachian Mountains where many of them lived still stands, and state park rangers on 4x4s give guided tours to see it!
After that, who knows? We've been keeping our options (and minds) open and going wherever an opportunity presents itself — and that seems to be working out pretty well!
Don't miss any of the adventures Lindsay and her brood embark on! Follow her on social media:
Other Voices you might like