10 secrets to an amazing Hawaiian vacation
Kauai, photo by Steph Zerr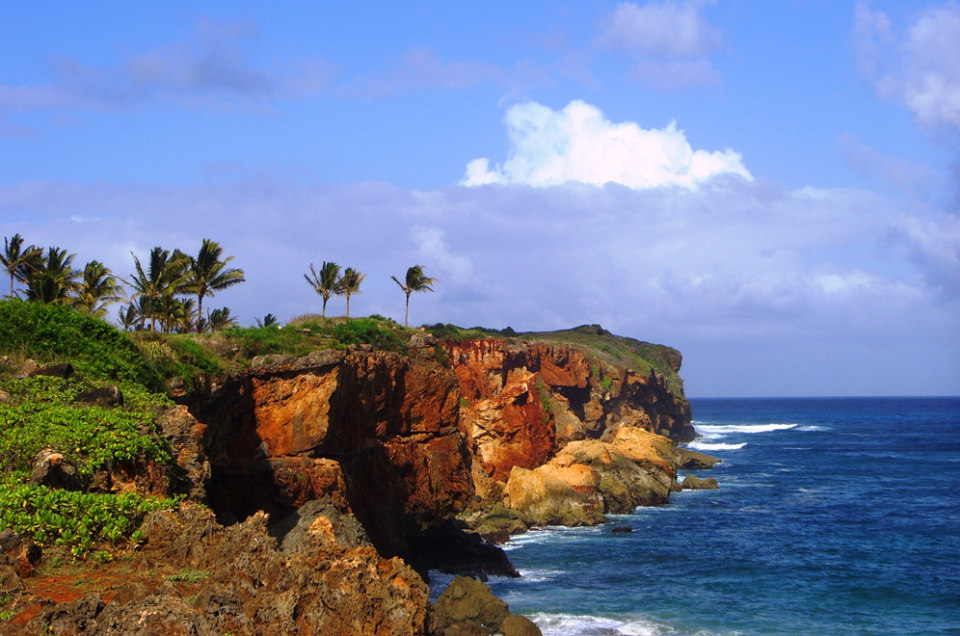 Kauai, photo by Steph Zerr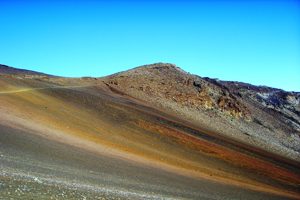 Maui volcano, photo by Steph Zerr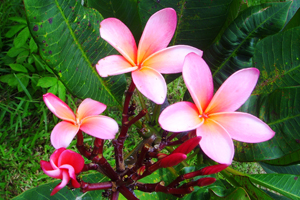 Hawaiian flora, photo by Steph Zerr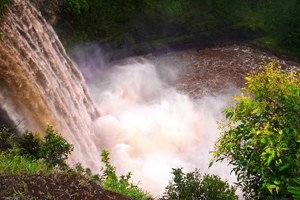 Wailua Falls in Kauai, photo by Steph Zerr
Looking for a tropical getaway that features endless adventure possibilities, family-friendly activities, amazing food and mile upon mile of stunning scenery? Look no further than the Hawaiian Islands—six unique destinations that all share the same laid back, aloha spirit. Here are 10 ways to make the most of your voyage to the Pacific.
1. Pick an island
This is easier said than done. There are six islands to choose from: Kauai, Oahu, Lanai, Molokai, Maui and Big Island. Each Hawaiian island offers something different. For example Oahu is a blend of cosmopolitan city life in Honolulu, the iconic, bustling tourist area that is Waikiki and the small-town charm with big waves on the North Shore. Then you have quieter islands like Lanai, which doesn't have a single traffic light and Kauai, home to the wettest spot on earth, and also the "Grand Canyon of the Pacific."
Inexpensive inter-island flights, such as those offered by Hawaiian Air, are a great way to see more than one island—they barely have time to serve you a tropical fruit juice before touching down.
2. Stay off the beaten path
If you're keen to steer clear of resorts and hotel strips, consider a couple of lodging options. Renting a condo means you have a place to comfortably kick back and relax after a day of sightseeing. Plus, you can cook your own meals. Be sure to check out local farmer's market schedules so you can savor local fruits and veggies like rambutans and lilikoi (passion fruit).
Another option is to consider is a B&B. You'll get to discover a neighborhood you likely wouldn't have passed through on foot and many B&Bs serve a hearty breakfast (included with the price of your stay) before you head out for the day. Some will even pack you a lunch!
3. Eat like a local
You can eat at a chain restaurant anytime when you're at home. Explore the cuisine of Hawai'i's diverse cultural influences. If you're not too hot, try a bowl of saimin, a noodle soup full of various toppings that is inspired by Japanese udon, Chinese mein and Filipino pancit. Also popular in Hawai'i is lomilomi salmon (raw salted salmon with diced tomatoes and Maui onions), poke (seasoned raw fish salad) and SPAM musubi (SPAM wrapped in rice and a piece of seaweed).
4. Take a surf lesson
If you want to learn how to catch the perfect wave, consider seeking out a local teacher or surf school to give you a lesson. You'll not only learn the right techniques, you'll also learn about surfing etiquette—a must if you're going to take your board out to surf among the locals. Many places will rent out surfboards (and boogie boards) for several hours or days at a time. Just make sure you have somewhere to store it safely! And always be sure to listen to surf reports before heading out so you know what conditions you're paddling into.
If you're not into big waves, try stand-up paddling—one of the fastest-growing watersports that can allow you to balance on calmer waters.
5. Surround yourself with nature
When visiting a new place, there's nothing like learning about the flora that has served as food, ornamentation and medicine over the generations. Botanical gardens are a great way to learn about the history of Hawai'i. All of the islands are teeming with choices, from Kauai's Limahuli Botanical Garden, which is located close to where the highway ends before the rugged Na Pali Coast to Big Island's Hawai'I Tropical Botanical Garden, which claims to be "A Garden Valley on the Ocean." For a day of hiking, be sure to bring comfortable shoes, a hat and lots of water.
6. Attend a luau
While luaus nowadays can be a bit of a gimmick – think crowds and a buffet rather than an intimate gathering like you see in the movies – they're still a great way to learn about the cultures that shaped Hawai'i. They're also a great way to sample local fare like poi (a starchy side dish made from taro) and kalua pig cooked in an earth oven. You may even come away knowing how to hula!
7. Pedal along the coast
While renting a car is a fantastic way to get around the islands, there is nothing like experiencing the terrain on two wheels with the wind in your hair. In Kauai, Coconut Coasters will rent cruiser bikes by the hour so you can meander along the Kauai Path. Pack a picnic lunch and a bathing suit as there are lots of beaches along the way. Keep an eye out for endangered Hawaiian monk seals – they often come ashore to sunbathe.
8. Experience marine life face to face
Almost every beach you visit in Hawai'i, you'll see someone with a snorkel, mask and pair of flippers. If they don't fit in your suitcase, you can rent them almost anywhere. A little research will likely turn up an amazing little cove near to where you're staying. Molokai, for example, is home to the longest continuous fringing reef, which means lots of fish. And Hanauma Bay in Oahu is a protected marine life conservation area that requires visitors watch a short video to learn the dos and don'ts of navigating around the coral reef.
9. Cool off with a shave ice
What we consider to be a snow cone has been elevated to a near delicacy in Hawai'i. Ice is so finely ground it melts in your mouth. There are dozens of flavors and endless combinations. And many places take it a step further by putting ice cream or red beans in the middle. President Obama stopped at Island Snow more than once on a recent trip to Kailua on Oahu.
10. Find a kid-friendly beach
There is a beach around every corner in Hawai'i. However be wary of the signs warning about coral reefs, rip currents and other dangers – not all beaches are conducive to toddling about with water wings and a sand castle pail. Be sure to research the island you're staying on to discover where the family-friendly beaches are located. For example, Hapuna Beach State Recreation Area on Big Island has a shallow sandbar that provides great protection for families in the shallow end when the waters are calm.
Other Voices you might like