Hideaway on the Isle of Flowers
The living room at Plein Soleil provides a quiet retreat for reading, visiting with friends, or enjoying a drink., photo by SBPR on Flickr.com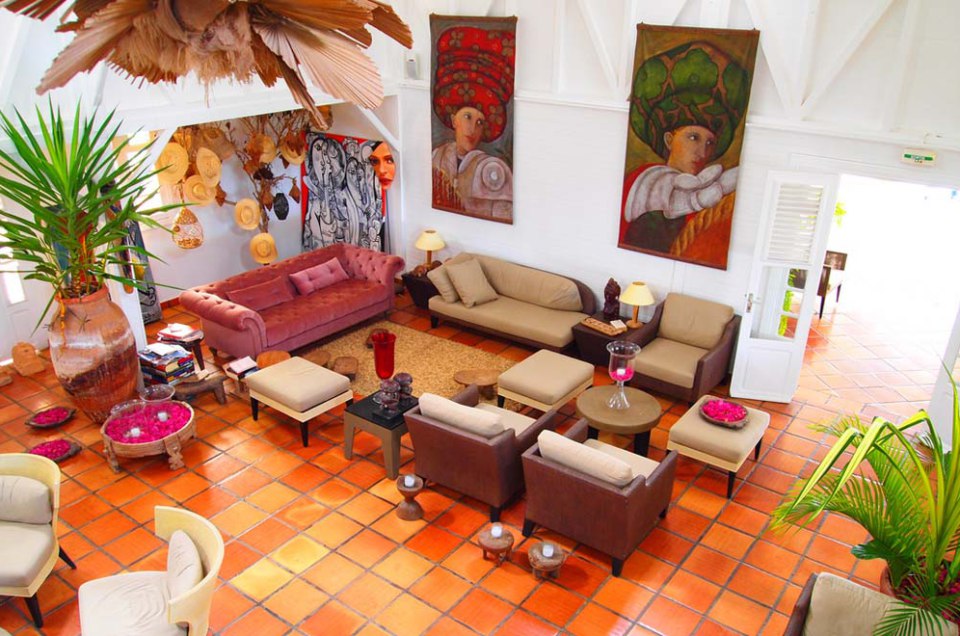 The living room at Plein Soleil provides a quiet retreat for reading, visiting with friends, or enjoying a drink., photo by SBPR on Flickr.com
Empress Josephine, the wife of Napoleon, was born on Martinique, the Caribbean island that's an overseas department of France – and islanders won't let you forget it. The daughter of a wealthy planter family, Marie-Josephe Rose Tascher de la Pagerie was born in 1763 in Les Trois Islets, to a mother whose family emigrated from France in 1635, when colonization began, and a father whose family came from France in 1726.
On display among the ruins of her family's sugarcane plantation, La Pagerie, are her childhood bed, love letters from Napoleon, and a portrait of her coronation as Empress of France at Notre Dame Cathedral in Paris in 1804. In the small museum in a quaint small outbuilding, you hear as well about the fortune-teller's prophecy that the child "will be more than a Queen."
One of Rose's favorite pastimes – Napoleon, himself an islander, a soldier born on Corsica, dubbed her "Josephine" when they wed in 1796 – was bathing on tiny islands with sugar-white sand beaches, called les fonds blancs, near Le Francois, a town on Martinique's east coast. It's about a half-hour's drive from Trois Ilets on the island's west or Caribbean coast.
Overlooking Le Francois and the Atlantic Ocean is the Hotel Plein Soleil, an exquisite hilltop hotel whose Creole-styled cottages are splashed with vivid colors, and a restaurant offering some of the finest gourmet French dining on Martinique. A stay here will make any visitor feel like the cherished guest of a Creole planter family, if not like an Empress or her consort.
A true hideaway, the Hotel Plein Soleil is reached by driving past seemingly endless fields of bananas which, at night, create the illusion of tall, endlessly swaying waves of emerald. Martinique was nicknamed Madinina – "Isle of Flowers" – by its original inhabitants. The great Gauguin painted its theatrical lushness, as well as its beautiful Creole women, before shipping off to Tahiti.
After admiring the flamboyant beauty of the anthuriums, birds of paradise, torch gingers, porcelain roses and orchids, as well as the banana and sugarcane plantations that seem to blanket Martinique, it's an equal pleasure to see the five Creole-style cottages at Plein Soleil, whose exteriors are in dark plum, dark green and earth tones.
Interiors are simple and chic, walls painted in rich saturated colors like Chinese red, lavender, avocado green or pink. Wood furnishings from Bangkok, and woven rugs from Morocco and Martinique cover tile floors. Some rooms boast verandas with private pool overlooking the bay, others are spacious duplex suites of over 1,300 square feet.
Amid bougainvillea in magenta, pink and orange, the hotel's plantation-style main house is of clapboard painted lavender, trimmed in lacy white gingerbread. Its cozy sitting rooms seem to have been designed by Mother Nature herself. Beneath a steeply pitched and white beamed Creole-style ceiling, hangs an unusual chandelier crafted from palm tree fronds. Calabash and other produce fill wooden bowls. A Japanese-style indoor fishpond winds past tables in the restaurant, where lighting fixtures composed of pieces of driftwood are suspended. The restaurant's outdoor terrace offers a panoramic Atlantic Ocean views.
Every element adds to the Plein Soleil's aesthetic of elegant simplicity: the kind that looks easy but requires much thought to achieve. "I like to use natural materials from here in Martinique, that are beautiful and soft," says owner Jean-Christophe Yoyo, a Martinique native who opened the hotel in 1998 after working at a Paris ad agency.
It's tempting to wonder – lazing on the verandah, or in the wonderful restaurant, bar or sitting room – what Josephine dreamed of in her final years. Though when she married Napoleon she was a widow with two children – her first husband was the son of the Governor of Martinique – Napoleon divorced her in 1809 because she failed to bear him any children.
Perhaps she dreamed of the glory of being Empress of France for five years, amid the hustle and bustle of living in cosmopolitan Paris. Or perhaps her cherished memories were of her incredibly lush birthplace, and les fonds blancs of Le Francois, near this dreamy hotel.
Other Voices you might like