Winter Road to Romance
There's no more road as you know it after this sign, photo by Helena Katz.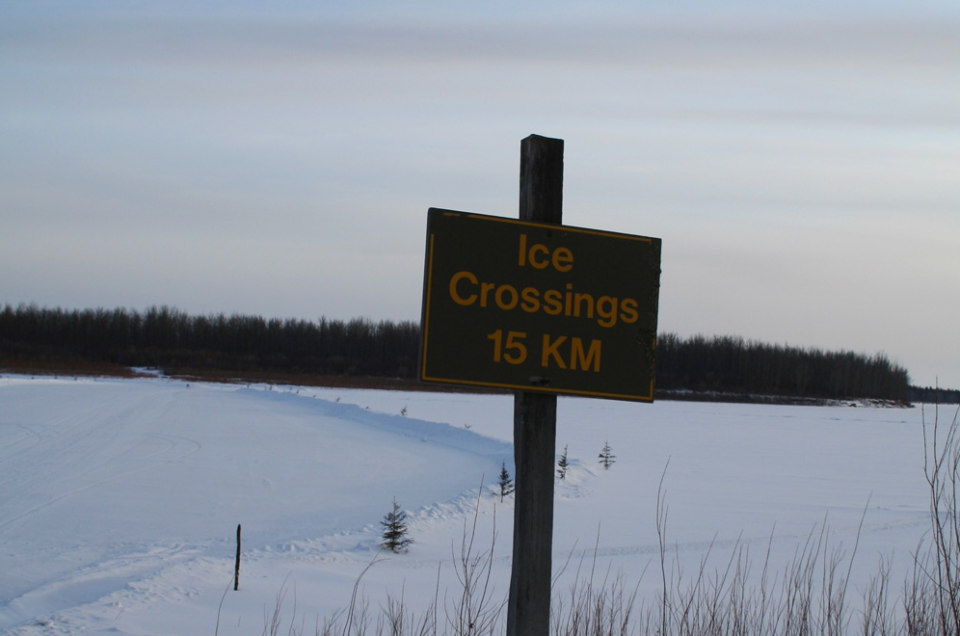 There's no more road as you know it after this sign, photo by Helena Katz.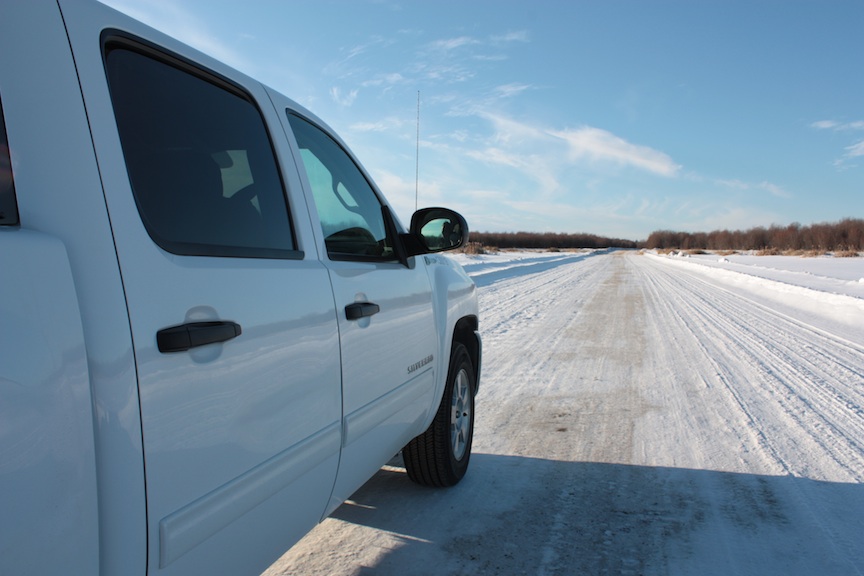 The open road, photo by Helena Katz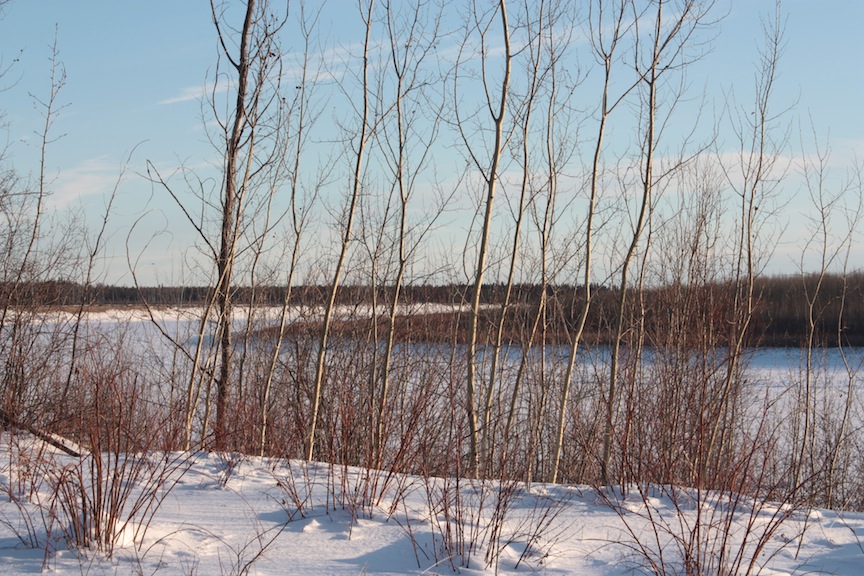 Peace River View, photo by Helena Katz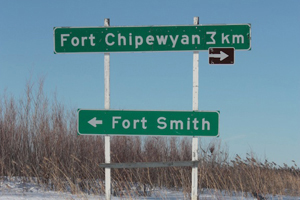 Road signs, photo by Helena Katz
Mike and I had known each other for more than a year, but it was our first official date – and I was acting like a child. We had just started a 550-kilometre trip along the winter road that stretches from Fort McMurray, Alberta to Fort Smith, Northwest Territories. "Are we there yet?" I kept asking impatiently as I peered out the truck's window. Mike was raised in the North and had made this trek many times, but I was from Montreal and ready for a new adventure on a road that's only open from late December to mid-March.
Once the weather is cold enough, crews start building the winter road over rivers, lakes and muskeg.
Then people in the isolated community of Fort Chipewyan, which is only accessible by plane the rest of the year, can drive to Fort Smith to visit family or point their vehicle south. Trucks can haul in a year's worth of fuel and other nonperishable supplies.
Since Mother Nature is the real boss, unusually mild weather can delay or completely jettison the winter road's annual appearance. In 1997 fuel and supplies had to be airlifted into the community because it was too warm to build the winter road. In 2006, building delays thanks to an unseasonably warm winter led to food and fuel shortages as stores ran out of propane, bread, milk and eggs. Perishable food had to be flown in, which increased prices dramatically since it's cheaper to truck it in. You'll probably never look at a carton of milk quite the same way when I tell you that it could apparently cost as much as $16 – when there was any.
While parts of the road are as smooth as a paved highway, it turns out that the hilly rollercoaster section needed no introduction. When we reached it, my water bottle began dancing inside the cup holder, my bones shook like a rag doll, and the truck rattled so loudly that conversation ground to a halt. The spot, for amusement ride junkies, is past a sign north of Fort McMurray that marks the start of the winter road.
Along the smoother sections, trees were barren spectators to the scarce traffic. Three Port-a-Potties standing as tall and bright yellow as Big Bird from Sesame Street stood at attention. They were our Spartan rest stops on the journey. As we drove over a river, the pillars of a bridge beside us were a dead giveaway that we were driving on frozen water.
After travelling about 280 kilometres, we drove a three-kilometre spur from the main winter road over the Rocher River and into Fort Chip. This tiny community of about 1,000 people was established on the shores of Lake Athabasca in 1788 because the waterways made it a handy transportation route during the fur trade era. Furs were sent east and supplies travelled north to the Peace and Mackenzie rivers. But the community lost its place as a hub when the railway and roads were built south of the community and the Hudson Bay Company consolidated its operations in Edmonton in 1899.
When Mike and I reached our hotel room in Fort Chip, we immediately flipped open our cellphones to see if there was any reception. There was none. I was strangely relieved to discover that I was truly unplugged from modern life in this historic community. The romantic spell that began just outside Fort McMurray remained unbroken.
The next morning Oliver Glanfield, president of the local historical society, met us at the Fort Chipewyan Bicentennial Museum for a tour. Displays tell the community's story from its fur trading days, and look at hunting and trapping, religious and spiritual traditions, commercial fishing on the lake from 1926-1969, the community's residential school and the Royal Canadian Mounted Police presence.
The second floor features a model of Fort Chip's fur trade headquarters and a photo display on transportation in the area. The museum is a replica of the Hudson's Bay store and about 90 per cent of the artifacts inside are from the area. They include a Cree syllabic typewriter made for the Roman Catholic mission and a table from the local Athabasca Café displaying two cups and a teapot. "People look at it and say: 'if my initials aren't on the table, my gum is underneath,'" Glanfield said with a grin. He proudly showed us a wood stove that was about 100 years old. When it was dropped off in his yard, it was covered in grease and duck feathers and the stove's name wasn't visible. "Two hundred and thirty-five hours later, you can cook bannock on it," he said.
We also stopped by St. Paul the Apostle Anglican Church, one of the community's oldest buildings. It was completed in 1880 and is still used today. The Nativity of the Blessed Virgin Mary Roman Catholic Church, which dates to 1909, is an imposing white building by the water. We didn't have a chance to go inside, but the mural on the church's ceiling was made when locals crushed local cranberries and blueberries and mixed the juices with fish oils to paint it.
After lingering in this quiet community, we headed back over the icy Rocher River. The stretch of winter road from Fort Chipewyan to Fort Smith winds its way through Wood Buffalo National Park. This UNESCO World Heritage Site and Canada's largest national park protects the Peace-Athabasca Delta, the world's second-largest inland freshwater delta. In warmer months, the delta's lush vegetation supports some 220 species of birds, mammals and fish. North America's four major flyways converge here, giving birds a delta hotel of their own to rest on their journey.
The delta used to be flooded each spring, but now it's getting drier. This has affected the wildlife and the people of Fort Chipewyan who rely on it for hunting, fishing and recreation. During the community's fur trading heyday, muskrats with good pelts were plentiful in the delta. Their numbers have dwindled since many of the marshes are now too shallow for them. Glanfield said that a friend of his used to catch muskrat in the delta, but no more. "It wouldn't be enough for lunch," he said.
After emerging from the delta, we drove along the edge of the Peace River. It was a tight squeeze to get past two cars driving down to Fort Chip, but we slowed down. Not that we were going fast. Driving this road isn't for speed demons since the limit is 30-40 kilometres per hour in some places. From the ice crossing at Peace Point, another two hours brought us to Fort Smith and the end of an adventure that connected three communities and two people to one another. For Mike and I, it was also the beginning of a new one together.
Other Voices you might like