Extreme Adventures in St. George, Utah
Pine Creek Canyon by SevenBlock on Flickr.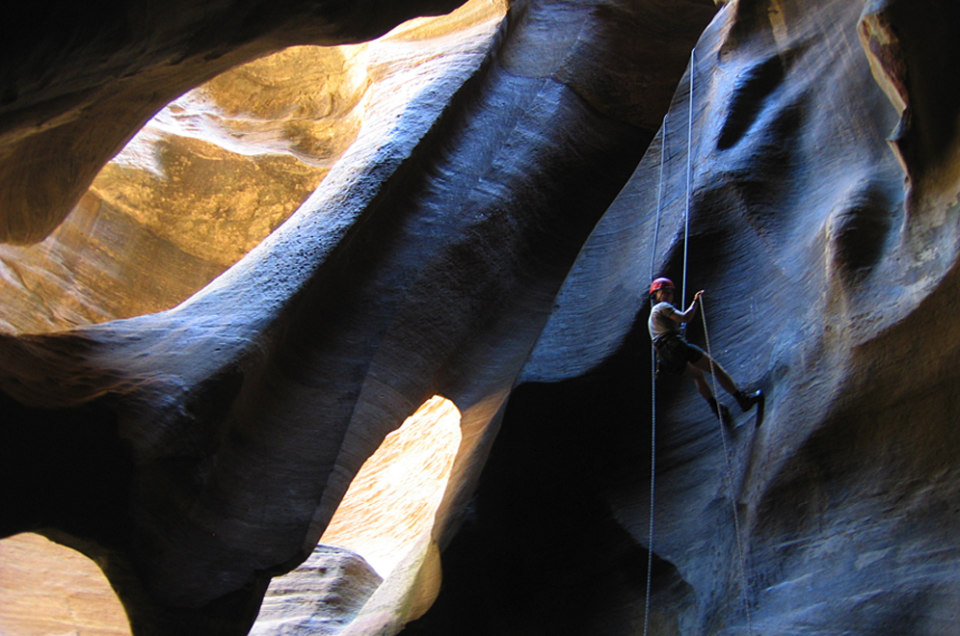 Pine Creek Canyon by SevenBlock on Flickr.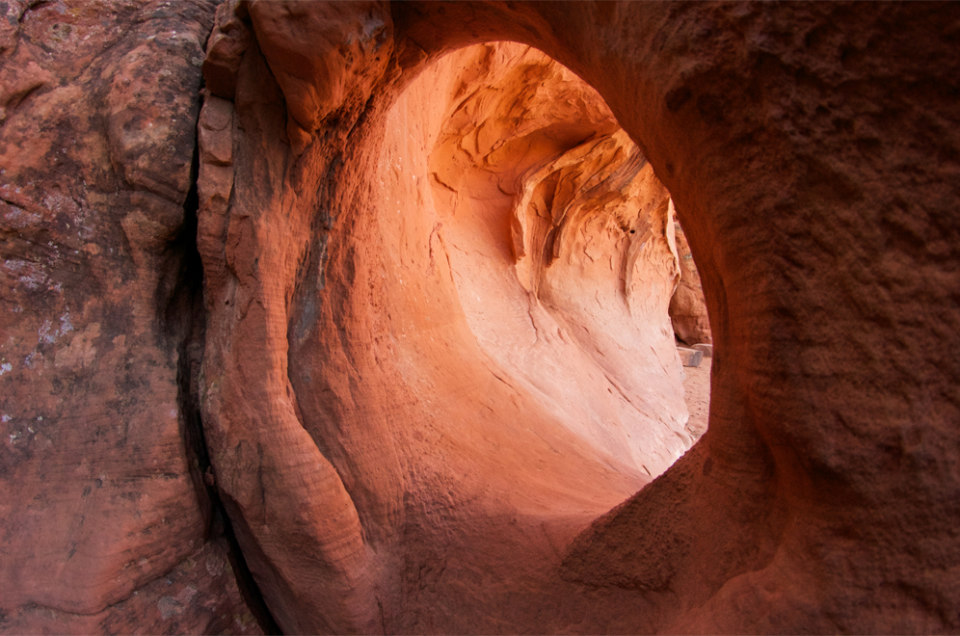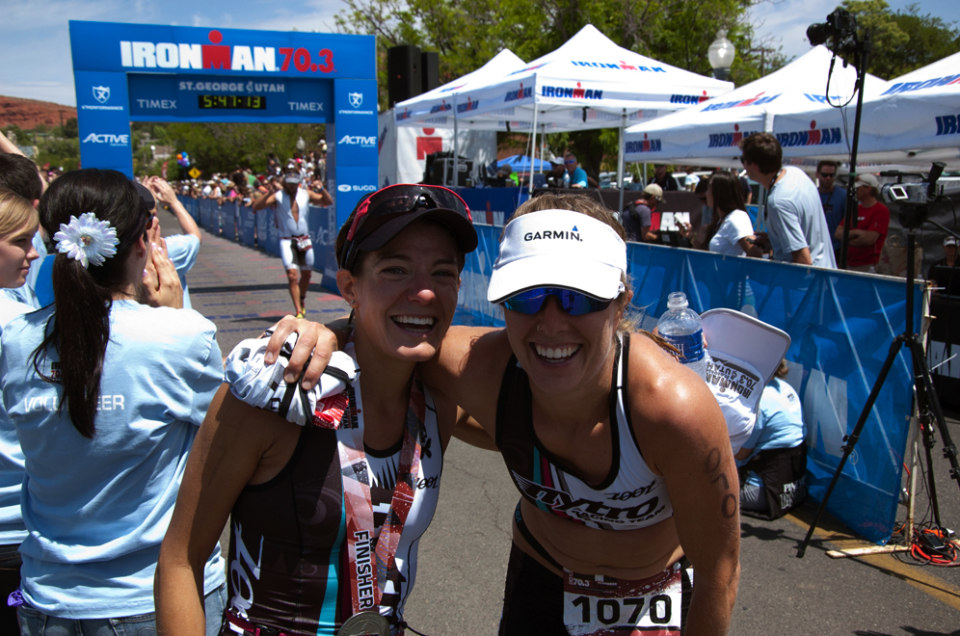 Ironman by thehippietriathlete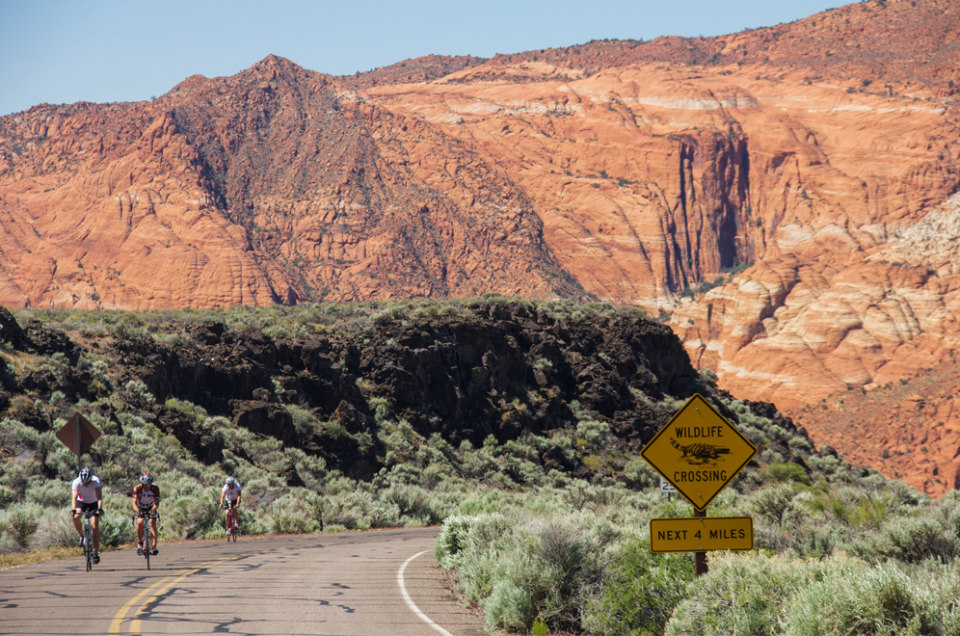 Biking Snow Canyon State Park
St. George Utah knows how to push athletes and adventure seekers to their limit. Set in a majestic desert landscape and surrounded by some of the country's top National and State Parks, this city opens up Southwest Utah for those willing and anxious to explore. From mountain biking to extreme hiking and canyoneering to elite competitions, there's something in St. George for outdoor enthusiast of all kinds.
With St. George's mix of terrain, a single trail can offer a mix of landscape and difficulty. Here are some trails we highly recommend, but please beware; they are for advanced-intermediate and expert riders only.
Gooseberry Mesa: Probably the most recognized trail on the list, Gooseberry is a 3-5 hour, 13.5 mile ride mixing sandy brush trails with cliff-side routes and slickrock. There are a number of trails in this area; one of the most popular choices is the South Rim trail, which connects to the Hidden Canyon Trail for a more challenging and exciting ride. At 5,200 feet, there are spectacular views all along this expert trail.
Quick Tip: A similar but lesser-known and shorter trail is Guacamole Trail, a locals' favorite.
Zen Trail: This 6.2 mile loop is probably the most technical ride on the list, offering varied track, drops and skilled climbing throughout. Keep in mind as you prepare, this route can be tricky to follow at times and is recommended as a counterclockwise route.
Barrel Trail: A short 3-mile singletrack trail, this route is highly technical as well. The terrain is roughly 50 percent rock, with a healthy amount of slickrock, and has two stunt areas for riders looking for gap jumps and drops. Named after the large amount of barrel cactus along the trail, this ride offers spectacular views of the Red Mountains and Pine Valley Mountains.
Quick Tip: It is easier riding the loop clockwise.
While many adventure lovers flock to Zion's Angle's Landing and The Narrow's, there are several challenging hikes that are well worth your time if you are planning on pushing your limits.
Gardner Peak Trail (Hiking): A bit North of St. George, Gardner Peak is an 8-mile out and back trail that climbs through the pinion and ponderosa pines of the Dixie National Forest before reaching the peak. Taking approximately 4 hours, this is a strenuous uphill hike that is matched with a demanding descent. Note that it is not unheard of to find downed trees along the way, and while the view from the top can be obscured by foliage, there are plenty of stunning vistas along the way.
Quick Tip: Dogs are allowed on this hike.
Pine Creek Canyon (Canyoneering): A gorgeous slot canyon with a huge variety of conditions including hiking, scrambling, repelling, and swimming. This approximately 4-hour long trail brings you deep into the canyon, and requires lengthy rope and repelling gear. Also, the water depth changes seasonally, and it is highly recommended to bring a wetsuit due to the hike's colder temperatures. This is a popular route and requires a permit to gain access.
St. George is home to numerous extreme fitness events throughout the year, including marathons and an Ironman 70.3.
Distance Runs: Fall in St. George sees the return of the St. George Marathon, which winds down through the canyons and desert surrounding St. George. Throughout the year, St. George is also home to a couple of half-marathons, one of which runs right through the valley of Snow Canyon State Park. If 26.2 miles isn't enough of a workout, St. George is right next door to the Zion 100 Mile & 100K Trail Run, and the Red Mountain 50K Ultramarathon.
Ironman 70.3: Few competitions will push you as hard as the St. George Ironman 70.3. Even by Ironman standards, this course is one of the toughest athletic events in the world. Set in and around St. George proper, the trek offers stunning views of Snow Canyon and the Red Mountains, while competitors swim, bike and run to the finish line. One of the earliest events of the Ironman season, this event is packed with seasoned competitors and former Ironman champions.
Sponsored by Visit St. George.
Other Voices you might like