Remembering how to be idle on Bora Bora
Accommodations at the St Regis, photo by shwn.david on Flickr.com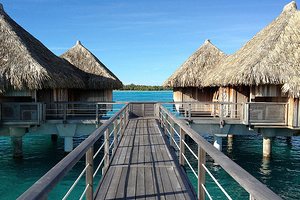 Accommodations at the St Regis, photo by shwn.david on Flickr.com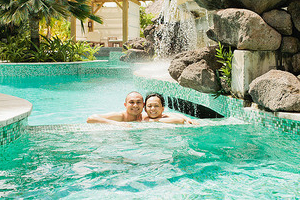 Honeymoon in Bora Bora (St Regis pool), photo by marlonius on Flickr.com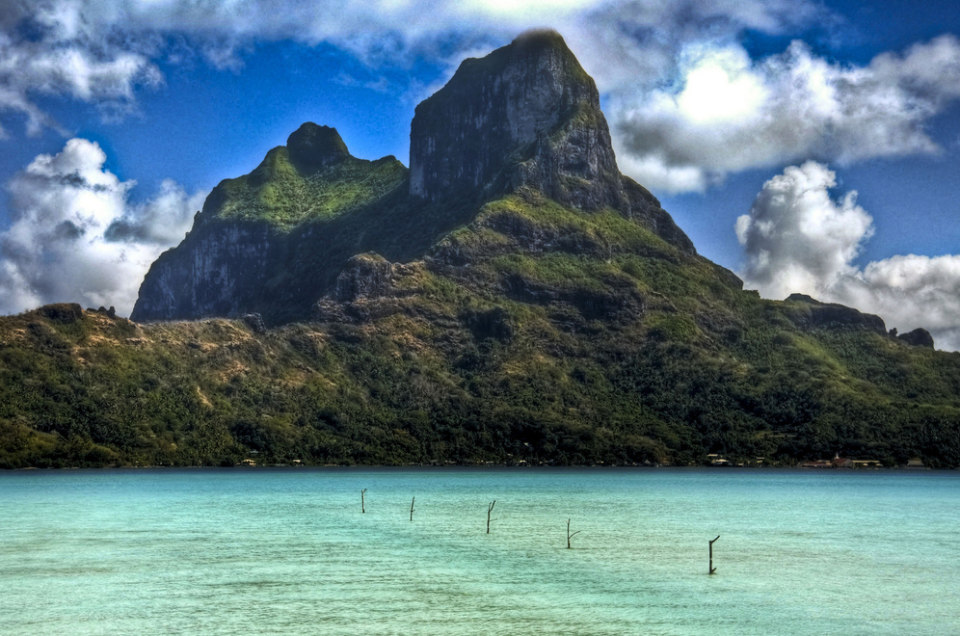 Bora Bora Mountain, photo by Alfredi on Flickr.com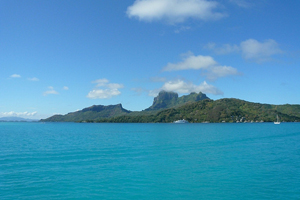 Blue seas in Bora Bora, photo by ManuB on Flickr.com
Until recently, the first and only time I went on an exotic beach vacation, I got stung by a jellyfish and lost my $300 Paul Smith sunglasses in the sand. For me, a perfect vacation involves a city with stuff to do and see—you know, great architecture, top-notch restaurants, sidewalk cafes and museums. Or I might go somewhere where you can hike, mountain bike, snowboard or at least play tennis. There is something about sitting around watching the sunset, drinking those frou frou drinks with the little umbrellas and taking naps under a palm tree—I believe they call it "relaxing"—that puts me on edge. From what I understand, there was a time when people actually went on vacation to do nothing. I am determined to give it another try.
On the flight to Tahiti, I begin to feel a little anxious about my upcoming retreat at the St. Regis Bora Bora. The resort's brochure promises "idle pleasures," which soon become the key words to my stay. Yet, passing the time lazily doing nothing in particular seems to have gone out of fashion. (How many chain hotels, luxury resorts or even spas can you think of that don't offer an extensive range of activities?) The only time I use the word "idle" is when talking about my car's engine. I guess you could say I've always considered beach vacations boring. And yet, the St. Regis promises an unforgettable stay combining delightfully authentic local dishes, breathtaking views of the most beautiful lagoon in the world, luxurious over-water bungalows and every water activity imaginable (did I read something about shark feeding?). I take the bait. And so I arrive at the Bora Bora airport determined to sulk for the next few days.
On the 20-minute boat ride from the airport to the resort, I absorb the views of the various Polynesian islets and the calm turquoise waters. It's already dusk but we can still make out the strings of lit up over-water bungalows that stretch out from the beaches like glowing tentacles from an octopus.
Breathtaking, I think, though repetitively so. I am a little tipsy after my welcome cocktail and think that I better watch how much I drink at dinner if I'm to make it back safe to my bungalow (the last one on the dock) every night. Jetlagged, I wake up at 6 am the next morning and take in the room, which is decorated in earth toned fabrics, a thatched ceiling, louvered windows, and hardwood floors with a large glass surface. As if on cue, I immediately spot a couple of colorful fish and I confess I'm considerably awed with the view once I finally climb out of bed and step out into my large deck. For the rest of my stay, my favorite bungalow feature (other than the glass floor and the four-poster bed with its sheer canopy) is the little ladder from which, every morning, I slip into the clearest water I've ever seen.
Every day after breakfast, I go snorkeling (which I still count as doing nothing), while the others take advantage of one of the many free activities on the hotel's menu: kayaking, a guided lagoon tour by Polynesian pirogue, outrigger canoeing, windsurfing, volleyball. For lunch, I head to Te Pahu, a mediterranean grill featuring an open kitchen and beachside dining. I dine on a delicious roasted lobster with lemongrass and coconut milk and treat myself to a coconut milk parfait over pineapple carpaccio. Clearly I will actually need to do something if I'm to return home without gaining ten pounds. So, I sign up for a beginners scuba diving lesson where I swim around beautiful coral and sea crustaceans of a million colors. Maybe there is something to be said for beautiful beach destinations.
Getting dressed for dinner one evening, I'm a bit irked to discover that little grains of sand have lodged themselves under my toenails, but I am happy to discover that whatever calluses I had have completely disappeared after a day of walking around barefoot. Dinner takes place at Jean-Georges Vongerichten's Lagoon restaurant, which sits suspended over water and offers gorgeous views of Mount Otemanu. Around me, couples are staring deeply into each other's eyes. I'm too busy enjoying the roasted veal tenderloin lathered in an almond and cherry tomato juice to notice that I'm vacationing solo in the most romantic place on Earth.
The next morning, I wake up at 6 am again feeling fresh as a daisy. I look around and discover that I'm not the only one up this early. With a cup of tea, I sit on my deck and do nothing except stare at the amazing view and watch for fish and sting rays. If you can't see where this is going yet, I'll spell it out for you: despite myself, I am having fun and loving my exotic beach vacation. The next day, I surprise myself by declining to join the stingray feeding excursion. Instead, I claim a perfect spot under a palm tree and fall asleep watching the clouds take shape on a deep blue canvas. In Bora Bora, idling your day away should be on the activities menu. On the flight back to L.A. I have a nice golden tan and feel relaxed, though I'm faintly on edge: I can't get that damn grain of sand out from under my nail.
Other Voices you might like