A Perfect Family Vacation in Mont-Tremblant
Getting a hug from Toufou, the resort mascot, was such fun. Photo by Lola Augustine Brown.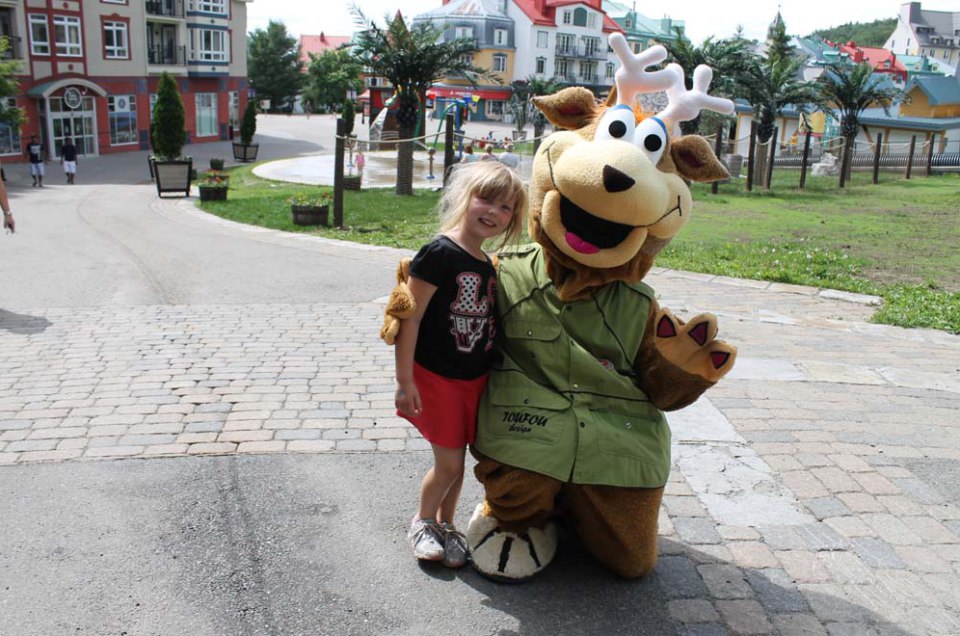 Getting a hug from Toufou, the resort mascot, was such fun. Photo by Lola Augustine Brown.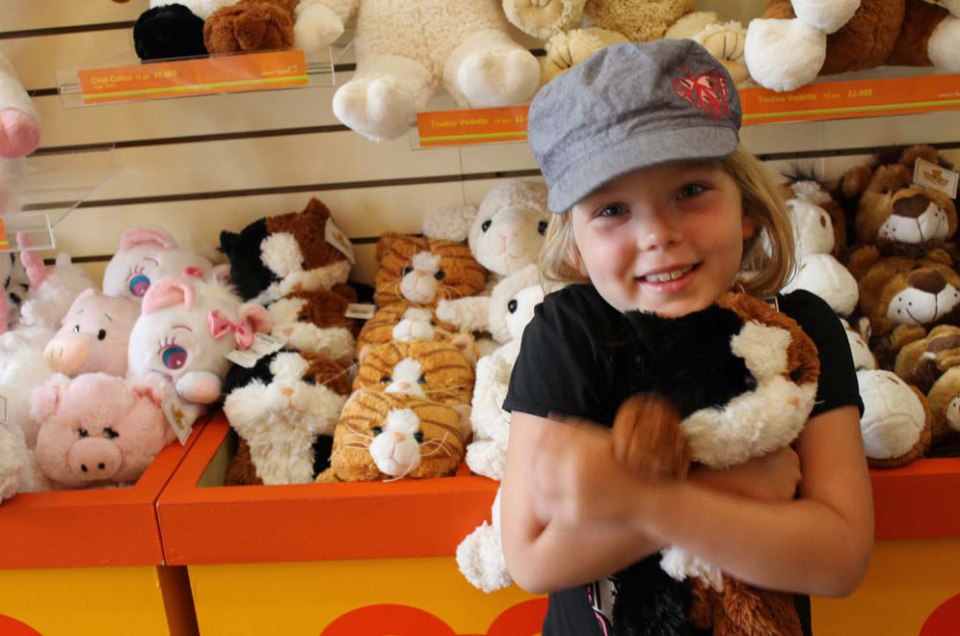 Making friends at Univers Toutou. Photo by Lola Augustine Brown.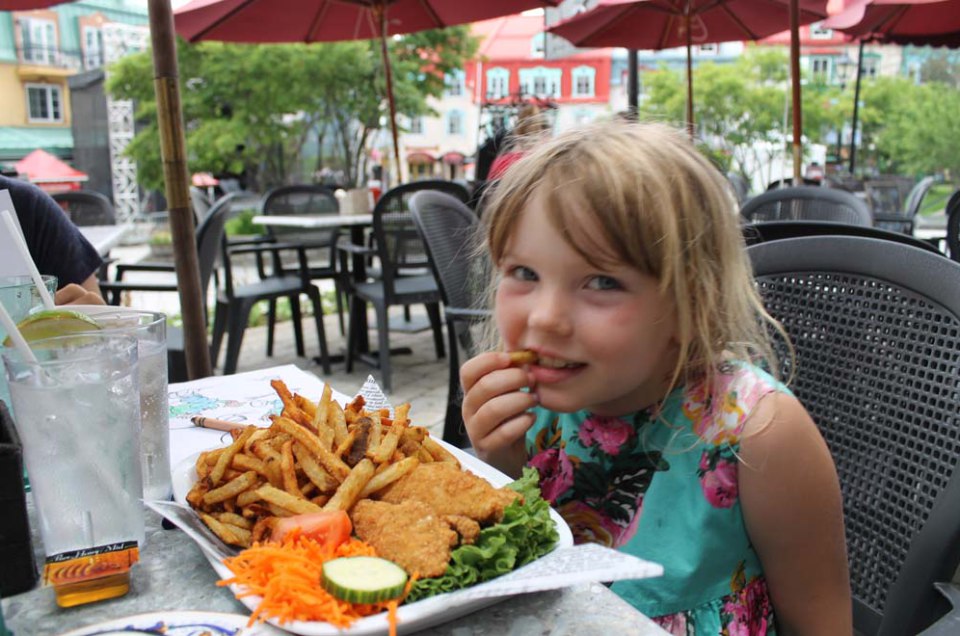 The kids meals at La Forge are huge, and really good. Photo by Lola Augustine Brown.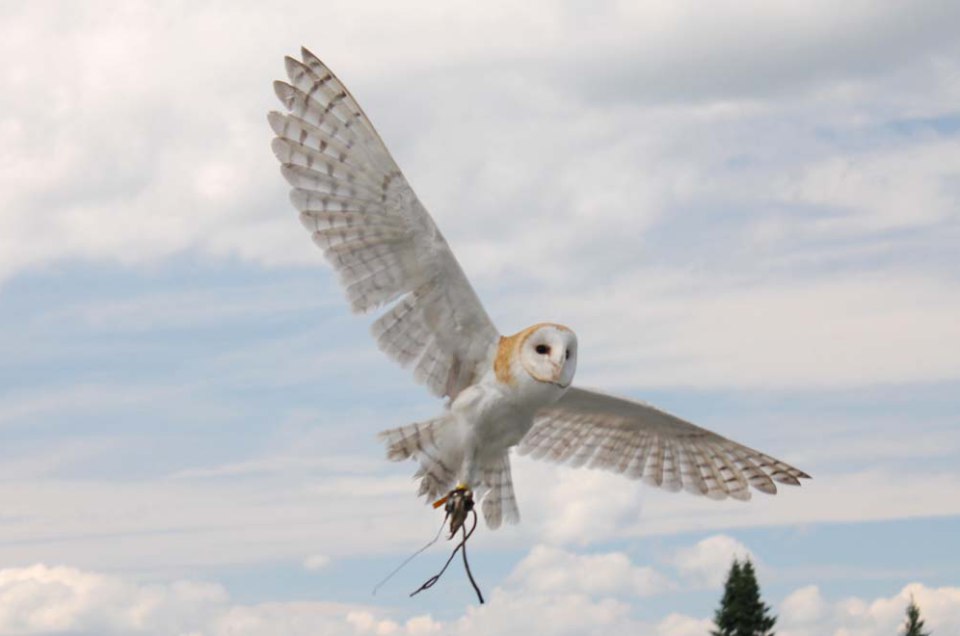 A Snowy Owl at the Birds of Prey Show. Photo by Lola Augustine Brown.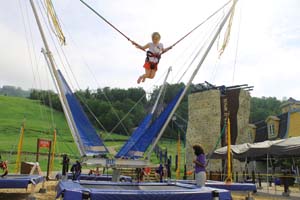 Euro Bungee at the base of the gondola. Photo by Lola Augustine Brown.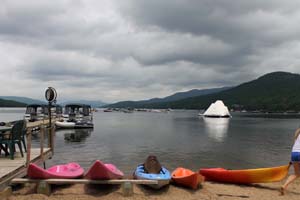 The Beach and Tennis Club has lots going on. Photo by Lola Augustine Brown.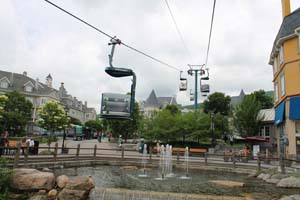 Riding the Cabriolet is fun, and free. Photo by Lola Augustine Brown.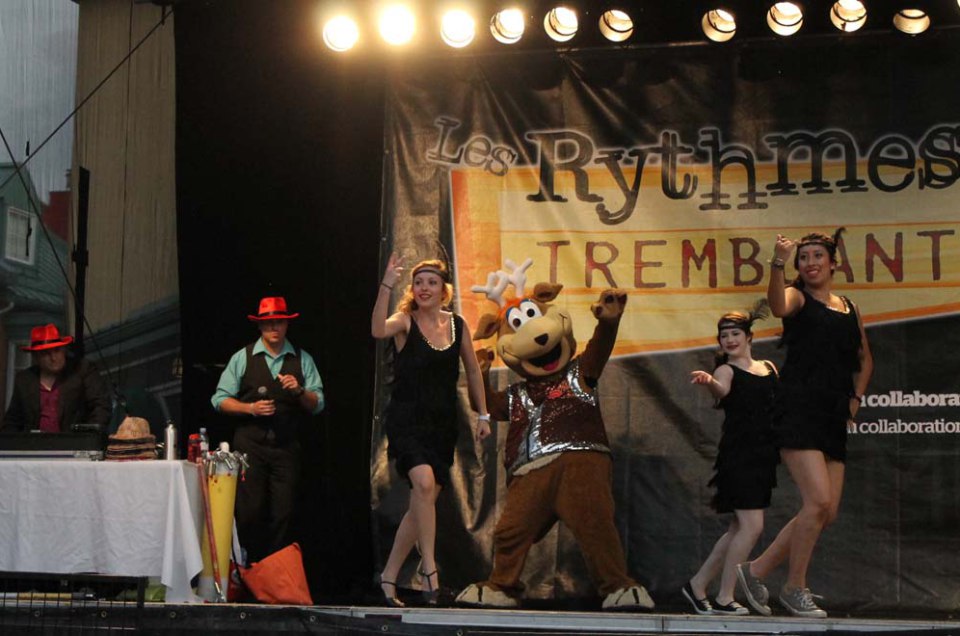 The free nightly entertainment is a big hit. Photo by Lola Augustine Brown.
"Look mom, I flipped three times!" My daughter Perdida, age six, was squealing with delight as she bounced high into the air on the Euro Bungee, a trampoline with bungee cords that enables kids to be flung high into the air with every leap. This was her sixth time on the Euro Bungee in three days, and if it had been up to her, she would have likely been on there another six times. As the ride stopped, and she begged to ride again, I told her that we had to hustle, as the entertainment was starting, and we walked over to the square, following resort mascot TouFou, who was now wearing a sequined vest over his deer costume. "Come on mom, quick," Perdida called, "we'll miss the start," like it was me who had been holding us up.
As soon as the dancers walked onto the outdoor stage in flapper dresses and Chuck Taylors, Perdida was mesmerized, as was every other kid sat there. And when the emcee started instructing the kids, then adults, to get up and dance, the party really started. Called The Crazy Parade, this free show was on every night at 8.30pm, and when it finished Perdida was in tears – "Do we really have to go home tomorrow?" which should give you some indication of what a fantastic time we'd had there.
Nestled high in the beautiful Laurentian Mountains, in Quebec, the village and resort of Tremblant are a fabulous place to take a summer vacation with your family.
The setting is gorgeous, the restaurants and accommodations are first class, and there are so many activities to do that you'll have no trouble keeping the family entertained, whether you've got preschoolers, teenagers, or grandparents in your family mix.
We stayed at Le Sommet Des Neiges, which is right at the base of the gondola, close to everything. Our suite was luxurious and spacious, with a full kitchen, a washer/dryer, and the bathroom had a huge bathtub and a very nice standalone shower. The hotel has a nice pool with hot-tub, separate playrooms for young children and teenagers, and a full sized grill that you can book to use on the hotel terrace. Staff there are lovely, and the amazing concierge, Suzanne, was very helpful in securing a babysitter so that I could escape for a grown-up dinner with a friend one evening.
Your wisest investment at the resort is going to be an Activity Card, which gives you access to the on-resort attractions, including the gondola and bike rentals. You can pay for some attractions individually, but you're much better off buying one of these passes which lets you do three, five, or seven activities.
At the mountain site, included is the Euro Bungee that my daughter couldn't get enough of, the Akropark (a huge climbing structure that looks like a miniature army assault course), the Skyline Luge that lets you ride down the mountain in a go-cart like car (you'll likely want to do this a couple of times as it is crazy fun), the Bird of Prey Show at the top of the mountain (fascinating, you likely can't get any closer to eagles and owls than here), indoor outdoor pool complex Aquaclub La Source, Le Petite Géant mini-golf, and a climbing wall big enough for kids and adults.
Down at Lac Tremblant, which is about a 20 minute walk (or five minute bike ride, you can rent bikes using the Activity Card), you can use the Card to access the Beach and Tennis Club, where you can rent a motorized boat for an hour, pick up lunch at the snack bar, or climb The Iceberg, a massive inflatable iceberg that you are taken out to by boat, and then climb in order to slide or jump into the lake (challenging physically, but fun, and possible for Perdida with a little help.)
There are also a bunch of other neat activities you can sign up to do at the Activity Centre, everything from dune buggy racing, horseback riding, golf lessons, fly-fishing, apprentice falconry (how cool is that!), and zip-lining. We did the zip-lining and it was fantastic, with a challenging assault course through the tree-tops for adults (they make you work every muscle in your body to get to the zip-lines) and a fun smaller course for children.
We had a rainy day for our Tremblant trip, but it didn't matter as there was still plenty to do. We spent time creating a stuffed calico kitty at Univers Toutou, where you get to choose a toy to make, then stuff it, give it a name and special wish, then choose an outfit for it. Perdida was enthralled with the whole process, and loved showing everyone the passport that she made for the cat, which clearly stated that it was born in Mont Tremblant. We also visited Studio Créatif to paint ceramics, a fun activity that you can read more about here. There's also a movie theatre at the resort, and indoor kids Adventure Club that runs in the morning.
The resort village is full of interesting stores to browse in. There are, naturally, lots of places to buy outdoor gear, as well as boutiques and fun stores where you can pick up sweet treats. You can ride the Cabriolet mini-gondola from the top to the bottom of the resort (and back again) for free, which makes it very easy to get around, especially when parties in your group have little legs.
When it came to eating, we were spoiled for choice. Every restaurant that we visited in the resort had a children's menu, some of which offered way more than the usual choices. Perdida is always an early riser, so I was grateful that Creperie Catherine was open for breakfast from 8am, and that both of us got to eat something delicious (both times we ate there Perdida went for the banana Nutella crepes, I had the Catherine Special with egg, cheddar, Swiss cheese, and Black Forest ham). We loved La Forge Bistro Grill, where the homemade chicken fillet strips made Perdida very happy, and I got to experience their crazy good beef cheek and chevre burger.
The restaurant at the four diamond rated hotel La Quintessence was absolutely superb, a true foodie treat, and had a really great children's menu featuring steak and catch of the day, as well as pasta and chicken. We sat at one of the tables with high couches, which was handy for snuggling, and eventually for Perdida to fall asleep on while I lingered over dessert and coffee.
We left Tremblant vowing to return, because there were still so many activities that we hadn't got to do, more restaurants that we wanted to try, and much more fun to be had. Our trip there was excellent, and I know we'll both be talking about it for years to come.
For more information on Mont-Tremblant Summer Packages, click here.
Sponsored by Mont-Tremblant Tourism
Other Voices you might like