Fresh, Tasty, Gorgeous. Ambergris Caye in Belize is a Real Treat.
Tasty vegetarian caribbean cuisine, photo by Kat Tancock.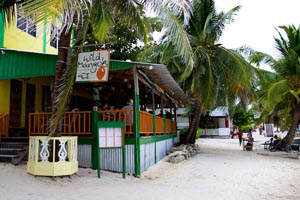 Tasty vegetarian caribbean cuisine, photo by Kat Tancock.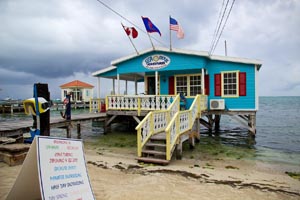 These guys will get you out to Hol Chan reef, photo by Kat Tancock.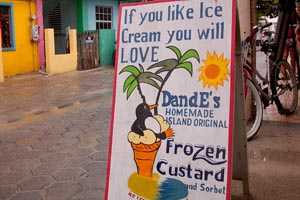 For amazing ice-cream, come to DandE's, photo by Kat Tancock.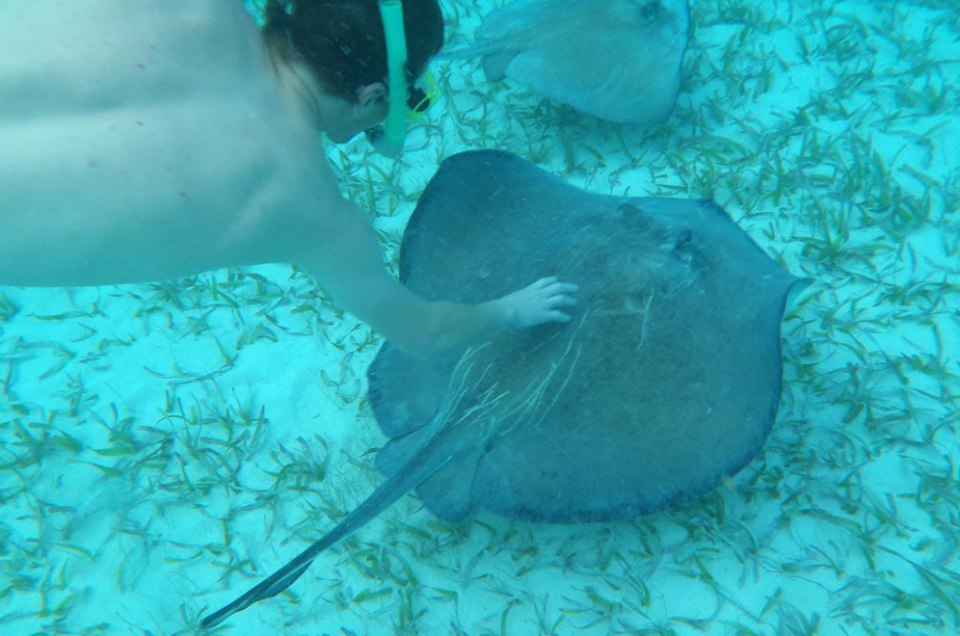 Dive on the Hol Chan Marine Reserve, and take in Shark Ray Alley. Photo by Kat Tancock.
"I fell in love with San Pedro," sings Madonna in her '80s hit "La Isla Bonita" – probably the first claim to fame of the town of San Pedro on Ambergris Caye, that pretty island on Belize's north coast that's the song's namesake and the country's busiest tourist destination.
While Ambergris is no longer off the beaten path – Madonna might be surprised at the number of golf carts whizzing up and down the roads of the island – it's still a fun and relatively low-key destination that's popular with expats and short-term visitors alike. Here are five highlights to add to your must-do list.
Getting there is half the fun
While you can take a ferry from Belize City (and its international airport) to Ambergris Caye, you'll be missing out if you don't experience the country's internal air travel at least once. Upon landing at the international airport from Houston, we picked up our bags, then turned around and checked in again for our flight on Tropic Air. Along with our boarding passes, we were handed an in-flight magazine and a snack – not just any old nuts, but organic, Belize-grown peanuts.
It all seemed so official until we were paged to our gate more than half an hour early and realized we were getting on a tiny 13-seat plane – one that would leave not at its scheduled time, but as soon as all passengers were on board.
I strapped myself into my window-and-aisle seat and gazed out the window as we took off above jungle and then swung northwestward across the Caribbean-blue lagoon, the water dotted with islands and the shadows of wispy clouds. "It's only eight feet deep; if we go down, we could stand on the plane," said the man across the aisle to me – not that I was worried. I was too busy taking in the view.
Upon landing at the tiny San Pedro airport with no transportation arranged, we were asked where we were staying. A quick phone call by one of the baggage handlers (probably just one of his many job titles), and transportation from our resort promptly arrived. Beats a big-city taxi lineup any day.
Fresh fruit, local flavors
Half the point of a tropical vacation, in my opinion, is access to fresh tropical fruit – something that can be harder to find than you'd think. (No, dear Mexican resort, I didn't come all this way to eat a Red Delicious apple.)
On Ambergris Caye, you're in luck – especially at two of my favorite spots in San Pedro. On the beach, head to Wild Mango's for tasty, vegetarian-friendly Caribbean cuisine and tropical smoothies in flavors like mango-lime-coconut and the boozy coco-jito, or mojito made better with coconut cream.
On a hot afternoon, brave the pavement for a walk to DandE's frozen custard to sample their icy delights. Try classic flavors like chocolate, butter pecan and mint chocolate chip, or go local with coconut or soursop ice cream, or tropical sorbet flavors such as caye lime, mango or pineapple.
All of nature wild and free
Ambergris Caye is more developed than it was in Madonna's day, but even so, it and the whole Belizean coast are a prime snorkeling and diving destination. If you can, plan for multiple outings from Ambergris or head for some of the less-busy offshore destinations to get a feel for the diversity of marine life. But if you only have one day, the must-do tour is a half-day combo that covers Hol Chan Marine Reserve, including Shark Ray Alley.
Hol Chan is an eight-square-km protected area that spans the reef and surrounding areas and offers your best chance to see fish, octopus, sea turtles, stingrays, numerous corals, even dolphins and manatees. On our tour with Searious Adventures, we spent an hour at the reef, following our guide as he pointed out the wildlife, then got back in the boat for a quick jaunt over to Shark Ray Alley, so named because of the nurse sharks and stingrays that congregate in the area – first because local fishers would clean their catch there, and now because the tour boats toss sardines overboard while snorkelers are in the water to lure the (not at all dangerous) sharks and rays toward the boat to be petted by nature-starved visitors.
Go your own way
There's plenty to see on land, too. On my visit, I wandered barefoot down the beach one sunny morning to catch a vinyasa yoga class that was the perfect prequel to another of those smoothies. But you can head further up or down the 25-mile-long island, too. Pack your bug spray, rent some bikes or a golf cart and see what you can find – the Blue Morpho Butterfly Farm, perhaps, or one of the island's Mayan sites.
Get in some beach time
Truth is, Belize is a better destination for doing things than for just lazing around on the beach. It's not that the beaches are unworthy, though they tend to have plentiful sea grass that makes swimming from shore less fun than it could be. It's just that Belize is still a bit of a trek – unless you live in Houston or Miami – and for all that travel time, you'll want to take home great memories, not just five pounds of tropical cocktails.
That said, your vacation won't be complete without at least half a day spent in a beach daze, occasionally mustering up the energy to read a page of your magazine. We stayed at Ramon's, the closest thing Ambergris Caye has to an actual resort (and it's really not that close), and their beach is worthy of your time, sandy and swimmable and with a nearby pier worth snorkeling from. So order a drink and pull up a beach chair. We won't tell anyone you're not diving today.
Other Voices you might like