Elephant Walk on Safari in Zambia
Some of the dozens of elephants we saw on safari, photo by Mary Mihaly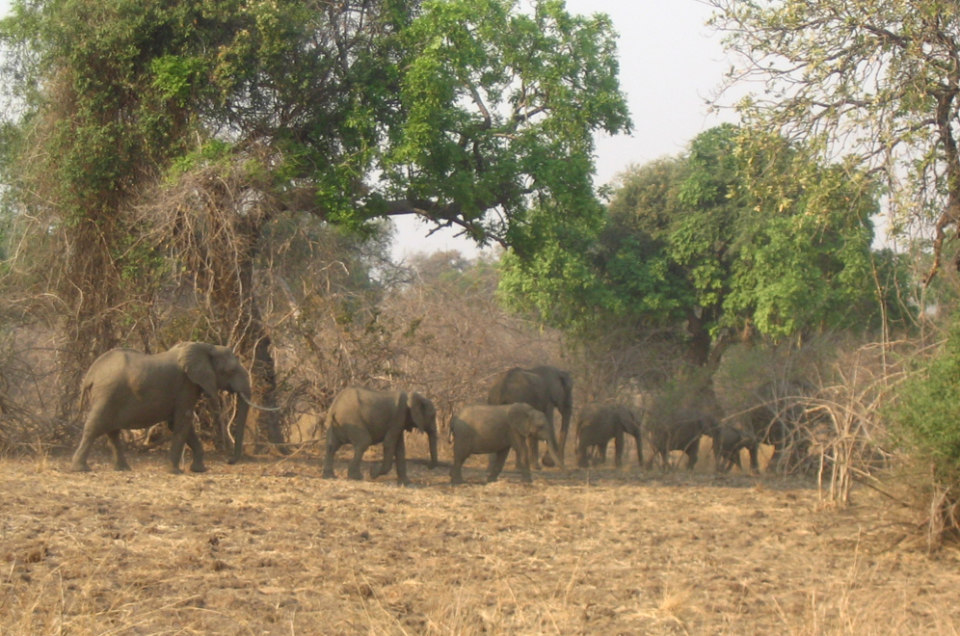 Some of the dozens of elephants we saw on safari, photo by Mary Mihaly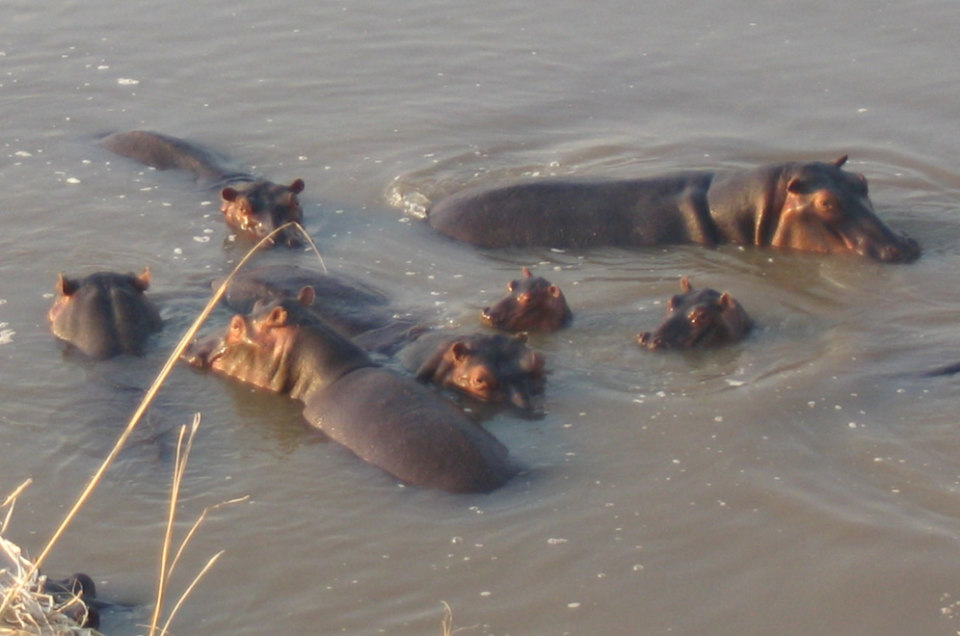 Wallowing family of hippos, photo by Mary Mihaly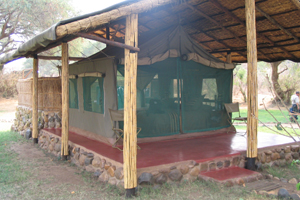 Camping in Zambia was luxurious, but open to the wild, photo by Mary Mihaly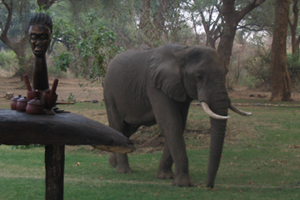 An elephant wandering into camp, photo by Mary Mihaly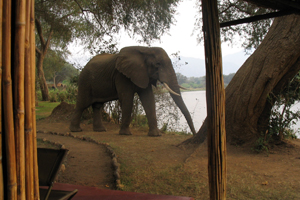 Another elephant just wandering past us, photo by Mary Mihaly
We were dining by candlelight on the banks of the Lunga River. No roughing it here: this was a linen-tablecloth presentation of grilled pike and fine wines, peppered by lively political debate. Then we heard the roar.
It wasn't far away. No one said a word; we jumped up, practically knocking over our chairs as we scrambled for the jeep. A male lion was at the top of our wish list, and Leo was calling.
We weren't disappointed. Barely a minute away, two females reclined in the middle of the dirt road, their backs to us. We got the message: they weren't letting us get any closer to their guy—whom we spotted on a hillside, trotting off into the night.
Zambia is that wild. Though our camps were small and luxurious (cabins with running water and lush linens, coffee served at dawn, gourmet meals), they were visited at all hours—especially during the night—by hungry beasts.
One morning I stepped out of my cabin to find an elephant, no more than eight feet away, staring at me.
For the ultimate safari, Zambia is as wild as it gets.
Tourism is a low-volume, highly personalized industry in Zambia—meaning, we saw no other humans except an occasional villager. We stayed in four different, sublimely isolated camps, each more than an hour's puddle-jump flight from the next. In Zambia you find no "minivan feeding frenzy" when animals are spotted. They're all yours.
We saw our first elephant as we drifted down the Lunga River. He was alone, splashing and wading, stopping every now and then to munch some greens—and he didn't appreciate our intrusion. He splayed his ears a few times to let us know he was in charge, and plodded up the bank in disgust. Of course we parked our boat and followed him, and were treated to a frolicking display of three happy pachyderms, dusting each other off, giving us a real show.
Over the next week—by foot, canoe and Rover—we would see dozens more elephants, plus cheetah, storks, vultures, crocodiles, baboons, warthogs ("leopard hors d'oeuvres," said Jacob, our guide), monkeys, cape buffalo, zebras, eagles, parrots, giraffes, hyenas, sables, "go-away birds," big fat hippos, squirrels tiny as mice, and impalas common as kittens. I saw a ring around the sun, a 2,500-year-old baobab tree, and children fishing in the Lower Zambezi with tin cans.
I now can recognize zebra dung, buffalo dung, and I inhaled smoking, sagey elephant dung to help my allergies.
Surprisingly, one of the most intriguing aspects of a safari is the night drive (which always follows "sundowners," usually gin and tonic). Sharp-eyed guides can spot a leopard high in a tree, munching its kill, in deep darkness from a quarter-mile away. They differentiate between an elephant and a rhino, a cheetah and a leopard—all in blackness, across long distances. We drive closer and see they're right every time.
Their commitment to conservation, too, is impressive. No talking is permitted on night drives, and if they spot a kill, they won't shine a light on either the predator or the prey, to avoid giving an unfair advantage to either. Nature must be left alone.
Because tourism there is in its infancy, Zambia has the rare chance to develop it as a sustainable, low-impact industry. In 10 days I saw no litter, not even a cigarette butt. That, I think, is a great beginning.
To learn more, contact African Experience Limited, or Robin Pope Safaris.
Other Voices you might like