A world of great whisky/ whiskey
Enjoying a dram of Scotch, photo by Lola Augustine Brown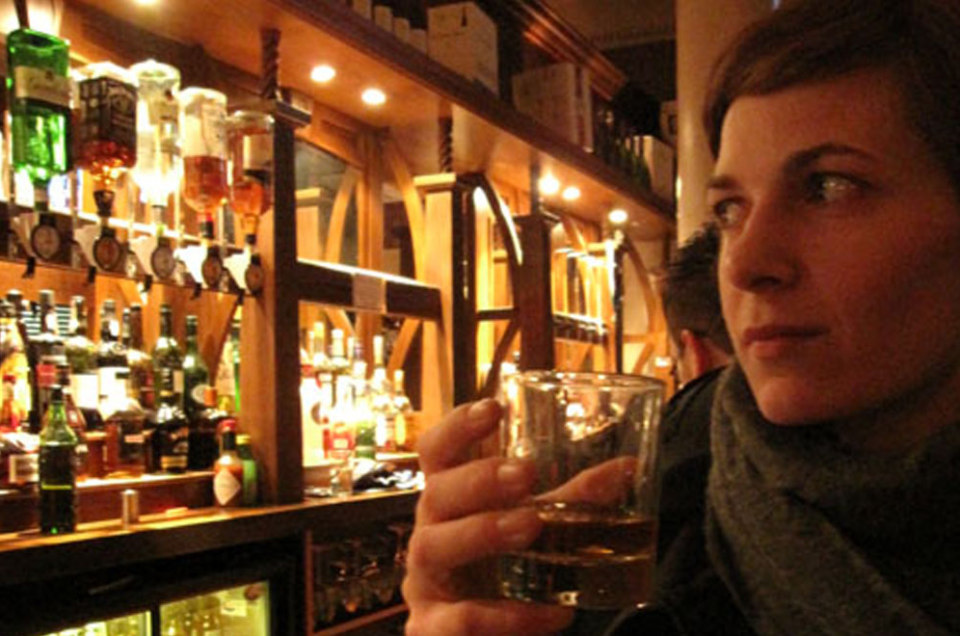 Enjoying a dram of Scotch, photo by Lola Augustine Brown
To the Scotch aficionado, the following statement may sound a little absurd: The Japanese produce whisky that is on par with, and sometimes better than, the Scotch. "Japanese whisky can be absolutely superlative, and has won out over Scotch in many blind tastings," says renowned whisky expert Charles MacLean, author of World Whisky: A Nation-by-Nation Guide to the Best (Dorling Kindersley, 2009).
You may also be surprised to find out that the Japanese have been producing whisky since the 1920s, and amongst those in the know, are considered established producers of the spirit. However, in recent years, a marked growth in the international whisky industry has seen production established in some unlikely countries such as New Zealand and the Czech Republic. While some of these newer whiskies are worth drinking only for their novelty value, MacLean says that if you take Scotch as the benchmark, some of theses new whiskies shape up very well indeed.
In countries with fine, international-award-winning whiskies, you have an opportunity to treat your palate and take a break from the same old. When traveling, MacLean suggests seeking out a well-stocked local bar and letting a knowledgeable barman suggest a couple of different impressions of the local drams. Be sure to have them served in a bowl-shaped glass that will direct the aromas up your nose, and add a touch of water to raise those aromas (never ice, as it suppresses them). "Then smell smell smell, because the evaluation of whisky is all done in the nose, and the taste is a bonus," advises MacLean.
Here's where the best and most unique whiskies in the world come from, and where you should try them out for yourself.
Scotland
Drink this: Springbank 15 Year Old
About: "This whisky is outstanding," says MacLean, "It has an immense complexity in an old-fashioned style." Made in Campbeltown, one of Scotland's four recognized whisky producing regions, Springbank wins awards year after year, and is an all-star whisky if ever there was one.
Where to drink it: Most of the 120 or so distilleries in Scotland do tours, and when it comes to bars you are spoiled for choice. The Pot Still and Horseshoe Bar in Glasgow are traditional drinking holes with huge whisky lists, and the Quaitch Bar in the Craigellachie Hotel, in Speyside, has 700 single malts to choose from. To touch upon whisky divinity, dine at the Vintners Rooms in Edinburgh, which offers a staggering 1200 different single malts.
Ireland
Drink this: Redbreast 12 Year Old
About: Irish whiskey has a slightly oiler character than Scotch, and a distinctly different taste. Redbreast consistently wins awards and rave reviews for it's rich complexity and notes of fruit and ginger cake: MacLean says it is the best Irish whiskey he has ever tasted.
Where to drink it: There are only three Irish distilleries, from which all the brands are made, and all offer tours (Redbreast is an impression of Jamiesons, and crafted at the Old Middleton Distillery in Cork). In Dublin drink a dram in historic Temple Bar or the Jasmine Bar at the Brooks Hotel, which both have very impressive whiskey collections.
India
Drink this: Amarut Single Malts
About: Indian whisky gets a bad rap, because much of it is made with molasses (which actually makes it a rum), but MacLean says that the up-market blends and single malts compare very well to Scotch and are not to be sneezed at. "Although Amarut is quite a young whisky, bottled after only three years in the cask, the climate leads to a high evaporation rate and the whisky is very pleasant despite it's youth," says MacLean.
Where to drink it: Visit the Amarut Distillery in Bangalore by appointment only, or sample Indian whiskies at these decadent New Delhi hotel bars with vast collections: The 1911 Bar and Restaurant at the Imperial Hotel, or the Golf Bar at the ITC Maurya.
Taiwan
Drink this: Kavalan Single Malt
About: "Although their oldest whisky is only three years old, the subtropical conditions in Taiwan mean that these whiskies are amazingly mature for the short amount of time that they've been in the cask. There are no off notes or immature characteristics," says MacLean. Kavalan's blender, Ian Chang, says that to reflect the local tastes, their whisky is made sweeter and more oily than traditional Scotch whisky.
Where to drink it: Tour the distillery in Yilan, or pull up a stool at one of Taipei's world class whisky bars. MacLean recommends the super cool MOD and L'arrière-cour, both of which have incredibly knowledgeable staff and a dedication to sourcing rare drams for their discerning clientele.
Sweden
Drink this: Mackmyra Whisky
About: Crafting whisky in a cold climate is a hard slog, and Mackmyra copes with the slower maturation rates by using small, handmade casks to intensify the maturation process. MacLean says that the Mackmyra whiskies are extremely well made, but have lacked complexity due to their immaturity – "They will however get better and better," he says.
Where to drink it: Mackmyra is set to be launched in limited quantities in the United States in early 2011. Right now you'll need to sample it at the distillery in Valbo (which offers tours and private tastings by appointment) or in one of Sweden's many whisky bars. Stockholm's Akkurat bar and restaurant stocks more than 400 single malts, including of course the various Mackmyra impressions.
Australia
Drink this: Lark's Single Malt
About: "Tasmania is the heartland of whisky making Australia," says MacLean, and it is certainly true that the majority of Australia's award-winning drams are crafted in Tasmania. MacLean favors the Lark, which he says is a good clean whisky with interesting notes.
Where to drink it: Visit the Lark Distillery in Hobart for a tour or join one of their escorted whisky experiences (lasting between one and four days). On site is a whisky bar and café serving 200 different impressions of whisky from across the world. The Wildside Restaurant at The Lodge at Tarraleah (a 90-minute drive from Hobart) holds 170 single malts in their whisky cabinet.
Wales
Drink this: Penderyn Single Malt
About: This small-batch whisky has been in production since 2000, and was set up under the tutelage of master blender and consultant distiller Dr. Jim Swan, who also assisted with the development of Kavalan whisky in Taiwan. Penderyn is crafted using only one copper still, whereas most whiskies use double or triple pot stills, which gives it a somewhat unique taste: "Like a cross between malt whisky and grain whiskey, because it is a light spirit and a little on the sweet side," says MacLean.
Where to drink it: Although it can be purchased in 25 states in the United States, you can tour the distillery as part of a group or book a master class with the distiller, Gillian MacDonald (one of the few female distillers in the industry). Enjoy a dram in the luxe Tempus Bar and Restaurant at the St David's Hotel in Cardiff, or at one of the many bars at the Celtic Manor Resort in Newport (home of the 2010 Ryder Cup).
Japan
Drink this: Yoichi 20 Year Old
About: Dave Broom, author of The World Atlas of Whisky: The Complete Global Handbook (Mitchell Beazley, 2010), is the authority on Japanese whisky and says that most Japanese whisky isn't available outside of Japan, so if you get the opportunity to try some you should just jump right in. "If you're looking for a whisky that is big, rich and very smoky, go for the Yoichi," advises Broom.
Where to drink it: You can tour the Yoichi Distillery in Kurokawa-cho, but to really experience Japanese whisky culture head to one of the many incredible whisky bars found in all the major cities. Bar Rocking Chair in Kyoto has a huge collection of vintage Scotches as well as Japanese brands. In Tokyo, Shot Bar Zoetrope has rare and lesser-known Japanese whiskies galore. Broom advises booking a table or even a spot at the bar, because "The Japanese have more whisky bars than anywhere else in the world, but they all seat about ten people."
Other Voices you might like