Slovenia: Where Nature Reigns Supreme
Bled in the winter evening, photo by B. Kladnik, courtesy of www.slovenia.info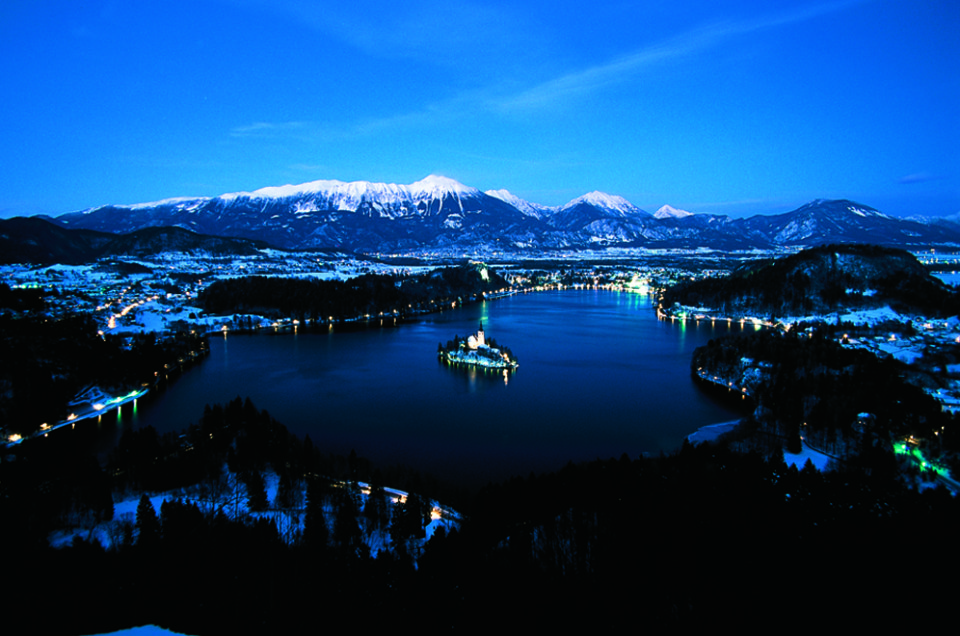 Bled in the winter evening, photo by B. Kladnik, courtesy of www.slovenia.info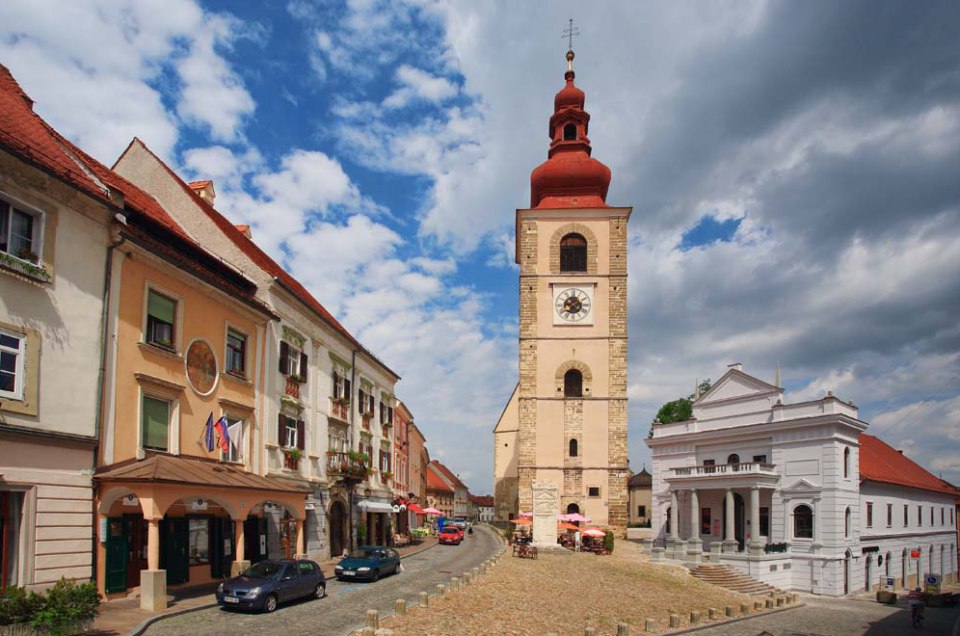 Ptuj, photo by Matej Vranič, courtesy of www.slovenia.info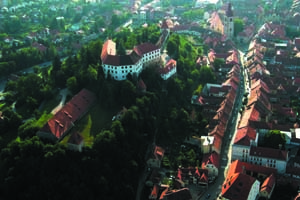 Ptuj Castle and the old part of the town, photo by D. Mladenovič, courtesy of www.slovenia.info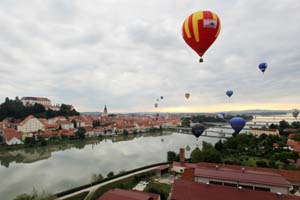 Balloons above the Drava Polje, photo by D. Mladenovič, courtesy of www.slovenia.info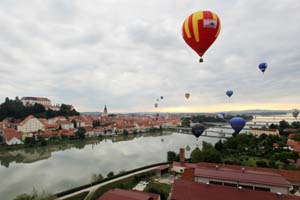 Ptuj, photo by Andrej Topolovec, courtesy of www.slovenia.info
Crystal-clear lakes, snow-capped Alps, emerald-colored rivers, unspoiled countryside: Slovenia, is the most beautiful European country you've never seen. Foreign yet hauntingly familiar, this former Yugoslav state east of Italy, south of Austria, west of Hungary, north of Croatia, echoes all these countries in its scenery, architecture, food and culture, from its capital city of Ljubljana, dubbed the "new Prague" by some, to the Venetian-looking town of Piran on its Adriatic seacoast.
Nature reigns supreme in this European Union member the size of New Jersey, where you can be on a hiking trail in minutes from any city.
Slovenia's iconic image: without doubt, the tiny island, crowned by a church spire, sitting in the middle of glassy Lake Bled, embraced by snow-capped Alps and a 1,000-year-old clifftop castle. You reach the island by taking a traditional gondola-like wooden boat, called a pletna, gliding past swans and swan-shaped wooden boats for two. Centuries ago, the Slavs worshipped the goddess of love and fertility, Zhiva, here. The island's reputation for romance persists: if a groom carries his bride up the 99 steps to the 16th-century Baroque Church of Mary the Queen, it's a good omen. Ring the bell, make a wish, is a local custom.
Lake Bled, a fabled health resort for Austro-Hungarian Empire aristocrats, is the eastern gateway to Triglav National Park, a wonderland of jagged Julian Alps peaks, jewel-like lakes, glacier-carved valleys, waterfalls, gorges and forests of spruce and beech hugging the Italian and Austrian borders. Slovenia's highest mountain, 8,600 foot-Mount Triglav, lies squarely in the center of the park. The valley of the Soca River – which can be startlingly emerald, jade or aquamarine, depending on the vantage point – home to Soca trout, unusually large and tasty, is on one side. The Upper Sava Valley is on the other. The pink Triglav rose, one of about 600 plant species in the park, which grows in rock crevices, is particularly loved by Slovenes, who call it "Zlatorog's flower."
Legend says Zlatorog, an ibex with golden horns, was shot by a greedy hunter. Wherever its blood spurted, flowers sprung up; the ibex nibbled them and regained its strength. Pursuing the ibex in ever higher mountain passes, the man, blinded by the sun glinting on its golden horns, fell to his death in a gorge. The angry animal rampaged across the landscape, tearing ragged holes, which filled with water, forming the seven Triglav lakes.
The folk tale's themes resonate deep within the Slovene soul: the healing power of nature, but also its raw power, avenging those who hurt her. You'll spot statues of Zlatorog at both Lake Bohinj and Lake Jasna, and Mount Triglav on Slovenia's flag. You'll also find that you can be on a hiking trail in minutes from any city in this intensely rural country.Belief in a magical world is easy here. In fact, The Chronices of Narnia: Prince Caspian was filmed in the Soca Valley. The valley was even declared an Eden by the European Union – an EDEN, or European Destination of Excellence, because its tourism meets sustainability goals in terms of the environment and economics.
Over 600+ farms in this intensely rural country offer tourist lodgings, and serve local specialties from karst prst – prosciutto cured in the pine- and juniper-scented air of Karst, the southwest plateau, known for its many caves – to cottage cheese dumplings, risotto and fruit desserts. Here's a quartet from all over Slovenia:
Pri Plajerju, Trenta
A half-mile from Triglav National Park's information center, two miles from the Juliana Alpine Botanical Garden, is Pri Plajerju (from $46). On this organic farm with panoramic views of the Julian Alps and Trenta Valley from its location above the Soca River, the Pretner family raises sheep and goats, grow vegetables, and makes cured meats. White-water rafting, kayaking, fishing, hiking marked trails, mountain-climbing, para-gliding and horseback riding are all nearby.
Joannes, Malecnik
A few miles from Maribor, Slovenia's second-biggest city – though you'd never believe it – and the Austrian border, is Joannes (from $41), where tastings of its premium Riesling, Chardonnay, Sylvaner and and Muscat are held in its 250-year-old wine cellar. One Protner brother runs the winery; the other runs the tourist farm. Vineyards are next to the farmhouse, whose meals can include cottage cheese with pumpkin seeds and herbs, mushroom soup with buckwheat groats, home-cured meats and home-made sausages, wine-braised meat and pate. Four large apartments that sleep 14 people are above the wine cellar in a separate building next door.
Urska, Stranice
Near Ptuj, Slovenia's oldest town, whose onion-spired castle houses a fascinating museum whose exhibits are about the region's winter Carnival customs and musical instruments, is Urska (from $45), where guests can unwind in Finnish and Turkish saunas, a Jacuzzi and hay bath. A friendly Newfoundland dog, sheep, rabbits, and goats make for an in-house petting zoo, and there's a playground with slide and climbing wall. Skiing – Slovenia's biggest ski center, Maribor Pohorje, is nearby – table tennis, biking, hiking, hay-making and mushroom- and berry-picking help build an appetite for Vilma Topolsek's meals, like pork ribs with dried plums, beef in horseradish sauce and sausage-stuffed pork medallion. Vegetarian and diet meals also available. Her husband, Tone, makes wine and pear brandy. The farmhouse, which features flower-choked balconies, has seven rooms, including a four-bedded apartment.
Zdolsek, Ponikva
A country estate in Slovenia's Staijerska region, which border's Austria's Styria, Zdolsek (from $48) belongs to Houses of Tradition, whose lodgings are distinguished by their historic character. Apple, pear and plum orchards, vividly-colored beehive panels – a Slovenian handicraft – and big garden in front of the 1824 farmhouse, plus nearby vineyards, are proof that tasty fruit desserts, bee-keeping and winemaking are the major occupations here. Potica – cake with walnut paste and raisins – and Styrian sour soup with pork cubes and vegetables are served. This estate, about 10 miles from Celje, has two rooms, including an apartment that sleeps six.
Other Voices you might like