Memphis Must-Do's: A Food, Drink & Music Guide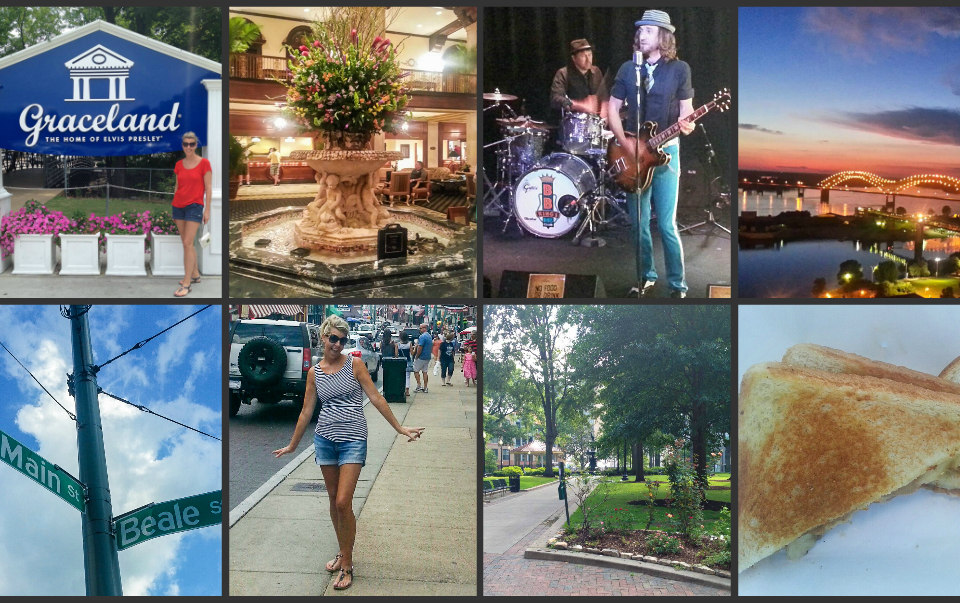 If there's one thing that every woman has figured out by the time she's in her twenties, it's that there are very few things better in life than good girlfriends. Always there when you need an ear or a smile to remind you how good life is, they're irreplaceable. A few weeks ago, one of my best girlfriends and I took off for a fun road-trip to Memphis; we put the windows down, cranked the tunes and let laughter and the feeling of freedom lead the way.
The only decisions we had to make while in Memphis were what to eat, what to wear and if we wanted to listen to a band or head back to our room for girl talk until the wee hours.
There are a lot of things to do and see in Memphis so we didn't have to look too hard to find some fun. Our first stop was to hit the Peabody Hotel, where we'd been told we could get a great massage and facial. Unable to decide which we wanted more, we finally agreed that since we were on our special Girlfriend Getaway, we'd splurge and do both! It was a great way to kick off our trip and the Peabody Hotel couldn't be lovelier or more impressive. After our spa treatments, we spent some time in the lobby of the hotel, admiring its beauty and the Peabody Ducks, five ducks who swim in the Peabody fountain.
Although the Peabody was a lovely hotel, we actually stayed at The Madison, a gorgeous, modern hotel just off the corner of Madison & Main. It's a great location if you want to park your car and leave it the majority of your trip, with shopping, restaurants and the famous Beale Street just blocks away, not to mention the trolley stop that will take you all over town for just a dollar each way. But our favorite part of The Madison was Twilight Sky Terrace, their breathtaking rooftop bar. The view is absolutely stunning and you can take it all in while kicking off your shoes and relaxing on a couch or in a comfy chair. Pam and I loved to end our evenings this way, then just have a few short steps back to our room. They make a killer margarita, too, but my suggestion is to ask for one with their jalapeno-infused tequila. It was my favorite cocktail of the trip!
If you're looking for a more upbeat evening, head down to BB King's on Beale Street, and make sure you go on a night that Memphis Jones is playing. Memphis Jones – both the name of the lead singer and the name of the band – plays anything and everything that came out of Memphis or has a strong Memphis connection. They're true entertainers, with Mr. Jones weaving historical facts about each song into their act, and he does it in a way that keeps everyone wanting more. It only took one order of Jalapeno & Corn Fritters and two martinis before we were on our feet and out on the dance floor! And, before I knew it, I was up on stage, singing alongside Memphis himself. We had an absolutely wonderful time, and we hadn't even gone to dinner yet!
Speaking of dinner, our plans changed when Memphis filled us in on something that, as tourists, we never would have known otherwise. Right above BB King's, there's a fabulous restaurant, Itta Bena, where you can get some great food and relax to live piano music. What's special about this place is that the only two entrances are an exit door on the second floor of BB King's and a fire escape out the back. No signs, no advertisements, no way to know that anything exists there unless a kind local fills you in. And, once you're inside, their blue-tinted windows only adds to the mystique. I highly recommend the Shrimp and Mascarpone Grits, with creamy, smooth grits that you just can't get anywhere other than the South.
And, of course, we hit up Graceland. Pam is a die-hard Elvis fan and, although I'm a fan, I wouldn't say that going to Graceland is something I've always been dying to do. But after seeing it, I only wish I'd gone sooner. I couldn't help but be in awe of this great man who gave so much back to the world. It was exciting to walk the grounds and interesting to see how much decor has changed since Elvis' time – green shag carpeting on the ceiling, anyone? And, being the foodie that I am, I had to eat in the restaurant so we could try Elvis' favorite, the grilled Peanut Butter & Banana sandwich!
Every morning we took a stroll down Main Street and sat in Court Square, a gorgeous park just a few blocks from the hotel. It was the perfect place to start our day, sipping coffee and quietly spending time together. If you're more of a hearty breakfast person, just across the street is the Blue Plate Cafe, and I promise you won't leave hungry. Biscuits and gravy are brought to your table as soon as your order is placed, and those alone are a good-sized meal. The food is good home cookin', too, so don't miss out!
Memphis was the perfect place for our Girlfriend Getaway. All that history and soul, coupled with amazing food, great nightlife and enjoyed with a best girlfriend, made for a spectacular road trip that we won't soon forget.
Other Voices you might like