One Perfect Day in Madrid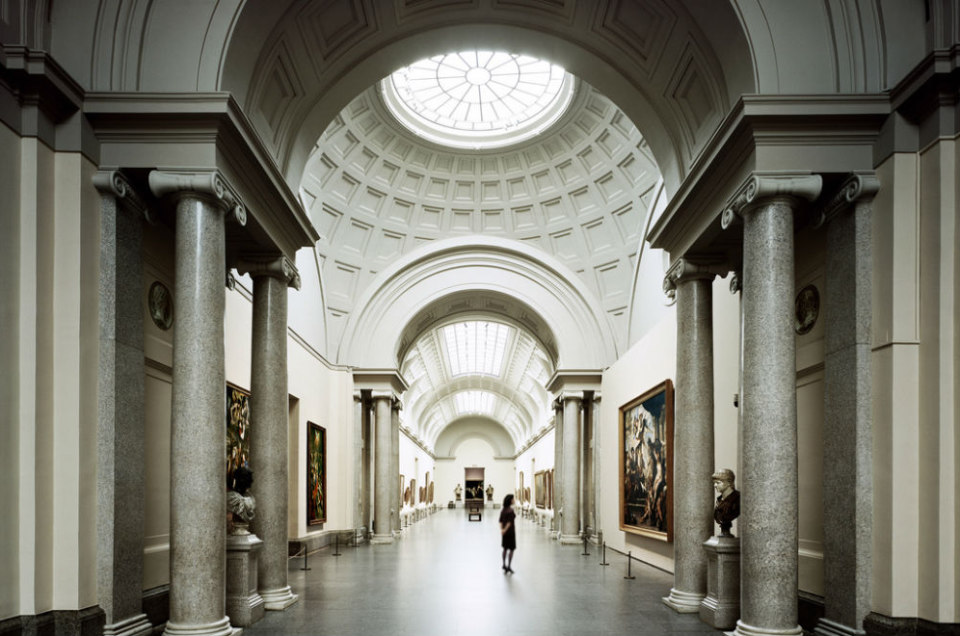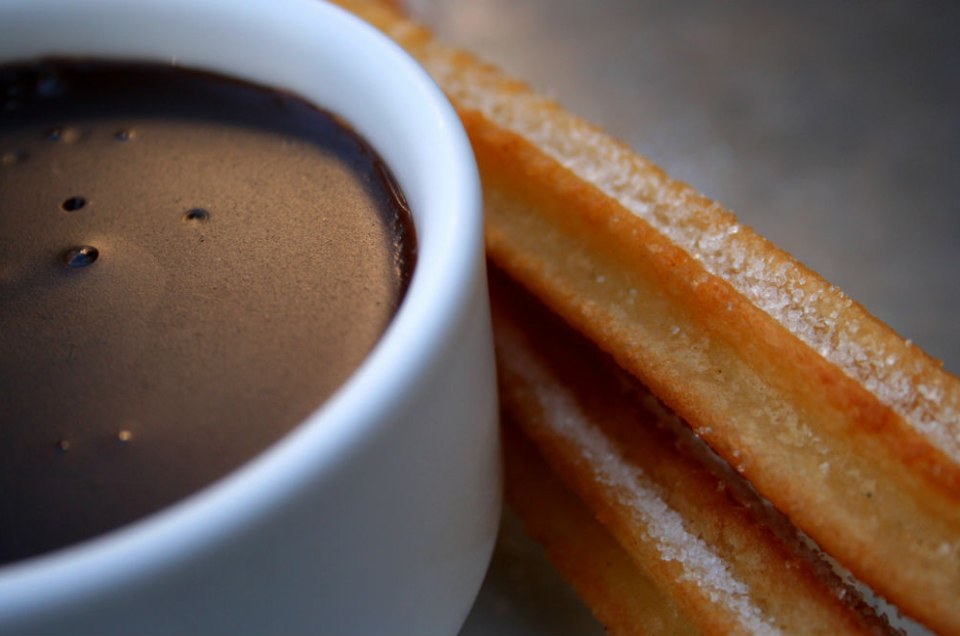 It's my last night in Madrid and my Spanish friend Alberto is taking a few of us to dinner at a unique family-owned bistro called Casa Benigna. Armed with only an address, we approach a large wooden door with wrought iron accents. There's no sign. No indication that we've arrived at a restaurant. There isn't even a gentle hum of guests dining on tapas. The place is deserted.
Then I realize it's only 9 p.m. on a Friday night – far too early for most Madrilenos to decide where they're going for dinner. No wonder Alberto was able to secure a reservation for us, I muse.
The door is slightly ajar and it beckons us inside where Scandinavian plates adorn the walls, gigantic paella pans dangle from the ceiling and dozens of books sit atop white shelves. The owners lived in Norway for sixteen years, and at Casa Benigna, they blend the cuisine of northern Europe with that of the Mediterranean. So you can order everything from Norwegian herring in tasty marinades to arroz abanda, a variation of traditional paella.
Carmen Garcia Lillo, the matriarch of the family and mother of the chef, pours cava as we chat about the best way to experience Madrid. She wears a loose-fitting silk blouse and sensible glasses; her white hair molded perfectly around her head. At less than 5 feet tall, her charming presence far exceeds her stature.
My friend Deb is an art history professor so no one is surprised when she proclaims that exploring Madrid's world-renowned art collection at the Museo Del Prado is a perfect introduction to the city. With more than 7,000 works by famed artists like Goya, El Greco, Velazquez and Tintoretto, the Prado offers the unique opportunity to follow the life of a painter through his works. A favorite for many is Diego Velazquez whose Prado masterpieces range from traditional Madonnas to more conceptual paintings like "Las Meninas."
The 10'5" by 9'1" painting is one of the Prado's most talked about pieces. "As you view the painting, you feel almost as though you're in a room with Velazquez while he creates a portrait of the royal family," says Deb. I agree. On a previous trip to Spain I spent many hours in the Prado. Las Meninas is so large, and the figures are so detailed, that it pulls you into the scene and makes you feel like you're part of the painting.
Spending an afternoon admiring "Las Meninas" was a little too intense for our tablemate Janet, who decided to blow off culture in favor of Madrid's unparalleled retail therapy.
"I got an adrenaline rush as the cab pulled up to Gran Via (Madrid's version of Rodeo Drive)," she says. Store windows lure you inside with bargain prices on shoes, bags and belts and signs that say "El mejor en Madrid" (the best shoes in Madrid). You won't find many American designer labels here, but you will find high quality leather goods that last for years.
Instead of shopping or museum hopping, I decide to sip café con leche and nibble on galletas in a café near Puerto del Sol where Hemingway reportedly wrote many of his tales. The plaza is bustling. Women chat outside the stores, elderly men play chess, and children stand transfixed as street performers entertain passersby. As a quiet observer, I imagine what their lives are like, where their families live, what they do for work.
That one is a grandmother, I think. She's shopping for a gift for her grandson who was born last week. He's the best chess player in Madrid. No one can beat him. But his age is starting to show, his brain is starting to decline and he doesn't have as much energy as he once did.
I finally understand the inspiration behind Hemingway's brilliant stories. He was captivated by the people of Madrid – their food, their spirit, their culture, their wine.
Earlier in the week, we toured Osborne's Malpica winery (pronounced Osborne-A). Just 60 miles southwest of Madrid, Malpica is one of the largest vineyard projects in Europe with more than 2,500 acres of planted Tempranillo, Cabernet Sauvignon, Syrah, Petit Verdot and Merlot. And now we're sipping on fruits from that vineyard.
As if tapping into our thoughts, Senora Carmen astonishes our senses with course after course of decadent Spanish fare. White bean stew with Jamon Iberico in a thick tomato puree. Red tuna over a salad of potatoes diced to the size of sugar cubes, sweet peas that pop in your mouth, shredded carrots for a bit of texture and capers to accent the flavors. Tortilla Espanola with wild mushrooms, Jamon Iberico and a fire engine red tomato sauce. And homemade pasta with olive oil, tomato and slivers of Kobe beef so tender they almost melt on your tongue.
I realize that pasta isn't a Spanish dish. And pasta with Kobe beef is even less so. But Senora Carmen's interpretation of this fabulous recipe represents the heart of Spain, where people commune together around a table.
"Come, relax, eat," she says.
I feel like we're participating in a sort of family style Spanish Teppanyaki where chefs prepare the food right before your eyes. Soon I find myself searching through the pasta for the perfect combination of sauce, spaghetti and beef.
It's 10 P.M. now and the Bistro is starting to fill up, but Senora Carmen knows precisely when every party is seated, what the guests order and approximately when they will toddle off. She pours us a bottle of Tempranillo while the waiter presents Casa Benigna's flagship dish: Paella.
This is no traditional paella. The pan is so large that we have to nudge our plates closer to our bodies to make space on the table. Unlike traditional paella, which is made in a deep pan, Casa Benigna's paella is very thin. With a wooden spatula, I loosen the crispy golden brown grains at the bottom of the pan and carefully create a serving of flavorful rice, tender meat and aromatic vegetables.
"The secret is the rice," says Alberto. "It absorbs the flavors the main ingredients provide like fish, vegetables or meat (depending on the type of paella you order)."
As the night flows into morning, I realize there's one more Spanish delicacy I have yet to try: A cup of pure chocolate and churros.
In Madrid, the locals party in cafes, discos and nightclubs until 6 A.M. when they head to Chocolaterias for their cups of pure chocolate and churros before tucking into bed. It's only 11:30 p.m. and I wonder how much longer I can stay up so I won't miss out on Madrid's signature late-night indulgence.
Somehow Senora Carmen's intuition kicks in again. The final course is a perfectly sized portion of steamy, rich, molten chocolate set beside a bite-sized churro – just enough for a single taste that makes you long for more. If I could do the entire meal again, I might sample each course that way, with just one savory bite. Nah. That's not the Madrid way!
Other Voices you might like