What to Buy in the Markets in Morocco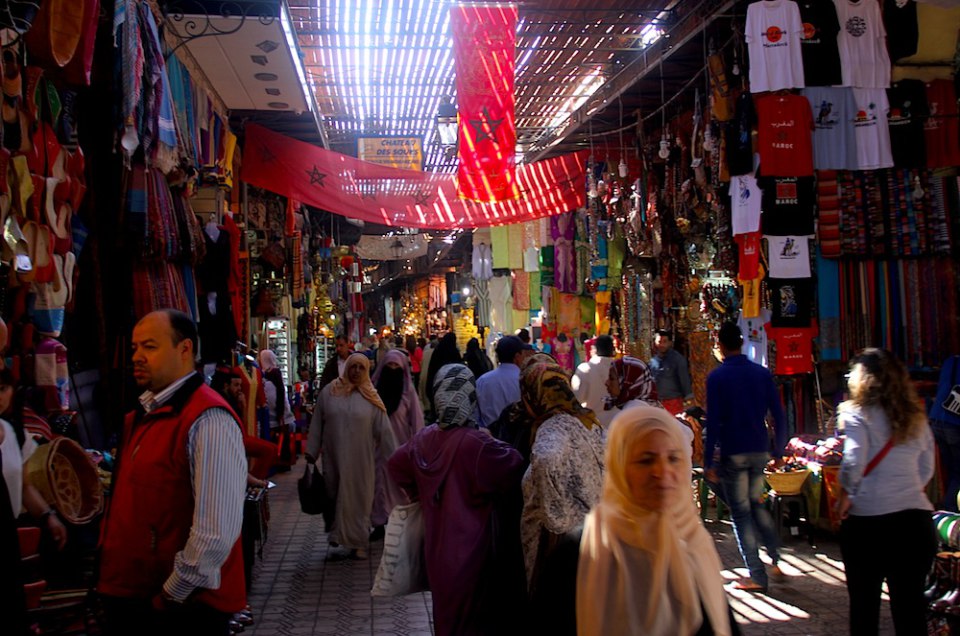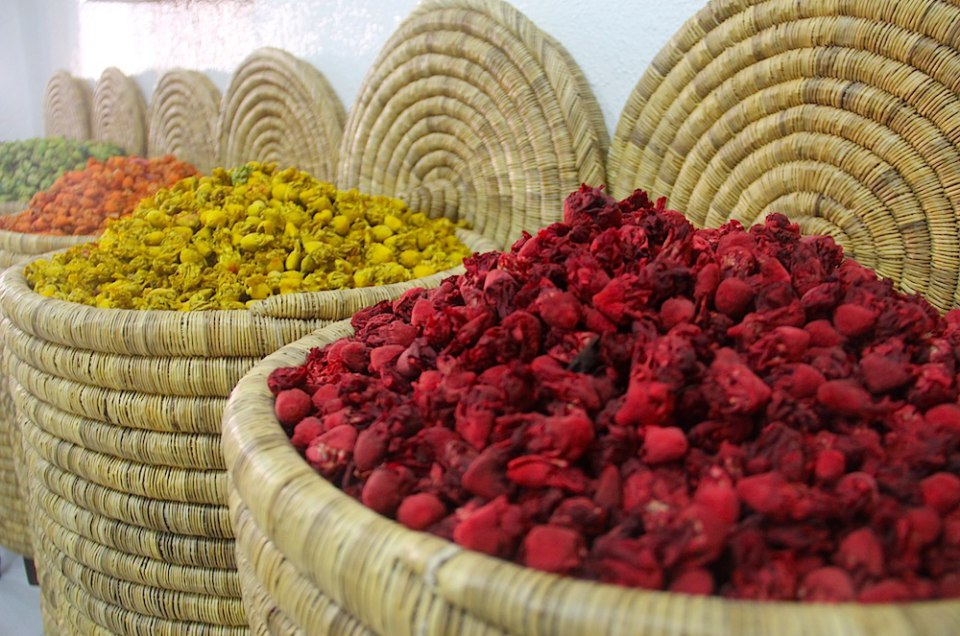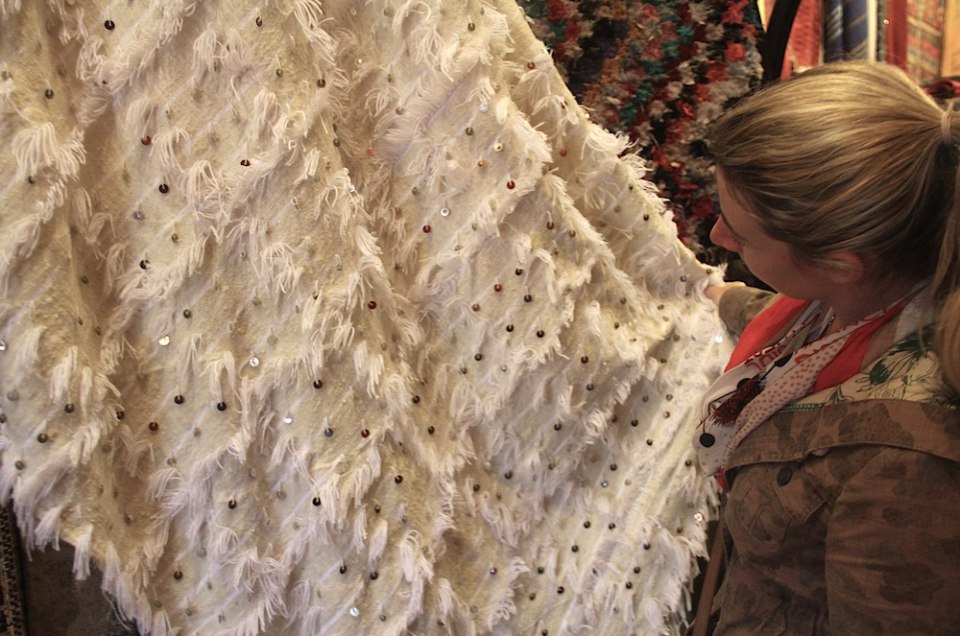 Berber Wedding Blankets in Marrakech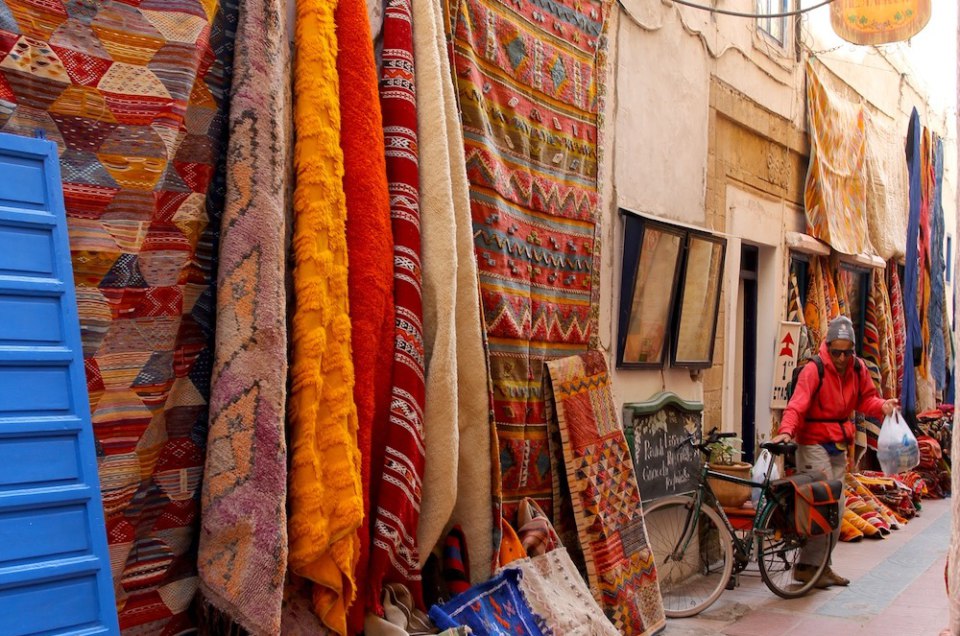 From traditional tagines to beautiful Moroccan carpets, it's easy to see how people leave Morocco with an extra suitcase or two. You simply can't travel to Morocco without visiting and exploring the markets and souks. Here's our guide for what to buy in the markets and souks in Morocco.
Shopping in Morocco can be a little intimidating to visitors who are used to shopping in traditional westernized stores with set prices and a check out aisle. In Morocco, be ready to bargain and hunt for the best possible souvenir.
9 souvenirs you can't leave Morocco without:
1) A Tagine. You're bound to have a traditional Moroccan meal at least a few times during your visit and if you are a cook or know a cook, a tagine is the perfect gift. (We bought one tagine and two big serving bowls for 100 Dirham, so bargain using that as a guide.)
2.) A mini-tagine. If you don't have room in your suitcase for the real, big thing, consider getting a mini-tagine as a jewelry holder in your bedroom or a candy jar for the kitchen. These usually go for about 10 Dirham and are throughout the souks. Look for one with a design or a solid color.
3.) Wool Throw. Wool is also sold throughout markets in Morocco and can come in a variety of colors. Throws typically run about $20-40 dollars depending on the softness of the wool.
4.) Leather slippers. Take your time with this purchase and really shop around. The price varies greatly from seller to seller, as does the quality of leather. We love the really ornate slippers with tassels and bright colors. These usually run about 5-10 dollars, but will be less expensive the more you buy.
5.) Berber Carpet or Moroccan Carpet. The quality rug shops will have hundreds of rugs to choose from and can take an entire afternoon to finally make your purchase. Most shop owners will bring you some mint tea and really go through dozens of rugs they offer before you settle on the one you will bring home with you. Again, as with everything in the markets, the more you buy the better the deal. A Moroccan Carpet is the thick wool carpet and the Berber Carpets usually have sequins on them and can be wool or cotton. (The wool versions are more expensive) See our extensive guide on buying a Berber Wedding Blanket and Moroccan Carpert.
6.) Moroccan Tea Set. Spend one day in any city in Morocco and you'll be served your fair share of Moroccan mint tea. After our ten-day trip, we were ready to drink the tea for every meal and bringing home an authentic tea set will make those memories last beyond your trip. Depending on the design, these can run about 10-20 dollars. The silver sets will be more expensive.
7.) Jewelry. Look behind the first couple of shops on the outsides of the souk and go further in the market to find the really nice silver. A small bracelet or earrings take up little room and make great gifts.
8.) Spices. You won't find the hot, hot, hot spices that India is known for, but you can find some unique to Morocco spices that any cook would love to have in their kitchen. Make sure to double bag them so they don't explode in your suitcase or make your entire bag like a spice market. A big bag can cost a low as .20 cents. Bring a lot of small change.
9.) Wood carved Chess set. Watch the seller shape each piece of the chess set before packaging it up for you right on the spot.
*As of January 2014, the US dollar was about 1 to 8.5 to the Moroccan Dirham. These prices should just be used as a rough guide.
Sponsored by Morocco Tourism
Other Voices you might like