A weekend at Snowshoe Resort with kids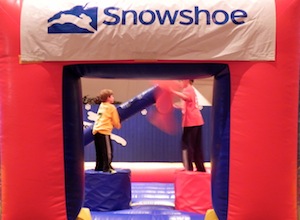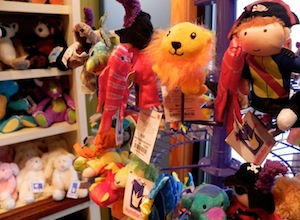 Mountain Kids Snowshoe Resort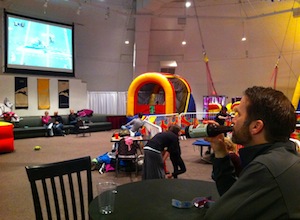 Big Top Snowshoe Mountain Resort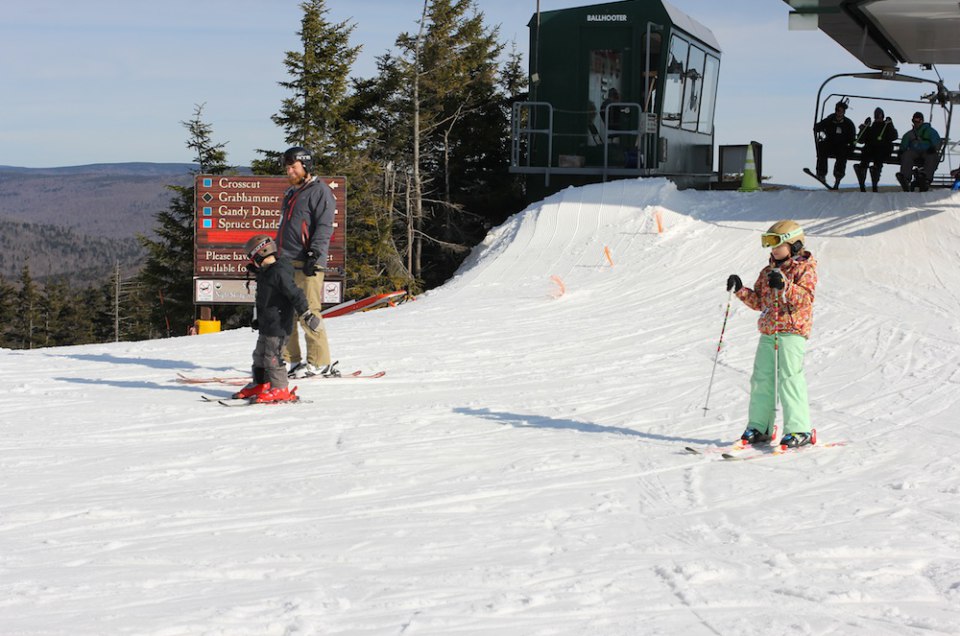 Snowshoe Resort with kids
Think skiing is all this West Virginia ski resort has to offer families in the winter? Guess again.
My elbows were wet. Not just wet – but soaked – through layers of ski jacket, fleece, and t-shirt. Apparently this is what happens when you ski for hours in the rain, which is what I had just done with my husband Matt and 11- and 8-year-old sons Tommy and Teddy.
As you may have guessed, we're a family of pretty gung-ho downhill skiers, refusing to allow warm temperatures or precipitation to spoil a day on the mountain. But on this particular January Saturday at Snowshoe Resort in West Virginia, even we finally had enough. The grooming staff had done a great job of smoothing and preserving snow in the face of the unusually warm and wet conditions that followed on the heels of the a weeklong frigid spell. The boys had checked out rails and jumps in the Progression Session Terrain Park and we had enjoyed several runs on the trails in the more challenging (and deserted) Western Territory trails across the street from the main basin. But we all finally cried uncle when we realized that water was dripping down our necks.
Retreating to our cozy slope-side condo in the center of the resort's charming main residential and commercial area simply called The Village, we laid our wet gear in front of the gas fireplace. The kids may have been content to wile away the remainder of our afternoon here – after all they had two TV sets, not to mention a comfy sofa and bed, but Matt and I thought some hot food would be just the thing to chase away and lingering dampness.
Happily The Junction was mere steps from our door. This casual restaurant is decorated with reminders of the area's history when the nearby town of Cass served as headquarters for a lumber company and steam engines carried felled trees down the mountains much as lifts carry skiers up today. We settled into a corner table and after ordering fried green tomatoes, soft pretzel sticks with provolone dipping sauce, and "wood chips" or waffle fries topped with a healthy dose of cheddar cheese and bacon, proceeded to enjoy a rousing card game.
Teddy needed a bit of retail therapy to make up for the fact that his brother had whipped us all soundly, so we checked out the games, toys, and giant bear at Mountain Kids. Had we forgotten to bring a game with us, this would have been the place to find some rainy day fun.
We decided that maybe a bit more activity was in order. It was a short stroll through The Village to The Big Top, Snowshoe's indoor paradise, I mean playground, for kids. The boys were off the races, literally, competing to see who could finish the huge inflatable obstacle course first. Then there were long rounds of skee ball, jumping in the bouncy house, somersaults on the bungee, and so many gladiator battles that I lose count. Other fun items here include a climbing wall, pool table, and Wii.
It was hard for me to decide what was the best part about The Big Top – the fact that grownups could order a beer at the snack bar or that admission was free for families staying in Snowshoe Mountain Lodging. We spent about two hours there, and both boys would have happily stayed to watch the evening's free film (Harry Potter and the Sorcerer's Stone) if we let them. Parents who would like a little kid-free time (perhaps using it for a massage in the resort's new spa) can make reservations for Kid's Night Out in The Big Top – pizza is served and there are crafts and of course the kind of controlled mayhem that happens when children get around any large inflatable playground.
Later that evening the boys wanted to take a swim before dinner. We were staying in the Allegheny Springs Lodge, which has a gorgeous heated pool and is also next door to the Split Rock Pools, another water play area with slides and geysers. Unfortunately the threat of lightening – not at all typical for January – meant all the pools were closed.
A few other fun activities that we had to miss because of the weather were the Coca Cola Tube Park, a six-story, five-lane sledding hill and an evening Snowmobile Tour to explore the trails we had skied early in the basin. I'm sure we would have all enjoyed flying up and down the mountain on snowmobiles, especially after dark.
And sadly enough, when we pulled out of Snowshoe's parking lot the following afternoon it was under a bluebird sky, leaving the boys to moan the unfairness of having school the next day. Mother Nature may not have cooperated that weekend, but Snowshoe Resort showed us a great time in spite of the weather – and gave us lots of reasons to come back.
Sponsored by Snowshoe.
Other Voices you might like