Panama – with Panache
Panamonte Gardens, photo by Mario Stojanac and Mary Luz Mejia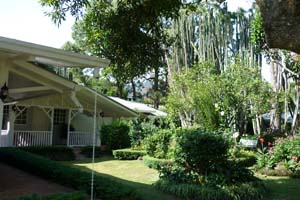 Panamonte Gardens, photo by Mario Stojanac and Mary Luz Mejia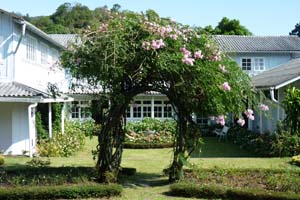 Panamonte Gardens, photo by Mario Stojanac and Mary Luz Mejia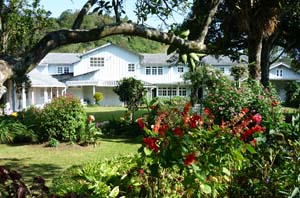 Panamonte Gardens, photo by Mario Stojanac and Mary Luz Mejia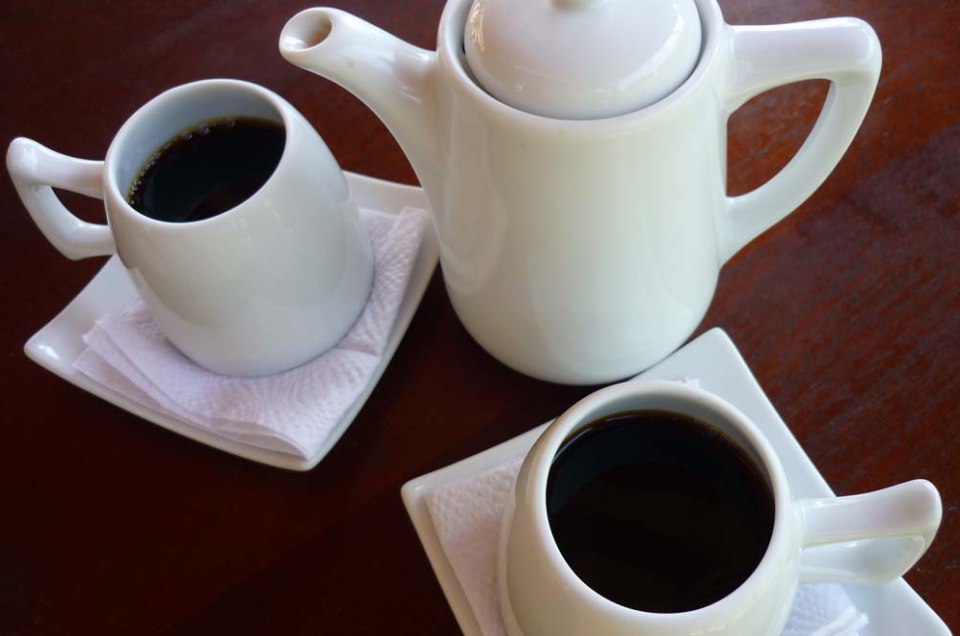 Cup of GESHA coffee at Ruiz, photo by Mary Luz Meija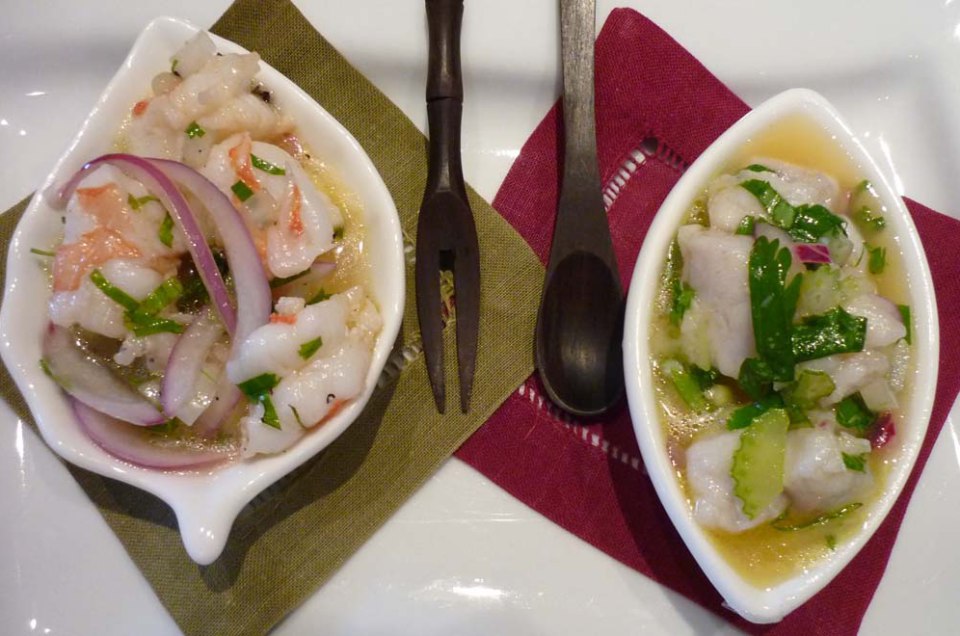 Duo of Ceviches (recipe for shrimp one included), photo by Mario Stojanac and Mary Luz Meija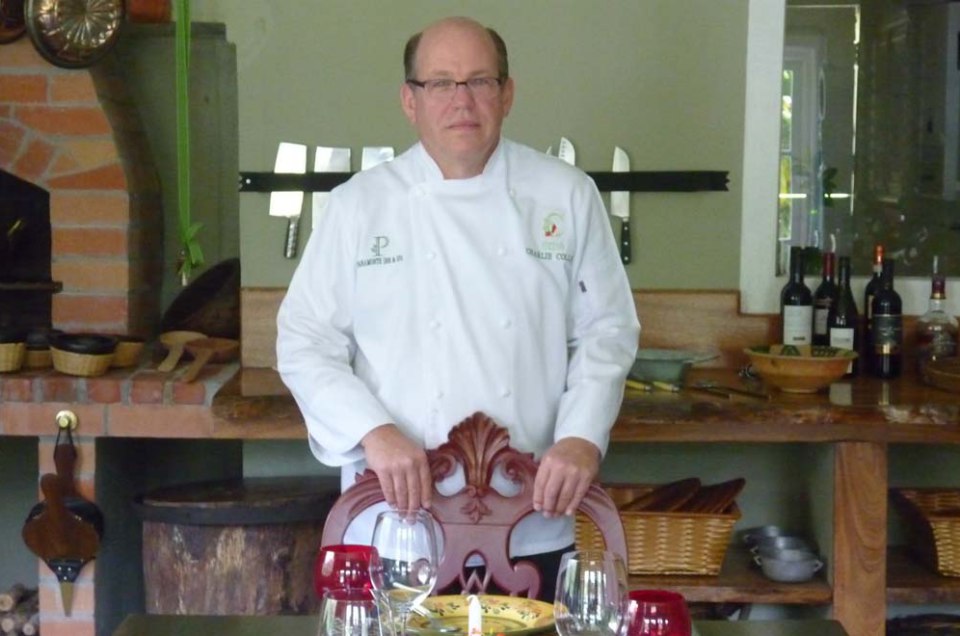 Charlie Collins at his home dining room, photo by Mario Stojanac and Mary Luz Meija
It was as if Lady Luck herself had seated us that night. There we were, sandwiching a quiet, friendly man to whom much of the rest of the room seemed to gravitate. And lucky for us, this night in Panama City and a conversation with said man, spawned a coffee-fuelled adventure for us 6 months later. The chap in question is none other than Charlie Collins. Chef to Panamanian presidents, VIPS and one of the biggest proponents of the Panamanian kitchen, Charlie graciously invited us to spend a week at his elegant hideaway in the country's coffee growing paradise. We were sold before he could say café con leche!
This time, Panama City serves as an overnight resting place, made necessary by the fact that we have a tired 16 month-old in tow. A short 30-minute internal flight the next morning takes us northward, bound for mist-covered coffee country and the luxurious Panamonte Inn and Spa in Boquete.
Located in the centre of narrow Panama's northern regions, Boquete is perfectly positioned for travellers.
Two hours to the west lies the Pacific, rich with fruit-growing regions and seafood. Roughly 2 hours to the east sits the Atlantic coast with its indigenously-tended cocoa plantations, accessible via jungle roads cutting their swathe through cool cloud forests, culminating in the launching-off point for the increasingly popular Bocas Del Toro.
Custom tours are arranged by the Panamonte staff – whether it's sun ripened, toasted and freshly ground cocoa that you're after, or the opportunity to visit a traditional sugar plantation, watching a duo of oxen power a wooden mill that crushes the cane to an earthy, grassy-sweet nectar. A country, al fresco lunch of tamales, sancocho (chicken stew) and hand-made fresh cheese, with fresh fruit and a sliver of "melcocha" (sugar cane toffee) for dessert means tradition is never far away.
A year shy of its century mark, the Panamonte has hosted Ingrid Bergman, Sean Connery, the Shah of Iran, President Nixon, and we three weary Torontonians. But what a way to unwind! We're greeted with freshly squeezed lulo (naranjilla) juice, its citrusy sweetness wonderfully balanced by a tangy finish. We stay at a newly renovated, spacious casita-like suite that even includes its own log fireplace-lined patio. The front door vista of tropical flower gardens and mist-draped mountain tops is breathtaking. We can't imagine a more enticing wake-up call.
This is a Panama we had not envisaged before – volcanic crater, jungle and all- the picturesque town of Boquete (in Chiriquí Province) has more in common with a Swiss Hamlet than the bustle of Panama City. Not only is it the centre of a burgeoning coffee industry based in the rolling green hills that surround it, it is also the home-base of arguably Panama's most famous, influential and well-loved chef, Charlie Collins. A second generation Panamanian of Swedish-American extraction, Panamonte's chef-owner Collins is a multiple award-winner in Panama and abroad. This makes guests (including us) at his Inn a very fortunate group of diners.
The cuisine at the Panamonte is a reflection of Chef Collins' philosophy, as local as possible, using ingredients of exceptional quality and letting the surroundings and traditional Panamanian flavours sing. Not content with simply savouring these dishes, we're fortunate enough to take one of Charlie's hands-on cooking classes at his beautifully appointed home kitchen studio. We start off with a local Corvina fish ceviche, the rankin lemon juice adding a unique tartness to the dish. A second shrimp ceviche follows as Collins reels us in, our willing taste buds egging us closer to the mains. Tonight, we're making a contemporary Tamal de Olla (think Shepherd's Pie, substituting soft cornmeal for the potato and including shredded chicken, achiote, capers and olives in the filling.) The tamal, in tandem with arroz con guandu (rice and congo peas) form perfect companions to the braised local lamb. Welcome to Charlie's Panama.
Apart from Chef Collins' food, we're most excited about the opportunity to further discover the little-known (in Canada) Panamanian coffee industry. Based in the hills mere kilometres from the Costa Rican border, at an altitude of 2000m above sea level and coupled with the natural fine mists of the Bajareque wind, the result is some of the world's finest, small-batch roasted coffees. Coffee tours to nearby Finca Lerida (which used to be a Collins family concern) or Don Tito's Finca La Milagrosa can include walking tours through the plantations, tutored cuppings and the opportunity to purchase exceptional coffees at reasonable prices.
Mario is a self-admitted quality coffee junkie, which makes pre-caffeine early mornings with him somewhat personality-challenged. Mary Luz, on the other hand, enjoys a smooth cup of coffee as much as she enjoys her tea, which is the curious crossroads we arrive at once we track down the much-vaunted (and pricey) Gesha coffee. While Gesha does grow at Finca Lerida, it is not isolated and forms part of their blends. Getting pure Gesha wasn't as straightforward as we had expected, but with Panamonte staff on the case, our tour to the nearby Cafe Ruiz is quickly organized. A single cup tasting of the Gesha sets us back $ 10. As indulgent as it may sound, it is well-worth the price.
From the first sip (black, no sugar) our eyes meet knowingly and our heads nod in silence. The coffee is exceptional; floral and berry notes entice tea and coffee drinkers alike, explaining its popularity in the No. 1 export destination of Japan (and the subsequent marketing misnomer of 'Geisha' coffee). We are equally smitten and purchase a half-pound of beans to take home with us, a welcome fuel for the grey winter that awaits our return to Toronto.
RECIPE:
Grilled Shrimp Ceviche
Recipe courtesty of Chef Charlie Collins
2 lbs. Medium size red shrimp, clean and deveined
Salt and freshly ground black pepper to taste
2 tablespoons olive oil
Juice of 20 limes, freshly squeezed
Juice of 2 oranges freshly squeezed, approximately ½ cup
2 garlic cloves, smashed
1 Scotch Bonnet pepper
1 red onion, diced
Handful of fresh cilantro or culantro leaves en chiffonade
Procedure
Heat the olive oil in a grill pan over high flame. Add the shrimp and sear for 10 seconds on both sides. Shrimp should barely turn pink. Remove and place on a china platter. Let cool.
Rub the bottom and sides of a glass bowl with Scotch Bonnet and smashed garlic cloves. Add shrimp and onion and sprinkle with some salt, toss with a wooden spoon.
Add the lime-orange juice and ice cubes, mix with a wooden spoon. Taste the ceviche marinade and correct seasoning with additional salt if needed. Add pepper to taste.
Refrigerate for 35 minutes or until shrimp are fully "cooked" in the marinade and are crunchy.
Add the cilantro or culantro, combine well and serve in martini glasses. Drizzle some olive oil over each serving. Serve very cold.
Other Voices you might like