What to do in Camana Bay, Grand Cayman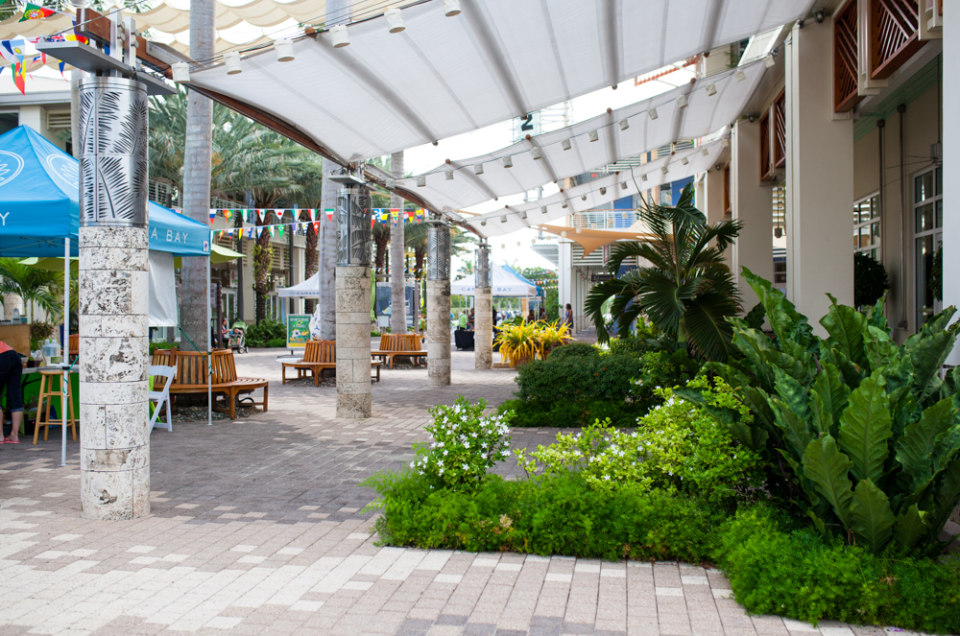 Camana Bay is a development on Grand Cayman, featuring a mix of shopping, dining, entertainment, office and residential space intended to draw in locals and tourists alike. Best of all? It's perfectly situated to take advantage of the cool tradewinds as they breeze across the island.
Sponsored by Cayman Islands Tourism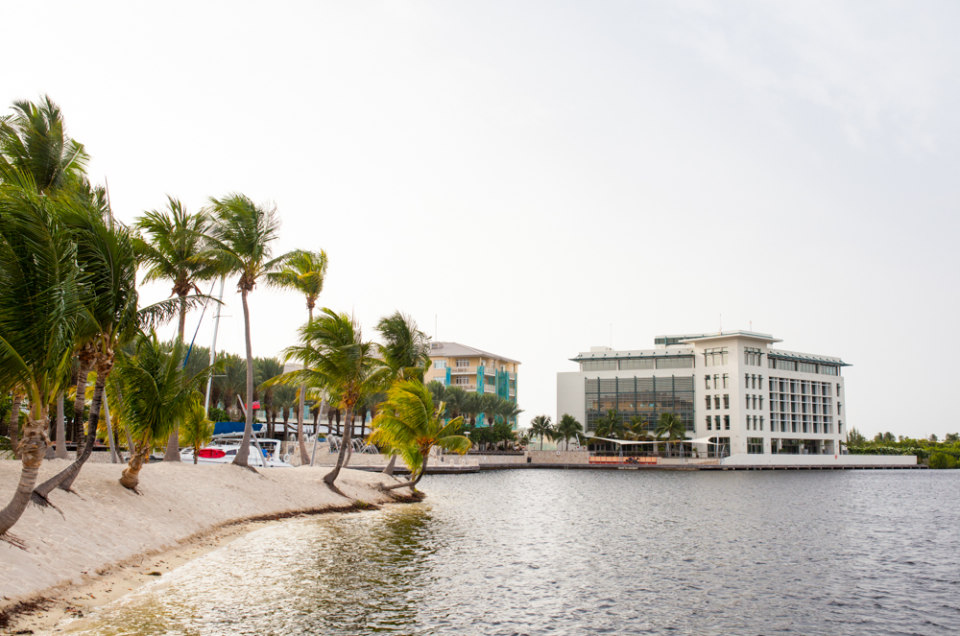 Camana Bay perfectly blends island life with modern living. At the harbor boaters can dock at the island and enjoy a beautiful view of the town center or take the walkway to the Crescent Park.
The Crescent is an open space designed to mimic a European town square. With outdoor dining that overlooks the harbor and a boardwalk that encircles the waterfront, visitors are never too far from a water view.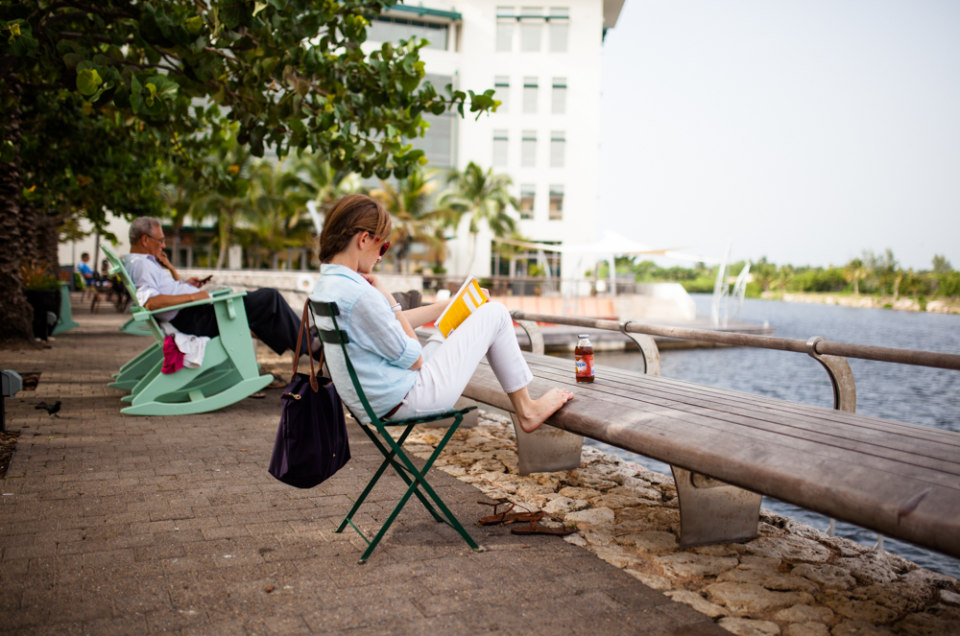 Along the waterfront are rocking Adirondack chairs perfect for relaxing with a good book or just listening to the sounds of island life. It's not just for adults, either. Kids can cool off in the nearby water fountains while parents enjoy views of the water.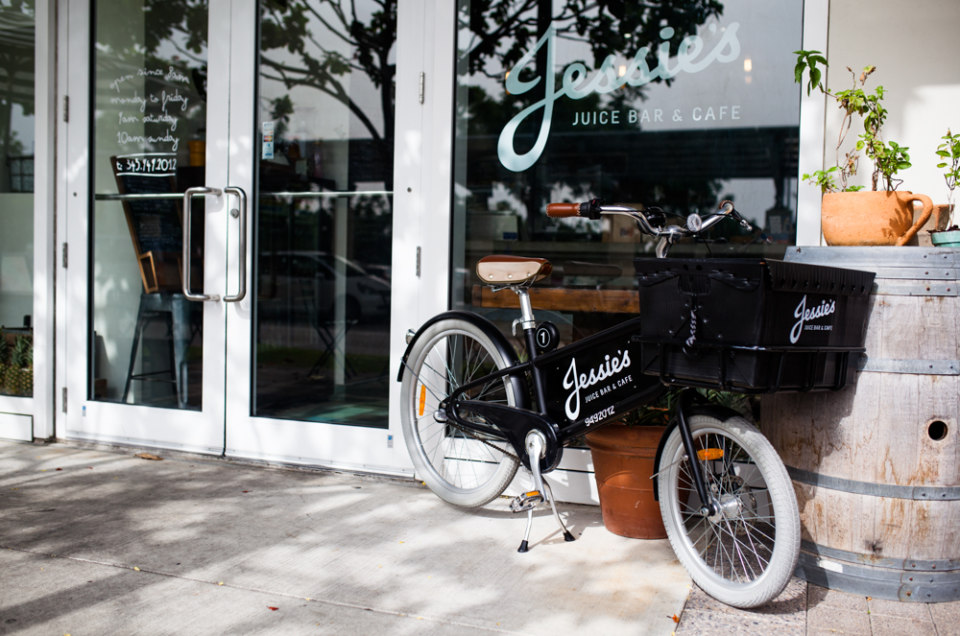 Jessie's Juice Bar Camana Bay
Healthy foods offer a refreshing treat when you're spending all day in a bathing suit. Jessie's Juice Bar is one of my favorite spots on the island for a cool beverage. Try the Sun Salute for an afternoon pick-me-up.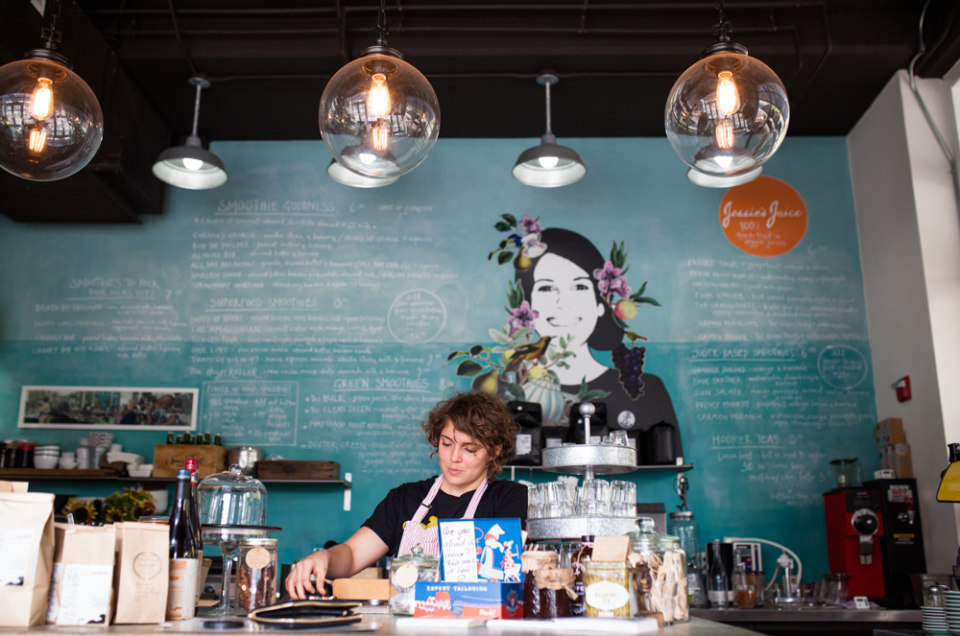 The menu written on a cool blue chalkboard wall, casual diner feel and incredible hospitality inside give Jessie's Juice Bar its enticing appeal. I love the atmosphere here.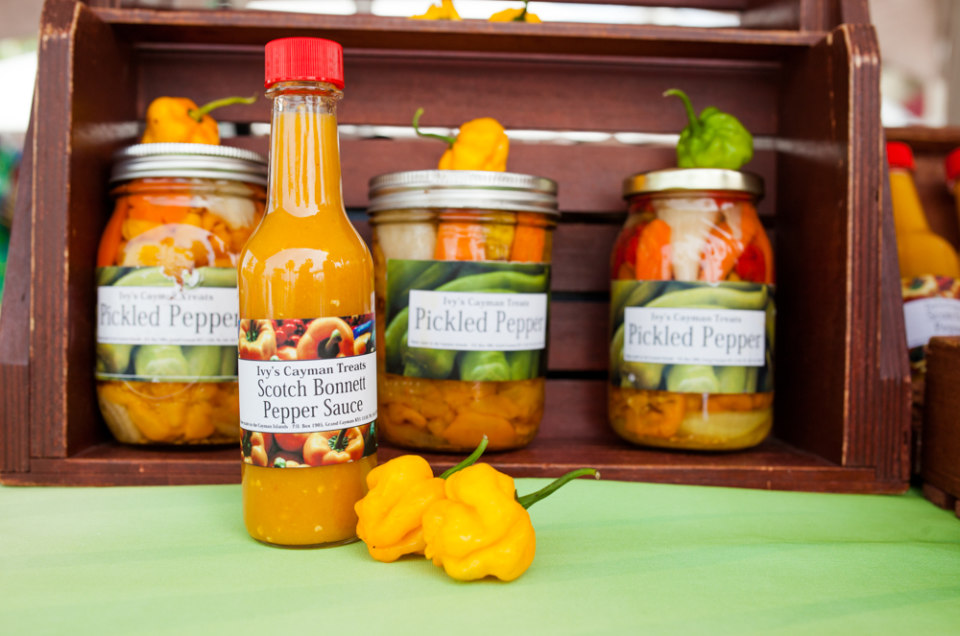 I love exploring local produce and food products at a farmer's market. At Bay Market, a speciality market showcasing organic foods, you will find fresh produce like bread fruit, mango and cassava. Or you can try some homemade sauces like Ivy's Scotch Bonnett pepper sauce—enjoy, spice lovers!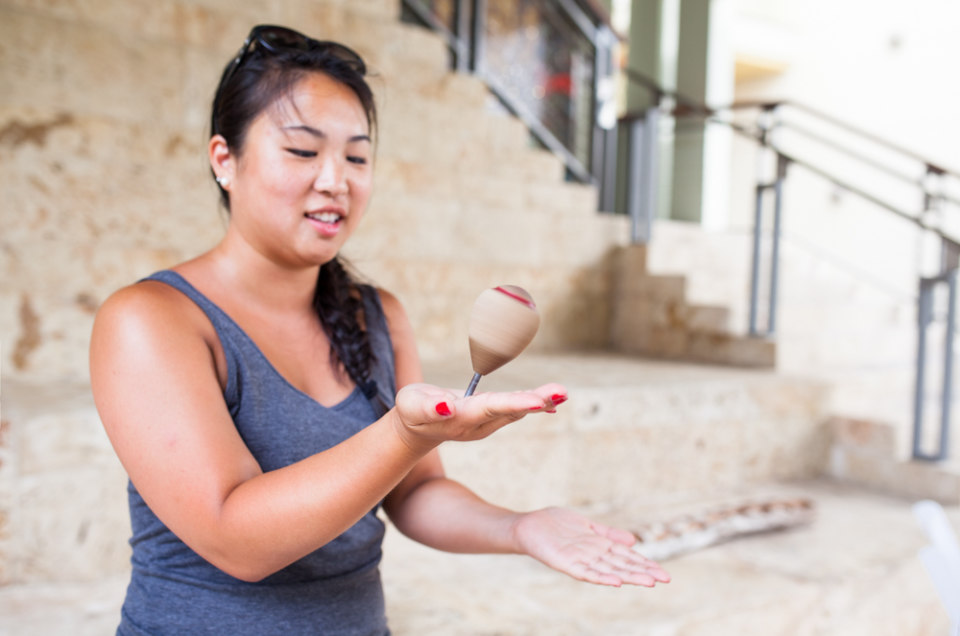 Deal Ebanks is a Caymanian artist who makes traditional toys and games from recycled wood. He gives guests a lesson on how to give these wooden "gigs" a spin—kids can't get enough (and really, neither can I).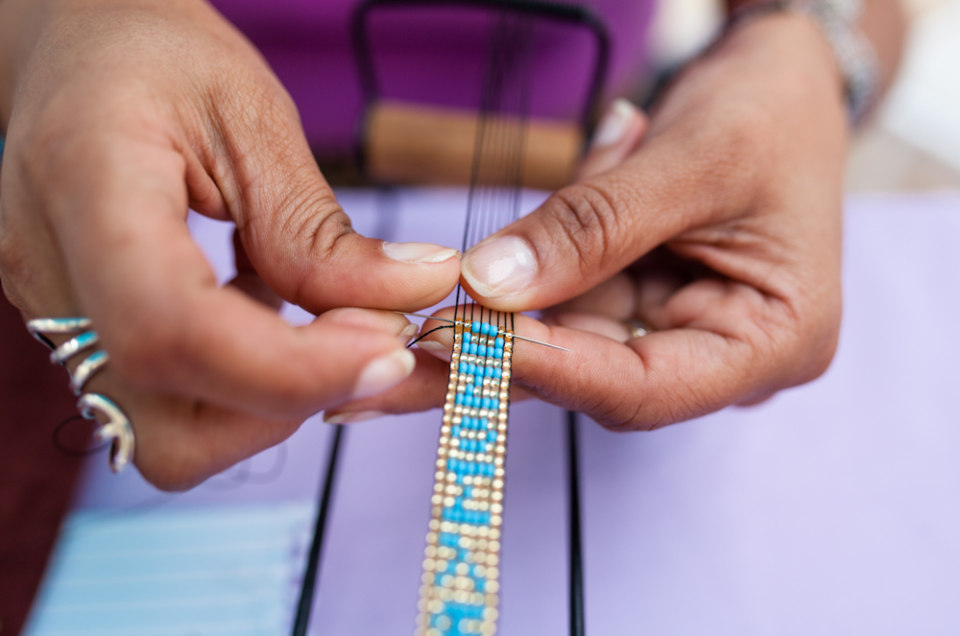 A Caymanian artist weaves beaded jewelry by hand. The Cayman markets offer beautiful hand-crafted artwork, like this gold and turquoise piece.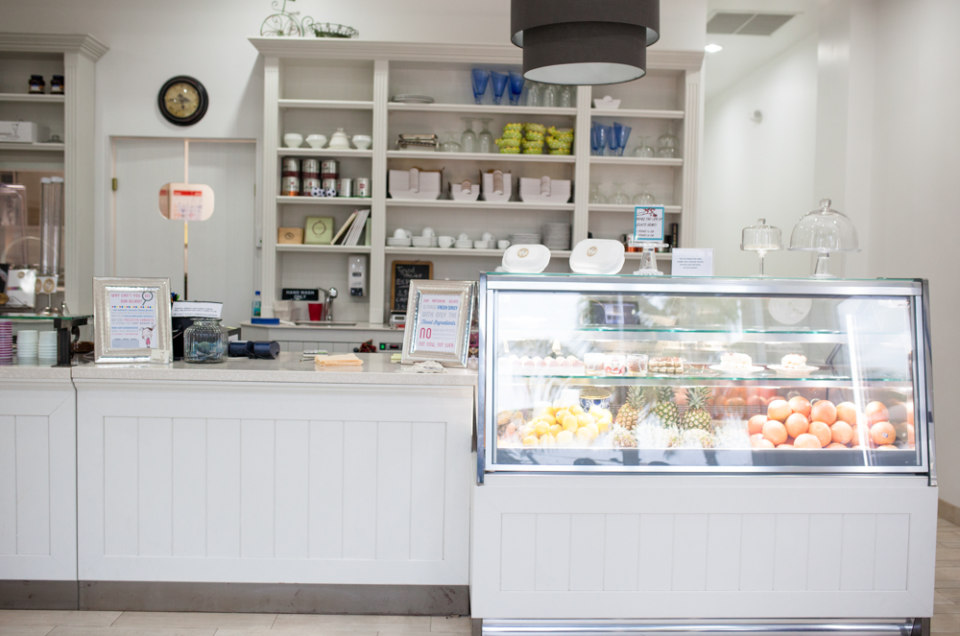 Beat the heat at Gelato & Co. Cremeria Italiana – authentic homemade Italian ice creams, pastries and cakes. Try the sorbets made from the local fruit like mango and pineapple.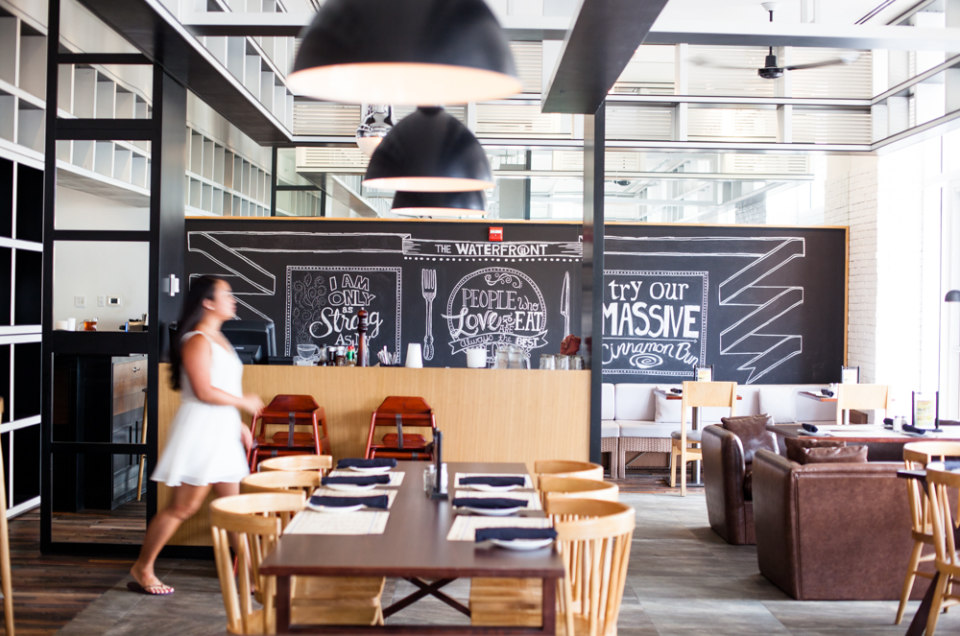 Waterfront Urban Diner, Camana Bay
Take the Flavour Tour to sample the variety of foods offered in Camana Bay. The tour consists of five courses of well-sized portions, plus cocktails for those who love a cool drink, too. Your belly will be happy and full—two things I always look for after a fun dinner in a new place.
Lastly, stop by the Waterfront Urban Diner , a restaurant with an island twist on American classics, for brunch and enjoy French toast or a giant cinnamon roll in a modern yet cozy dining room.
Other Voices you might like