Veni, Vidi, Visit Tarragona
Puente del Diablo, photo by Mary Mihaly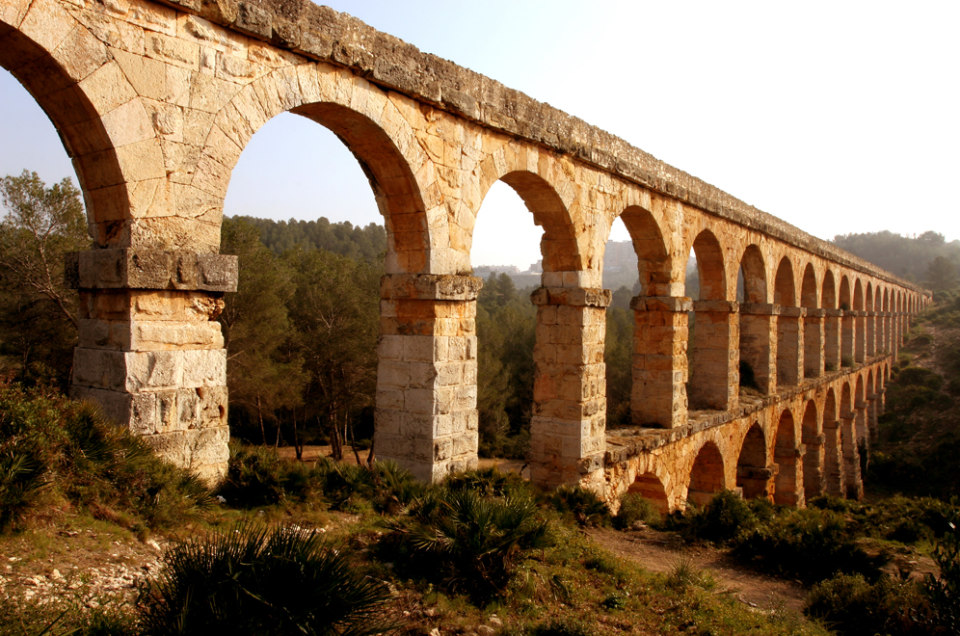 Puente del Diablo, photo by Mary Mihaly
When they say "Old Town" in Tarragona, they mean really old. Romans first settled in this region of Catalonia, Spain, about 65 miles south of Barcelona, in 280 B.C. Julius Caesar hung out here with his legions. Augustus lived in Tarragona—then Tarraco—in 27 B.C., when it already was the nerve center of politics for all of the Roman Empire. So why had I never heard of this place?
It's a city that climbs to the sea, up a gradual, half-mile rambla, or ascending boulevard, from the business district. The reward is a stunning view from cafes along the Balcó del Mediterrani (Mediterranean Balcony). I stared down at the ancient, crumbling amphitheatre and tried to imagine the gladiators who once fought there, and the bloodthirsty spectators cheering them on.
You can climb down to the amphitheatre and choose a place to sit—not like in the old days, when citizens were seated according to class.
I was surprised that so much of Tarragona's Roman heritage was accessible. We toured part the Tarraco Circus; one end of the racetrack, where chariots lined up to begin a race, now is covered by City Hall. Other sections align with present-day streets, and as you roam the neighborhoods you can see walls and apartment buildings atop Roman-era foundations, easy to identify by the way the stones are cut.
What distinguishes Tarragona—a UNESCO World Heritage Site— in addition to the ruins themselves, is the way in which the town showcases and uses its remnants of the Roman Empire. Walk into a modern office building in the oldest section, and you're likely to see a section of old Roman or medieval wall in the lobby, protected behind plexiglass. Ruins have been incorporated into restaurants and homes. In one restaurant, Les Voltes, we learned that the giant stone archway above our heads was one of the 62 arched entries leading into the Tarraco Circus. We had to stop eating for a moment and let that sink in—it's not every day that Clevelanders feast on fresh-caught sea bass in Romesco sauce, sitting smack in the middle of Julius Caesar's path.
Our timing in Tarragona was a little off; later in the summer we would have witnessed a real spectacle: the competition of the castellers, or human tower builders. Four local colles, or groups of athletes, practice all year building human towers that often reach nine stories high.
But we found our thrill on the aqueduct hill—Pont del Diable, or Devil's Bridge, about 10 minutes outside Tarragona's walls. More than 600 feet long, this section of aqueduct spans a 75-foot ravine and has survived 2,000 years; it once wound through some 15 miles of countryside, bringing river water to Tarraco's public baths, fountains and homes, some of which had running water. More exciting than seeing the remarkably preserved, two-tiered aqueduct was attempting to walk across it. I made it two, maybe three yards before I freaked and turned around.
Milder adventures awaited us inland, in the Priorat wine region. We dropped off our bags at Las Passamaner, a boutique hotel a few miles from the city (not to be a name-dropper, but Bono had just checked out), and headed to wine country. We drove past hazelnut and olive orchards, and the village of Montblanc, where St. George slew the dragon. When we finally saw vineyards, we noticed the old vines growing on steep, un-terraced slopes. "The suffering of the plant makes the great fruit…because the plant suffers so much, we have more color, alcohol content and thick skin on the grape," said the manager of Scala Dei, a winery where we stopped for a tasting.
We walked across the town square, where the winemaker's wife runs a tiny olive oil shop. "Bah—she'd be useless if she was a wine," he joked, "because she's friendly and bubbly. Good wine has to be strong and silent."
Too soon, it's time to drive back to Tarragona and catch the new, high-speed Ave train back to Madrid—and our flight home. The first-class car is roomy and comes with a hearty complimentary lunch of sandwiches and wine. I order a glass of red, vino tinto, my last taste before I fly home.
I order coffee and stare out the window. Why is it that only when I am in Spain must I drink azúcar in my coffee? Perhaps I change a little when I visit this land of flamenco and guitars. We speed past scrubby lowlands and high, craggy hills. Occasionally the view is punctuated by a village, a cluster of red-tiled roofs perched against a hill, and surrounded by more olive trees, more grapevines, sometimes grazing cows. It's all very sweet, civilized, tidy.
Other Voices you might like