Chew on This: Ordering a Philly Cheesesteak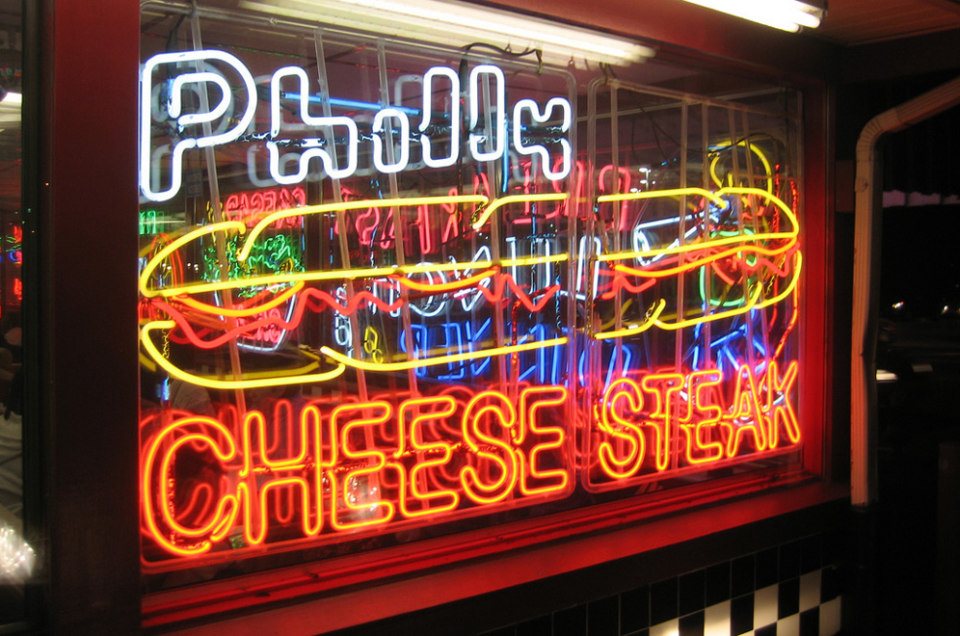 Loud and proud cheesesteak signage. Photo by jefka on Flickr.com.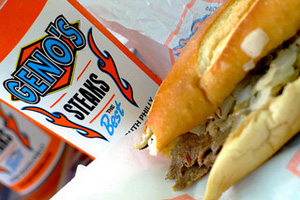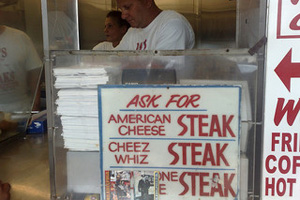 You want Cheese Whiz with that? Photo by mark guim on Flickr.com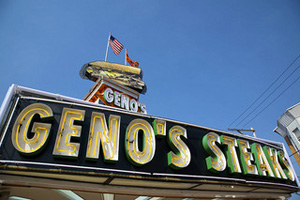 Sky and signage. Photo by lpettinati on Flickr.com
A mix of local tradition and national tourism, Philadelphia's claim to fame in American cuisine has been the mighty cheesesteak. In the 1930s, brothers and restaurateurs Harry M. Olivieri and Pat Olivieri were credited with creating and selling this sandwich from their hot dog stand in South Philly.
Eating this sandwich of grill-cooked and cheese-coated beef and onions is a must-try when visiting this region of the City of Brotherly Love. During a recent day trip, head to the neighborhood around South Ninth Street and East Passyunk Avenue to reach the two most-talked about (and probably the most compared) eateries. Both establishments are literally right across the street from each other. On one corner, there's Geno's Steaks, the other, Pat's King of Steaks (also known as Pat's Steaks and founded by the Olivieris).
Each venue shares similarities. Seating is by patio tables under canopies. Customers line up and, as they reach their turn, order at a service window with menus posted on the walls. You have to know what you want – and exactly how you want it so you don't hold everyone up.
"When placing an order, there's a certain kind of lingo to follow. For example, "one whiz wit" translates to you would like one cheesesteak with Cheez Whiz (a common cheese choice) and grilled onions. Likewise, "wit-out" means no onions. You order your sandwich at the first window, and then move along to the second window to get fries and a drink."
We first stopped at Geno's, the younger of the two steak joints. Opened in 1966, Geno's stands out with its neon signs and posters showing a strong stand on American patriotism (Freedom Fries are on the menu). Here 24/7, you can order your cheesesteak with a choice of provolone, American or cheese whiz.Being a light eater, I figured I was no match for eating a steak sandwich alone. I decided to go in on a three-way order with two other girls. We sliced up a cheesesteak and divided a side of fries among us. The meat was flavorful, with a fair amount of melted cheese. My portion was enough to save room for the next place but only just.
After finishing up at Geno's, I ventured across the street to Pat's Steaks, which outdates its rival by three decades. A large-type sign marks the spot of this white-painted landmark in Philly's food history. I arrived at Pat's before my fellow food-sharing friends did, and realized this fact while standing in line. So I decided on a whim to do what would be a daunting task for my tummy: having my own cheese steak, fries, and small drink. After juggling all items and settling in my section of a crowded patio table, I took careful first bites of my sandwich.
The cheese was oozing and the meat was well seasoned and a bit more to my liking. I preferred Pat's.
While weighing out your choices for Philly cheesesteak, here are two additional suggestions. Another long-time place to consider is Jim's Steaks, which has been around for about 70 years and has a South Street location. Tony Luke's also has character, with offerings such as a chicken cheesesteak.
Other Voices you might like