Dancing Retro in Saskatchewan
The historic Danceland music hall in Maintou Beach, Saskatchewan, photo by Trevor Pritchard on Flickr.com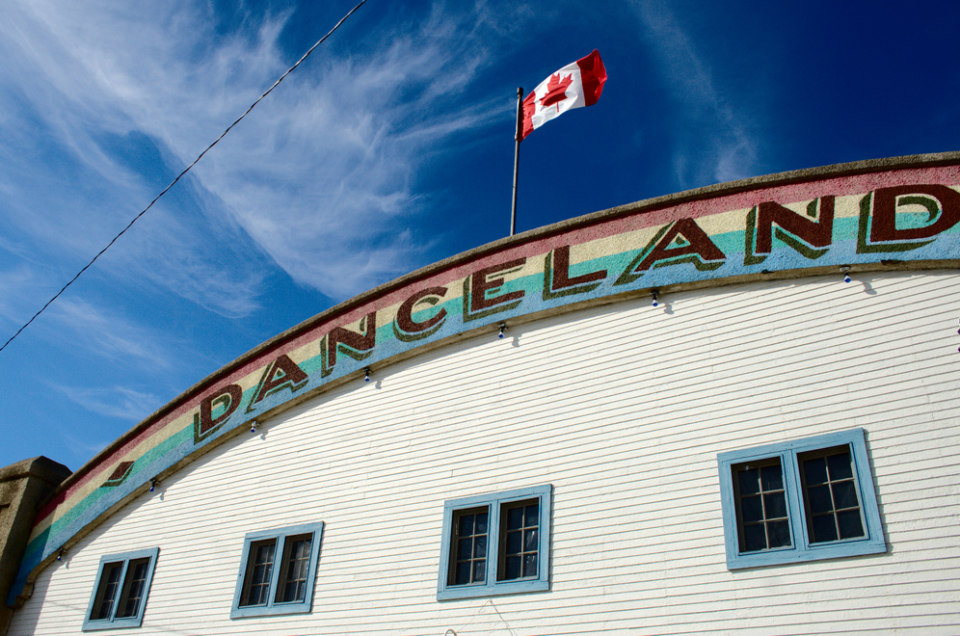 The historic Danceland music hall in Maintou Beach, Saskatchewan, photo by Trevor Pritchard on Flickr.com
On the shores of scenic Manitou Beach near Watrous, in central Saskatchewan, sits Danceland, an aircraft hangar sized dance hall built in 1928 that still managers to draw crowds off up to 600 dancers. "On our Saturday Polka nights in the summer we'll have ten hours of straight dancing and let me tell you, these people hardly sit down, they dance the whole ten hours," says Millie Strueby, who owns Danceland along with husband Arnold and plays in dance band The Decades.
The dance floor is world famous because its maple surface sits on a bed of horsehair, giving a superior dancing surface that allows Danceland's patrons to glide across the 5000 square foot floor with ease. Before every dance the floor is sprinkled with wax, which is massaged in to the maple by the dancer's leather soled shoes. Beyond that, this fine historic dance floor requires very little maintenance.
The halls acoustics are amazing, thanks to the clear Douglas fir construction and the domed roof. "Saskatchewan is blessed with quite a few old-time bands and they all want to play here," says Strueby. It was through playing at Danceland with their band since the seventies that the Struebys came to love the place and eventually purchase it in 2001.
Danceland sprinkles their program with different types of music from time to time, there's gospel shows on Sundays and a rock 'n' roll weekend every (Canadian) Labour Day.
The rock 'n' roll events change the hall's demographic somewhat as there'll be dancers in their thirties and forties compared to the usual retirees that flock there.
With its gorgeous period architecture, the place is a definite throwback to the twenties; there are displays of old photographs and memorabilia proudly posted on the walls of the dancehall. Back in the day there used to be three dancehalls jumping, jiving and two-stepping seven days a week along the Manitou Beach shore, catering to the flocks of tourists who came to the pretty hot-spot to soak their cares away in the famed mineral waters.
Throughout the thirties and forties, entry to Danceland was free, as it was in most dance halls across Canada, but if you wanted to cross on to the velvet-roped dance floor and trip the light fantastic you had to surrender a five-cent ticket, known as a Jitney (also slang for a five-cent bus ticket.) Any man who wanted to impress the ladies would have a strip of jitney tickets hanging from his pocket to show that he could afford, and was ready, to dance. Jitney dances fell from popularity at the end of the forties, when regular admission fees became the norm everywhere.
Danceland's enduring appeal means that it is still one of the most important dance halls in Canada, as the most popular Saskatoon club. The venue has many fans, that is for sure. "Some of our Patrons grew up dancing here and never stopped, others danced here in their youth and have only just come back," explains Strueby, "But it's like riding a bike, they don't forget how to do the dances. Once their feet hit the dance floor the steps all come back to them."
Other Voices you might like