New Fun for Foodies in Santa Fe
All in for cooking, photograph by Paul Ross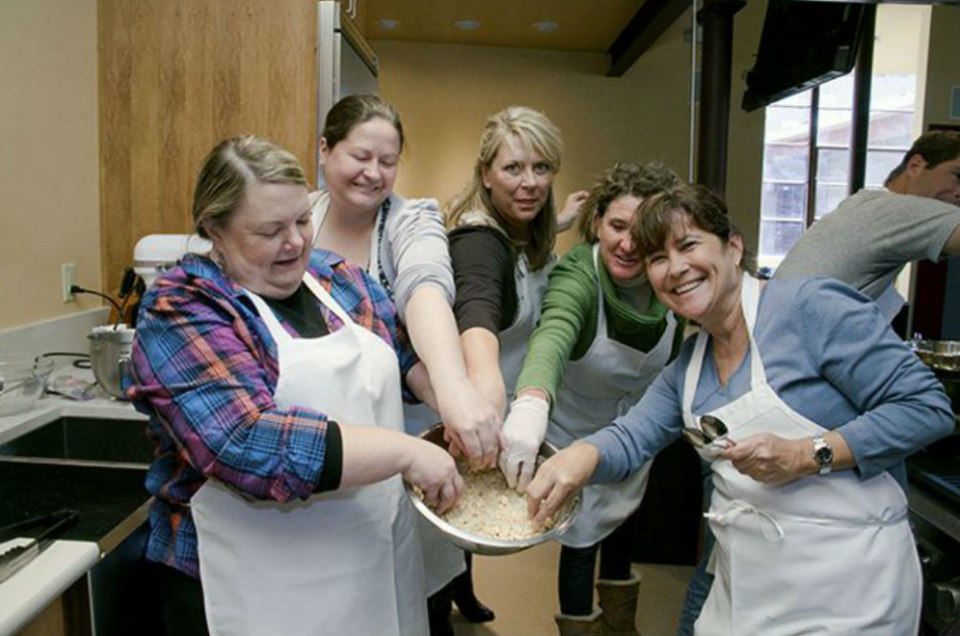 All in for cooking, photograph by Paul Ross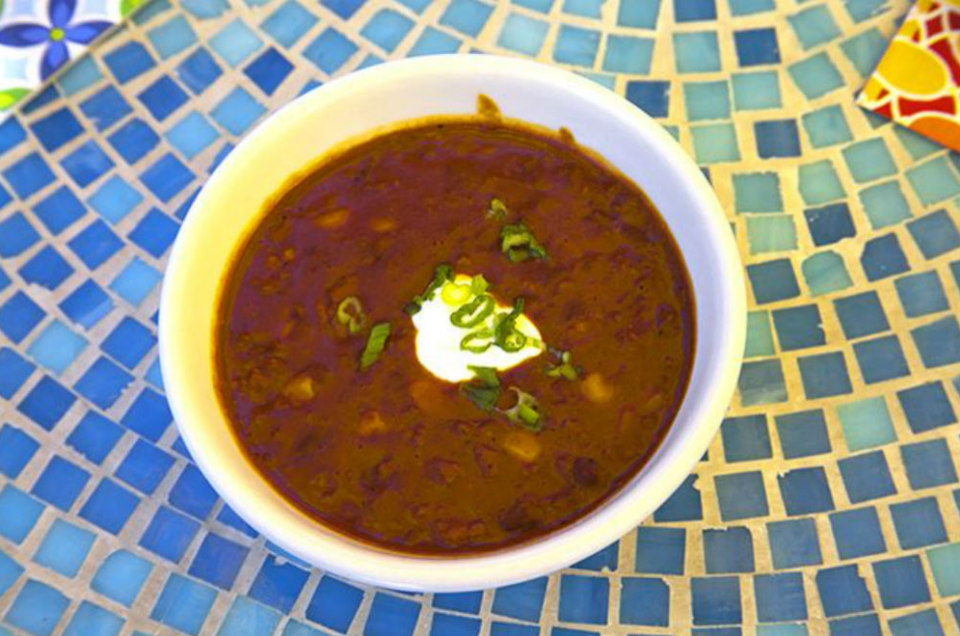 Santa Fe food, photograph by Paul Ross
People travel to my hometown of Santa Fe, New Mexico, for sun-soaked, high desert landscapes, contact with native culture, hundreds of art galleries, world class museums….and food. We eat a lot, we eat well, and we like it fiery. New Mexico is probably the only state that has an official question: "red or green?" Waitpersons don't even ask if you want chile; they just want to know what kind. If you're like many of us locals, you'll reply, "Christmas," which means red and green.
Right now, chile is not the only thing that's hot in Santa Fe. After 23 years in the same location, the Santa Fe School of Cooking has purchased its own property and doubled its space. A new, large demonstration-style kitchen and a smaller hands-on kitchen allow for more classes, more intimacy, more opportunity to sample, savor and cook.
Want to visit the museum of iconic artist Georgia O'Keefe's paintings down the street from the cooking school and then learn recipes from the artist's kitchen? Check. Anxious to make your own green chile sauce, rellenos and killer tacos? Check. Have a yen to prepare southwestern-style tapas, salsa that will make your loved ones lick their lips and Native American cuisine? Check, check, check.
If you're a true foodie, like I am, put on your walking shoes and run–don't walk–to make reservations for the school's Walking Tours, which are a steal at $115.
"How many calories can I burn off during the tour?" I asked the receptionist at the cooking school. "Depends on how fast you walk," she answered. "I figure I'll kind of stroll," I said. "Then forget about calories and enjoy, enjoy."
For three hours, I was in deep enjoyment mode as I walked through our historic, adobe-style downtown area, following a local chef and visiting four of the top restaurants in Santa Fe. We met the chefs, sous chefs and mixologists, went into the kitchens, learned recipe secrets, heard local yarns, and then sampled whatever delights the chefs chose to prepare for his rapt audience, washed down with perfect alcoholic pairings.
Our tour included a bowl of savory lamb stew and a highly informative talk about the historical blending of Indian and Hispanic foods by local celeb chef and author Lois Allen Frank. Then we trekked off for Restaurant Martin, to tour the chef's garden, visit his kitchen and learn about his Progressive American cuisine. Next came a tasting that included pork bellies that had been marinated for 36 hours and braised for 7 hours; and diver scallops with bourbon vanilla and sweet potato puree, accompanied by a Spanish white wine.
At the Pink Adobe, where government officials, movie stars, artists, celebs and locals have been dining for more than 60 years, we were treated to hilarious tales by the grandson of founding grande dame Rosalea Murphy. Then we sampled chicken and chile-laced gypsy stew (Larry Hagman has it sent to him when he gets the yen), and Rosalitas—cocktails named after the founder.
At the Secreto bar (in the Hotel St. Francis), mixologist Chris Milligan served up fascinating tales with his Warm Fuzzy—made from fresh apricot puree, tequila, wine, honey and Licor 43 and traditional pork tamales with red chile.
At the Palace Restaurant, our now-chummy group laughed, sampled and enjoyed green chile burger sliders and Caesar salad.
A "sweeper" followed behind us in case anyone wandered or got lost after too much wine and food. No one disappeared, but there were a few giddy wanderers. I confess to being one of them.
The following day, I did two things: I signed up for a cooking class and came out of the closet. Let me explain. It was a tamale class ($98)…where, before doing anything hands-on, we learned shortcuts for removing kernels from a corncob, peeling garlic, pulling pork, slicing onions and freezing chile sauces.
"Questions?" chef Michelle Roetzer asked.
"Do you use a lot of salt and pepper in your cooking?" I inquired.
"Let me tell you a story," she replied, as she is not only a cook, but a raconteur as well. "When I interview chefs who want to work with me, I always ask them this question; 'What is a good substitute for salt and pepper?' If they come up with an answer, I don't hire them because there IS no substitute."
Under Roetzer's watchful eyes, we were going to prepare three kinds of tamales: red chile and pork; blue corn with calabacitas (squash); South American style in banana leaves.
"Any more questions before we get to work?" the chef asked. And that's when I came out of the closet.
"Is this class suitable for… non-cooks?" I stammered.
"Everyone is a cook," she replied.
"You don't understand, " I said in a whisper. "I have not preparedone meal in the 28 years I have been married. My husband Paul loves to cook. I love to eat. I don't even frequent the kitchen, in case it's contagious. But Paul wanted to take this class and I'll try anything once. I know I'm your worst nightmare."
The chef grinned at me and said, "You are not my worst nightmare. That's someone who thinks he can cook and can't." And then she handed me some aged cheese and a grater. She showed me how to hold the rind, angle the grater, and move my cheese-holding hand up and down. My mind started to wander. I was trying to recall the word in French for "amphibious." Then I was puzzling about the year Citizen Kane was made. I watched the ten cookaholics around me. I admired their newly-acquired techniques, shared their pleasure in learning fabulous foodie facts and factoids, and ate three tamales at the end of class. Were they good? We devoured everything except the cornhusks.
"So what if you can't cook?" one woman said. "I'll bet you know how to write."
IF YOU GO: http://www.santafeschoolofcooking.com. 125 North Guadalupe Street, just down from the O'Keeffe museum. 1-800-982-4688 or 505-983-4511
Other Voices you might like