All Santa, all the time, in Santa Claus, Indiana
Santa Claus Indiana, photo by Amanda Williams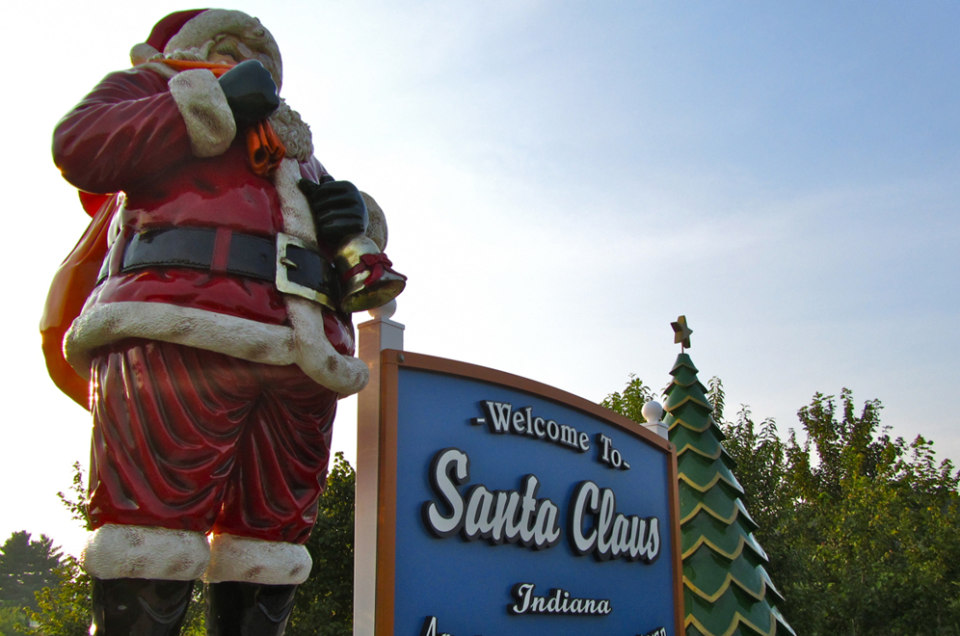 Santa Claus Indiana, photo by Amanda Williams
The post office there, photo by Amanda Williams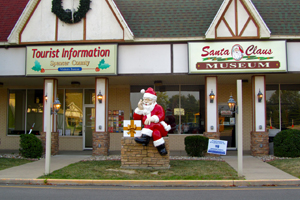 You'll find Santa everywhere, photo by Amanda Williams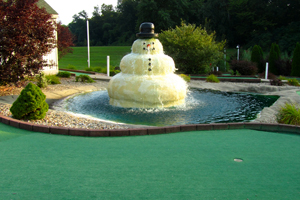 Frosty presiding over the theme park, photo by Amanda Williams
Are you one of those people who starts listening to Christmas music in September? Do you leave your tree up for months after the holidays because you can't bear to take it down?
Do you wish every day could be Christmas?
Well, if so, I have good news! There is one place in America where every day IS Christmas. That place is Santa Claus, Indiana.
This tiny town of about 2,000 in Southwestern Indiana calls itself "America's Christmas Hometown." With Santa-themed stores, hotels, and even an amusement park, this place really is in the holiday spirit every single day of the year.
Santa Claus was established in 1854 – except back then the town called itself Santa Fe. Two years later, however, when the town decided to establish a post office, it was told it couldn't by the U.S. Postal Service since another Santa Fe already existed in the state of Indiana. Not to be deterred, the town soon changed its name to Santa Claus.
The Santa Claus post office is the only one with its name in the entire world today – meaning you'd better believe the jolly old elf receives thousands of letters here each year from children all over the world. A non-profit organization called Santa's Elves (along with the Santa Claus Museum) answers about 12,000 of those letters per year.
A drive through Santa Claus won't take you long; the entire town covers less than 7 square miles. But it sure makes a great, quirky pit stop if you're making your way across the Midwest.
If you find yourself in Santa Claus, here are a few things worth checking out:
Holiday World & Splashin' Safari
With nearly 1 million visitors visiting this themed theme park annually, Holiday World and its attached water park are kind of a big deal in Santa Claus. The park claims to have the #1 wooden roller coaster on the planet (The Voyage), and also the world's longest water coaster (Wildebeest).
Frosty's Fun Center
No Christmas town would be complete without a themed mini-golf course, right? Enjoy some mini golf here with Frosty, and then have fun with the kids in the arcade.
Admission to this sweet attraction is free – but you'll probably be tempted by all the holiday-themed goodies inside!
Santa Claus Museum
Located in "Santa Claus Village" (basically a mini Christmas-themed strip of shops), this museum is filled with memorabilia, pictures, articles, and more – all about the man in the big red suit.
Santa Claus Post Office
And, of course, no trip to this unique town would be complete without a visit to the post office that started it all. Send a postcard or letter here – it's the only place in the world where you'll get a postmark from Santa Claus!
Other attractions include Santa's Stables for family-friendly horseback riding, and the Chirstmas Lake Golf Course. And, be sure to also keep an eye out for the law enforcement here – they drive red-and-white cars emblazoned with "Santa Claus Police"!
The Details
Thinking of making a visit to Santa Claus, Indiana? Here are some other things you'll need to know:
How to get there
Santa Claus is located in Spencer County, Indiana, not far from the Ohio River and the Kentucky state line. You can take US Route 231 to IN 162 right into the center of town.
Where to stay
Planning to stay overnight? Consider the Lake Rudolph Campground & RV Resort if you're on a budget, which has rental RVs as well as cabins and tent sites. Or, choose to stay at Santa's Lodge, which is decorated for Christmas 365 days a year.
Other Voices you might like