Pattie Gonia's Elite Experience in NYC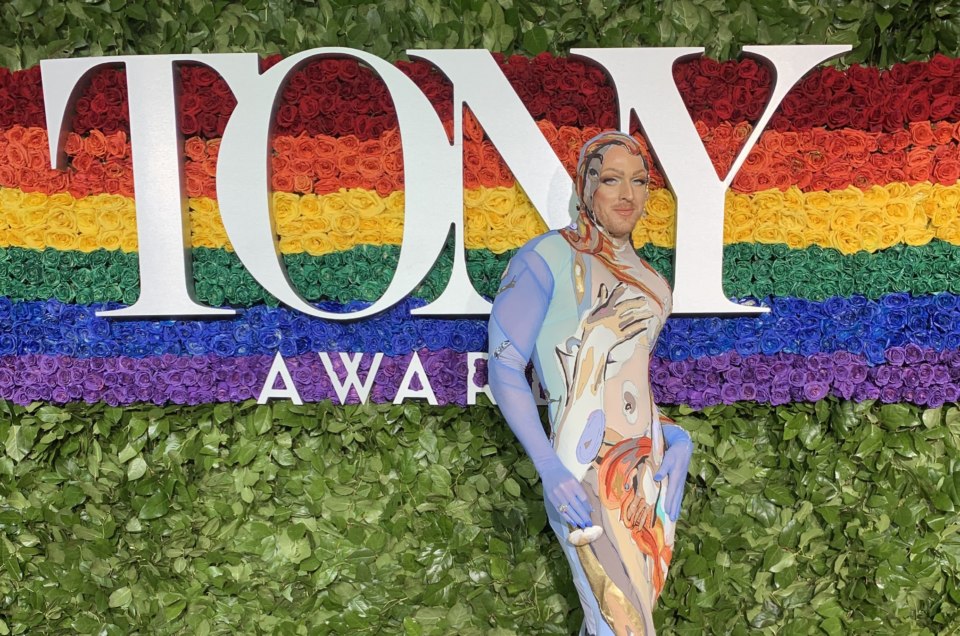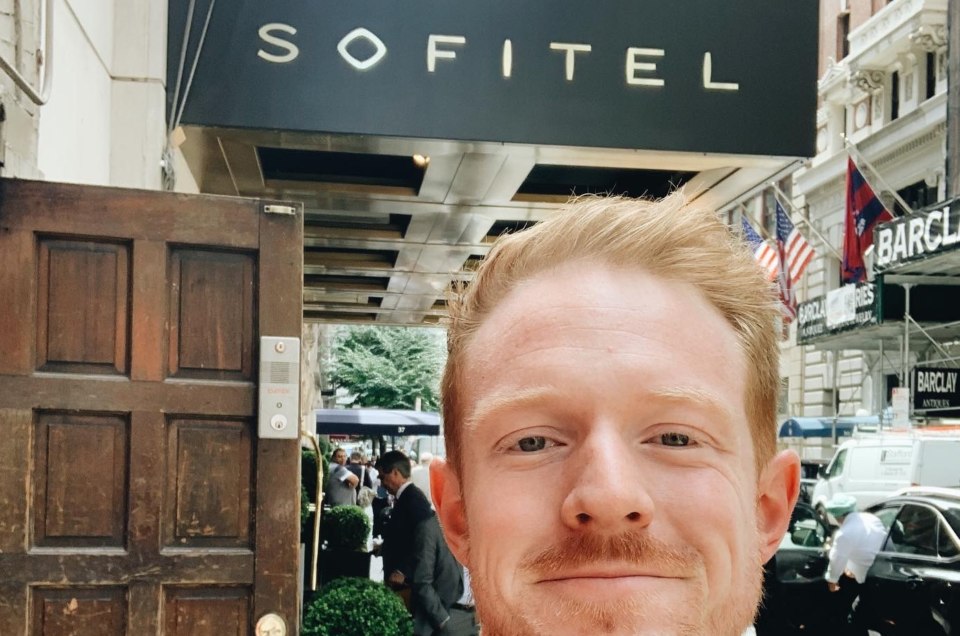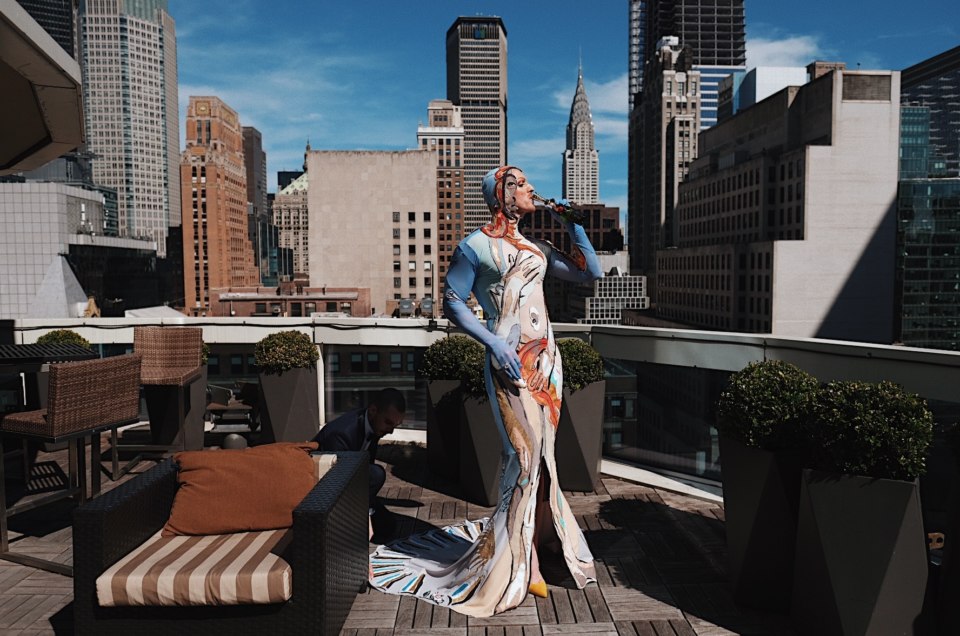 Nebraska native and outdoor-lover Pattie Gonia recently traded nature for NYC, visiting the very sophisticated Sofitel New York for an epic weekend of once-in-a-lifetime experiences. Pattie had the opportunity to attend the 73rd Annual Tony Awards, thanks to Le Club AccorHotel's ALL IN Elite Experiences program—a loyalty program offering a unique collection of tailored experiences and bespoke travel packages. Beginning with cocktails and VIP treatment at the Sofitel's special Tony Awards suite, she was then whisked away to Radio City Music Hall to walk the red carpet alongside Broadway's top talent. As Pattie puts it, it was total DREAM! We got the inside scoop….everything from who she shared dessert with at the Tony Awards Gala to which other glamorous events available to Le Club AccorHotels members she would choose next!
View this post on Instagram
Hey Pattie! We're so excited to have you here! Let's start off with a little bit about yourself and how you got into sharing your adventures on social media!?
Well hello queens! I'm so happy to be here! My name is Pattie Gonia and I'm a backpacking drag queen. My goal is to bring positivity, inclusivity, and heels into the outdoors. I travel around the world to share my love for the LGBTQIA+ community.
Your most recent trip brought you to NYC as a part of Le Club AccorHotel's Elite Experiences. Can you tell us some more about this unique loyalty program?
Yes! It brought me out of the woods and into the city for quite the adventure to attend the Tony Awards—one of many amazing Elite Experiences! A flat out DREAM of mine!!!! This loyalty program allows members to have access to incredible, once-in-a-lifetime experiences. Tailored by Le Club AccorHotels, you not only get the chance to go to things like the Tonys…but you also get treated so incredibly well throughout your whole stay with the hotel!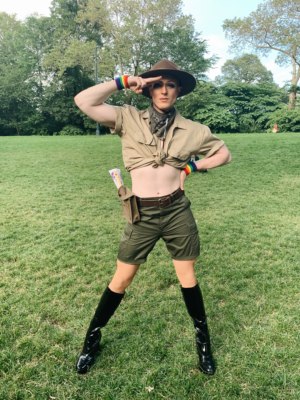 As a member, you had the chance to attend the Tony Awards ceremony at Radio City Music Hall with your best friend! What was your favorite part about this incredible opportunity?
To be honest, our inner theatre-kid selves were freaking out all night. It was so special to get to attend with my best friend, thanks to Le CLub AccorHotels! And, we had the most amazing night together…from the red carpet to the pre-screening party at Radio City Music Hall to the Tony Awards themselves and the official after-party!
While in NYC, you stayed at the Sofitel New York which offers a luxurious experience for guests. What made it stand out from other luxury hotels?
I am ALL about people and the Sofitel New York's staff blew us away with their kindness and hospitality! They truly made this drag queen feel like a queen and I saw them making every other guest feel like the same way, too.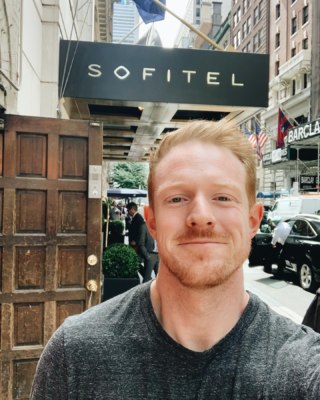 Now, we need to ask—how did you land on the name Pattie Gonia?
Haha! It's a play off the popular outdoor brand, Patagonia. I came upon the name after backpacking with some friends and making a video doing parts of the hike in the high-heels! I posted my first video and woke up to 23 million views the next day…needless to say, a queen was born out of the outdoors.
Thanks to Elite Experiences, you had the opportunity to walk the red carpet for the 73rd annual Tony Awards (SO fun!). Can you tell us some more about that experience!?
Heck yes I can! I mean all in all I'm pretty sure my jaw was on the floor all night. It was something that I'll never forget and it was especially incredible to be a part of the Tony Awards from every angle, including the red carpet! Who wouldn't want that experience!? What was really special for me, thanks to Elite Experiences, I could celebrate World Pride on the red carpet. They even had a special rainbow pride flag rose backdrop to top it all off!
As a part of this special getaway, you also attended a VIP cocktail reception, as well as the Tony Awards Gala at The Plaza, another Fairmont managed hotel. What was the most memorable part of the night?
During the Gala at The Plaza I had the opportunity to meet one of my heroes, Catherine O'hara. She was a gem to talk to and was so kind—her character Moira Rose from her recent role in Schitt's Creek is one of my biggest drag inspirations! We had the chance to take photos, chat, and even eat some desserts together. I don't know if there's anything more "YOLO" possible—and it wouldn't have ever happened without Elite Experiences!
View this post on Instagram
You always seem to be on the go these days! What are your go-to travel tips?
Stay hydrated, keep an open mind, and never stop doing things for the first time.
The Sofitel New York had its first ever Tony Awards Themed Suite, filled with memorabilia—featuring a beautiful terrace overlooking NYC. Can you tell us a little bit more about the space?
We had the chance to have a champagne toast surrounded by everything Tony's and even got out onto the stunning rooftop terrace to take photos before heading to the red carpet. It was surreal!
As a photographer, which Instagram-worthy spots around New York would you recommend checking out?
Anywhere that's not on a "Top 10" list to visit 😉 But really, I'm a huge fan of finding hidden gems, those special blocks full of energy, culture, and spirit. They're not written in any guide book, so I find that I really need to go out and find those special spots. I suggest heading out on a giant walk, feel it out, and stick around for awhile if you like it 🙂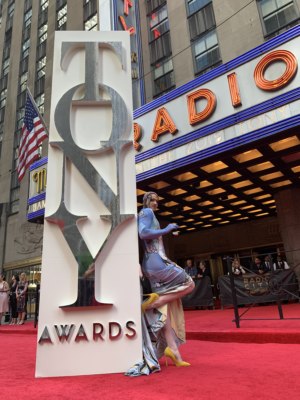 If you had to choose another Elite Experience that is exclusively available to Le Club AccorHotel members, which one would you choose (and why)!?
Um… The Tony Awards next year!? Ha!!! Other than that, I'd LOVE to choose the Downton Abbey experience because I'm a huge fan!
Do you have any insider tips for other travelers visiting the Sofitel New York?
Yes!!! Eat EVERYTHING. From the restaurant Gaby Bar to the hotel's room service…we were blown away by the wide variety of (delicious) food available right at our fingertips.
Any other special moments during your stay that you're dying to share with us?
I'll remember two things from the trip forever and ever…1. How special it was to get to experience something like going to the Tony Awards with my best friends all because of the Elite Experiences program and 2. That the Sofitel went above and beyond in every way possible to make this queen feel like a true queen. Thank you so much Le Club AccorHotels!!! Xoxo, Pattie.
Other Voices you might like