Paris' Hotel Sezz offers luxury and location
A guest room at the Hotel Sezz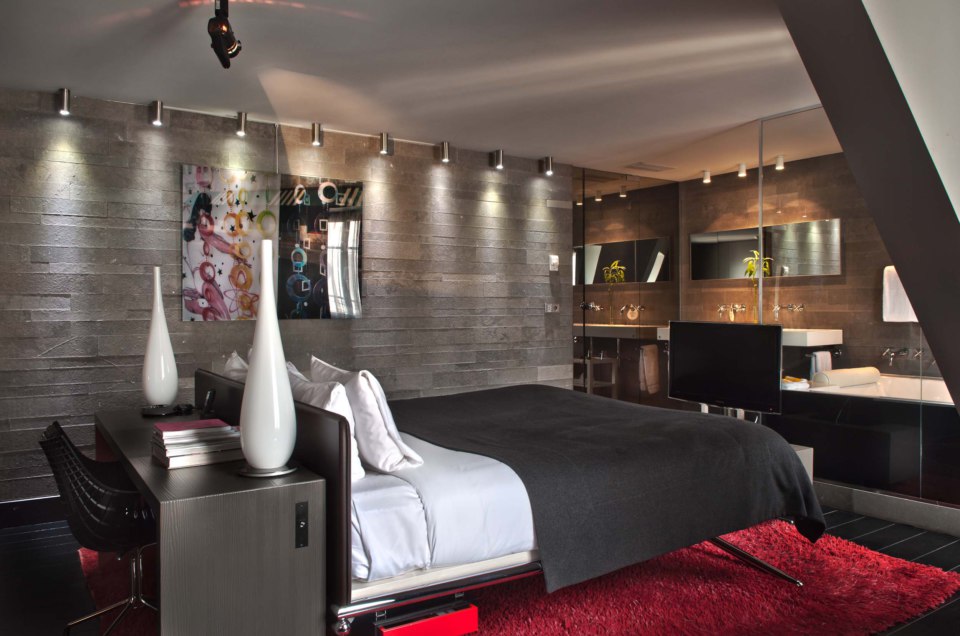 A guest room at the Hotel Sezz
If you're looking for a unique lodging experience for your stay in Paris, Hotel Sezz is it. A boutique hotel nestled right on the bank of the Seine, Hotel Sezz Paris could not be more ideally located, with walking-distance access to the Eiffel Tower and the Passy metro line. Its position within the chic 16th arrondissement makes it the perfect solution for those seeking easy access to attractions without being in the midst of the action—a calm, plush vantage point from which to observe the vibrant city life until you're ready to plunge in.
The interior atmosphere mirrors the external ambience of the locale, with accommodations that are both modern and comfortable, sleek and cozy. This is not your typical hotel, Parisian or otherwise. A streamlined design aesthetic creates a feel that is spare and minimalistic yet still rich and elegant. Dark charcoal bedspreads, flooring and slatted walls are offset by surprising pops of red and chartreuse. Metallic, industrial design elements are tempered by plush rugs and rich curtains. Pristine glass walls separate the bedroom from the bathroom, and clean, straight lines abound. If you can imagine the perfect marriage between a lux log cabin in the woods and a hip urban loft in a major metropolitan area, the rooms at Hotel Sezz Paris would be that architectural lovechild.
Of course, the rooms are outfitted with every necessity and luxury you could desire, and if they're not, you can bet there's an exceedingly friendly and helpful staff member ready to fulfill your request. From extra towels to restaurant recommendations, the Hotel Sezz Paris staff could not be more ready and willing to assist.
Whether you're looking for a comfortable haven for a business trip or a romantic retreat for two, Hotel Sezz Paris is the place.
Other Voices you might like