Meet Lee Abbamonte: The Youngest American to Travel to Every Country in the World
Photo courtesy Lee Abbamonte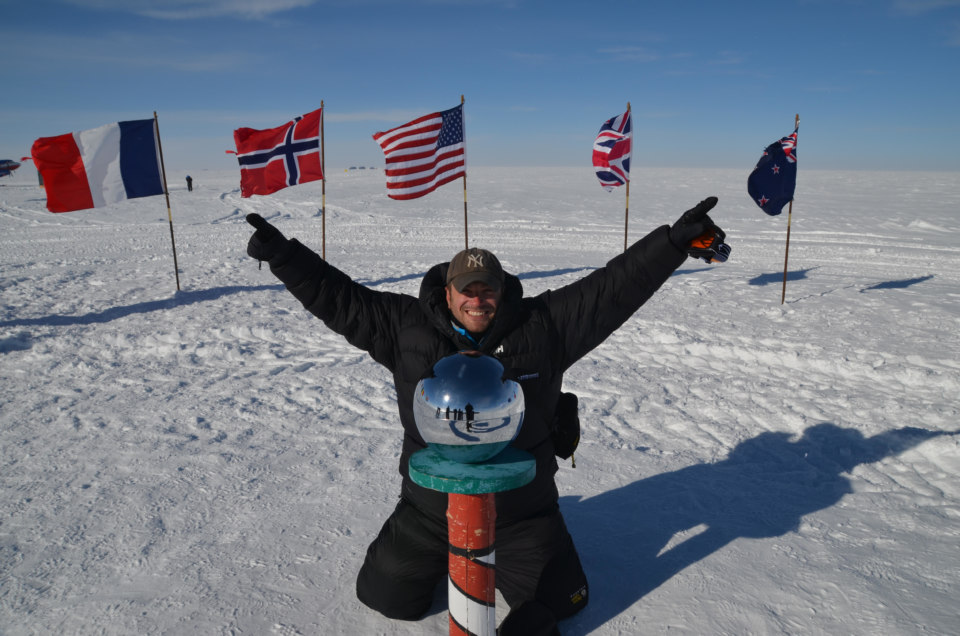 Photo courtesy Lee Abbamonte
#FBF: Followback Friday is a weekly interview series where we get real with some of our favorite travel influencers. We want to learn what makes them tick, their best tips and tricks, and share stories of (mis)adventures from the road.
Interview by Corinne Edmiston
Lee Abbamonte is the youngest American to travel to every country in the world. That's right, Lee visited 193 countries by the time he was 32. It's a feat most travelers can only dream of and it's one of the reasons founder of Frommers Guidebooks Arthur Frommer heralded him as the "Marco Polo of the 21st Century." Lee hasn't let that attention get to his head though. His signature look includes a Yankees ball cap while his Snapchat followers probably refer to him less as a modern day Marco Polo, better knowing him as "Hector's dad" (that's his dog). Despite having seemingly been everywhere, Lee still maintains a pretty active travel schedule and loves rediscovering old places. We caught up with him in between trips to learn more about his adventures, how he visited 193 countries, and what he's learned from all his experiences around the globe.
We'll cut right to the chase. You've visited every single country in the world. What inspired you to visit more than 300 countries? How old were you when you completed it?
I was 32 when I completed the list of 193 countries aka every sovereign nation. I was motivated by the challenge of doing it, the fun, the learning, the adventure and the fact that so few had done it. It was just something I decided to do and when I decide to do something I do it! The other thing is I was never trying to do the 193, it just kind of happened over time as I visited more and more places. If I was actually trying I would've done it a lot earlier!
What was the hardest part about the journey? Would you do it all over again?
The hardest part was going to places you really didn't want to be, especially if I was by myself. I actually like traveling to misunderstood or even dangerous regions — I like the adventure. However, I don't enjoy going places that are horribly impoverished, with no infrastructure, nothing to do dealing with corruption, inhaling dust all the time, simply to say I was there. That's not fun travel.
Nowadays, how often do you travel?
It depends on the year to be honest but probably about half the time in general. I still very much love being on the road, seeing and doing new things. When that love stops, so will I.
We imagine you've racked up some serious flight miles over the years. How many have you achieved? And, what are your favorite airports to travel to and from?

Oh, yes, I actually haven't counted in forever and I use miles often to upgrade to first class so I only have about a million or so available right now but I imagine I've racked up at least 6-7 million between actually flying, spending, referrals and other bonuses. My favorite airports are the newer Asian ones like Singapore, Hong Kong and Seoul.
You frequently Snapchat your dog, Hector, while you're home in New York. When will Hector join you on your travels?
There is nothing more I'd like than to take him but traveling internationally with a dog can be complicated. Plus he's basically still a puppy and doesn't sit still very well! Like his dad, he has a lot of energy!
How would you describe your travel style? How has it changed over the years?
My travel style has evolved over the years as I have. My style is adventurous luxury or something to that extent, if I had to label it. 15 years ago I loved staying in hostels and budget places. Now I have zero interest in that. I enjoy luxury hotels, apartments and being comfortable. I don't mind spending money to be comfortable — I've earned it!
What's the biggest misconception people have about travel?
There's many of course but probably that you need to be rich to travel. Nowadays with all these websites, groups and apps, you can often stay free or cheaply. Plus there are so many discount airlines to keep costs down. 10-20 years ago it wasn't like how it is today. If I was a 20 year old kid traveling and didn't care where I stayed and had a budget. I could spend like $10-$20 a day on average and live well on the road. Obviously it depends where you're at and what you're doing but you get the point.
What's the most important lesson your travels have taught you?
That people around the world are more or less the same. At our core, humans all want to be happy, be successful, hang out with friends and family, etc.
Aside from traveling, you're actually a huge sports fanatic. How do you combine the two while you're on the road?
Many of my travels these days revolve around sports which is my biggest passion. Travel is great because you can really expand you passions like sports, food, wine, people, knowledge, etc. I get a great thrill of being knowledgeable about and attending live sporting events in other countries because it's such a passion for them. I'm a very laid back but passionate person and I love the energy from a passionate sporting crowd.
Do you have any bucket list adventures you haven't crossed off your list yet?
There's always more adventures and things to do even if you've seemingly done it all. I always say travel is like golf (another huge passion of mine), it's a hobby you can do your whole life and it's never the same twice!
Interested to see where Lee winds up next? Follow him on social:
And score cool travel tips from his website at leeabbamonte.com!
Other Voices you might like