Discovering Postcard Pretty Mahone Bay, Nova Scotia
The Biscuit Eater is a charming bookstore/ cafe where the treats are excellent, photo by Lola Augustine Brown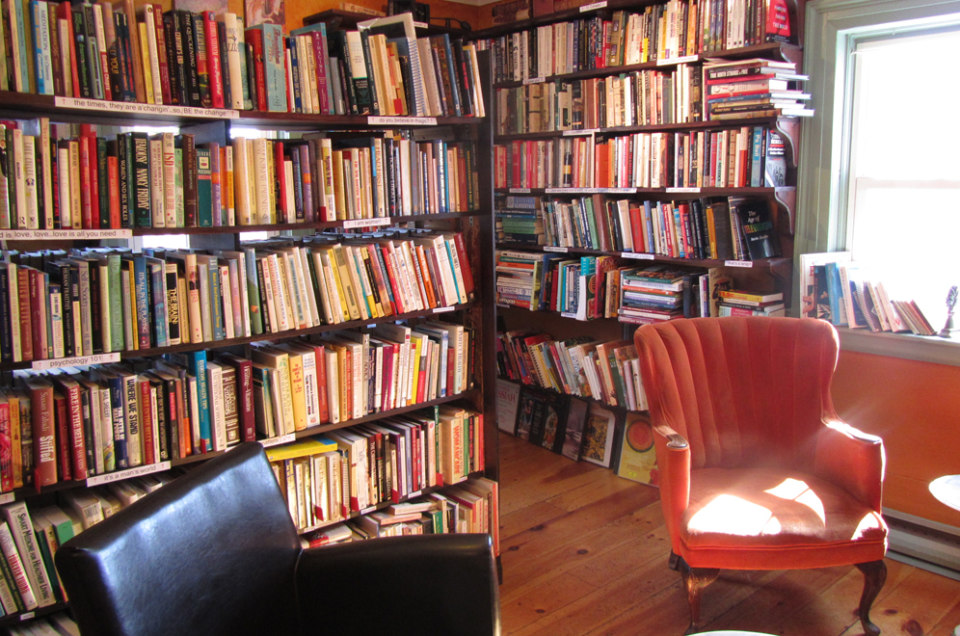 The Biscuit Eater is a charming bookstore/ cafe where the treats are excellent, photo by Lola Augustine Brown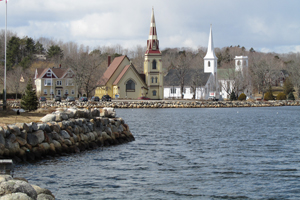 The three churches of Mahone Bay, photo by Lola Augustine Brown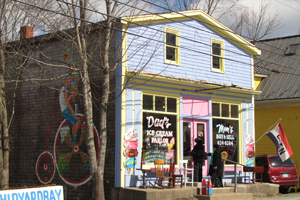 Brightly colored store font in Mahone Bay, photo by Lola Augustine Brown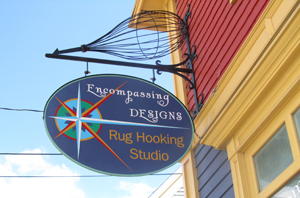 There are lots of local artsy stores to explore, photo by Lola Augustine Brown
Mahone Bay is a quaint fishing village full of little cafes, shops and attractions that make it a perfect daytrip from Halifax. Famed for having three wooden churches nestled right next to each other looking out over the bay (one Lutheran, one Anglican and one United church, though the denominations have changed since the churches were built), the village is made up of brightly painted wooden houses with gingerbread house features.
Although it is a bit of a tourist trap in the summer, so if you get to visit before May and after October you'll find it less hectic. Even when busy, Mahone Bay is still delightful and worth a visit. My first stop is always the Biscuit Eater Cafe and Booksellers, which serves amazing cakes (including a large selection of gluten free treats) and good coffee in gorgeous book-lined rooms or, when the sun is shining, you can take your refreshments in the pretty garden.
After that, you can take your time strolling around the town centre, which is full of little independent shops and galleries. Be sure to stop in at the Encompassing Designs Rug Hooking Studio to look at some of the traditional Nova Scotian designs, and store owner Christine Little will happily demonstrate how to hook a rug in case you'd like to learn how (you can buy either a ready made rug or a kit to make your own at the store). If you are a crafty person, there's also a lovely little yarn store, Have a Yarn, at the far end of the main drag which stocks locally produced yarns and patterns from local designers.
Local artisans are well represented in the stores of Mahone Bay, although from season to season, galleries come and go, but there are always plenty to browse through. P'lovers, an eco-friendly store full of interesting and unique gifts, with a great section for infants. The Teazer is another browsable spot specializing in locally produced gifts and homewares, as is Northern Sun, located just across the street (which tends to offer gifts at a higher price point). Also in that block you'll find JoAnn's Deli Market, a foodie's dream where you'll find lots of yummy locally produced foods to take home or eat at one of the tables outside.

Surprisingly, Mahone Bay happens to have one of the best shoe stores east of Montreal – The Mahone Bay Trading Company. Here you'll find quality lines from the likes of Naot, Clarks and Mephisto, which you'll also find at the company's downtown Halifax location, but the best thing about this location is the massive sale section that takes up the back of the store.
There are plenty of eateries where you can pick up a snack or a light meal. The Gazebo Cafe and Grill has a great deck that overlooks the bay and is a really pleasant place to sit and eat (just don't ask to sit on the deck if you only want coffee or a dessert, as they won't let you and are rather funny about it). There are a few pubs and bars in town, and in the summer there is a series of evening concerts held at the churches, so if you were planning to stay overnight in one of the many heritage house B&Bs in town, you'll have no trouble finding entertainment.
Other Voices you might like