How to blow $10,000 in Montreal
Crisp Neapolitan-style pizza with a slab of fois gras on every slice, pure decadence at Au Pied de Cochon, photo by stumptownpanda on Flickr.com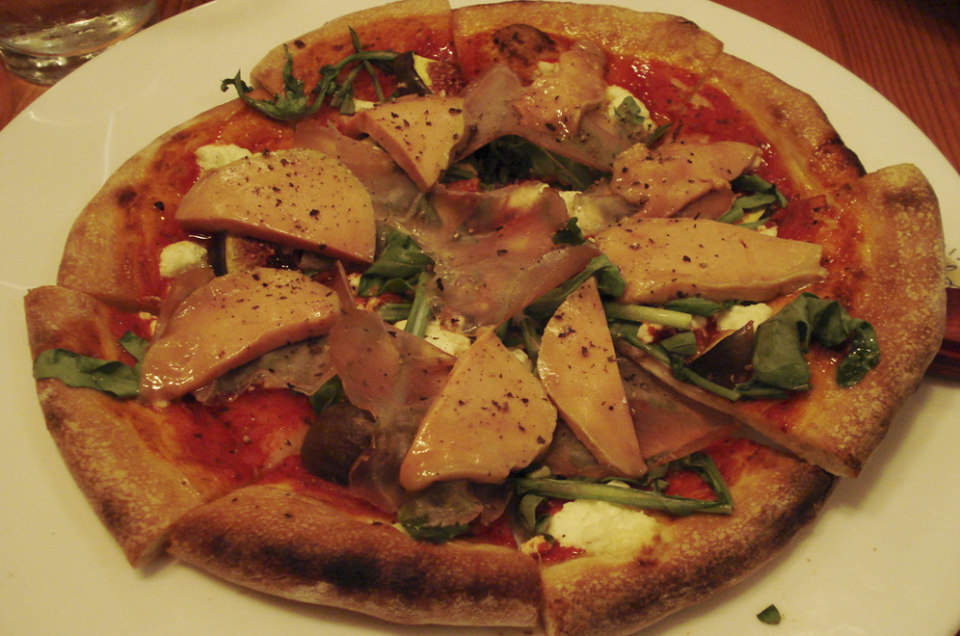 Crisp Neapolitan-style pizza with a slab of fois gras on every slice, pure decadence at Au Pied de Cochon, photo by stumptownpanda on Flickr.com
If you've got money, then Montreal is one fabulous place to spend it. Here's how to go through ten grand in one crazily decadent weekend with a deserving person:
First off, check in to a Deluxe Heritage Suite at Hotel Le St James for the weekend, where 1200 square feet of beautifully decorated old-school luxury will set you back $2500 a night. Assuming you'll be taking breakfast in your room on Saturday and Sunday mornings, let's add another $120 to the bill, to cover your eggs and bacon.
Immerse yourself in the beauty of classical music at the Orchestre Symphonic de Montreal, where the best seats in the house will set you back $187 each, and there is a full program of world class concerts that will be a real treat to listen to.
Then head out to a late dinner at Queue de Cheval Bar and Steakhouse to enjoy a menu of seafood and steak that will leave you both in a state of stuffed bliss. For $285, you can indulge in a menu that features a dozen oysters, a dozen half lobster tails and claws, a half pound of tiger shrimps, a dozen scallops, a 20-ounce dry aged bone-in rib-eye, a rack of lamb, and pepper crusted raw pan seared tuna. Wash that feast down with a bottle of 2005 Penfolds Grange Hermitage Shiraz, which will cost you $1200, and celebrate the end of the meal with a $100 cigar each, selected by the restaurant's own cigar sommelier.
The next morning, Scandinave Spa in Old Montreal awaits, where you'll take a couples Swedish massage, then spend a few blissful hours lounging in the warm pools, saunas, Nordic showers and cold plunge pools. The package costs $260.
Take a late lunch at Au Pied du Cochon, where everything is cooked in most decadent way possible (fries in duck fat, anyone?) and the menu is full of interesting items such as bison tartare and pigs head. You'll spend at least $150, more if you make it a boozy lunch.
After this, take yourselves to the Montreal Museum of Fine Arts. Admission is free, but you should go anyway because it is such a beautiful place to spend a few hours.
Then take a private guided walking tour of Old Montreal, enjoying seeing how this beautiful old city comes alive as the sun sets. A two hour tour costs $286.
Dinner tonight is at Toque, where the chef will prepare a special seven course tasting menu, and their sommelier will bring five glasses of "prestigious" wine, for $220 per person. The menu is ever evolving, but you can expect dishes such as duck magret and loin of suckling pig.
Wake to take a tour over the skies of Montreal in a Cessna small plane ($349). You'll see the city, both new and old parts, as well as beaches, the prison, and Celine Dion's house, from the air.
Before you leave the city, you really must sample the $100 Kobe burger at trendy burger joint m:brgr. And, as you're still left with some $1500 left, why not have a personal shopper at Holt Renfrew, one of Canada's swankiest department stores, show you how best to spend your remaining pennies.
Other Voices you might like