Indulging in Kyoto Cuisine
Traditional Kyoto cuisine at Mukadeya Honten, photo by Lola Augustine Brown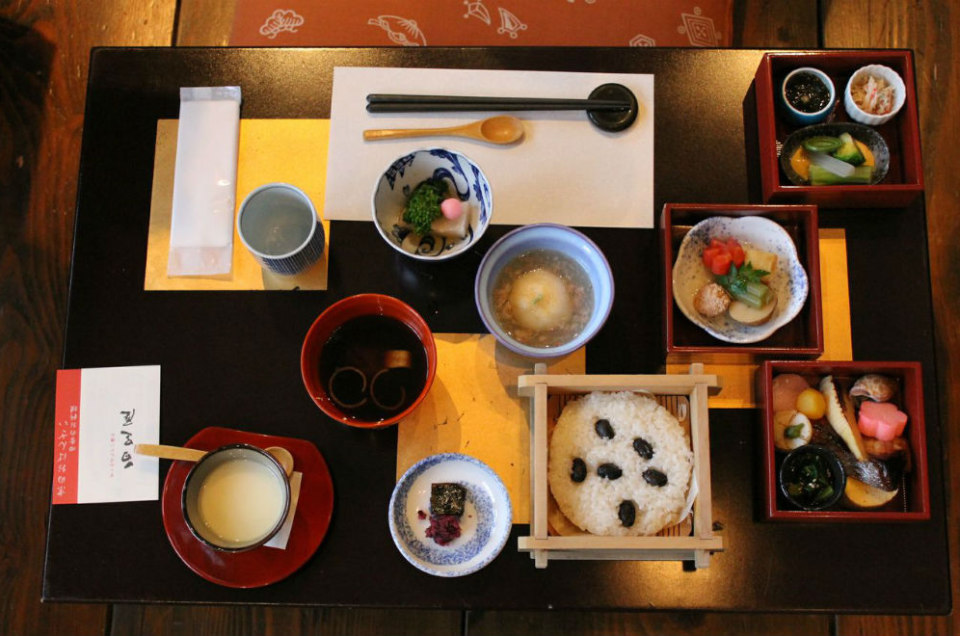 Traditional Kyoto cuisine at Mukadeya Honten, photo by Lola Augustine Brown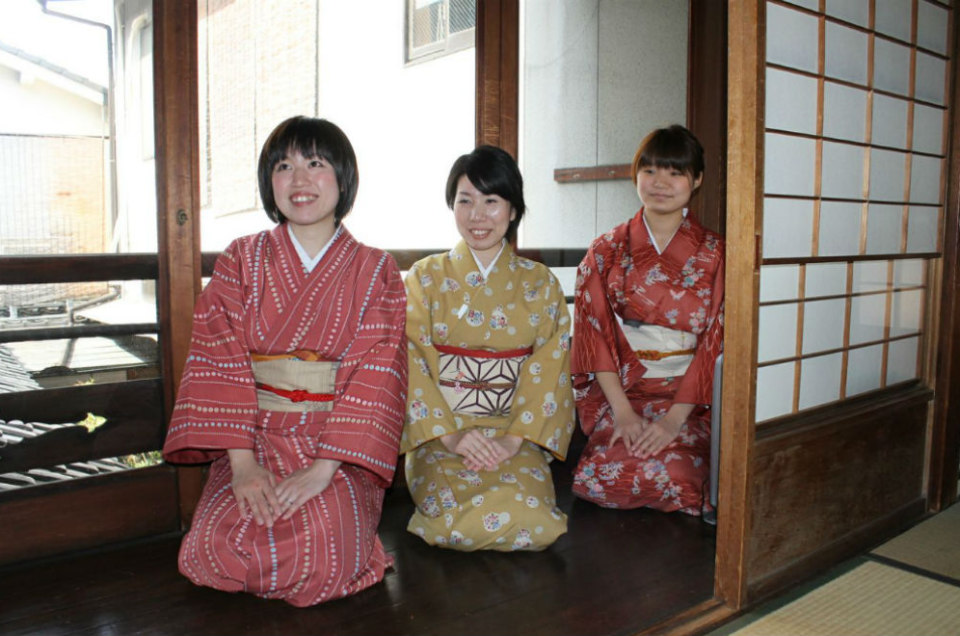 The servers at Mukadeya Honten in traditional dress, photo by Lola Augustine Brown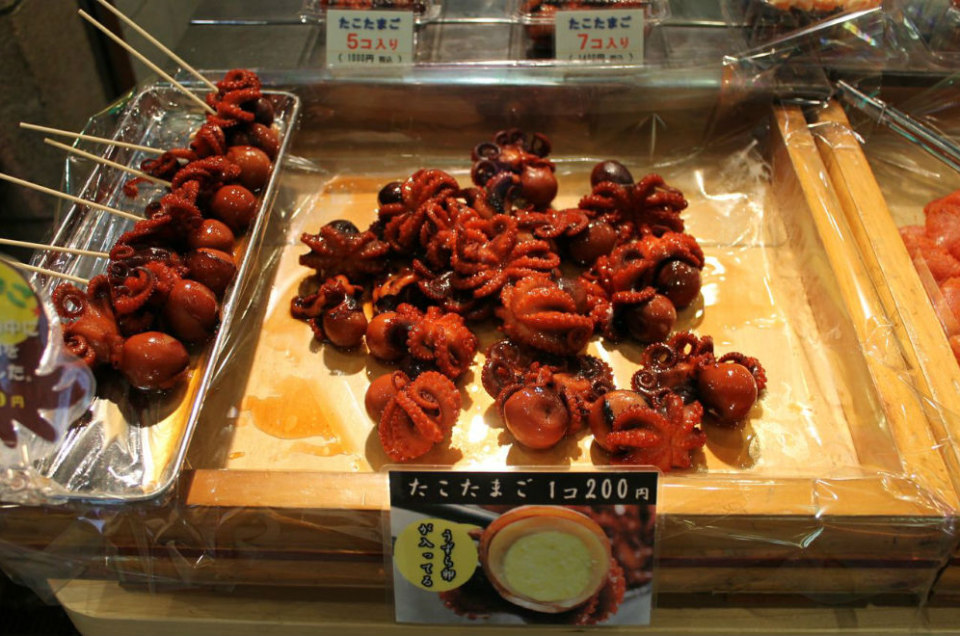 Deep fried octopus on sale at Nishiki Ichiba Market, photo by Lola Augustine Brown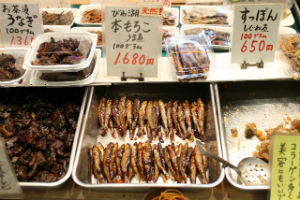 Fish at the Nishiki Ichiba Market, photo by Lola Augustine Brown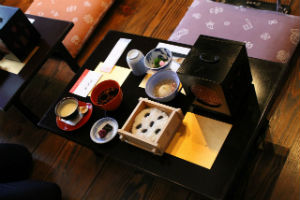 Traditional Kyoto cuisine at Mukadeya Honten, photo by Lola Augustine Brown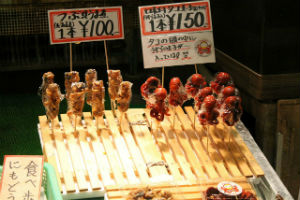 Random goodies from the sea at Nishiki Ichiba Market, photo by Lola Augustine Brown
Staying at the western style Kyoto Hotel Okura, my accommodations weren't much of a culture shock (save a toilet with even more buttons, and yes I pressed one and the jet of hot water that squirted at my butt scared the life out of me!). The buffet breakfast was a delightful mix of things I recognized (croissants, cereal, bacon and eggs) and delicious new things to try, such as green beans with sesame, tiny figs the size of marbles, all manner of weird and wonderful fruits, and various fish dishes.
I did find the food in Kyoto quite mysterious. My understanding of Japanese food was limited, but I felt like on the whole I was a fan, as there are several excellent Japanese restaurants where I live. There is, as to be expected, lots of fish and seafood in every meal in Kyoto, but if you're a vegetarian you won't go hungry as there are always alternatives available. My first proper lunch in Kyoto was at Mukadeya Honten, a traditional tall and narrow town house that was the first in the city to be restored and turned into a business (though many others have followed suit).
As you enter the restaurant, you are expected to take off your shoes, as you are in many buildings in Kyoto, so be sure to wear socks that are in a good state of repair! You are seated on the floor, on cushions on bamboo matting, and served many small dishes, the traditional style of cuisine of Kyoto. There were tiny bowls containing lone pieces of meat and seafood, presented beautifully and delicately flavoured. There were several small bowls of clear soups, tea, and dessert of rice cake with beans. It was completely different to any meal I'd had before. The food is served by lovely young girls in kimonos, and the whole experience is very interesting, as though you have stepped back 100 years and are seeing tradition brought to life.
As beautiful and old as Mukadeya Honten is, it is located in an industrial seeming area, which seems to be typical of Kyoto. The streets are all mixed use, with a very cute old fashioned building nestled amongst anonymous new build properties, or you'll be walking through an outdoor shopping mall and then suddenly there's an entrance to an ancient temple. Kyoto is an ancient city that has grown around its history, so you never quite sure of what to expect as you walk the narrow city streets.
Browsing the 400 year old Nishiki Ichiba Market is a multi-sensory experience. There are lots of stalls where I had absolutely no idea what they were selling (powdered fish? Tea? What was that?) but also magnificent seafood displays, stalls selling $100 sets of chopsticks, all manner of foods on sticks (whole roasted octopus, sweet potato cakes), cakes, socks, booze and various other groceries. The market is fabulous, and at the end of it is another covered street full of stores and restaurants, so you'll find plenty of opportunities to get your shopping fix.
Other Voices you might like