Inside the Fairmont San Francisco with Travel Photographer Kirsten Alana
Photo Courtesy Fairmont Hotels & Resorts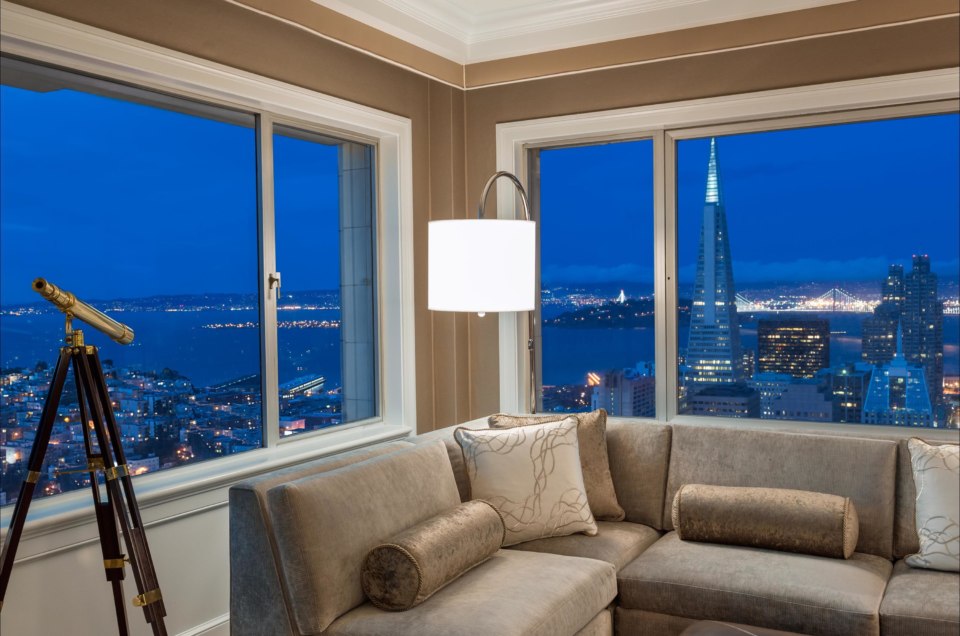 Photo Courtesy Fairmont Hotels & Resorts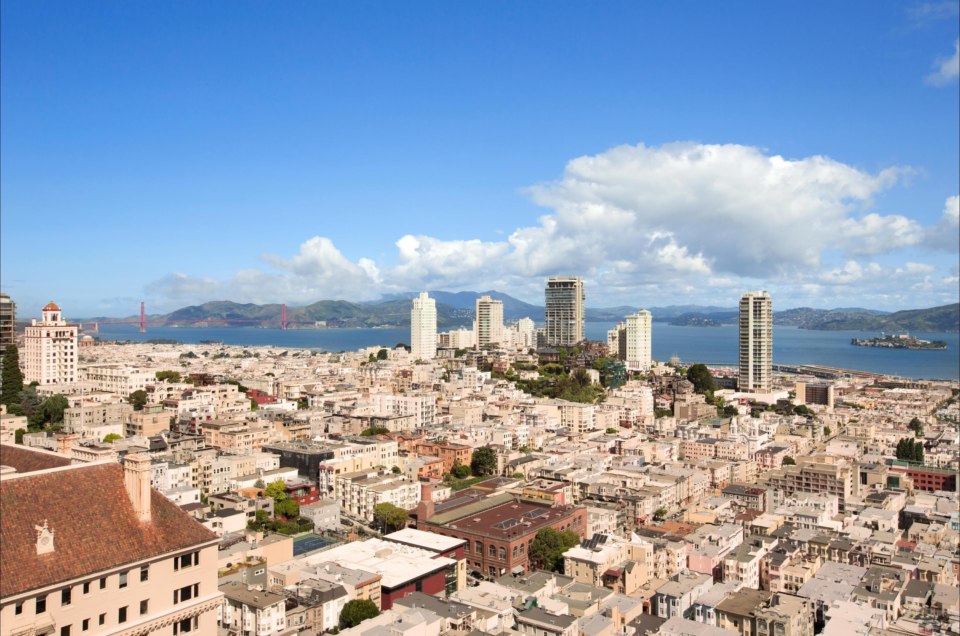 Photo Courtesy Fairmont Hotels & Resorts
Content Produced in Partnership with Fairmont Hotels & Resorts
Set atop the famous Nob Hill, the Fairmont San Francisco offers panoramic views of the city skyline and short cable ride away to the many neighborhoods, attractions, and restaurants locals and tourists both adore. In fact, this property is the first location where Tony Bennett sang "I Left My Heart in San Francisco," and it's just one reason why there's an entire suite dedicated to him. Brimming with history and exquisite detailing, the Fairmont San Francisco is an Instagram-worthy escape from every angle, so, naturally, we decided to send one of our favorite travel photographers to check it out and give us the scoop on all it and the city had to offer. This wasn't Kirsten Alana's first time to visit San Francisco — she lived there for several years — or her first time to stay with Fairmont Hotels. However, this was her first time staying at Fairmont San Francisco, giving her new perspective to enjoy the city not as a local but as a visitor. We caught up with her after her trip to learn more about her insider tips to one of her favorite cities, her favorite parts about the Fairmont San Francisco property, and the coolest photo opps in both (that will really make your Instagram pop).
Hi Kirsten! Tell us a little bit about you and how you got into travel blogging and photography.
Hi! Well I got into it essentially by already being a blogger and a photographer. The catch is I was a wedding and portrait photographer who was blogging about my clients and the places I traveled to for them. After a traumatic divorce, I didn't want to stay in that part of the photography industry anymore so I transitioned my blog to one that focused on travel and joined social media looking to network with people in the travel industry. It was good timing since social media was just picking up steam and I was able to build a significant following at a time that was still "early days."
How would you describe your travel style?
I like things that are adventurous and push me outside my comfort zone; I also like to dig as deeply into local culture as time allows, and I like to lay my head on a very luxurious pillow at night! I feel that by staying in luxury hotels at night, I'm fully energized for tackling anything and everything a destination can throw at me during the day. I also find that most luxury hotels have more money to spend in the local community, to preserve history and to give back to the communities their employees come from whereas many more budget hotels have a tendency to be send all their profits back to a corporation that's not at all local.
What was your favorite part about staying in the Tony Bennett Suite at Fairmont San Francisco?
There's no such thing as one favorite part!! The view alone deserves more than a few sentences of praise. It's nearly 360 and looks out at almost every one of my favorite landmarks. I could enjoy it from bed, from the bathtub, from the dining area or while watching television. The view was more entertaining than TV! Yet I also enjoyed looking at the paintings which Tony has created that hang in the suite bearing his name. They offer a singular glimpse at the city through the eyes of an entertainer I already adore. There's also a gleaming telescope that I enjoyed using to get a closer look at the Golden Gate Bridge, Alcatraz and the sailboats in the bay. I think more than anything it was the feeling I got from being a guest in that suite, because I toured other suites that had features which were in some ways more "me" but when I walked back into what was mine for my stay — it felt like home!
As a photographer, what do you consider the most Instagram worthy shots in San Francisco?
My favorite spot is a bluff on the ocean side of the Golden Gate Bridge, still in the city, before you'd cross over to get to Sausalito and technically within the Presidio. Little flowers grow in the grass almost all year long and sometimes wild calla lilies are blooming on the slope, there's a footpath that leads to a twisting tree which seems to hang off the side of the hill and then there's the bridge in the background that, in the right light, seems fake. The scene can take on the look of a painted backdrop. I love that surreality. I think I am always drawn to scenes that look like paintings and it might be because my mother is an artist. I also adore the Palace of Fine Arts at sunrise when the birds are the only other creatures awake and the Sutro Baths at sunset; both, because of the reflections you can find there and the juxtaposition of things made by man with a compliment of such natural beauty. Lastly, SFMOMA is a rare treat if you're into modern art and architecture as there's no shortage of inspiration there.
What about inside the Fairmont San Francisco? Any places future guests should keep on their radar?
If it's not booked, a tour of the historic eighth floor Penthouse Suite is a must, especially if both architecture and history fascinate you as they do me! It's 6,000 square feet of luxury by famed American archaeologist and art historian, Arthur Upham Pope, who created it in the Roaring Twenties! There's a vaulted two story library that made me swoon and a Moroccan-tiled game room but the real charmer was just one of the bedrooms that features a hand-painted map of the world. I won't spoil any of the stories which the suite has to tell because they're the real star but suffice to say I've seen a lot of impressive hotel suites during my career and I feel that this is now my absolute favorite.
The Tonga Room & Hurricane Bar is a must whether you're alone or with company. It's one of the USA's original "Tiki Bars" and was designed in 1945 by Metro Goldwyn Mayer's leading set director, Mel Melvin. Though it's since been updated and refurbished, it still has that cinematic quality to it that makes you feel like you're on the set of a classic movie. It occupies the space that once housed a 75-foot swimming pool so there's still water, with a boat that the band plays on each night and that feature allows for a rain storm which really transported me to the tropics. Sure there's also an air of kitsch that comes with all of it but I felt that if I couldn't enjoy that, then it was probably a measure of my taking myself too seriously and as I relaxed into the evening with a Mai Tai I was not able to recall the last time I'd had so much fun eating alone. I can imagine that with friends it really would have been an unbeatable evening!
You've lived in San Francisco before. What are some gems you got to rediscover on your most recent trip?
Yes, that's right! It was many years ago after my divorce and during that time I mostly explored the grittier parts of the city. I was broke and broken so something about street life in The Mission and the food in Chinatown really called to me. The Fairmont isn't far from the latter so I enjoyed seeing that with new eyes on this trip. It still has the same cheap dumplings and bowls of ramen that I remembered, but I also found a park which I'd forgotten about and I was struck by how much the area seemed to have expanded since I was last there.
What were some new places you got to seek out while you stayed with The Fairmont?
Nob Hill itself is an area I'd not spent much time in during my many trips to San Francisco or during the time I lived in the city, so I enjoyed drinking coffee by the window at Caffe Cento, getting to know locals in Huntington Park under the blooming cherry trees or watching the street cars on Powell. I became obsessed with getting just the right photo of one and that street is so lovely because of the way it slopes downhill and the trees that line it on either side!
I was also able to visit SFMOMA for the first time. Getting to experience the space post-renovation and while the Matisse/Diebenborn exhibit was going on was a real treat. Just roaming the various floors of the museum itself proved to provide a lot of inspiration. The building is so well designed and invites inspiration so naturally. On top of that, Cloud Cities infused me with the kind of childlike wonder that I hadn't felt in quite some time.
What would you recommend doing, seeing, and eating for first timers staying at the Fairmont San Francisco?
If you're religious, attend a service across the park at Grace Cathedral. Hop on a street car at the corner of Powell and California, then ride it down to the bay or up to Union Square. Walk down the hill for a bowl of ramen or a plate of dumplings in nearby Chinatown. Let the Concierge book you a table for some live music or a theater performance nearby, there are a lot of options which are reasonably close to the Fairmont! Inside the hotel, don't miss breakfast and then tea time in Laurel Court. You should also read a book or catch up on some magazines on a bench in the roof garden under the palm trees. Then have dinner and drinks at Tonga Room & Hurricane Bar, where my favorite dishes were the Spring Rolls and Mongolian Beef with a side of Sichuan Long Beans.
Ready to start planning your own trip to San Francisco? We don't blame you! With the Fairmont San Francisco  as your base camp, you'll have full access to one of the prettiest and most romantic cities in the world. Click here to begin planning your #FairmontMoments vacation.
Other Voices you might like