Angelina's: The Best Hot Chocolate in Paris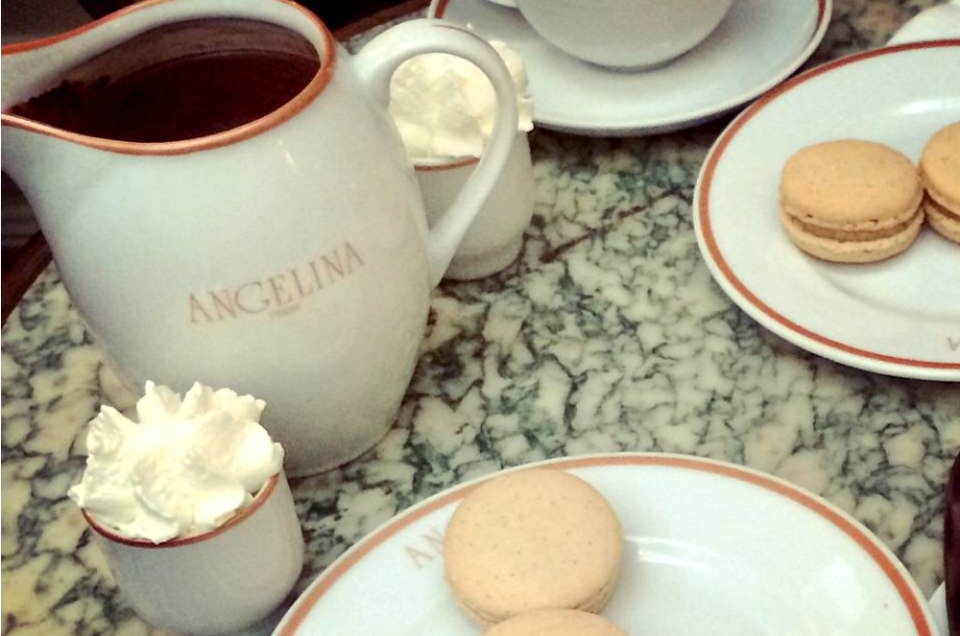 Close your eyes and think of your perfect Paris daydream. If it involves touring quaint street corners, nestling in cozy, romantically-lit restaurants and indulging in decadent desserts, Angelina is the place you need to be.
To put it mildly, if heaven was on Earth, it would be at Angelina.
Situated beside the chic boutiques and shops near the Louvre, the whimsically decorated Angelina Cafe has been setting the standards for amazing desserts and satisfying Parisians' and tourists' sweet tooths since 1903. Originally a small tearoom named after founder and confectioner Antoine Rumpelmayer's daughter-in-law, the tearoom quickly earned a reputation for its world famous African hot chocolate, delicate macaroons and classic French pastries like the sinfully good meringue, whipped cream and vermicelli dessert called the Mont-Blanc. Now that word's out on this amazing gem, wait times for your sugar fix may be up to 30 minutes during the peak daytime rush.
But it's well worth the wait. The African hot chocolate is made with three different types of cocoa blends that are, as the name suggets, imported from Niger, Ghana and Côte d'Ivoire. The blend is such a hit that Angelina Cafe created the recipe specifically for the hot chocolate in the shop.
With such a grand reputation and fanatical regulars, it's no surprise that a tearoom like Angelina comes at a price. Costing about 20 euros for dessert and cup of hot cocoa, Angelina is the place to go for a very special occasion when you're looking to treat yourself and splurge.
So, next time you're in Paris, take advantage of the Lourve tickets that allow for entry and re-entry on the same day and take an hour long break at Angelina.
Once you've been seated in the spacious dining area amongst the high ceilings, gilted picture frames and glitzy clientele, you'll realize you have found the true Parisian experience.
Sponsored by Fairmont. To see our full 48 Hour Travel Guide to Paris, including where to stay and what to eat, check out the Fairmont Experience Now!
Other Voices you might like