Yolo: River Hike the Narrows in Zion National Park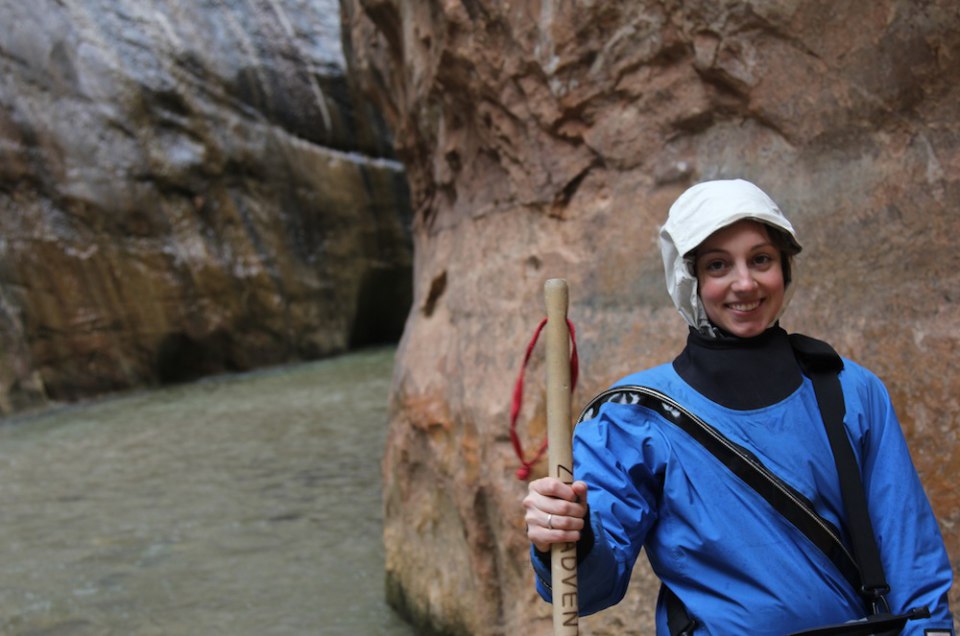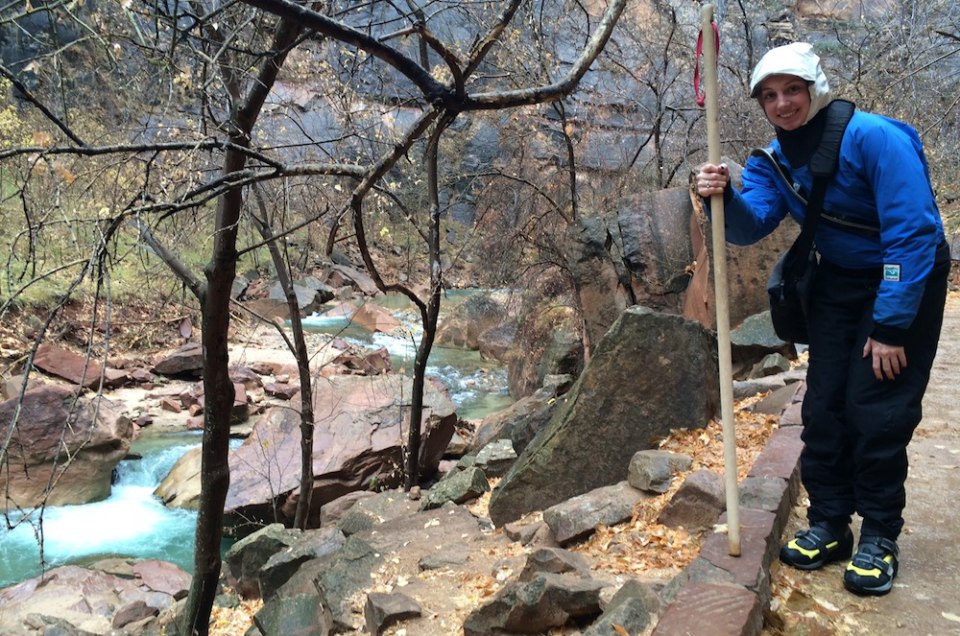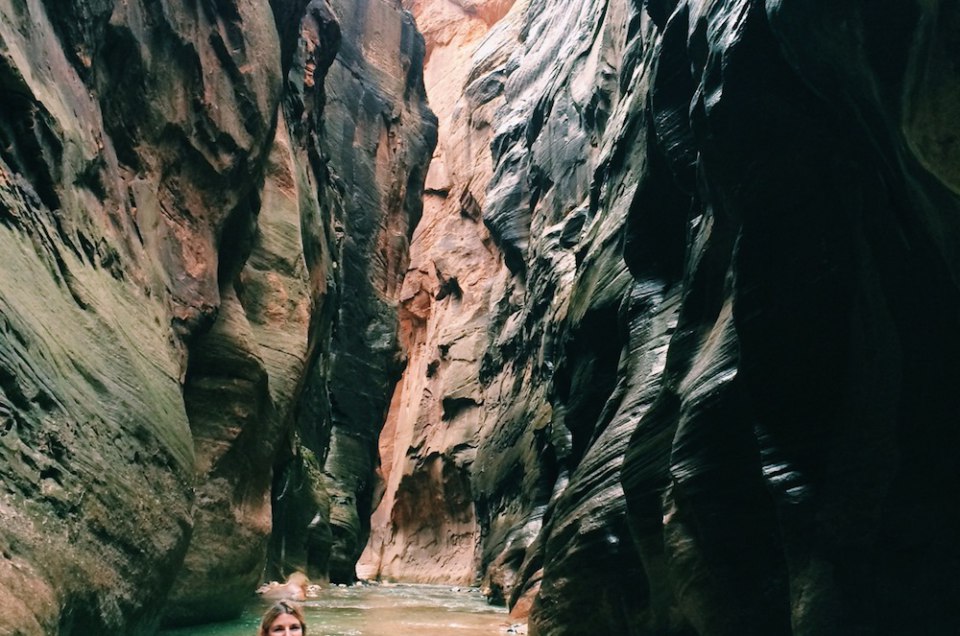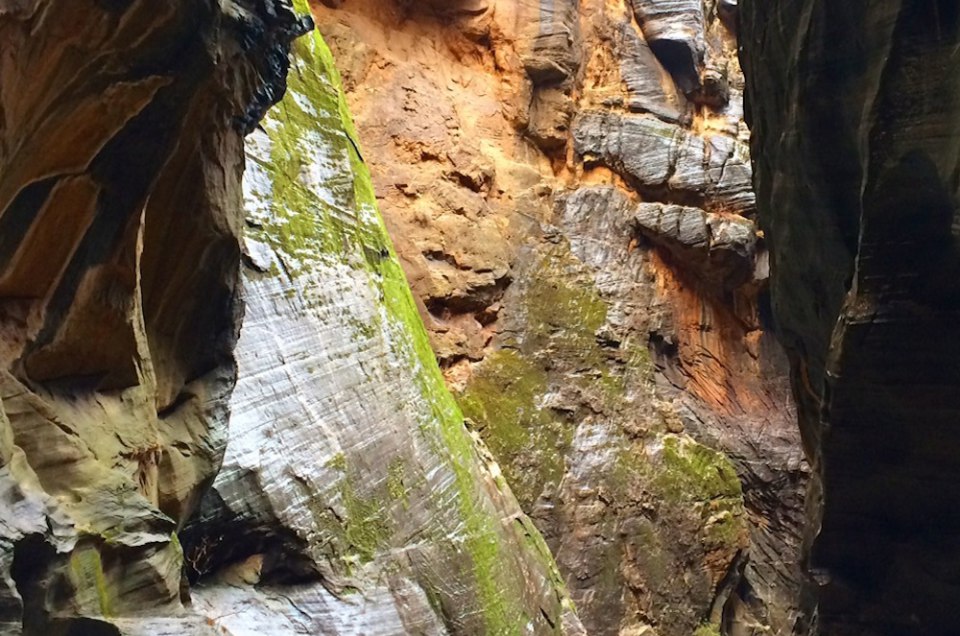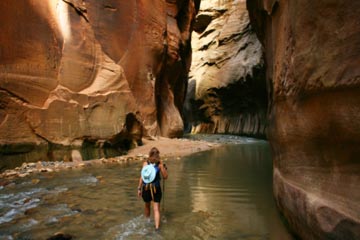 For those of you that think The Narrows is just a book by Harry Bosch, the Narrows in Zion National Park is much different. A breathtaking 16-mile gorge carved out of the Virgin River between giant canyon walls, these massive rock formations can rise up to 2,000 feet tall. To explore The Narrows, you hike through the river with some of the trek a mere 20 feet wide. With glimmers of light peeping in between the towering rock, sandstone grottos, and hanging gardens, it's a must for adventure lovers.
We didn't see a single other visitor on our 6-hour Bottom Up hike through The Narrows.
I kept feeling like I was trespassing or somewhere I shouldn't have been, it was that eerily quiet. Any other season, the Narrows is full of people, which is one of the big benefits of coming in winter. I had the opportunity to stop and listen to a little waterfall dashing down the rock and could see nothing but nature surrounding me. The hike was physically difficult at times but mentally calming and peaceful. Winter is the time to conquer it if you're looking to go at your own pace and your own speed.
The majority of The Narrows hike is through the Virgin River with water waist deep at times. As someone who is always freezing, I was nervous about staying warm and dry. The mild winter air was pleasant for hiking on land, but I knew the water would be chilly and the thought of wet, cold feet for miles made me shutter. We rented drysuits (for those of you who have always dreamt of looking like you just stepped out of Star Trek, here's your chance), neoprene socks and shoes. The drysuits feature latex gaskets at your wrists and ankles which blocks the water from entering. The socks were also waterproof so when I removed the gear afterwards, I was completely dry (except for a little sweat – hiking in the river isn't a cakewalk, people)! My hands were bare and I have to say I was still slightly warm in my layers and drysuit. Make sure to check out Zion Adventure Company for Narrows rental gear.
As with anything fun, there are some dangers associated with hiking The Narrows. One of the biggest risks is flash flooding. The rock walls cannot absorb water so during storms, water levels can rise quickly leaving hikers stranded and in danger. Flash floods are most common in the spring and summer months, which is another reason winter's a great time to come to Zion.
Sponsored by Visit St. George, visit their site to download the vacation planner today!
Other Voices you might like