Hanmer Hot Springs, Soothing the Soul, and Achey Muscles
Wonderful Hanmer Hot Springs, photo by Bruce Meyer.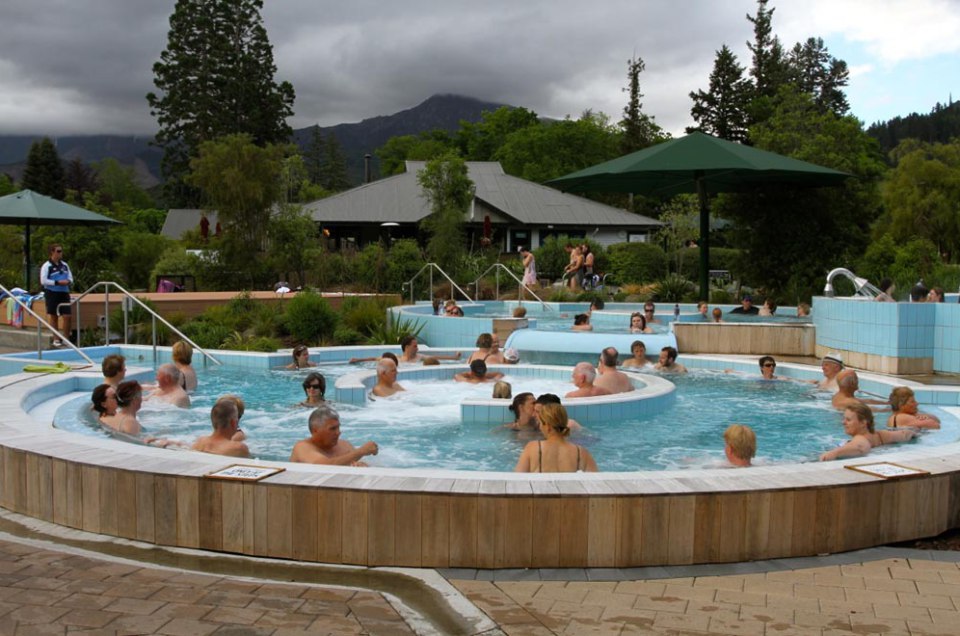 Wonderful Hanmer Hot Springs, photo by Bruce Meyer.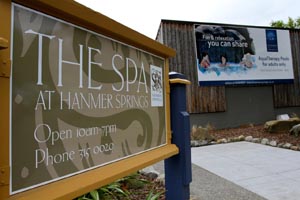 Amazing treatments await. Photo by Bruce Meyer.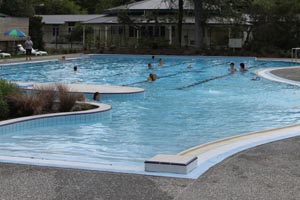 One of the larger pools. Photo by Bruce Meyer.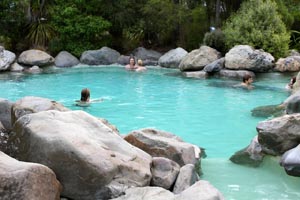 The setting is gorgeous. Photo by Bruce Meyer.
Step by step, my body began to relax and both my physical and mental being turned into a pool of mush as I slowly submerged myself into one of the thermal pools at Hanmer Hot Springs, one of the many destinations we had pegged to visit during our driving tour of New Zealand's South Island. Yes, indeedy, it was the right decision to begin our vacation right here.
We had arrived in Christchurch the day before, exhausted and jetlagged from our international dateline flight from Los Angeles. We picked up our camper van – a motor home we would call it in the U.S. – and headed north up Highway 7 across the beautiful Lewis Pass. This is certainly one of the most scenic drives in New Zealand, one that we easily managed despite jetlag and driving on the opposite side of the road than what we are accustomed.
Just 90 minutes from Christchurch, Hanmer Springs Village developed around the hot springs that were discovered in 1859. The first bath house opened in 1883 and it's been the island's most sought out vacation destination ever since.
Today the village has the feeling of many communities in Colorado ski country that have built up around a ski mountain. Copper Mountain and Breckenridge come to mind. Hanmer Springs is located in New Zealand's Canterbury region and although it's just 1,250 feet (385 meters) above sea level, this is an alpine region.
Although I was enjoying my soak, a clock on the bathhouse reminded me that I had scheduled a full body massage at the adjacent spa building. Oh, it pained me to pull my body out of the 100(F) degree water, but the deep tissue massage worked deep into the kinks that had developed in every fiber of my body in recent weeks. I think I snored and drooled a little. Feeling quite human again, I put my swimsuit back on and returned to fully explore the pool area.
For what I expected as primarily a spa destination, Hanmer Hot Springs was somewhat surprising. Three of the 12 pools are sulphur pools and eight are thermal pools bubbling out of the ground at 120 (F) degrees. For years, a sanatorium operated on the grounds for the medicinal benefits the pools provide. There are also six private thermal pools inside the spa pavilion.
In 1978, the first freshwater pool was installed and now an additional and bigger pool feeds into a Lazy River that feeds into a children's play area. Call it Hot Springs Arkansas meets the Wisconsin Dells.
But that's just fine. In my relaxed state, I was not at all disturbed by children playing and splashing several pools away. The grounds are well-landscaped with several natural breaks that allow plenty of space between adults wanting peace and quiet and families screaming and splashing together. And then – looking beyond – a magnificent view of the mountains and natural landscape of the 65-acre surrounding preserve area capped the restorative power of nature here.
Later, my husband and I strolled the tree-lined streets of the village, reading the menus of various restaurants and beginning a search for souvenirs. Is it possible to experience a "relaxed energy?" That's how I want to describe it. No one was in a hurry. The streets and shops were busy, but not crowded. It was low-key, but energetic at the same time.
We chose pizza, a salad and wine in one café, then finished off with a night cap at Montheit's Brewery Bar while watching an All Blacks rugby game. Now that's New Zealand.
The thermal pools were the beginning of tourism in this mountain village, but savvy community leaders tapped into Mother Nature's gifts by adding hiking, mountain biking, bungee jumping, rafting and fishing. It helps that jetboating, kind of a high-powered airboat ride, was developed just a few miles away on the Waiau River. In the winter, there's plenty of snow to make the nearby Mount St. Patrick into an enjoyable downhill ski area.
It's certainly a place where families or adults on their own can spend several days or their entire "holiday." We talked with lots of Australians and European travelers spending nearly an entire month in the region.
Stupid us. We scheduled only two days at Hanmer Hot Springs. But we had only 10 days to explore the South Island, and as much as we hated to leave the village without experiencing more, the lure of adventures throughout the rest of the beautiful island called. And we were not disappointed.
Other Voices you might like