Surviving the Heat and Squishing into Tuk Tuks in Bangkok
A fruit cart in Chinatown. Photo by Shandley McMurray.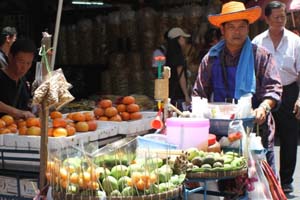 A fruit cart in Chinatown. Photo by Shandley McMurray.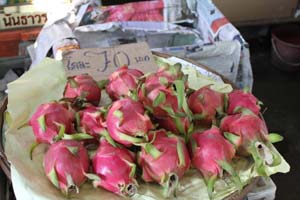 Dragon fruit. Photo by Shandley McMurray.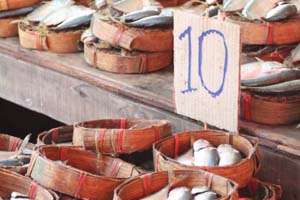 Fish box. Photo by Shandley McMurray.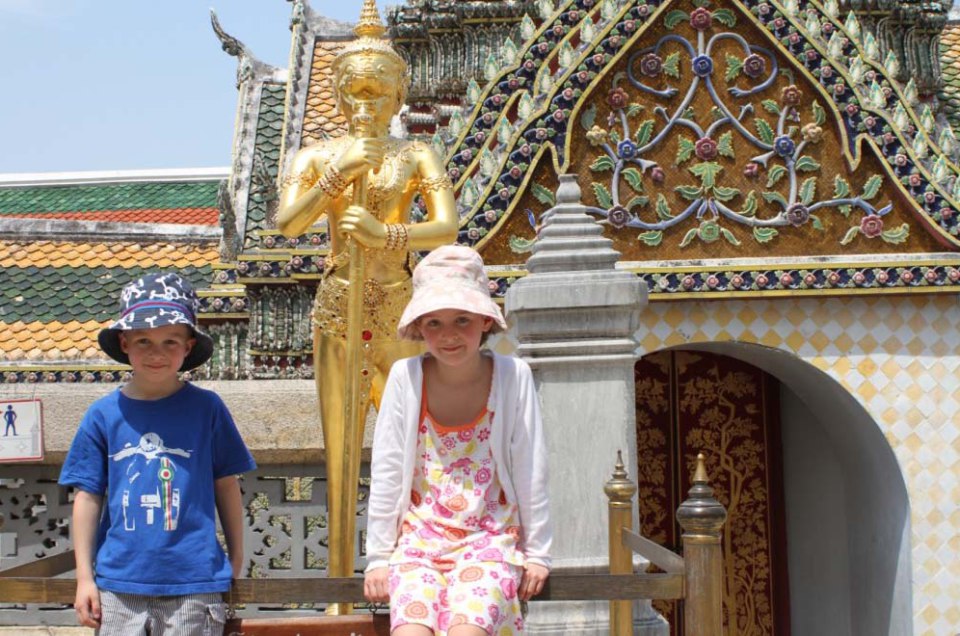 Posing outside of the palace. Photo by Shandley McMurray.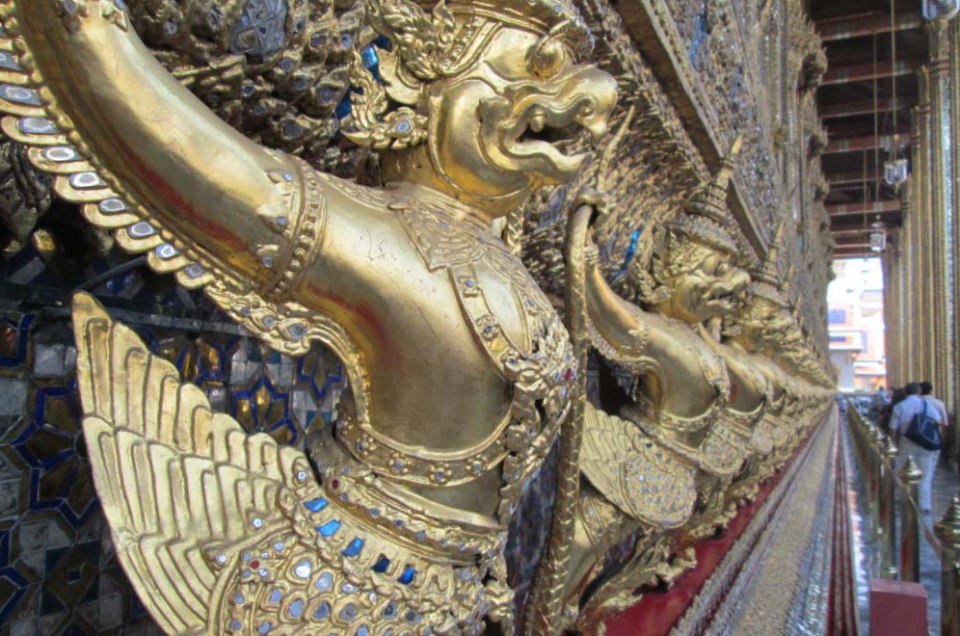 Palace decor. Photo by Shandley McMurray.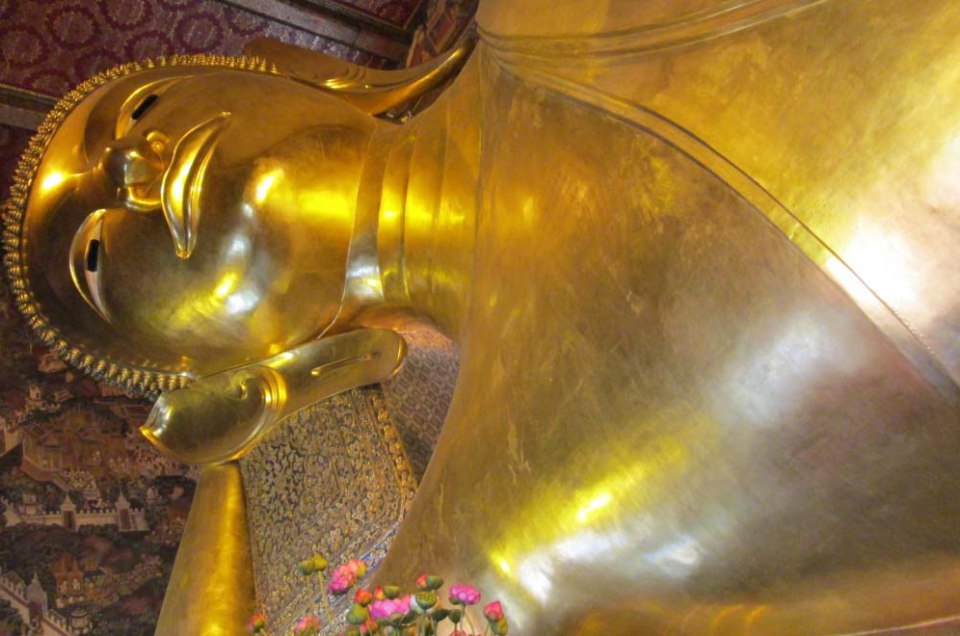 Reclining Buddha. Photo by Shandley McMurray.
The heat of Bangkok in March seeps into your bones and robs you of energy, leeching on to you like a sleeping child, a dead weight that makes walking a struggle. It turns your children into sweaty whiners who constantly say things like, "Why did you make us come to this country? Why couldn't we stay in London where it's cold?" or "I'm melting Mom. Can't you see me melting? If I don't get water soon I'm going to disappear from this entire planet." Oh the joys of travelling with children. You spend a small fortune on a "trip-of-a-lifetime" only to have them complain repeatedly and beg to go back to the hotel for a swim rather than visit a sacred Buddhist temple.
After a couple of days of acclimatization, however, the heat becomes more bearable. It soon resembles a mere annoyance, like a fly that buzzes too closely to your ear, something you can swat away and forget when touring a place that captivates you.
You, and even your cranky, sticky children, can learn to put aside the discomfort you feel in favour of enjoying the incredible sights this varied city has to offer. From modern architecture and bustling shopping areas to the Buddhist Temples erected in the 1300s AD, Bangkok offers an impressive array of sights to impress even the pickiest of travellers – namely, my children.
On our first day we were greeted at our hotel, the impressive Royal Orchid Sheraton by Mr. Paul, our personal tour guide for the day. An employee of Exotissimo Travel, Mr. Paul was kind, friendly and most importantly patient. An added bonus: he loved children. We took a public boat to Thewet Pier where Mr. Paul bought a bag of bread for the children to throw to the eager catfish waiting below. Marley and Pierce squealed with delight as well-fed fish appeared at the surface flipping their tails and swimming over top of each other to get the food. According to Mr. Paul, these catfish are lucky as no one is allowed to catch them. Living so close to The Grand Palace, their water is deemed sacred, as are they. We walked past buckets upon buckets filled with live snakes, frogs and turtles. Depending on the day of the week on which you were born, you are told to choose a certain number of a certain animal to purchase and then set free. If you do so, the sellers claim, you will be ensured good luck, health or financial success. Not wanting to tempt fate, we purchased five frogs (one for Mr. Paul) and set them all free in the river.
Walking on, we were greeted by a pungent smell of dead fish and drying meat from the Thewet Market. It was covered by a makeshift tarpaulin roof, underneath which lay an incredible mix of colours, sounds and smells. Stalls selling vegetables sat next to those selling pigs legs which neighboured a fish booth offering squid, prawns and eels. Once the children recovered from the trauma of seeing a fish clubbed and decapitated, they enjoyed sifting through the strange and wonderful foods – like spiky dragon fruit – that they never knew existed.
Outside the market sat a few traditional tuk tuks awaiting passengers. Marley screamed with excitement, jumping up and down as she spotted them. "I've always wanted to ride in one. Please, please can we?" Mr. Paul negotiated a price and we climbed aboard. My husband, Austin, was too tall to see anything, his knees almost at his chest as he somehow smushed five-year-old Pierce onto his lap. I took Marley (7) onto mine, sandwiched between Austin and Mr. Paul, relishing the breeze as it cooled my face on our way to the Grand Palace.
A mixture of designs, the multiple buildings that make up the Palace range from European influences to traditional Thai architecture. The opulent complex, all 218,000 square meters of it, was created in 1782 and is made up of what used to be the royal residences as well as throne halls, government offices and the sacred Temple of the Emerald Buddha. Pierce's favourite part was the gallery featuring walls painted with scenes depicting the reign of King Rama I. Mr. Paul spent a good deal of time explaining the story to him and feeding Pierce's new-found obsession with Buddhism. Marley was more a fan of the gold mosaics and spires. "Take a picture of me here," she said, standing in front of a golden wall. "I will look just like a movie star." Sure enough, she soon had a line of Chinese tourists waiting their turn to take pictures of her. Marley definitely soaked up her moment in the limelight.
Two hours was the max we could stay at the Palace considering the intense heat (41 degrees). So we bought cold water and drank it in the shade before walking the few blocks to our next stop: Buddhist temple Wat Pho, home of the city's infamous, 46-meter-long reclining Buddha. With his eyes open and a relaxed smile upon his face, Buddha welcomes his many visitors, seeing them off with a view of his enormous feet inlaid with mother of pearl depictions of his various forms (flowers, tigers and even dancers).
Back at the hotel we said goodbye to Mr. Paul and quickly changed into swim suits for a refreshing dip in the pool overlooking the river. Peacocks squawked a serenade as we splashed each other. That night, we took a boat to Asiatique, a modern dining and shopping area, where we dined on pizza on the outside terrace of a restaurant called Capri. The kids were so tired they fell asleep on the way home.
The next day consisted of an early morning visit to Wat Saket, The Golden Mount. We climbed the many red stairs leading up to the temple, ringing bells and banging on massive gongs as we went. While the interior was quite small, the kids enjoyed lighting candles and seeing the urn which held a relic of Buddha. The view of the city from the top of the building was unbeatable.
After visiting the temple, we hopped in another tuk tuk and rode to Chinatown. One word sums up our experience there: mayhem. Unlike the clean, organized Chinatown we loved in Singapore, Bangkok's version seemed much more crowded, dirty and chaotic. Random trucks and speeding scooters pushed walkers out of their way while shopkeepers selling the exact same plastic hairbands, phone cases and cheap toys shouted at tourists to buy their wares. After losing Marley and Austin in the crowd, I picked Pierce up to save him from being trampled, finally spotting them a block ahead at the main street with no fewer than 200 people between us.
After a delicious lunch of cashew chicken and spring rolls at Sala Thai near our hotel, we joined a canal boat cruise, boarding what the Thai call a "James Bond" boat (a small, long-tailed boat) for an hour-long tour of Bangkok's waterfront before changing to a traditional rice boat for an hour-long tour of the canals, complete with a fruit buffet. The kids thoroughly enjoyed being approached by a mini floating market – two women in boats selling hats, sculptures and cold drinks to the tourists aboard. We passed houses on stilts, many of which looked as if they'd crumble and fall to a watery grave at any moment. Men sat topless drinking beer on their decks while others worked hard carrying heavy-looking bags from boats. Marley and Pierce stuffed their faces with watermelon, juice dribbling down their chins as they looked in amazement at a house so crooked it was a miracle that it still stood.
Our last dinner was spent in extravagance at the riverside Sala Rim Naam restaurant at the Mandarin Oriental Hotel. We were picked up from the dock at our hotel in a beautifully ornate shuttle boat and driven across the river to the restaurant. There, we dined outside on chicken satay, pad thai, fried crab, sweet and sour pork, rice and drinks for about $100 US. The kids watched Thai dancers performing inside while Austin and I took a moment to enjoy each other's company on the patio, trading stories about our favourite moments from the trip while soaking in the view of Thai bumboats lit up with white Christmas lights for their journey down the Chao Praya River.
Other Voices you might like