The Wines of Santorini
Beautiful Santorini. Photo by Sharon McDonnel.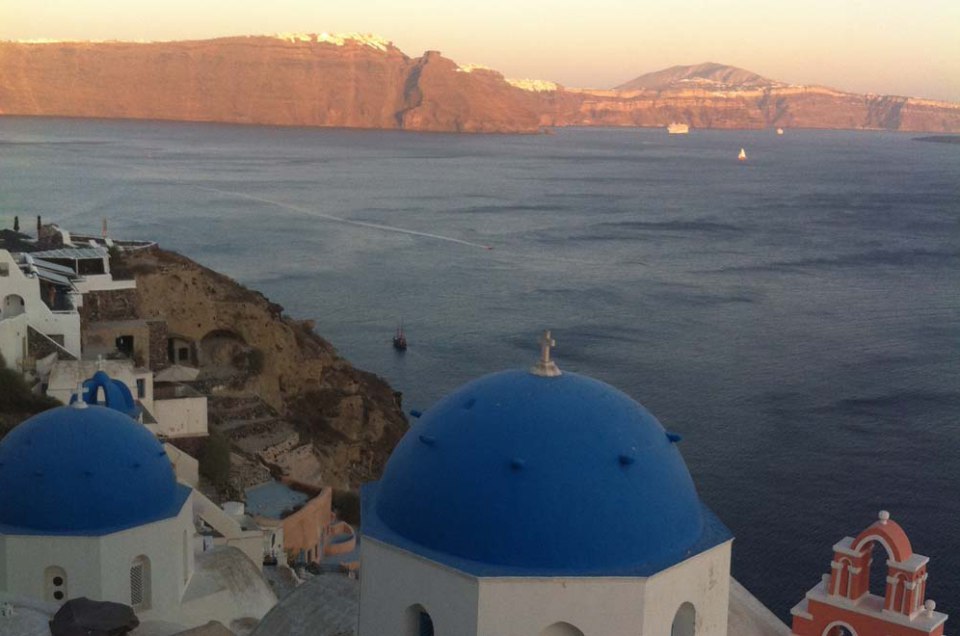 Beautiful Santorini. Photo by Sharon McDonnel.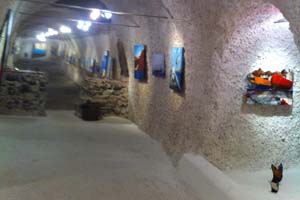 Santorini art space. Photo by Sharon McDonnel.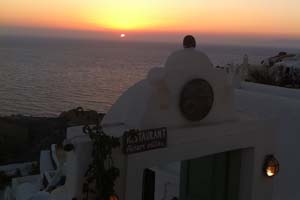 Santorini sunsets. Photo by Sharon McDonnel.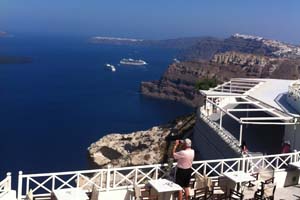 Bluest sea. Photo by Sharon McDonnel.
It's tempting, on Santorini, to just sit and gape at the jumble of blindingly white houses, some turquoise-domed, that teeter at the edge of cliffs, facing the Aegean Sea or the caldera, the filled-in volcanic crater caused by a cataclysmic eruption around 1,500 B.C. that sank much of the island beneath the sea. Or jostle amid the hundreds in Oia, the tiny town tucked in the island's northwest corner, to catch the most-photographed sunset in Greece, a favorite of magazine ads and cruise brochures.
It's a mistake.
This island in the Cyclades chain is famed for its crisp white wines, particularly Assyrtiko – a native grape that tastes of minerals, high in acid, rarely found outside Santorini, and Vinsanto, a prized dessert wine that tastes like Port, but made differently.
An ideal way to peek behind the surface of this dramatically beautiful island is to tour its wineries.
You can relax and sip 15–20 wines, leave the driving on alarmingly steep cliffsides to experts, and see more of the island. My tour was with Wine in Santorini, whose co-owner, Ilias Roussakis, is an oenologist trained in Athens, Bordeaux and Burgundy.
"In Santorini, we only cultivate indigenous grapes. It's illegal to plant foreign grapes," says Ilias, who notes the island's wines have a Protected Designation of Origin, much like France's AOC. Only one other Greek Cycladic island, Paros, has a PDO.
At Santo Wines, such an absolutely jaw-dropping view of the caldera from its huge terrace greets me, it's hard to keep my eyes on the tasting. The island's biggest wine producer, this wine co-operative near Pyrgos, south of Fira, the capital, on the west coast, is one of Santorini's biggest properties right on the caldera, Ilias says. Most have small sites on the caldera. I pick out the towns of Oia and Imerogivli crowning brown cliffs in the background, and dodge a cruise ship crowd – many cruise lines from Princess, Silversea to Celebrity visit Santorini – before whipping out my camera, then settle in at a table for that million-dollar view.
I start with a 2012 Assyrtiko, marked by an intensely mineral taste and rich aromas of citrus fruits, aged in stainless steel. Next, a Nykteri Reserve, a blend of mostly Assyrtiko plus 25% of Athiri and Aidani, two more native grapes, aged in oak for a year plus 1 ½ years in the bottle: its mineral flavor has a vanilla background. An Assyrtiko Grande Reserve, aged for two years in oak plus one year in the bottle, is next – less minerality and acidity, more nut-like in character. In its big shop, I notice all the other products grown by Santo members: Santorini cherry tomatoes, tomato sauce, capers, caper leaves, fava beans, olives, bottled almonds simmered in honey, chocolate bars flavored with Vinsanto.
It's hard to tear myself away. But at Art Space in Exo Gonia in central Santorini, I enter an art gallery that's also – surprise – a winery. First, I view over 400 artworks and sculptures by 35 contemporary artists, mostly Greek – from landscapes, nudes to ceramics – in stark white spaces with vaulted ceilings and floors of volcanic stone, carved out of an 1861 winery. Then, I taste its Nykteri wine, 99% Assyrtiko, followed by Vinsanto. "For 12 years I sold art books, and had a gallery for 14 years. Today, I do three things equally – a gallery, winery and museum," says owner Antonis Argiros. He opened Art Space in 1999, after restoring the winery his father once owned, and keeps its old wood wine press and other equipment on display. His new winery is an underground cave beneath a barn.
Musing how art and wine is an ideal pairing, I next tour the wine museum at nearby Koutsoyannopoulos Winery, which fills in the blanks about what I've heard about Santorini's distinctive winemaking practices with dioramas and vintage photographs. Vines are pruned and carefully laid in wreaths close to the earth, to protect them from the island's wind, called the meltemi, and harsh sun. Bottle-filling and cork-sealing were done by hand (Santorini didn't have electricity until 1967). Vinsanto is made by drying grapes in the sun, which turn black like raisins – it's naturally sweet, unlike Port, made by fortifying wine with brandy. Santorini exported wine to European countries on the Black Sea – shipping to Russia in particular, to the port of Odessa – in the 18th century.
At this winery founded in 1660, also called Volcan Wines, I taste the usual suspects – a 2009 Assyrtiko boasting a 91-point rating from Wine Spectator, Nykteri and Vinsanto. But also a sweet red wine called Kamaritas, aged 10 years in oak – it's one of the few on the island that makes red wine. Another distinction: outdoor concerts are held here (tonight, a band from Athens), and a traditional Greek feast with dancing in traditional costumes can be booked by groups in advance.
At Domaine Sigalas in Oia, I sit down in its shaded patio next to the vineyards and nibble on a plate of tomato paste with capers, olives, bread, goat cheese and caper leaves – gosh, I'm starving. First, an Assyrtiko (75%)-Athiri (25%) blend, crisp and mineral, from 50-year-old vines, aged in stainless steel. Next, Kavalieros, a single-vineyard 100% Assyrtiko, whose name means "cavalier" due to its noble quality, also aged in stainless steel. A dry red wine, deep crimson, from Mavrotragano, a noteworthy local grape, rounds out my tasting. The owner of Sigalas, a former teacher who turned his winemaking hobby into his profession, is probably Santorini's most innovative winemaker – always learning, very fittingly – Ilias says.
Back at my hotel in Oia, Aspa Villas, I collapse. It's been a full day. So many wines, so little time. As 2013 is the Year of Gastronomy in Santorini, my nights are spent savoring local specialties and more local wines. At Red Bicycle restaurant in Oia, whose panoramic view over the caldera from its terrace is breath-taking, I arrive at 7 PM to find it empty. "Everyone's watching the sunset," I'm told. I leave to join them: crowds sitting on steps, perched on ledges, the ruined Venetian castle nearby, their legs stretched out to the railings of "sunset bars," gazing straight at you-know-what, cameras poised. After the sunset – crowds applaud, and cheer: it was a good one – I return.
When my order of taramosalata, a fish-roe spread, creamy pinkish in hue, comes, I'm transfixed to see it's served in a cocktail glass, topped with a generous amount of fish roe. So are the Britons next to me at Red Bicycle, who ask what on earth I'm drinking. Smoked shrimp with orzo and the ubiquitous cherry tomatoes comes next. For dessert, I'm on a liquid diet: Vinsanto, naturally, plus a 20-year-old Vinsanto, whose complex flavor is like Cognac.
Another night, I dine at Candouni in Oia, on the front patio of a former sea captain's house. Ordering a plate of meze, I nibble on fava-bean paste topped by capers and green onions – like hummus, but lighter in taste, mashed white eggplant, Halloumi – a hard cheese from Cyprus that grills without melting, olives and tomatoes. As I wonder aloud why no hummus is found on the island, though many associate it with Greek food, the owner's son answers. "It's a misconception – people come and ask, 'where's the hummus? Many restaurants in North America are owned by people from Lebanon and other Middle Eastern countries, who call it Greek food." Lamb shank seasoned with rosemary, thyme and oregano comes next. Dessert: strictly liquid.
I'm doing the part of my travels I enjoy the most: tasting my way through its culture and history.
Other Voices you might like