Driving through the Smoky Mountains
The Smoky Mountains, photo by numbphoto on Flickr.com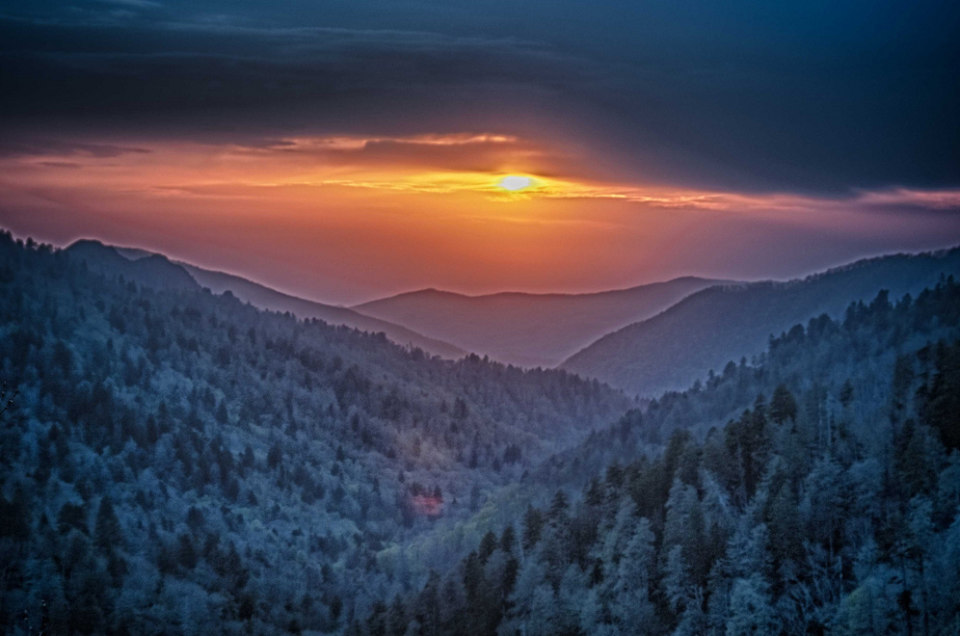 The Smoky Mountains, photo by numbphoto on Flickr.com
Moving from the relatively flatlands of our native eastern Kansas to the Ozark Mountains, my husband and I thought we knew mountains, that is until we vacationed in the Smoky Mountains near Sevierville, Pigeon Forge and Gatlinburg, Tenn.
When one talks about this region, you simply cannot mention one town without the other as they all slip as easily into each other on Highway 441 as smoothly as southern sweet tea eases down the throat. As we drove into the region, it was clear to us why these are called the Smoky Mountains, as the natural blue mist envelopes them even on crystal clear days.
We spent our first night at Marriott's Fairfield Inn, right on the main highway through Sevierville. The hotel is conveniently located across from the Tanger Outlet Mall and within walking distance of many restaurants and attractions, as well as on a trolley route. It's clean and a great place for people who want to be in the action.
After the first night, we longed for a more rustic experience in the mountains and spent our remaining time at Oak Haven Resort, which has fully equipped luxury log cabins. The cabins come as small as 1-bedroom, 600 square feet or as large as a 4,000 square foot, 7-bedroom lodge. Each cabin, no matter the size, has both a hot tub and Jacuzzi.
Oak Haven is nestled in the mountains about 2 miles from the main strip, far enough to give the illusion of wilderness, but close enough to still be convenient to shopping, attractions and restaurants.
While our cabin had a beautiful full kitchen, we wanted to take advantage of some of the region's locally owned fare. As Kansas City natives, we know bar b que and we try a local eatery almost everywhere we travel.
Clint's BBQ and Country Cookin', a rustic log cabin type diner, not only offered up some of the finest BBQ we've had, we happened in on a night when there was live entertainment.
What we really went to the Smoky Mountains to do was check off some bucket list items. I had previously been on a trip to Tennessee and had zip lined at Wahoo Ziplines. The staff made me feel so comfortable with my fear of heights that by the second jump, I was having a good time.
Since my husband had never zip lined and I wanted to try another canopy tour, we booked an afternoon at Foxfire Mountain, which also offers ATV tours and a hike in the mountains over a swinging bridge.
The staff was just as trained and professional and the canopy ziplining adventure was a scenic experience for these young boomers. Dog lovers will also be thrilled meeting the menagerie of rescues wandering the property where the owners also reside, especially if they are missing their own pack at home, as we were.
One of the great things about renting a cabin is that you can cook if you want, or simply pick up something to heat up, which we did when we returned "home" and it did feel like home. We heated up a frozen dinner and parked ourselves, cocktails in hand, in the Jacuzzi, where we rejuvenated our slightly achy ziplined bodies.
After dinner and a little television, we sat in rockers on the covered front porch smelling the luscious lavender bush next to the driveway, listening to the crickets and tree frogs. Each cabin is situated and landscaped for maximum privacy, so although there are neighbors on each side, not one can step out onto their porch and bother another.
One of the things I love about our beloved Ozark Mountains is the 1880s themed Silver Dollar City in Branson and Tennessee has an exact replica with Dollywood. Except for the fact that most everything has some connection to Dolly Parton, whose hometown is Sevierville, the basic park rides and attractions are the same, right down to the classic steam train ride and indoor small coaster.
One thing Dollywood does offer guests that Silver Dollar City does not is Dogwood, a pet boarding facility where your pooch can stay for an extra fee while you visit the theme park.
After walking for hours around the park, we still had a little oomph left in us for our indoor skydiving adventure at Flyaway. Unfortunately for me, indoor skydiving is not only for the very fit, it is also for the very thin, and I am not.
I did not meet the prime weight requirement to actually take flight, but the instructor encouraged me, saying I could suit up anyway. I did, but my back, weakened several years ago by rear end car collision and then aggravated in a horse incident, could not take the strain of trying to stand upright in the wind tunnel. This is one adventure my husband could cross from his bucket list. I may just have to delete it from mine.
One of the biggest surprises for us traveling to the region in September was a huge monster car show, which stretched for literally miles on Highway 441 through Sevierville and Pigeon Forge. My husband, a '67 Chevelle Super Sport enthusiast, saw a new one nearly every day of our visit.
We decided on our final day in Tennessee to eat at The Diner, a shiny silver 1950s retro diner located not far from our cabin. If you're looking for fast nuked food, one need not stop. The comfort food at this diner is prepared fresh and whether you're ordering the Buffalo Burger, as my husband did, or the Rueben sandwich, as I did, the food is excellent.
We had to leave early the next morning, but we were rested from sleeping in our cabin's comfortable bed with soft pillows and sheets and a resolve to not cross this destination from our Bucket List just yet, as we want to return. There is so much to do and see that we missed, including the Great Smoky Mountain National Park.
Other Voices you might like