Girlfriend Getaway to Memphis
Memphis Girlfriend Getaway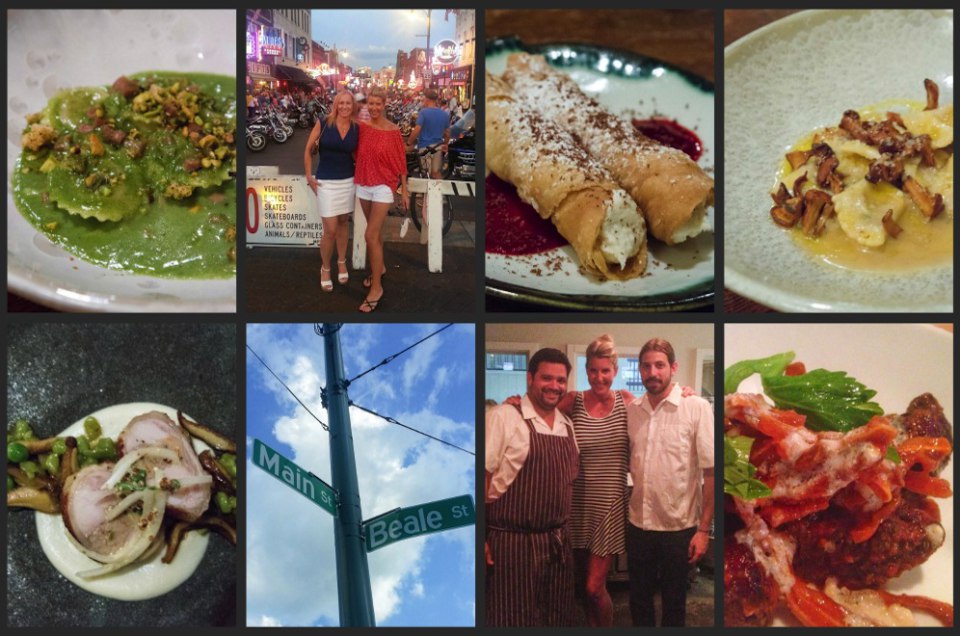 Memphis Girlfriend Getaway
There's a quiet, unassuming street in Memphis, far from the busy tourists wandering the famous Beale Street. No barbecue joints, no blues playing. Just some quaint homes turned into businesses and, among them, two restaurants where I enjoyed some of the best food I can recall.
I found myself in Memphis last week when I had an opportunity to do a road-trip with a high school friend for a "Girlfriend Getaway".
We took off from Atlanta and spent the day driving, laughing and cranking the tunes in a way that neither of us had done in years, all while checking out the gorgeous Tennessee countryside.
This was only my second time visiting the state of Tennessee and my first to the Western side. A die-hard barbecue lover, I spent the weeks leading up to my trip dreaming of the fabulous ribs, fried chicken, mac 'n cheese and other Tennessee delights we'd be discovering.
What I didn't anticipate is how much great food is in Memphis that falls far from the barbecue category. Don't get me wrong, we enjoyed some serious barbecue that was so good I ate until I could barely stand. We hit up the infamous Charles Vergos' Rendezvous, if only because everyone in town told us that is the place for ribs (and who am I to argue with the locals)? Pork ribs are definitely the way to go here and don't forgo the red beans & rice. The ribs were fall-off-the-bone tender, just as ribs should be, with a fantastic dry rub. Rendezvous' ribs are cooked over charcoal, not wood, so although you might find a good debate at your table over whether Rendezvous ribs are "real" barbecue, everyone will definitely agree that they are seriously delicious.
But all of my plans for endless killer barbecue went out the window once I realized that there is so much more to the Memphis food scene than just what they're widely known for. That quiet street I mentioned above? That's where Hog & Hominy and Andrew Michael Italian Kitchen (AM) sit, just across the street from one another and owned and operated by the same two chefs, Michael Hudman and Andrew Ticer. Andy and Michael have been friends most of their lives and, in sixth grade, decided that one day they'd open a restaurant together. Our first night in town we hit up Hog & Hominy, where the pizza and small plates are meant to be shared. We ordered darn near everything on the menu, if only because each dish was better than the last and we just couldn't stop ourselves. As a result, we discovered that you can't make a mistake when ordering, everything was outstanding. There were favorites, of course, like the Sweetbreads, Hushpuppies and their version of a Tamale with chicken, fried kale and an Alabama white bbq sauce. But the clear winner for me was the Buffalo Pork Tails, whose spicy bite and crunchy texture won me over. And, whatever you do, don't leave there without ordering the Peanut Butter Pie!
We spent the next couple of days doing all the things you might expect that two gals on a Girlfriend Getaway might do in Memphis, we shopped in the historic district on Beale Street, took in both a facial and a massage at the famous Peabody Hotel and hit up Graceland (not to be missed, and I'm not a die-hard Elvis fan). Memphis has – for lack of a less obvious word – soul, and we felt it everywhere we went. There's a lot of pride in this city and it resonates among the locals. We took a stroll every morning down Main Street, a quiet and quaint area of the city that leads straight to the infamous Beale Street, where even first thing in the morning you can hear the Blues being played.
But, for me, it was all about the food. We enjoyed Hog & Hominy so much that on our last evening in town we decided we had to go back and try AM, the more sophisticated of the two. Andy and Michael had graciously invited us there the night we dined at the Hog, and I couldn't think of a good reason not to enjoy the food of two James Beard Award finalists, not to mention Food & Wine's Best New Chefs. AM was every bit as good as the Hog, with a more relaxing atmosphere and a leisurely dinner pace that had us there most of the evening. I knew we were in for a serious treat when our first course, a simple caprese salad, had my eyes closing and that "oh…" that comes out when something is truly surprising and spectacular. And so it went, every dish seeming better than the last. The Rabbit dish was the most tender I've had (they wrap it in chicken skin to hold in the moisture) and the Artichoke Panzanella, stuffed with pork and garnished with fried capers, had us ordering a second. And, if you like a bit of spice, don't miss the Orrichiette with a sauce of ground octopus and prosciutto.
After our meal, Andy and Michael let us in on a local secret. Thursday,Friday & Saturday nights, if you hit up Hog & Hominy, go straight to the bookcase on the back wall. Push it open and you'll find yourself at their back porch bar, where only canned beer is served and you can order the best burger of your life.
Andy and Michael worked three months on their recipe (although their sous chef claims two years, but I'll let them hash that out) and it shows. They butcher their own meat, form it into a ball and let it caramelize. Then they flatten it, pile it with onions and give it a flip. The onions on the bottom caramelize and the ones in the middle steam, adding yet another layer of flavor. Then they pile it with cheese and add it to a fresh bun with a tomato and shredded iceburg lettuce for crunch. I swore I would only take a bite after the huge meal at AM we'd just finished, but that burger was so darn good that I finished the entire thing! And no wonder…Michael told me it was just named 33rd best in the nation.
We ended our Memphis food tour with a final lunch at Gus's Fried Chicken. Like Rendezvous, we were repeatedly told by everyone in town that this was the place for fried chicken. And the locals know what they're talking about, it was some of the best darn fried chicken I've ever had. I highly suggest the three piece dark combo, and get the beans and slaw for your sides with an ice cold sweet tea. But get there early, the line forms quickly!
We had a fabulous girlfriend getaway in Memphis, it was the perfect place for us to relax, laugh and just enjoy life! And what a pleasant surprise to discover what a great food town Memphis is, I'm already planning our trip back. If you happen to be there, too, look me up. I'll be on the back porch bar at the Hog, enjoying a can of PBR and the best burger of my life.
Other Voices you might like