Full Day of Fun at Carolina Beach State Park
Photo Credit: Keryn Means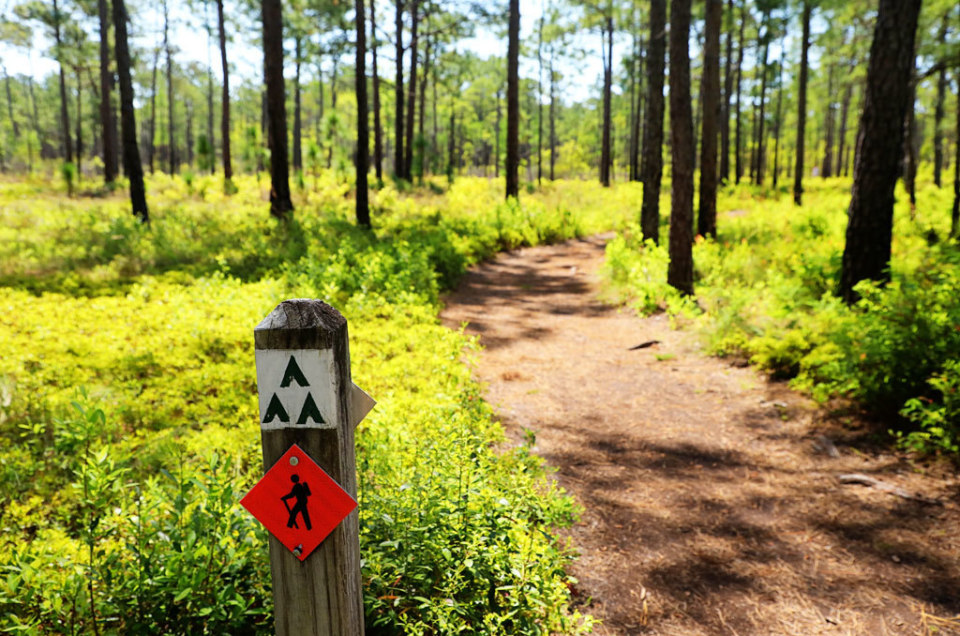 Photo Credit: Keryn Means
Content Produced in Partnership with Carolina Beach
Carolina Beach State Park has a little something for everyone, no matter the age of your group. Adventure seekers can go kayaking and stand up paddle boarding. Nature lovers can see Venus flytraps in the wild. Families can take advantage of the flat hiking paths that even young children can tackle with ease (trust me, if my four year old can do it without whining, any child can). Dog parents can happily let their pups roam on a leash as they explore as well. This park is pretty much a win for everyone.
Hikes
The longest hike with Carolina Beach State Park is three miles, which means you can get up early for a hike with friends on Sunday and still make it to Surf House Oyster Bar in time for brunch at 10am when they are open just one morning a week for breakfast (it is mainly a dinner spot). We love that there are kid-friendly and wheel-chair accessible trails throughout the park, so everyone can get outdoors and explore here.
Trails for kids
Kids in the Park Trail: Located right near the campground. Make sure you pick up the activity brochure at the picnic area trailhead.
Oak Toe Trail: Short and sweet, even toddlers can do this quarter-mile hike with their parents.
Wheel-chair accessible trails:
Flytrap Trail: One of the biggest draws to this state park is the Venus flytraps and everyone should get the chance to see them.
Fitness Trail: A loop trail with several exercise and activity stops along the route.
Searching for Venus Flytraps
The number one reason to go to Carolina Beach State Park is the Venus Flytrap Trail. You may not agree with me, but having now been several times, I can't visit without searching out these elusive plants. Park rangers offer a tour every Saturday morning (check the visitor's center for times as it does change seasonally) to those wanting to see the plants.
Unlike the Home Depot version or the "Little Shop of Horrors" rendition, Venus flytraps are actually very small and grow in clumps on the ground. You could pass them in the park and never see them. You could stomp on them, destroying a plant and never know it. Taking a guided tour guarantees you will find the latest growth. Best of all—it's free!
Kayaking
For those looking to get on the water, you can make a reservation with Paddle NC, who are located right in Carolina Beach State Park. During high season it is best to book ahead of time, as they do book up. If you are visiting in the spring, you should keep an eye on the weather. The wind can make the water choppy, making it difficult to kayak and SUP on Cape Fear River. When in doubt, drive over and see if you can rent your gear on the spot. The Paddle NC team will give you their honest opinion. They were recommending that several families with young children like our wait until the winds died down when we visited. The team even pointed us in the direction of a few great hikes and good fishing spots for the kids.
Camping
Camping is allowed within the state park in the family camping area. No alcohol is permitted, but dogs on leashes are allowed. There are two bathhouses (showers for mom in the morning!) at the campground for the 70 tent, 9 RV and 4 camper cabin sites. If you'd rather not camp, there are plenty of hotels and vacation rental homes in Carolina Beach just a few minutes drive from the state park.
Picnic
If you plan on spending a few hours or more enjoying Carolina Beach State Park, you should definitely plan on packing a few snacks. Load up on goodies at the Veggie Wagon on South Lake Park Boulevard in Carolina Beach. Grown ups can grab a specialty coffee in the morning, while kids will enjoy an organic fruit slushy. Locally made banana bread and fresh fruit are the perfect breakfast, while a fresh baguette meats and cheeses make up a scrumptious picnic lunch for your hike. Throw in some sparkling waters and you are good to go.

On your way back make sure you stop in for a custom-made ice cream sandwich. Seriously one of the best choices you can make and a great reward for tired kids in need of a treat. Adults needing a reward can have their local pint of choice, or stop at Good Hops Brewing for a local brew. Don't be surprised if there is a pop up yard sale or other local activities happening either. This is where the locals gather on the weekends.  
Other Voices you might like