Forget Bourbon Street- Go to Frenchmen Street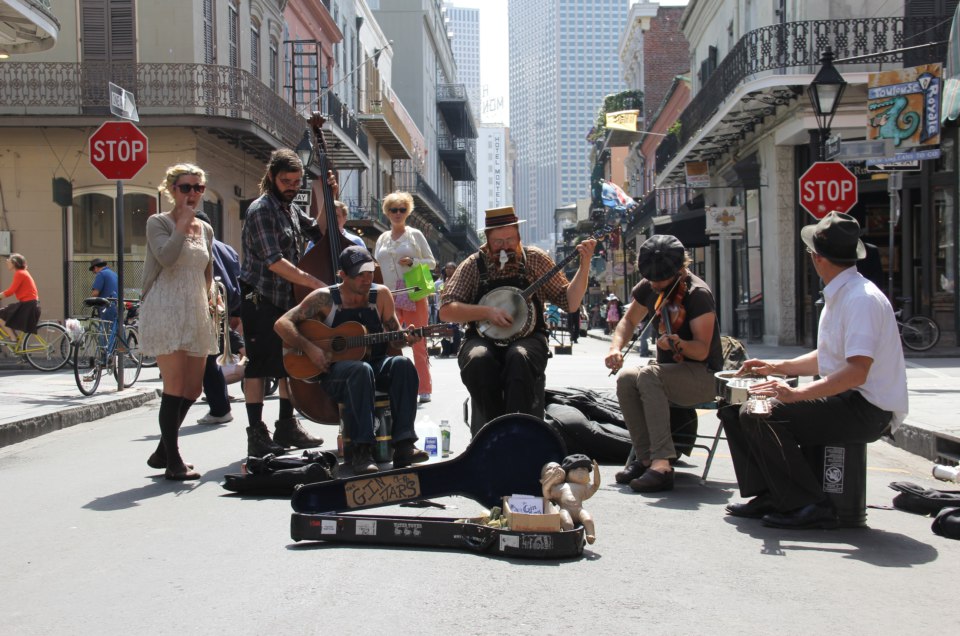 Musicians on Bourbon Street by Jade Broadus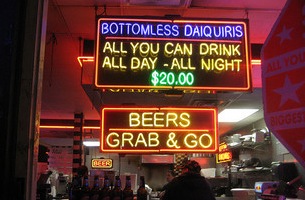 Bourbon Street Drinks, New Orleans by Infrogmation on Flickr.com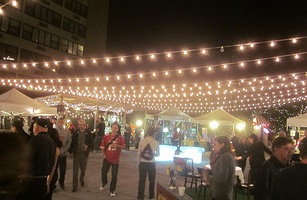 Bourbon Street is one reason why many people visit New Orleans. They want the typical rowdy experience, complete with cheap drinks, bead throwing and bachelor parties. Then there's the other set of people, the type of person who wants to experience authentic New Orleans music and Jazz bars with crawfish po'boys and signature cocktails. Bourbon Street is like your 22 year old college party where Frenchmen Street is for the 35 year old who wants a more authentic experience of Louisiana. Luckily, you can experience both as they are within a short walk from one another.
On a recent girlfriend getaway to New Orleans and actually my first trip to the Big Easy, we spent a little time in both areas. The first night we dedicated to fully living it up, Bourbon Street Style. If you've never been, it is as if Las Vegas was one tiny outdoor street party, with sloppy drunk people, strippers, gambling and bad food. It is loud, the kind of loud that has your ears ringing way after you've left and you smell like a dirty, sweaty, cigarette. It sounds so appealing, right? Don't get me wrong, despite the crazy atmosphere, it is still very fun, even if my just turned 30 self is constantly second guessing what I keep stepping in. Is it puke, horse poop from the carriages or just one of the countless Hurricanes that New Orleans is famous for inventing? Hopefully it's the Hurricane.
After a few too many bachelor party ass grabs and beer-spilling accidents on my new shoes, I was ready to experience something a little, how should I put this, high brow? I wanted to sit down and listen to jazz music. I wanted to dance but not with a dozen sweaty, sticky people touching me. I wanted to sip my drink instead of pound shots. Luckily, what I wanted existed at Frenchmen Street.
Not actually that far from Bourbon Street, but feeling like a million miles away, we took a taxi to Frenchmen Street. It is a much more chill street, complete with dozens of live music venues, an art walk and several seafood and creole restaurants. Significantly higher than the rest of the city, this is one area that survived Katrina without much damage. During rehabilitation of the city, locals and volunteers would gather in the Frenchmen to hang out and watch music that only musicians in New Orleans could perform.
Our first stop was the Art Walk, featuring local artesian goods under a canopy of farm house lights and vintage patio furniture set up throughout incase you wanted to grab and drink and just talk. One friend bought a bracelet sponsoring a local charity and another a cheese plate.
Afterwards we stumbled upon Mélange, a speakeasy with an amazing female jazz singer and five-piece band. It was a special type of place, somewhere that seemed like it should and shouldn't be in New Orleans, all at the same time. The door was open, letting in the cool Gulf breeze, with a mixture of chandelier and Christmas tree lighting. The stage sat off to the corner, but everyone in the restaurant/bar was turned facing them. The audience was swaying their hips, clapping their hands and pretty unanimously moving to the beat of the music.
When the singer saw a bachelorette group (albeit an older group of dressed up ladies), she immediately started singing a wedding march and instructed the entire restaurant to join in clapping. It was high energy but not out of control. Her energy and spark was electric and everyone at the speakeasy seemed to be entranced.
After a few songs, we walked down the street to another music venue, this time a more up beat all male jazz band at Blue Nile. There wasn't a singer, but these guys were playing their hearts out, giving each song everything they had in their bodies. The crowd was a little more excitable, really moving to the music- but the lack of bar seats or tables in general could account for that. It was a place to really experience the music and as you were standing there you felt the beat through the floors and bouncing off the walls. Just because the crowd wasn't puking on the streets didn't mean they couldn't have a good time.
While the more locals' and older adult crowd around Frenchmen Street might not be for someone looking for the typical Mardi Gras style New Orleans adventure, it is definitely an experience every visitor should have. From the 50's to the late 20's crowd, you'll see a side of New Orleans you might not knew existed but one you always hoped you'd find.
Other Voices you might like