Fine Art in Helena, Montana
Fine German stained glass windows in the Cathedral. Photo by Susan McKee.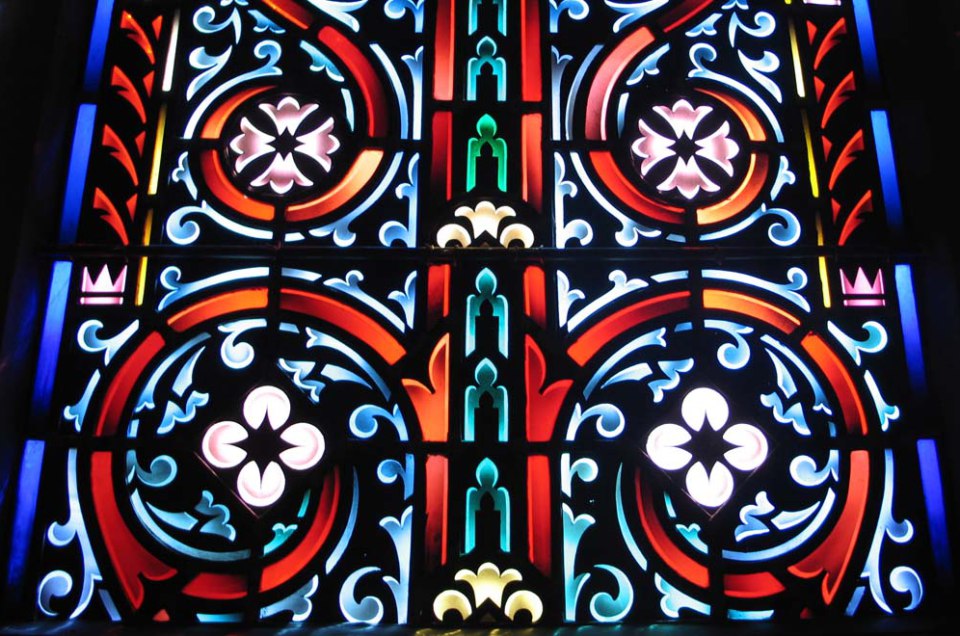 Fine German stained glass windows in the Cathedral. Photo by Susan McKee.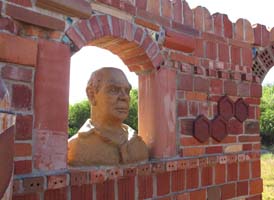 Archie Bray. Photo by Susan McKee.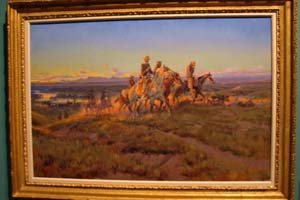 Lewis and Clark Meeting the Flathead Indians at Ross' Hole. Photo by Susan McKee.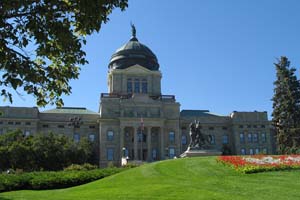 State Capitol Building. Photo by Susan McKee.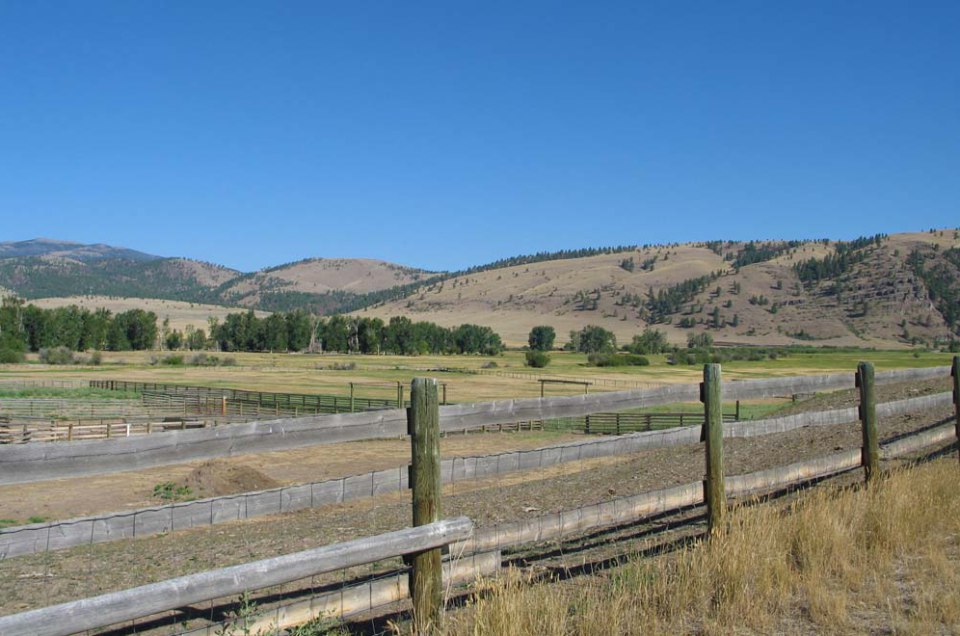 Big sky in Montana. Photo by Susan McKee.
Fine art isn't the first thing I thought about when I decided to visit Helena. I had in mind "Big Sky Country". Glacier and Yellowstone. Cowboys and miners. Not painters and sculptors.
Founded in 1864 as a gold mining camp, Helena grew quickly: just five years later it had 75 structures built of granite and brick.
It became the capital of the Montana territory in 1875, and of the state itself when Montana joined the union in 1889.
Unlike other mining camps that sprang up overnight and disappeared just as quickly, this town proved no "flash in the pan". Helena was said to have "more millionaires per capita" than any other in the world by the 1880s. In today's dollars, some $3.6 billion placer gold was extracted in the first 20 years of mining. Magnificent mansions were built on the western hills, and the walls of these fine houses were decorated with fine art.
It's no surprise that the grand vistas Eastern foothills of the Rocky Mountains have inspired artists for generations, but I was surprised at the range of work on view in Montana's capital city. Sure, there are art museums both contemporary and traditional, but there's also a slew of galleries and someplace really special: the Archie Bray Foundation for the Ceramic Arts.
I was going to talk up the Quick Draw — the penultimate event of the Western Rendezvous of Art where artists start and finish their work in just one sitting. I didn't know it when I was there in August but 2012 turned out to be the last year for this 34-year-long collaborative effort between the Northwest Rendezvous Group and the Montana Historical Society. Seems that proceeds from the art sale have been falling precipitously since their peak in 2008. According to the Billings Gazette, the Historical Society netted just $17,000 last year — not nearly enough remuneration for some 800 staff and volunteer hours of work, so they pulled the plug.
Even without that spotlight event, there's lots happening in Helena's art scene, surprising for a city with a population just under 30,000. There are the usual museums and galleries, but then there's the Archie Bray Foundation for the Ceramic Arts. I confess that I'm a third-generation ceramist, so I was especially drawn to the place — founded on the grounds of what was once the Western Clay Manufacturing Company's brick works. Bray, an avid patron of the arts, envisioned a place for ceramists to experiment and built the pottery in the spring of 1951 — the first step in his dream to "make available for all who are seriously interested in the ceramic arts, a fine place to work."
Bray's roots were in the clay, so to speak. His father — Charles H. Bray — had been a brick maker in England before emigrating to the United States. By 1928, Charles was able to buy out the owners of Western Clay. Three years later, he was succeeded as president by his son, Archie — who studied ceramic engineering at Ohio State University.
Fast forward a few decades, and bricks began to take second place behind ceramic art. The factory — which still produces building materials — supports a rotating slew of artists-in-residence whose work is available for purchase in a gallery on site. Take a wander among its 26 acres and check out the sculptures (each artist leaves a piece of his work behind).
Meanwhile, back downtown, art galleries in Helena cluster along the main drag — Last Chance Gulch (so named because the four miners who'd been thus far unsuccessfully searching for gold decided this creek bed would be their "last chance" — fortunately, their gamble paid off).
As its name suggests, Turman Larison Contemporary features living artists, both local and international, in a rolling stream of special exhibitions. When I was there, I was fascinated by an exhibit of stoneware sculptures by Kurt Weiser — who was director of the Archie Bray Foundation from 1977-1988.
More mainstream offerings can be found at the Ghost Gallery, in business an astonishing four decades. Early on, it offered paintings of buildings from surrounding ghost towns (hence the name) but now features more than 80 artists from Montana who specialize in Western and wildlife art. A side note: the gallery's framing business takes place on the second floor, in what used to be "Big Dorothy" Baker's brothel (she died in 1973).
The Upper Missouri Artists Gallery is a cooperative of Montana artists working in a variety of media, from oil and watercolor paintings to bronze sculpture and silver jewelry.
No visit to Helena would be complete without a stop at the Mackay Gallery of Russell Art in the Montana Historical Society. Some 80 works by Charles M. Russell (1864-1926), the state's celebrated "cowboy artist", are in display, including everything from oil paintings to pencil sketches to illustrated letters. Although he was born in St. Louis, Missouri, he headed to Montana at the age of 16 and never looked back. Working as a ranch hand and living for a time with a Native American tribe, he's best known for depicting the "Old American West".
Literally across the street, go inside the Greek Neoclassical State Capitol building (when the legislature is not in session) to see Russell's iconic (and humongous) 25 by 12 foot painting titled "Lewis and Clark Meeting the Flathead Indians at Ross' Hole" on the wall of the House of Representatives.
Be sure to take a look at the contemporary collection at the Holter Museum of Art before you head out of town. Other places to see include the Cathedral of St. Helena (modeled after the Votive Church of the Sacred Heart in Vienna, Austria, and boasting 59 stained glass windows from Germany) and the First Governor's Mansion, a turreted Queen Anne home built in 1888.
Glacier and Yellowstone? Haven't made it to those National Parks yet, but Helena is half-way in between 'em.
Other Voices you might like