Farmers Markets, Festivals and Floats: Your Summer Guide to San Marcos, Texas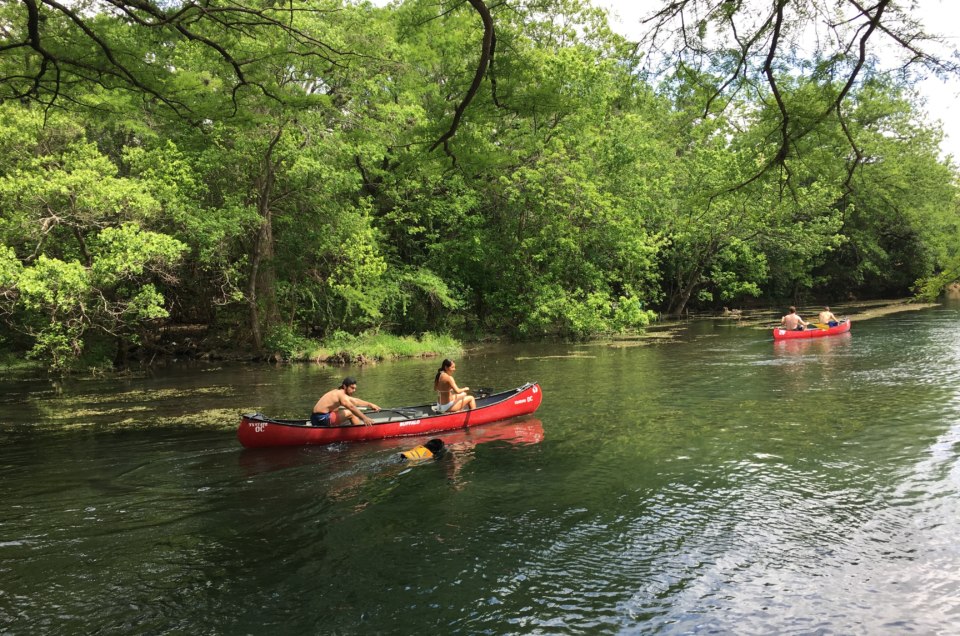 Content Produced in Partnership with Tour San Marcos
If the college town of San Marcos isn't already on your summer travel list, let this guide be the push to add it. Homethe fourth largest university in Texas, to which our 36th President Lyndon B. Johnson graduated from, and 12,000-year-old Native American artifacts, there is a great combination of history, fun and natural areas to explore. It's not a place that's stuck in the past though. Located about halfway between Austin and San Antonio, San Marcos is the perfect weekend getaway or trip add-on that music lovers, beer connoisseurs and foodies will love. From weekly farmers markets and a wide range of festivals to the constant flow of the cool river in the middle of town, San Marcos has the right mix of fun for the perfect summer getaway. Dig deep and stay awhile, San Marcos is sure to surprise you.
It wouldn't be Texas if there wasn't a two-step and a good country song to sing along to.
Music on the Square: It's not hard to find good music in San Marcos! All you have to do is head toward the downtown square, where local bands and artists frequently perform in restaurants and on street corners throughout the week, rain or shine. With live music every night of the week, check out this list for an updated weekly music and dance calendar.
BIGfest: The annual three-day music festival celebrates country singer and Texas legend Big John Mills. This year's event is at the end of June. Get the details by clicking here.
San Marcos is one of those towns that lives and breathes the outdoors. Whether you want enjoy a quiet hike through the woods or fancy yourself a mermaid, San Marcos puts its own spin on family activities.
First Saturday Birding Hikes: From woodpeckers and songbirds to hawks and waterfowl, you'll never know what you'll see on a morning trip. Locations rotate monthly too, so there's always another reason to come back.
Art Squared: Located on the downtown square on the 2nd Saturday of each month, local artists are on constantly on full display in San Marcos. If you're in search of a unique souvenir, this is the place to find it.
Texas Water Safari June 10th : Hundreds of kayakers and canoers descend on San Marcos to tackle the "world's toughest boat race" each year. You can watch them being their 260-miles race to the Texas state line on June 10th this year.
Summerfest: on 4th of July: The 4th of July festival celebrates our country's independence with live music, a children's parade, and shower of fireworks at dusk.
Mermaid Fest: Doesn't everyone want to be a mermaid? Celebrating San Marcos' theme and mascot (and the connection to the water), the month-long festival includes a Mermaid Ball and Mermaid Splash.
While most cities in Texas revolve around TexMex and bar-b-que, San Marcos stands apart from the rest with its own play on Texas favorites and its unique blend of cultural cuisine. To top things off, nearly all the restaurants in town have a gorgeous outdoor patio for you to enjoy your meal. 
Saturday's Farmers Markets: The farms market is a great way to meet farmers from central Texas and sample some homegrown eats. Bring a picnic blanket and try them right there in the Square.
The Hitch or San Marcos Street Eats: These two mobile food truck parks have something to satisfy any craving, guaranteed.
Crafthouse Kitchen and Tap: It's always a good sign when a restaurant is packed with locals, and that's exactly what you'll find at the Crafthouse. Aside from its tasty eats and good brews, it also has a great outdoor covered patio close to the bar and the live entertainment.
Rhea's Ice Cream: Need we say more? It's a must for staying cool during those Texas summer days.
Kent Black's BBQ: There's no question about it: Kent Black's is a must when visiting the area (or anywhere in Hill Country, really) and their huge outdoor picnic patio is perfect for big groups.
3rd Thursday Downtown Walkabout: As with any Southern town, visitors to San Marcos will quickly realize life centers around the downtown Square. That's certainly true every 3rd Thursday, where everyone gathers for an evening of food, drinks, art and shopping with local merchants.
Grab a Pint
The only thing that pairs better with bar-b-que than sweet tea is a cold glass of beer. Lucky for you, there are plenty of local brews to sample while you're in this corner of Texas.
First Friday Wines at Three Dudes Winery: Arrive early with your picnic blanket or some chairs for the best riverside views. Their wines are pretty inexpensive, around $12-17 dollars a bottle, so you can easily split a few bottles with friends and settle down for some live music for a few hours.
AquaBrew: Its live music and a great outdoor patio satisfies two things on our dream summer list. Grab a pint and some tasters off their app menu for a great afternoon in San Marcos.
Buzz Mill: With craft brews, great food, live music and outdoor dining, Buzz Mill is another quadruple threat that deserves a spot on anyone's must-try list.
Railyard Bar and Grill: Is there anything better than a space with outdoor games, great food, a beer garden and is dog-friendly? No, we think not.
TapRoom: Serious beer aficionados, take note: TapRoom offers 42 beers on tap from all over the world, including many local Texas brews.
Zelicks: This restored icehouse turned brewery comes complete with outdoor games like cornhole, so you can really relax and enjoy your time in this outdoor brewhouse.
Don't Forget a Float
Thanks to the San Marcos River flowing right through the heart of downtown and the year-round warm Texas temperatures, you can take a dip in the river any day of the week. Plus, with dozens of spots along the river to jump in, a float, kayak or paddleboard is a necessary carry-on for any trip to San Marcos.
Night Time Glow Tours: Sign up for a PaddleSMTX nighttime tour, where the paddle boards light up underneath and you get to see the river glow.
SUP Yoga on Saturday mornings: Get your zen on and start your weekend off on the right foot (literally) with a refreshing dip before it gets too hot.
Kayak the Falls: There are three main spots to go over the falls along the San Marcos River. If you can manage to stay inside your kayak as you go down, you'll earn a round of applause from onlookers watching from the shore.
Other Voices you might like