8 Great Family-Friendly Dining Options in the Smoky Mountains
The fried chicken is a must at Applewood. Photo by Lindsay Ferrier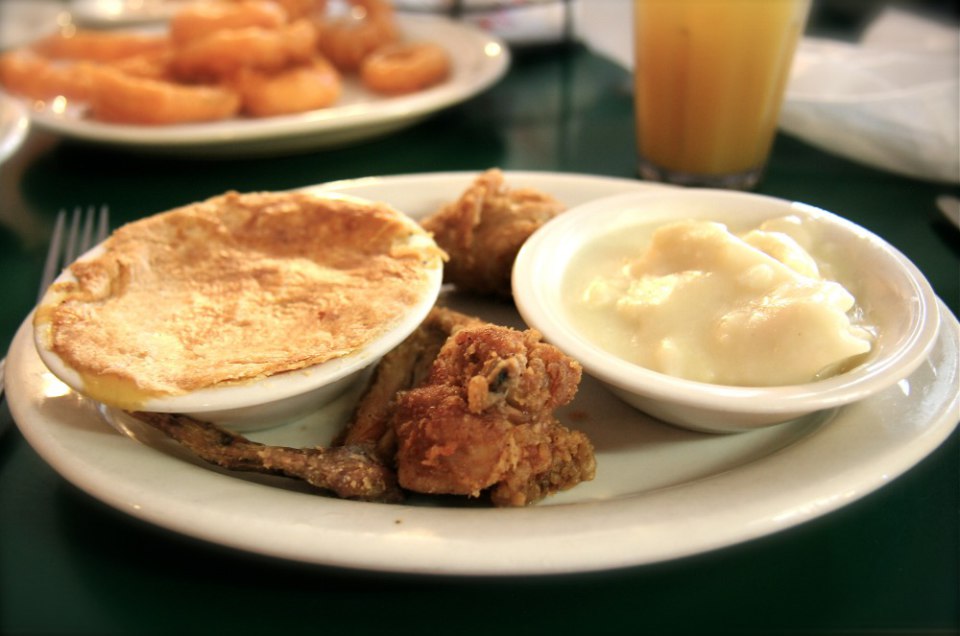 The fried chicken is a must at Applewood. Photo by Lindsay Ferrier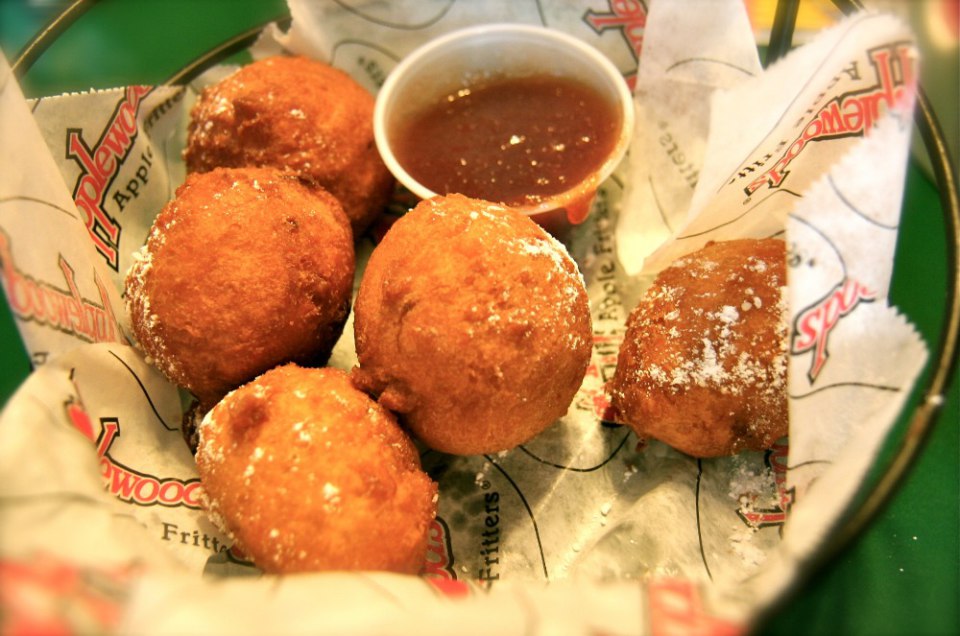 Don't forget to save room for Applewood's Fritters. Photo by Lindsay Ferrier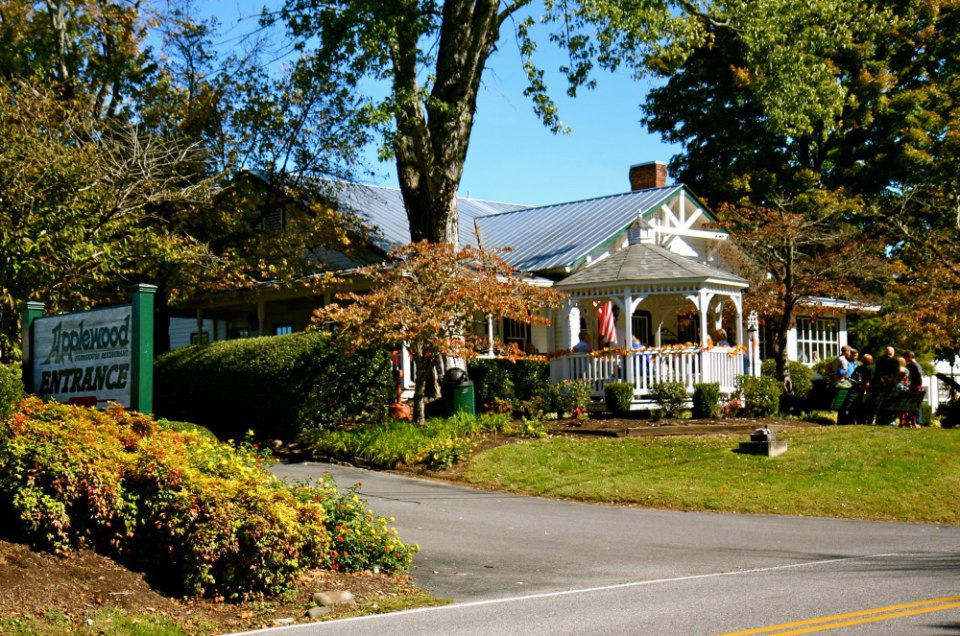 You can't miss Applewood Farmhouse Restaurant. Photo by Lindsay Ferrier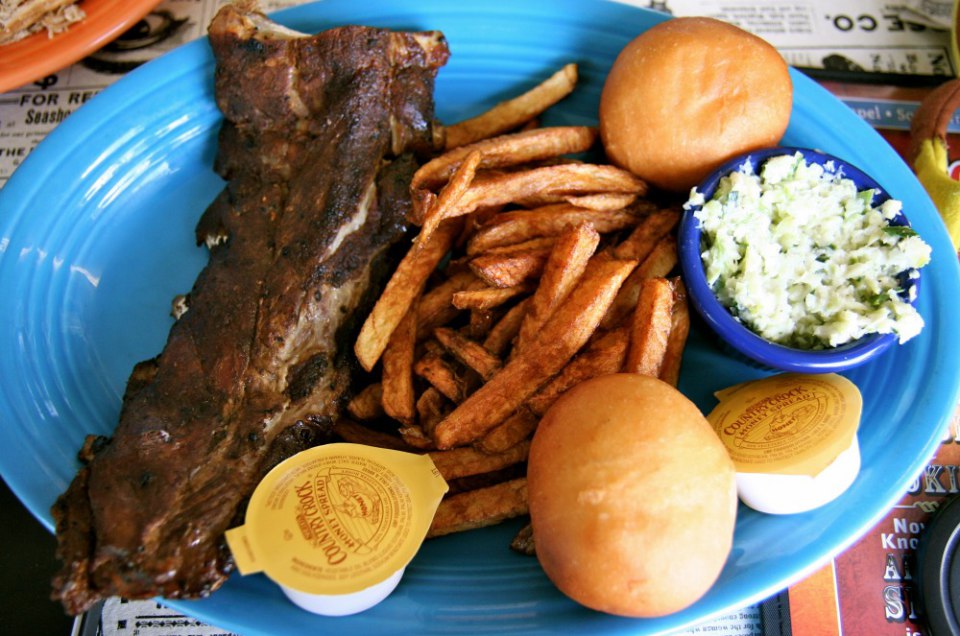 Tony's half-slab of baby back ribs, fries, and fried yeast rolls. Photo by Lindsay Ferrier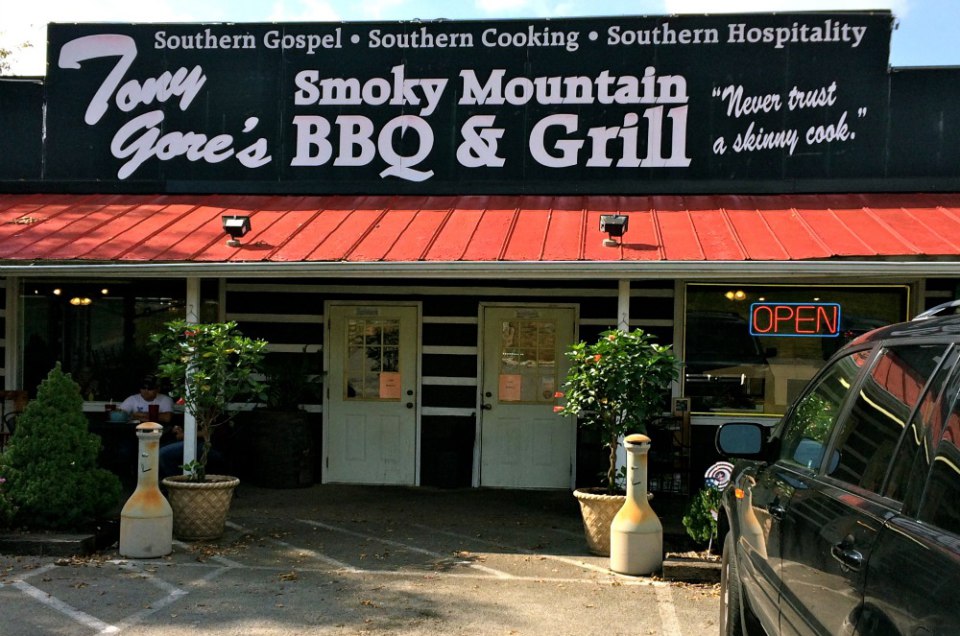 Tony Gore's Smoky Mountain BBQ and Grill. Photo by Lindsay Ferrier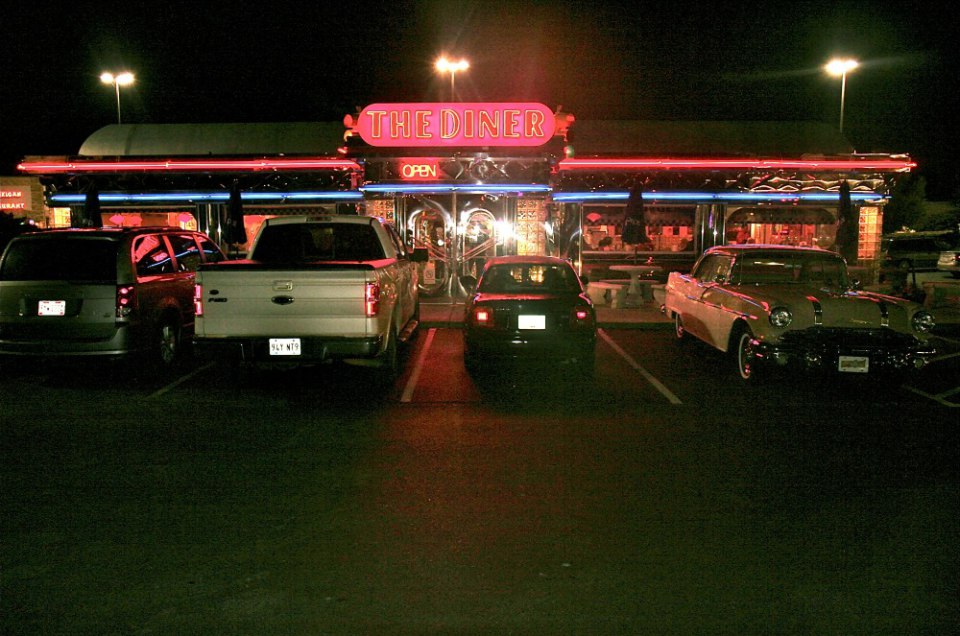 Save room for dessert while you visit The Diner. Photo by Lindsay Ferrier
Sevierville's main drag is loaded with chain restaurants, but if you're like us and find it far more satisfying to dine with local flair – head off the beaten path.
One gem we uncovered – the historic Applewood Farmhouse Restaurant. Originally a six-room home built back in 1921, the restaurant still retains the cozy comfort and ambience of an old Tennessee farmhouse.
Although we had to wait an hour for a table, we didn't mind – the kids had a great time playing on the grassy banks of the Little Pigeon River across the street. It also gave us time to enjoy some fresh cider from the Apple Barn and make a quick stop at the Applewood Winery, both located right next door.
Once our table was ready, we were thrilled to find that we'd scored one of the restaurant's two tables that feature porch swings in lieu of chairs. Sunday dinner at Applewood includes an entrée, a bowl of soup, two sides, dessert, and a basket of delicious apple fritters so you might want to skip any other meals if you're planning on eating here!
Within a few minutes, our table was filled with food. We particularly enjoyed the mashed potatoes, the chicken noodle soup, and the onion rings. The chicken and dumplings entrée was fantastic and the fried chicken was to die for – it reminded me of the kind my grandmother used to make when I'd visit Knoxville, TN as a child. The kid's meals were also enormous – far more than they could eat. My daughter's plate had two full-sized corndogs in addition to a side and dessert. My son ordered macaroni and cheese and ended up with a bowl big enough for two. Your children could easily split a plate if they don't have huge appetites.
Looking for less expensive family-friendly fare? You can't beat The Diner. The chrome-plated restaurant is easy to spot on Sevierville's busy Winfield Dunn Parkway. Step inside and the red vinyl banquettes, black and white-checkered floor, and beloved jukebox will make you feel like you've been transported back to the 1950s.
Everything we ordered there was delicious, from the Elk Burger and Chicken and Dumplings to the ham and cheese sandwich, kids' cheese pizza, and beer-battered onion rings. Be sure to save room for dessert because there are tons of options from the scratch-made banana pudding to the hot fudge cake the kids went crazy over.
East Tennessee is famous for its barbeque and one of the best places to get it in Sevierville is Tony Gore's Smoky Mountain Barbeque and Grill. We stopped at the gospel singer's popular haute, also located on Winfield Dunn Parkway, and had some of the best grub we've ever eaten.
My husband and daughter both ordered the signature menu item, The Three Little Pigs, sliders containing pulled pork, sliced pork, and beef brisket. They were scrumptious, particularly with the addition of their homemade sweet 'cue sauce. I had a half-slab of baby back ribs and the meat literally fell off the bone they were so mouth-wateringly juicy. The fried yeast rolls and French fries were also excellent and the peanut butter pie we shared for dessert was to-die-for.
We had our final meal at Holston's Kitchen, a locally owned casual dining restaurant featuring American fare. If you go, be sure to order the mushroom burger. Not huge veggie fans, my husband got it on a whim and it was so delicious that the four of us ended up sharing it. Another noteworthy menu item was the chocolate cake. One slice was $7.99, but it was gigantic, moist, and worth every penny; the perfect sweet way to end our vacation.
Other Sevierville restaurants we can't wait to try on upcoming visits:
English Mountain Trout Farm: At this popular restaurant, diners are given a fishing pole and bait so that they can catch their own dinner in a nearby pond! Don't have time to fish? No problem. You can order the "freshest fish you've ever tasted" straight off the menu.
Bistro 109: Beyond the neon lights, modern strip malls, and eye-catching attractions, it's worth noting that Sevierville also has a very charming and historic downtown where you'll find Bistro 109, a sophisticated bar and restaurant that's popular with locals and tourists alike. Menu options sound incredible (Maple Glazed Duck, anyone?) and I can't wait to try it. Reservations are recommended.
Friendly Falls Food & Stuff: This roadside restaurant features outdoor dining with a view of a waterfall and live music, garnering rave reviews from travelers. What more do you need to know?
Deep South Smokehouse: Housed in a rustic, well, shack, this barbeque joint isn't easy to find, but reviewers say it's well worth the trip. Make a reservation in advance and plan to eat early as the owners close up shop whenever they run out of food- sometimes at 5 or 6 pm!
Other Voices you might like