Dave Thompson Says Take the Trip (It Might Change Your Life)
Photo Courtesy Dave Thompson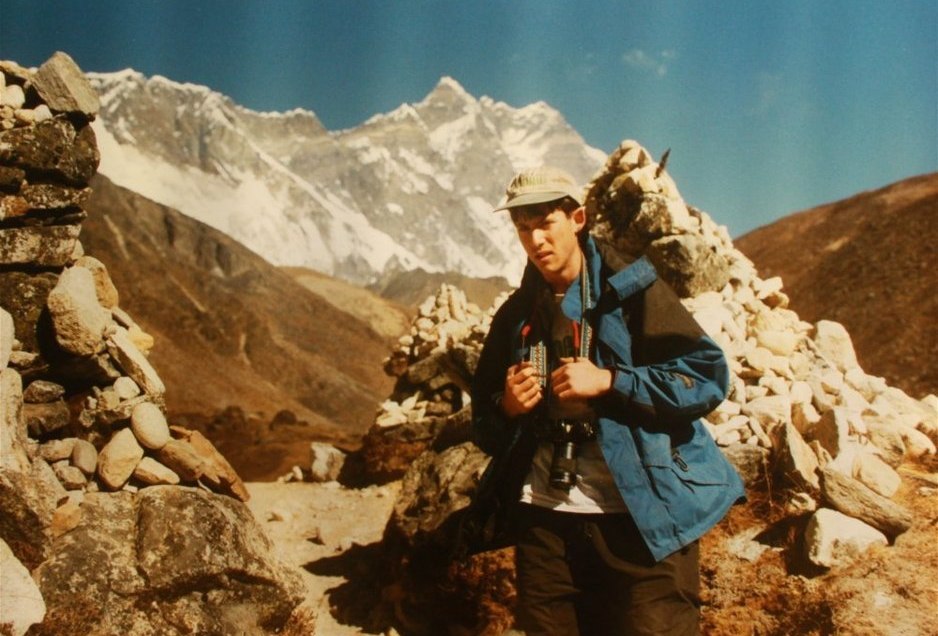 Photo Courtesy Dave Thompson
#FBF: Followback Friday is a weekly interview series where we get real with some of our favorite travel influencers. We want to learn what makes them tick, their best tips and tricks, and share stories of (mis)adventures from the road.
Wine and travel enthusiast Dave Thompson estimates he spends nearly four to six months traveling each year. As a travel blogger, that much time on the road (or in the air) is pretty standard, but Dave is no stranger to the wanderlust feelings or such a busy travel schedule. He had been a frequent traveler years before he started his website Dave's Travel Corner in 1996. He says that's when a trip to Nepal changed the game, not just for his future adventures but for his career as well. He's been on the move — trying to uncover new foods, new cultures, and new adventures all over the world — and sharing it all with his followers on the blog and on social media ever since then. Dave told us more about his life-changing trip to Nepal, explained why travel mishaps can happen to anybody, and gave us a quick peek into a few upcoming adventures.
You say a visit to Nepal is what changed your view on travel. Can you tell us a bit more about that trip and why it was such a turning point?
My trip to Nepal was the first time my eyes were opened to a nontraditional western style of living. The sensory inputs I experienced on the trip were unlike anything I had experienced in my limited travels prior. Certain experiences from the trip stood out especially to a young impressionable traveler; things like seeing burning bodies on the edge of a river as part of a funeral ceremony, the world's most massive mountain range, hardships experienced while trekking, types of foods I had never been exposed to and various cultural practices.
One of the primary goals of the trip was to trek to the Everest Base Camp. While trekking I became extremely sick from both altitude and food poisoning to the extent it became a debilitating condition for several days. Ultimately I had to be carried down on our guides' back from a high camp at midnight to a lower camp. I was also with a lady from our group and the next morning she ended up carrying me further down the mountain on her back. I was so weak I was physically unable to walk.
An experience like this leaves a deep and lasting impression. However, rather than turning me off from travel it became the impetus to seek out new and varied experiences — and travel is one way that I was able to accomplish this.
This trip was also the inspiration for beginning Dave's Travel Corner.
How would you describe your travel style? Has it changed over the years?
In one sense my style of travel has not changed over the years; I still seek out unique experiences, activities or attractions in a particular location. I began my travels on a very tight budget as perhaps is quite common when you're in your early 20s, but over the years I've been able to afford other types of lodging and experiences. I still travel cheap at times but through my travel website and work with various destinations I have been exposed to a wide range and diversity of properties, experiences and activities. There are times when budget travel still works very well and other times where I'm able to enjoy a luxurious experience. I truly enjoy both types of travel.
What's the toughest part about your job as a travel blogger? What's the most rewarding?
The toughest part of being a travel blogger, and I think many travel bloggers will agree with this, is the inconsistency of income. And perhaps overcoming self doubts as to the value of your work.
I started writing online to document my travels and to help others researching and planning their independent trips. It is very rewarding when others find parts of my website useful. It validates my work. And in addition to the travel and perhaps equal to the travel if not more is the incredible personal freedom that this lifestyle extends.
Everyone seems to have them, so we want to know: What's been your greatest travel mishap?
This is a two-parter, I was in Skopje Macedonia, trying to get to Sofia, Bulgaria. I had already purchased my bus ticket in Skopje – I arrived and sat down in the vehicle but because apparently I was the last one to purchase a ticket (and they had oversold the bus) I was kicked out, not refunded and told there would be another bus the next day.
After spending the entire night in the bus station trying to stay awake by working on my travel website while sitting on the cold floor I secured another bus ticket with a departure for that morning to Sofia.
Thinking my connecting flight from Sofia was at 6pm rather than the 6am as listed on my eTicket I arrived at the airport some 10 hours after my flight had already departed. A truly a bad combination of logistics and a misread of the 24-hour clock time.
You split some of your time at home in Napa and we hear you're quite a wine lover. What are your top vineyards in Napa that you think everyone should visit?
When I reference my top vineyard and winery list in the Napa Valley I take into account a number of factors including vineyard pedigree, hillside versus valley floor, history, owner's personality, types of wines, quality of wines, uniqueness of the property, type of architecture and views.
Of the wineries that do not require an appointment I enjoy: Bouchaine, Castello di Amorosa, Caymus, Starmont, Frank Family and Robert Mondavi.
Of the wineries that do require appointments, I enjoy: Arns, Blankiet, Honig, Newton, Palmaz, Pride Mountain, Spottswood, Spring Mountain Vineyards and Stony Hill.
And some of my favorites that are either private (do not see visitors) or very selectively see visitors are Dana Estate, Continuum Estate, Dominus, Constant Diamond Mountain, Marston, and Kongsgaard. (Editor's note: You can find more of Dave's favorite wines and vineyards through The Napa Wine Project.)
What's been your favorite place to travel to?
I love Thailand. If there is any country on the planet that speaks to travelers, bloggers, and digital nomads, Thailand is it! The country offers friendly people, a diversity of geography ranging from great beaches, islands, marine life, mountains, jungles, creative cuisine and affordable living.
It is also my one true vacation every year where I get the chance to recharge and spend time away from daily activities and develop new plans and ideas to implement on my travel site for the coming year as well as catch up on the latest in the travel blog industry.
What's one destination that completely surprised you?
That would be Iran. Perceptions may not always be reality and for travelers Iran is a good example of this. I've traveled extensively in the Middle East and it is absolutely not the bastion of evil and dangerous region that some media portrays.
In all of my travels I've never met more hospitable, curious and friendly people then in Iran. Individuals would approach me on the street and ask why I was visiting, who I was and what I thought of Iran. I had numerous people invite me into their homes, people offer to buy me beer (non alcoholic of course) and people give me their phone number with the offer to call them if I needed help while traveling in the country. It is sad that there are so many barriers to travel between both the USA and Iran.
What's the most important lesson your travels have taught you?
This is twofold; while one needs a certain amount of things to live – life is not about things but rather about experiences. And second, the world is not necessarily as dangerous as one might believe.
Do you have any bucket list adventures you haven't crossed off your list yet?
Yes, I really want to visit the world's tallest waterfall, Angel Falls. I would spend about eight days hiking in to the falls and then rappel the entire length from top to bottom!
Now that would be an epic and amazing adventure! I also want to visit Uganda to see the gorillas. Afghanistan, Tahiti and Tibet are high on my list of still-to-visit countries, too.
How do you decide where to go next? And, what are your upcoming trips you're looking forward to?
This is often random. If it is a personal trip I look for countries I have not yet visited that I can get to rather affordably while also tagging on multiple countries on the same trip.
Often time's brands or destinations reach out with fairly last-minute trips so there are always surprises throughout the year.
I have nothing immediate on the horizon although I am usually in Europe several times a year. This year I want to visit northern Iraq, western Africa again, (and) the ABC's of the southern Caribbean. I just heard that the last European country I need to visit, Belarus, just removed the visa restrictions for United States' citizens, so I will probably tack on a visit there while on a work trip in Europe.
Our friend Dave is always on the move! Follow him:
Other Voices you might like